Trip:
King of Pain Spire - Vision Quest
Date:
3/31/2007
Trip Report:
Since first reading about it, Vision Quest, a Jeff Achey first ascent classic, has been tripping around my brain for the better part of 2 years. In his guidebook to Indian Creek, David Bloom bluntly describes it as, "
a burly route on the east face of the king of pain
." Fast forward to Spring 2007, and the end of a much too short springbreak vacation. With 10 weeks of calculus and chemistry awaiting him in Washington, Tyree is super-hyped to end the trip memorably.
The King of Pain Spires, Vision Quest climbs the gash between the two towers:
P1: fingers in a corner to loose blocks, shitty gear, and a bad anchor, 5.10: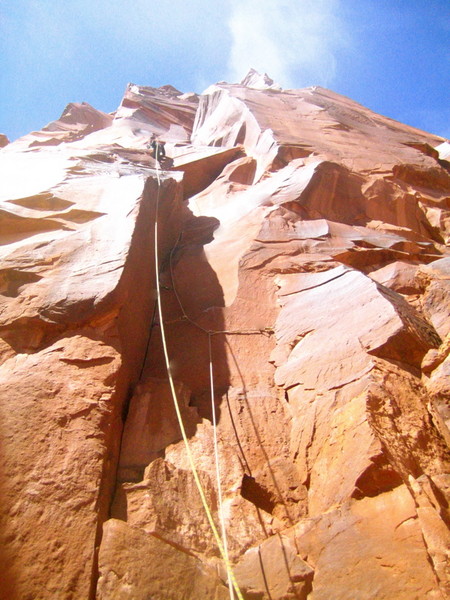 P2: Bloom writes, "
the first slot is easier and better protected and more fun than it appears, the second is not
," 5.10: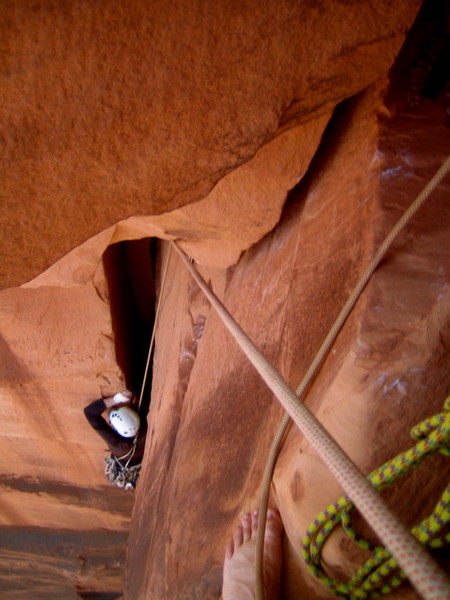 Get some you effervescent sack of Washington softness: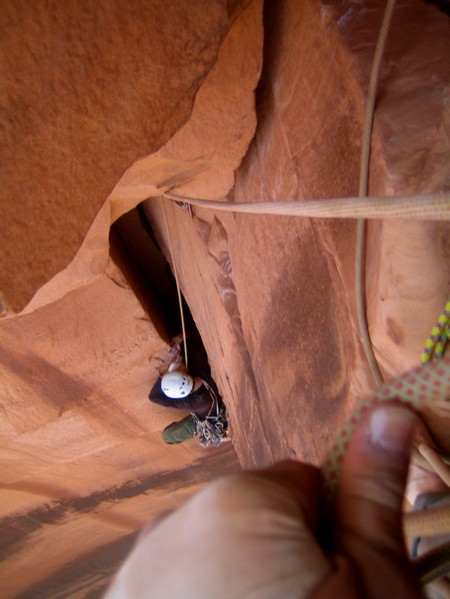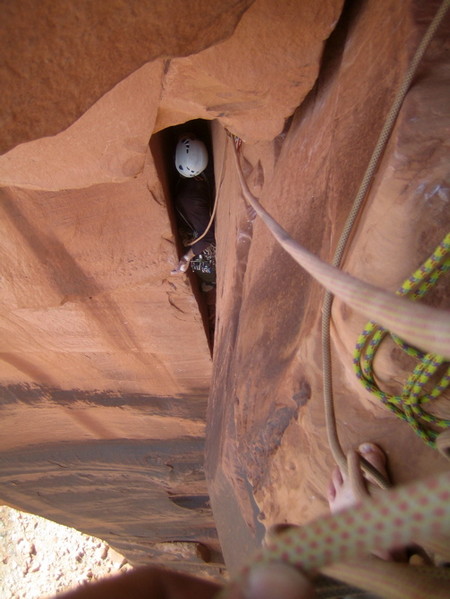 Wild moves lead out of the slot to the belay: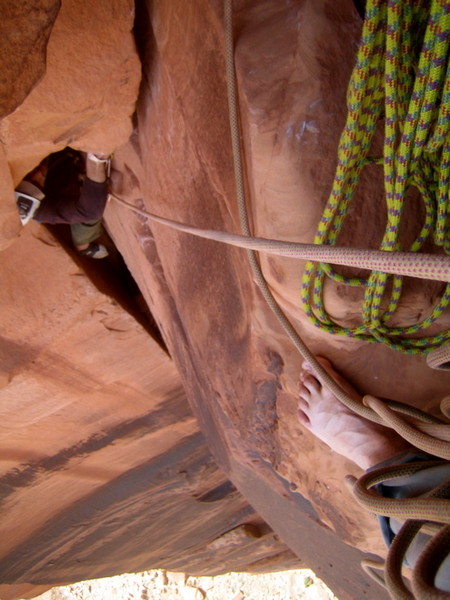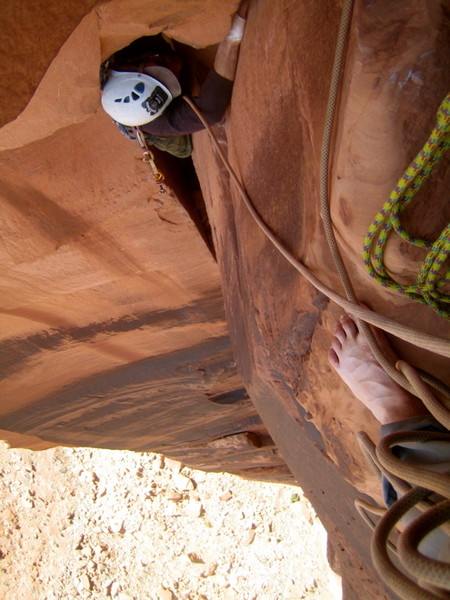 P3: A short offwidth to steep fists to wild overhanging flared hands, 5.10+: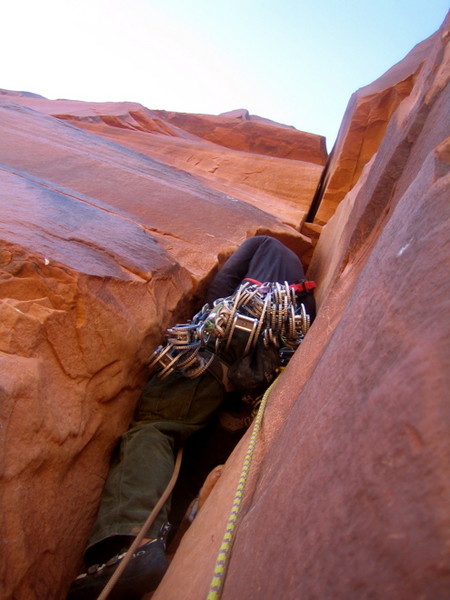 P4: Crazy: a steep groove leads to loco stemming between the two spires, and a spicy loose topout, 5.9+. Here's Ty just past the flare: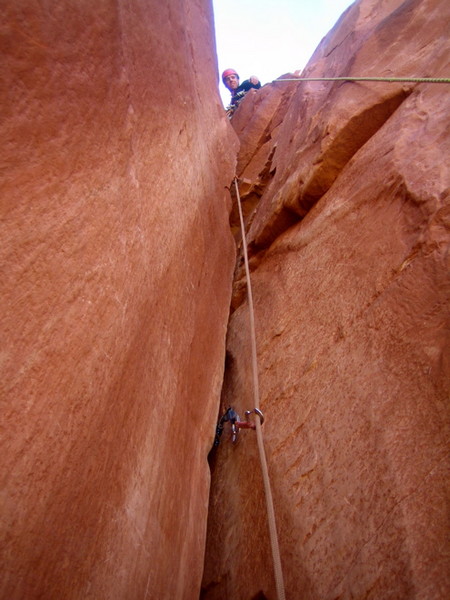 Looking up at the loco stemming: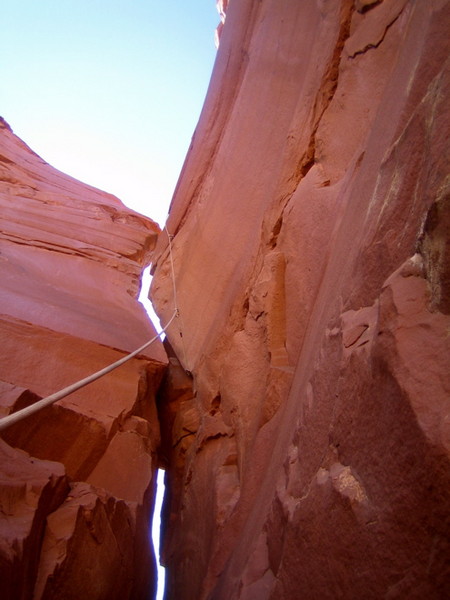 The summit was rad, with great views of Indian Creek and the Six Shooters. Lucky for us we ran into wide crack aficianondo Ari Menitove on the way down and he guided us away from these notorious rope-eating grooves, thanks Ari! Beware: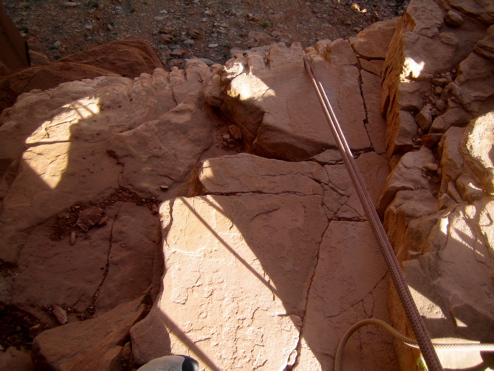 Overall, the route was great. The climbing was good, sustained, and challenging. As with most desert tower climbing there is a bit of crappy gear and spicy climbing, but as long as the 700 pound loose blocks and chockstones stay in place you'll be fine.
Gear Notes:
Rack of doubles from green alien to #4 camalots, extra #3's and 3.5's, single BD #5 and #6. Two ropes to rap. For more info and discussion visit:
http://www.mountainproject.com/v/utah/moab_area/indian_creek/105717655