Trip:
Abiel Peak - Spindrift Daze (FA)
Date:
2/3/2007
Trip Report:
Matt (NYC007), Bob (Tazman) and I established a new route on the north face of Abiel Peak yesterday. Thanks for making the slog guys, it was worth it.
We were indecisive about where to go and what to climb, but Abiel held that "I have lots of unclimbed lines" appeal for us. We had also heard that lots of people were interested in Kent, so that added to our decision. The road to the trailhead was slicker than a skating rink, so we had to bivy in Bob's sweet camper at the Granite Mountain parking lot across I-90. Beers were swilled until too late in the night.
A short night with inadequate sleep later found us tromping up the trail, sliding all over the place and falling on our asses, until we got to the valley. We reached the base around 10:00 and scoped out our options. Compared to last year, routes are very thin, but most will go with some work.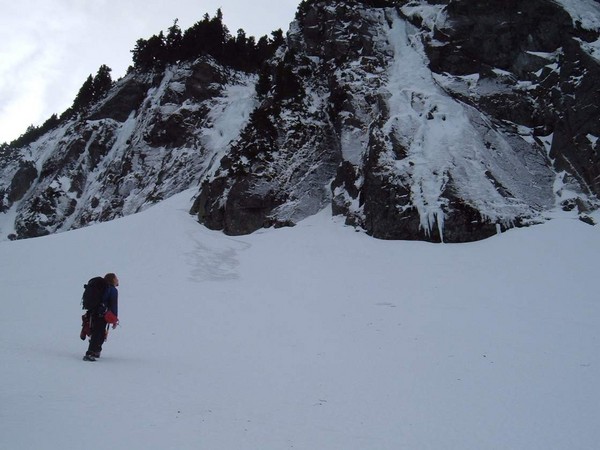 approaching the route (with hanging daggers below the slab)
we picked a line left of the North Face Direct, but right of the 1984 route. We tried the direct line up the hanging daggers, but it was unprotectable and just out of reach.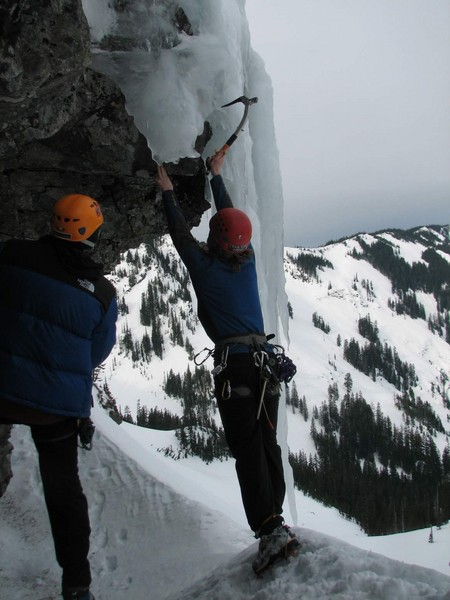 ultimately, we went right a little ways and I took us up the first pitch (AI3X) to a semi-hanging belay under an overhang at about 30M. I think I used a couple of my nine lives on that pitch. it is one of the few where I almost puked upon reaching the belay. two more pitches of ice took us up to a steep snow couloir filled with mostly great neve.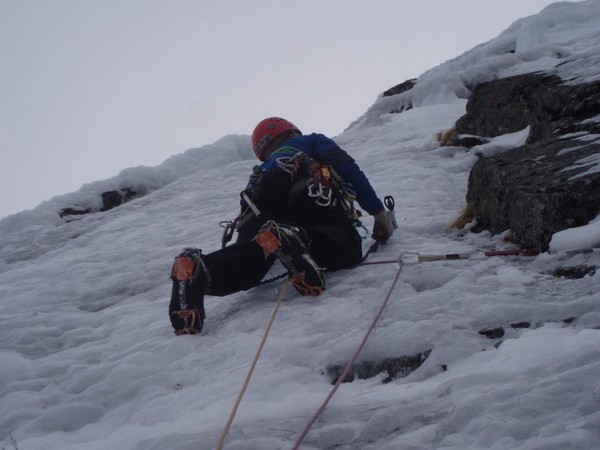 starting up the first pitch
Somewhere in there it started snowing, then it turned into a freezing mist...Then the spindrift started.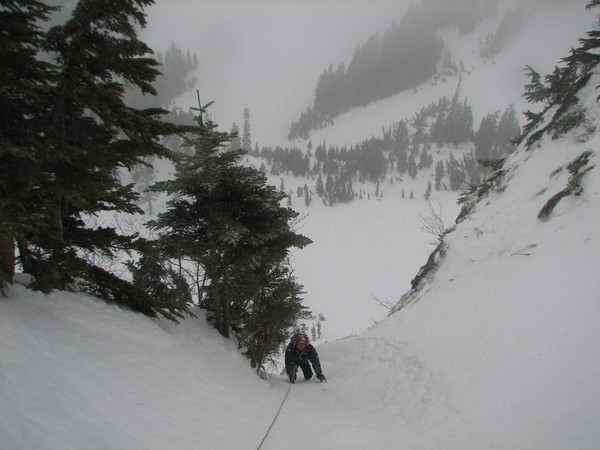 Bob cresting the difficulties into the couloir...happy to be out of the firing line
Matt took us on a long simul pitch up the couloir; after which I took us up to the top. we gained the 1984 route for about 50' at the top of our route.
Matt finishing up
We skipped the half ropelength walk to the summit and walked off down the west ridge to the descent gully since it was getting dark and we were soaking wet. A long and dreamlike trudge out the valley brought us back to more beers in the early evening.
FA:
Abiel Peak, "Spindrift Daze"
III, AI3+
Kurt Hicks, Matt Cusack, Bob Masasi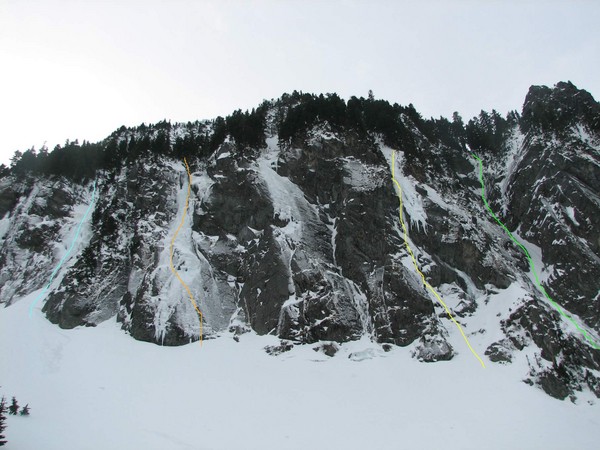 blue - 1984 route
orange - Spindrift Daze
yellow - North Face Direct
Green - North Face Couloir
Only the lower half of the routes are visible.
Gear Notes:
Gear to 2"
pins (mostly LAs, Angles)
10 screws
Approach Notes:
I-90, exit 47.
Annette Lake Trailhead, go up the valley bottom to the face. 3 hours. no flotation needed.