Trip:
Lochsa River (Idaho) - Snowshoe Falls
Date:
1/21/2007
Trip Report:
And everyone says there's no ice in northern Idaho.
Some of the WSU Alpine Club was going to Lolo Pass for some skiing, but about half of the group wanted to go ice climbing instead. Being lazy, we didn't want to walk into Blodget Canyon, so we explored some ice I had seen last year (and some I hadn't). From what the skiers say, stuff in the canyon only forms like once a decade, but that might just be because they don't look too hard for it...or because they're skiers first and climbers second.
Anyways, we did 2 routes that locals A) haven't done or B) won't tell us about or C) forgot about.
Snowshoe Falls, WI3, 70M.
This route is a lot like the Junkyards, with a nice steep curtain just above the main flow. One 30m rappel and a walkoff make descent quick. There were no rap slings present anywhere, leading to the idea that it's a FA.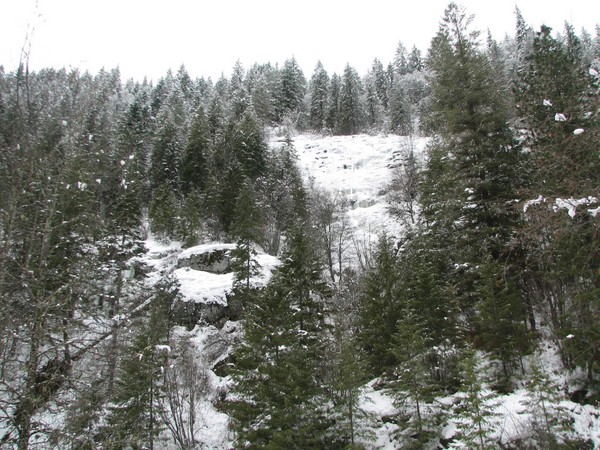 Snowshoe Falls takes the prominent broad flow in the center. Huckleberry Pillars are mid frame on the left, in the trees.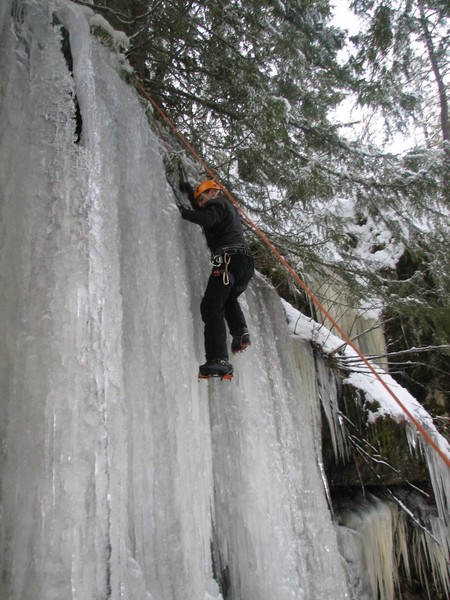 Kevin on the final curtain of Snowshoe Falls.
We walked down to the steeper pillars down below, where we did the best looking line. "Huckleberry Pillars", WI4-, 40'. This is a nice top rope crag that ranges from WI2-4.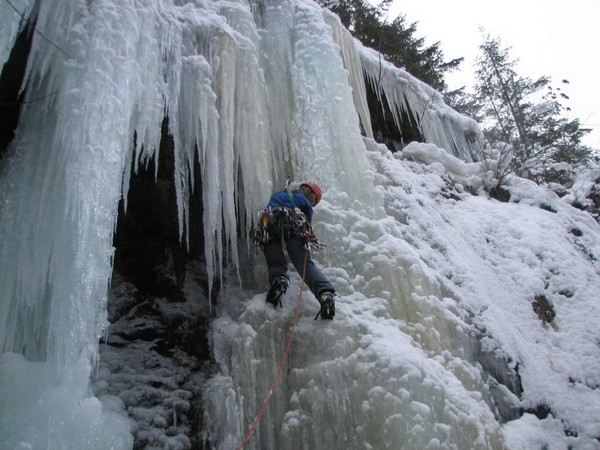 Taking on the right side.
There are 2 more unclimbed lines across the river at MP 115 and 115.8 (Shoestring Falls) respectively.
Gear Notes:
Lochsa Lodge Cabins are sweet.
Sharp pointy things.
2 sets of tools makes climbing in a foursome more challenging!
Approach Notes:
About 20 miles east of Lowell, ID on highway 12. Park at a small pullout at MP 116.9 and look north to see the climbs. Bushwack up to the base in 10 minutes.
Topozone Link to Snowshoe Falls