Climb:
Liberty Bell-Freedom Rider
Date of Climb:
9/9/2006
Trip Report:
Marcus and I recently climbed Freedom Rider on the east face of Liberty Bell. Since there are no TR's on this route, I'll post some useful beta and pics.
The Beckey Guide topo and description pretty much says it all. The 3rd pitch has either a 10d traverse, or a hard 5.11 o/w, we took the offwidth. It's very hard, I didn't even come close to freeing it on lead, nor did I try very hard after a pebble become lodged between my shoe and bunion.
The route is quite sustained the whole way, even the 5.8 pitches. The 5.8 roof on pitch 8 could be the crux besides the O/W. Did a hold break off?
The Medusa Roof was uneventful, however, both Marcus and I were getting severe biceps and brachioradialis cramps from the O/W and sustained climbing. 5.8=5.10 for us around that point.
We never saw the Cedar Creek Fire plume, maybe it's under control as the fire crew seemed to be on coffee break in Mazama (not that we were helping any either).
So it's a good route, go do it. If you can lead 10's and pull on #5 camalots, you'll get up it. It took us around 9 hours up from the base...most of which were on the o/w.
Gear Notes:
Gear: 4",4.5", 5" cams (yikes!). The 4" comes in handy elsewhere on the route.
Plenty of tiny tiny cams to 2" cams, and one 3" cam. Nuts, tri-cams, rp's.
Mega rack basically.
1 60m rope.
12-14 slings and draws.
Crampons not needed to get on the route, check from the lookout to see if there's snow.
Approach Notes:
Only rap with one rope, two ropes get stuck as shit. Descend the regular raps and hike back to your car via blue lake trail and Hwy 20.
Pictures (hopefully Marcus will post some too)
Smokey Haze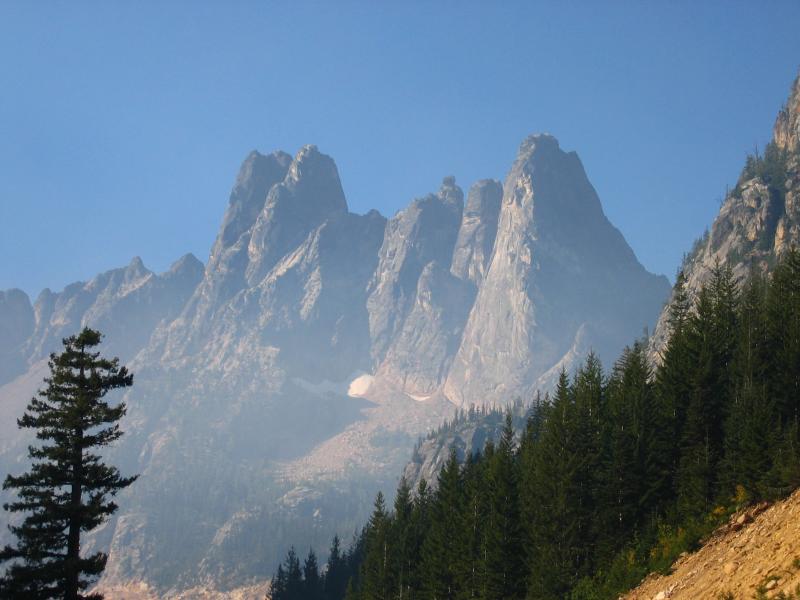 The Climb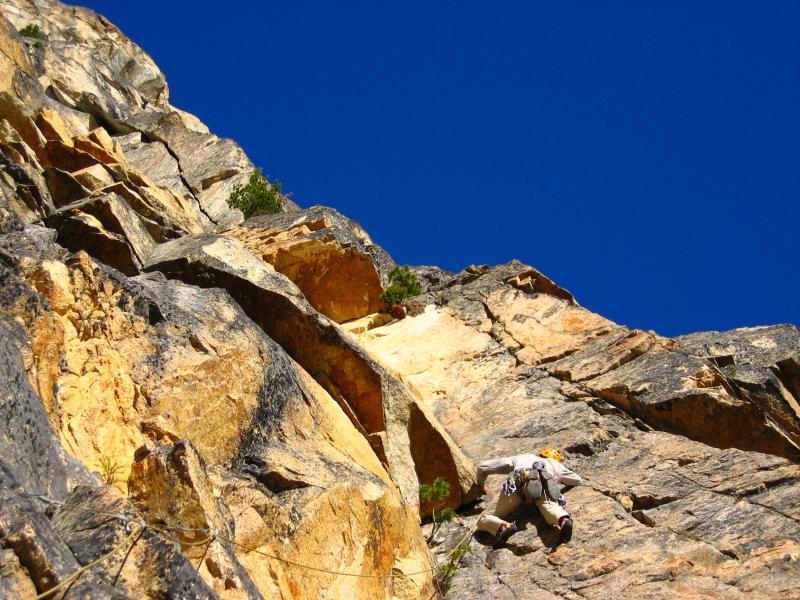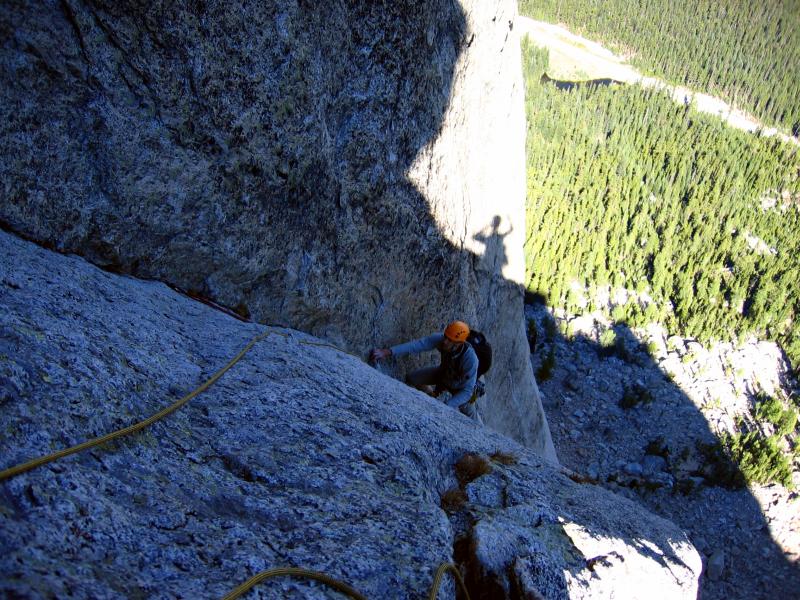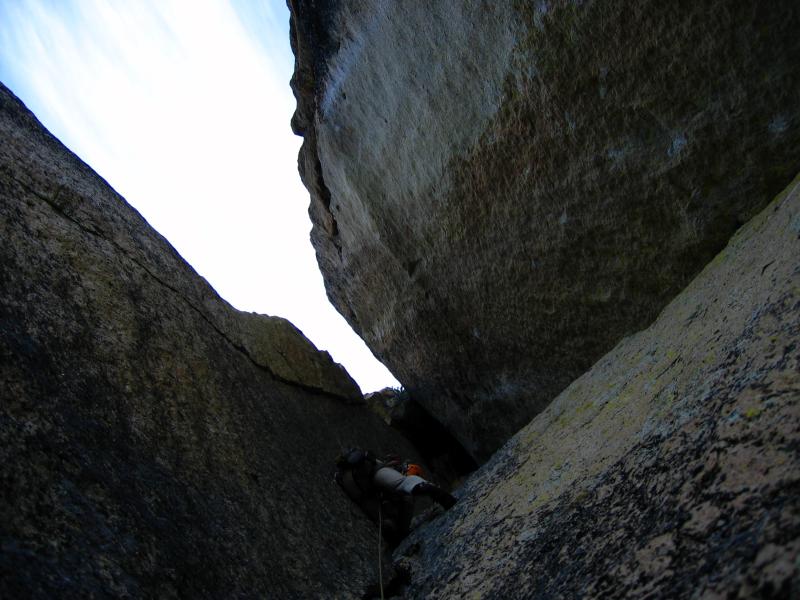 Scenery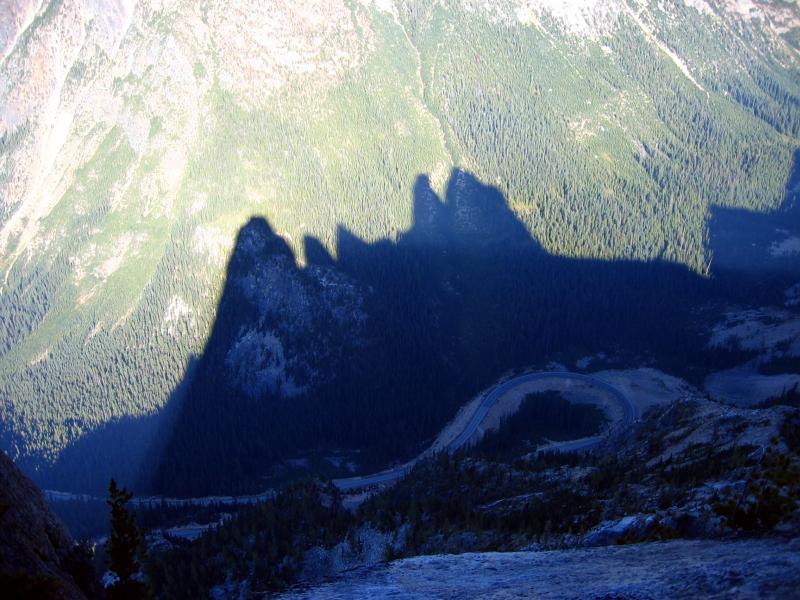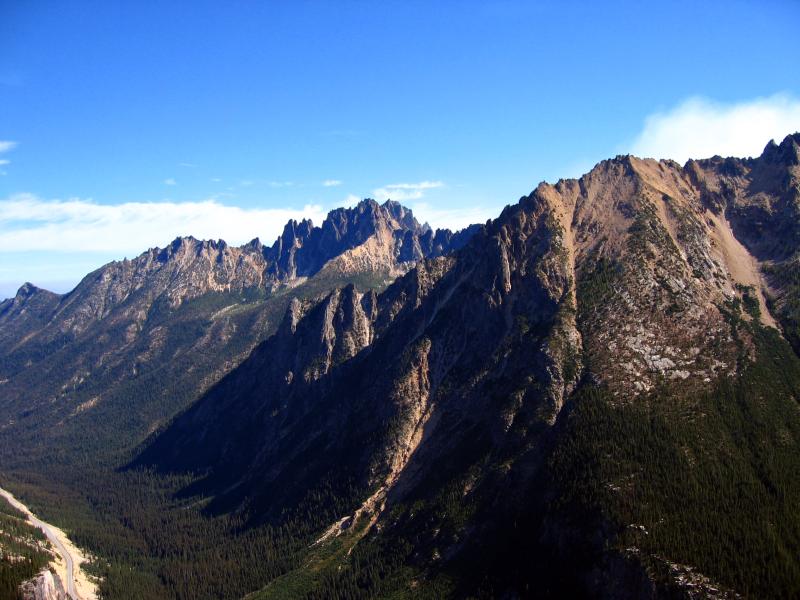 Sky and Ross a' clamberin'