Climb:
Burgundy Spire-North Face
Date of Climb:
8/27/2005
Trip Report:
My plans for something else fell through Fri morning, so I accompanied my wife up some "unfininshed business" - her very first attempt at an alpine climb in the Cascades had been the N Face of Burgundy many years ago with then-boyfriend Eric, and I had never climbed it though it had been "on the list" for many years. Work has been absolutely crushing me these last 3 weeks, so it was very annoying to still be setting up lab runs at 7:30pm on Friday night, but finally the car was packed, the sandwiches made, and off we went!
The drive up to Blue Lake trailhead was uneventful. Like most Seattle-based climbers, I've done this drive mostly at night and so never really get to see very much, just try to stay awake. We arrived at the TH and just crashed in the car, where we got a surprisingly sound 5 hours of sleep. At 5am we were up and changed into mountain clothes, brewed up some coffee to go with the banana and cottage cheese, and packed up the stuff. My wife and I have been ferrying some fairly large packs (secret projects n stuff) the last few weeks, so the day packs with twin ropes and alpine rack felt really light!
We left Blue Lake TH and parked at the pull out to start the long grind up to Burgundy Col. It was 6:15 am and temps very pleasant! The "long grind" was anything but, as the packs were light, the temps cool, and we actually were able to stay on the well-beaten trail all the way to the col in <2:30. This is the first time I was able to keep track of the trail above the mid-approachs flats: the sharp right turn just out of the trees is the key. At the col I examined Paisano, as it has been recommended to me to climb Paisano and Burgundy together. Looked at "Rampage". Some other time. At the col the temps were downright cold, with a chilly breeze and nary a goat to be seen. The rock was cold.
At the base we discovered we forgot a nut tool, so we basically decided to not place nuts. We started up without fanfare. I lead and we simuled to the base of the North Face proper, perhaps 3 full ropelengths up. Here the tales of difficult route finding proved true: while its easy to figure out where you need to get to (rap slings several pitches up), its not so easy to figure out which line to take to get there. In the end, it does not matter. Toss all the beta for the first pitch out and just climb whatever line you feel works, there are any number of options, really, and they are all easier than 5.8. I ended up belaying at a rap station with a small ledge just above a fixed hex through an overlap, and right below a fixed purple 1" sling. The climbing had been moderate and sort of fun. Summer came up and I started taking gear off her harness. She gave me the 'sad face'.."I want to lead this next pitch!" "Really??" "You said I could! Besides, I'm frrrreeezing!" And before I could say anything off she went. She clipped the purple sling, and ran it out to the next belay. I sometimes get sick of how well she climbs off the couch. Following, blowing on my fingers to keep them not numb, was a fun pitch with alpine-value awkward 5.8 then easing off a bit. Way more fun than my pitch had been!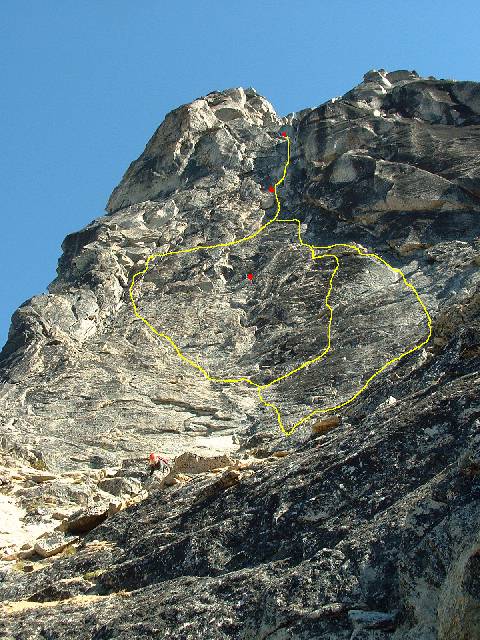 Lower North Face with options.
From here Burgundy Ledge leads off around the peak. I took the ropes around to where the next pitch starts, up a slab that then makes a sharp right up a large flake (another sharp right) and around a corner to a nice mid-5th dihedral. Our topos called this a "5.7 lieback" but its not 5.7 and not a lieback really. Mid-fifth, fun, fine gear, just stemming. Halfway up there is a nice ledge with a fixed pin, and to mitigate rope drag I belayed here, though this really would have been fine simulclimbing terrain. Summer took the dihedral another 80 super fun feet to its completion, and belayed from a blue sling just before the summit ridge. From here there is a tight little corner with a wide crack that topos recommend you bring a large cam for, but its not really needed. If you've ever climbed the very first pitch to the Lizard at Index, this is about the same but much easier and shorter. The 3 Camalot I had was too small, which was a shame since we had not used that boat anchor on the climb yet! Oh well. A 4 Camalot would work, but if you just move a move or two up you get a yellow alien and 1 Camalot before the final moves to the (easy) summit ridge. A short pitch.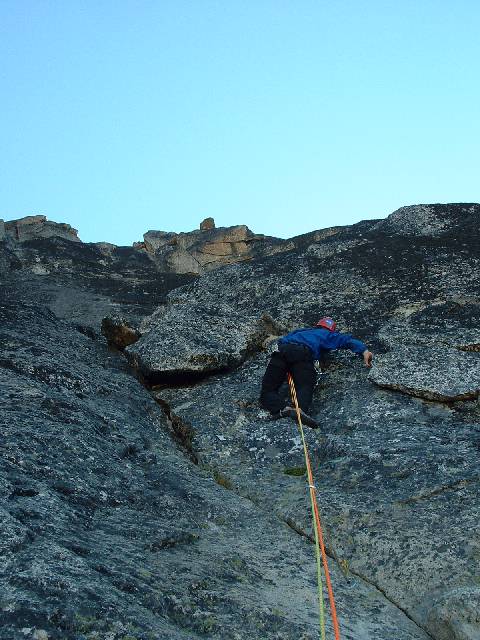 Starting the upper pitches off Burgundy Ledge.
The summit ridge was the first time we were in the sun, and it was very welcome, as we had been close to too cold the entire time. Hard to believe on Aug 27th, looking down on the baking forests below us. With Chianti's summit in spitting distance, it was fun to muse about how a traverse of the Wine Spires might go, not realizing of course that Mark and Layton had been there a day or two before, doing just that! Anyway, no sign of the predicted impending weather change, the day was cloudless and looking down at Liberty Bell massif, Goode and Black and Logan, and all the range never gets boring. It was early afternoon and we started down after eating some food. On the first rap off Burgundy Ledge one of the twin ropes got hopelessly stuck, and just as we were untying the knot to get ready to re-lead up the North Face, I gave one last frustrated pull and God say "lo, it is good!" and the rope came free, permitting us to non-epic. Yay! Whew!
It was breezy at the col, hot hairdryer wind with some cold gusts for spice, and once again no sign of goats of anyone else (hard to believe we had the Wine Spires to ourselves!) We headed down, and it got progressivly warmer. At the bench we encountered another couple going for Silverstar, grabbed our stashed water and took a break, and finished the decent down to Early Winters creek, where we soaked our feet, and then back to the car by 5:30 pm. We were pretty hungry, so stopped at the mom and pop general store in Marblemount, where we bought gummi bears and alcohol for the road.
When writing TR's about routes I've done I tend to think of them in terms of a few questions "would I repeat the route?" and "can I help people who read this TR motivate to climb the route?". For North Face of Burgundy, despite the first pitches to Burgundy Ledge being only mediochre climbing, the final pitches to the summit are really fun, and for those pitches I would repeat this route. Go get it! However, I would recommend against sharing this climb with another party, there is too much loose and trundle potential especially on the lower pitches and during rope pulls, to make it safe for multiple parties on the lower face. Get an early start, do it soon (its COLD up there!!), nice day in the hillz!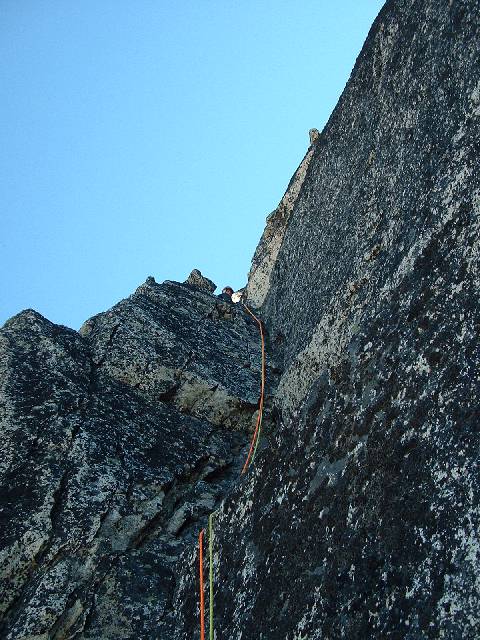 Summer leading the second to last pitch, the dihedral before the summit ridge.
Gear Notes:
Ropes: 2 ropes make the raps go faster, though the route is rigged for single raps if you must.
Rack: Our rack was green-orange alien,#.75 to #2 (with an extra #1 camalot). We placed no nuts and did not place the #3...you certainly can get by without a large cam if doing the std route.
Route Beta: Burdo's topo is a probably the most useful, most written beta does not do the route justice. But mostly, just follow the most obvious, easiet route to the summit.
Approach Notes:
No water on the apprach.