Climb:
WA Pass Burgundy Spire-Ultramega OK: Northeast Buttress
Date of Climb:
7/24/2004
Trip Report: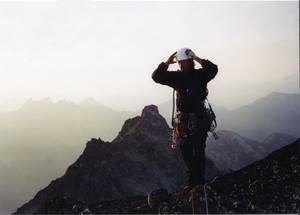 BURGUNDY SPIRE, NORTHEAST BUTTRESS, "ULTRAMEGA OK" GRADE: 5.10c/d (A0) or 5.11 III
FA: MARK ALLEN, TOM SMITH July 24,2004
Tom Smith and I spied a route up the Northeast aspect of the Burgundy Wine Spire during the second free ascent of the East Face, Action Potential, on July 22nd. The line caught my eye and I was able to carry it for several imaginary pitches on anastomozing crack systems in solid granite. On July 24th we left the North Cascades Highway at 7:30am after consuming jet fuel at the Mazama store and approached the base of the wall. We started up the first pitch of an independent line, 10ft right of Action Potential's Bugaboo pitches and shared the first belay. We trundled some good belayer-slayers and cast off into a chimney that was succeeded by an amazing right facing corner. The system continued via hand and finger cracks as predicted by our previous scouting. Later the route unexpectedly forced us to explore an interesting weakness that loomed above. We stood on a ledge below an open book seam leading to an amazing double-roofed hand-to-first crack with changing corners. Lichen made it impossible to free climb. Tom aided the seam and freed the difficult roofs at 5.10c/d. As the second I was able to free the newly clean seam and concluded that it should be 5.11. We continued to discover finger and hand crack systems made more exciting by great exposure and position to the galcier below. We followed the system with enthusiasm provoked by views of Vasaliki ridge and the Silver Star Glacier drainage. Tom led the amazing last spicy pitch and topped out on Burgundy's north shoulder joining the Original Route (Becky, Hane, Parrott, 1953) for a final pitch to the summit block at 8:30pm. I was amazed at the quality of another unclimbed Burgundy Face. This route retained high quality climbing at a consistent 5.8-5.9 rating with a stellar 5.11 crux; this is the most attactive line that Burgundy has to offer on any aspect to date. V*S*O*P* old boy! But we would not reap the rewards without a price. Upon our descent of the the North Face our rope hung up on two separate consecutive occasions forcing us to re-lead the descent and once via headlamp. After repeating the third rappell, falling rock core-shot one of the lines. Finally, at the Burgundy Col we reclined in our pile of rope, rested and exchanged a few words of celebration. During this reflection we were rewarded with the Aurora Borealis, which Tom had never seen, across the silhouetted North Cascades. At 1:00am, we returned to the Highway and to the cold Pabst Blue Ribbon chilling in the Early Winters Creek. The route was done car-to-car, free of tat or bolts. Two Lost Arrows were placed at the crux belay and one remains. Climbing at 5.11( 5.10c/d A0) III+ with seven pitches at 5.8, 5.9, 5.8, 5.11, 5.9+, 5.9, 5.8, the route was named Ultramega OK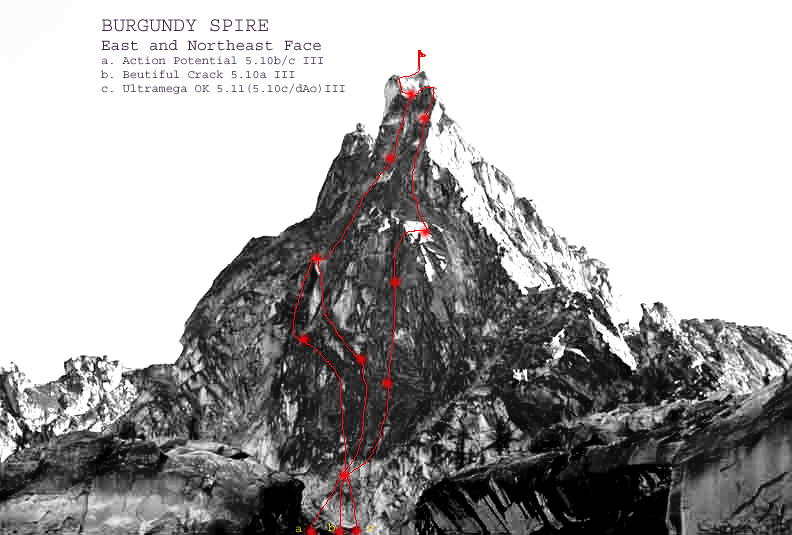 Here is a topo created out of an original Jordop photo showing all the routes. Thanks for the photo bro.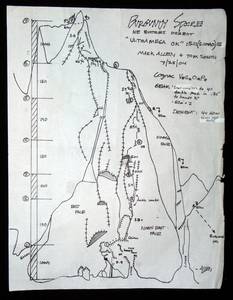 Topo can be found in my Gallery in larger format at
http://www.cascadeclimbers.com/plab/showphoto.php?photo=10540&size=big&sort=1&cat=509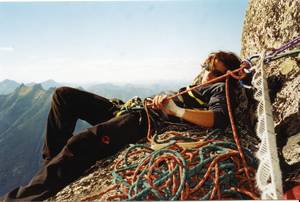 Photo of Mark at last belay taken by Tom Smith after the second ascent of Action Potential and final scouting of Ultamega Ok.
Gear Notes:
Small aliens/rps to 4"
doubles in .25-2
two ropes 60m
a few pins if you bail or for belay
Approach Notes:
3:00hrs