Trip Report:
Agassiz (12356') to Humphreys (12633') traverse
Arizona is having one of the wettest, snowiest seasons in recent years. Having just
moved from Oregon, forestry co-workers are thanking me for bringing the rain with me.
Luckily, after a week of snowstorms, the weekend cleared up and my girlfriend Amy and
I ventured to Flagstaff to visit Humphreys Peak--Arizona's highest point...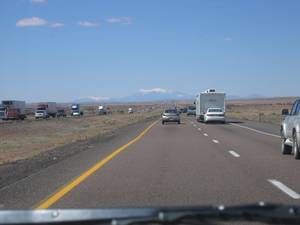 This is not a technical peak, more of a Mt Adams or St Helens type snow clmb that
completely melts out in the summer. However, with 300% of normal snow load, this felt
like a cascade giant instead of a southwest volcano.
Starting over 9000' makes for a convenient start. Most of the climb up Agassiz followed the
Snowbowl ski lift, which ends 1000' below the summit. There were relentless freezing winds
above timberline until a couple hours after sunrise...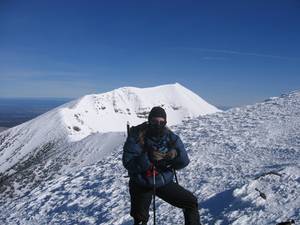 After summitting Agassiz, we followed the ridge extending north and then east towards
Humphreys, probably for 2 miles or so. Most of this is above 12000...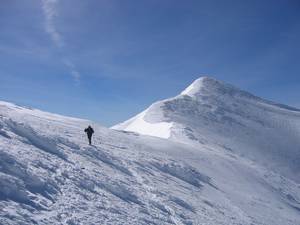 We had the summit to ourselves and enjoyed the warmer temps that were moving in...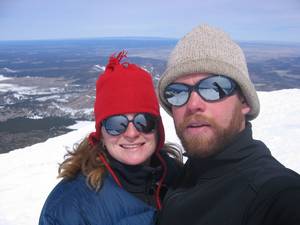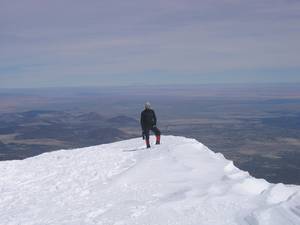 The ridge offers great views of the northern part of AZ and of the skiers who ride
the lift up and then drop into the east bowl...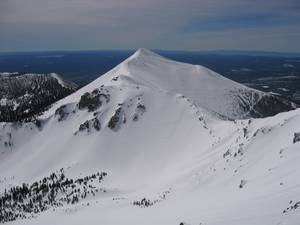 Following the ridge back towards Agassiz, we dropped off and plunged down to
timberline and eventually the truck. We enjoyed the soft plunge down to the truck,
often with drifts to my waist...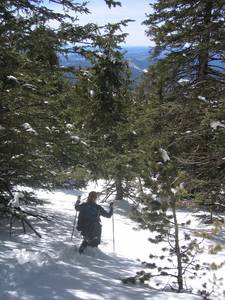 Definitely a scenic time to visit the state's highpoint!
From Flagstaff looking back at Agassiz: