Climb:
Triangular Slab Next to the Mole/Duolith-Central Corner AKA-Puff the Magic Dragon
Date of Climb:
9/29/2001
Trip Report:
The wall is listed in the CAG as "a triangular slab..corner..climbed by Pete Doorish...5.7, etc" (See "The Mole" and you will find the paragraph on the slab)
The route had obviously been climbed before so it is confirmed that Pete Doorish did the first ascent although we found this information out just after we had climbed the route.
The first pitch is 5.8, the central corner pitch is the crux at 5.10+ and the final pitch is a splended hand crack to the top. Descend by traversing the crest and a short rappel into a low angle sandy gully.
This is an ideal second day route if you are planning on climbing the Mole, Blockhouse or Duolith.
Given the quality of rock, exposure and location, I think this route deserves to be repeated many times. It is a bit short for the approach but well worth the effort.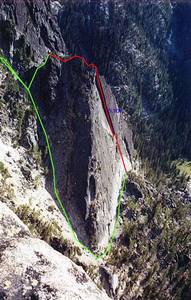 Gear Notes:
Standard rack to 3.5"
All pitches have very good gear!
Approach Notes:
We approached the route by hiking up the Hook Creek Drainage (From Icicle Creek) and traversing the Edward Mesa then hiking down the gully that leads into the Rat Creek Drainage.
You may bivy either in the Hook Creek drainage (with plenty of water) or on the Mesa which is harder to find water.