Trip:
Slesse - NE Buttress
Date:
9/28/2017
Trip Report:
Cole Robertson and I (Shane Trudell) climbed Slesse in a great weather window at the end of summer in 18 hours car-to-car. Camping nearby we drove in and started the approach at 4:00am. The trails are great, and with day packs we easily reached the base of the wall at 6:30, scrambling the ramp and roping up in another half hour.
We simuled two blocks to the base of the crux pitch on the Direct, ending up a little off route. Beta note: On the pitch
before
this obvious wall (while on the round arete), ensure the leader stays right of the crest to set up the climbing on this side. A well established anchor off to the left should be avoided. The crux felt like steep 5.9, maybe pumpy but littered with holds on rock more solid than it looked to us. A short simul block brought us to the bivy ledge about 4 hours into our roped climbing. After a half hour lunch stop we began simuling the upper half. The last steep pitch, climbing past an old bolt was the money pitch, and1 more block took us to the top through another 100m of the licheny jugs that characterize the upper face.
We summited at 3:00PM (8 hrs), snacked and packed and were on the move 20 minutes later, completing the rappels and downclimbing to the Crossover trail 2 hours after reaching the top. A note on the rappels: there are many extra anchors up there, stick with the route description. The 2nd gully rappels have anchors before the correct gully (sketchy stacked blocks), and after it (ascending 20m up a nose, an anchor extending 6-8ft; gets you to the same spot but with a downclimb).
This being a shorter day in late Sept, we had hoped to make the flagged trail by sunset at 7:00PM - we could avoid all snow/ice this late in the season, and reached the last two rappels around 6:30 and had headlamps on for the Orange Talus. Despite GPS, we spent some time lost in slide alder, trying to hit the trail too high - the flags begin around 1470m give or take. Cruiser from here! A great day out, and I think the "new" NE Butt strategy, walking the slabs and returning the well-cairned Crossover descent in-a-day is really not the same outing as it once would have been - across the glacier, then up-and-over, with bushwacking on either side!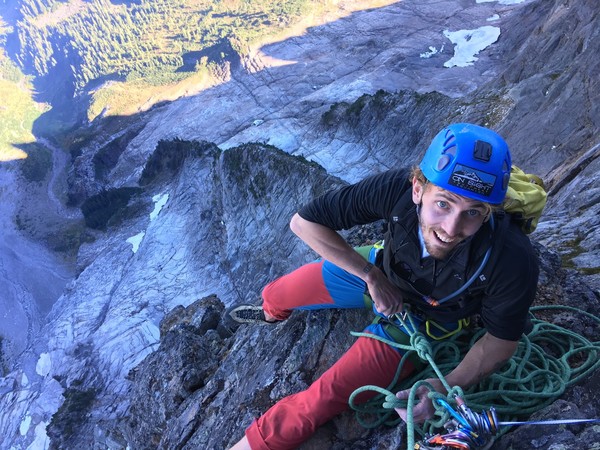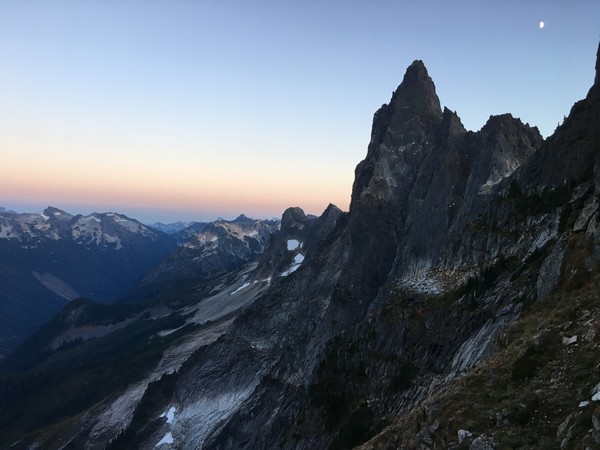 Gear Notes:
Single rope, heavy rack with mini-tractions for longer simul blocks.
Approach shoes were plenty, no crampons/axe needed this time of year.
Ultra Distance Z Poles have been a secret weapon this season.