Trip:
Mount Sir Donald - NW Ridge
Date:
9/3/2017
Trip Report:
Jason, Andrew, Jean, Kala, Russ and I climbed Mount Sir Donald as the finale to our 10-day road trip in Canada.
Rough timeline
Saturday

, 12:30pm: Left TH
3:30pm: Lower bivy, 30min break for water (slow approach due to one person feeling sick)
5pm: High bivy

Sunday

, 6am: Leave col, start climbing
11am: Summit
11:30am: Leave summit, begin bypass descent
12:30pm: Regain ridge
6pm: base of final rappel (slowed significantly by other parties, more on that later)
9pm: Back at TH (a soloist asked to join our group for bear-safety on the hike out, but he was recovering from frostbitten toes so we again moved extremely slowly)
GPS Tracks
Photos
Relevant route conditions
There's no snow remaining on the route or descent - no ice ax or crampons necessary
There's a small trickle of water at the low bivy, and a tarn a little higher up
There's a small patch of snow at the high bivy at the col that could be used as a water source. Other than this, there's no water above the low bivy
There's one river crossing with no bridge at ~6700'. Most our party removed shoes and waded across. I climbed to 6800' and found a place to just jump directly across.
Approach
There's a decent trail the whole way. There are a couple river crossings, one without a bridge. One person wasn't feeling well so we took it really slow, and we also stopped to fill up water at the low bivy.
My GPS track from the low bivy to the high bivy takes the worst way up. It turns out that there are much nicer trails either to climbers left (on top of the moraine) or far climbers right (the normal route if you don't pass through the low bivy).
At the high bivy, we were able to squeeze spots for three 2-person tents.
Climb
The climb itself is pretty darn straightforward - you climb up the ridge the whole way. We did it in four simuls, using a rack of cams to 1", a set of nuts, and 12 slings, with ~20m of rope out between us. We could have gone further with more slings, or even just more biners to clip to the multitude of tat anchors. We were slowed a little on the climb by the teams ahead of us, and I also was definitely feeling the altitude.
Descent
For the descent we debated quite a bit which route to take, but eventually chose the summit bypass, downclimbing the ridge, and then the bolted rappels.
I personally feel very comfortable roped up on solid rock, but especially dislike scrambling on steep loose scree. The summit bypass had a bit of this, but we think we might not have found the best route for the beginning of the bypass. We did eventually get on a *relatively* nice trail with cairns, that even I was comfortable on. (See
GPS Tracks
.)
Once back on the ridge, we did a little simul-down-climbing and a few rappels on tat before making it to the bolted stations:
Bolted rappels 1-2
Down-solo a short distance
Bolted rappels 3-10
Scramble down scree ledges, a rappel or two on tat while looking for the remaining bolted rappels
Bolted rappels 11-12 are further away from the dihedral than the park brochure makes it look. Also, we realized that you can actually make it down in one rappel on a 60m rope from station 11, with just a little down-scrambling at the base.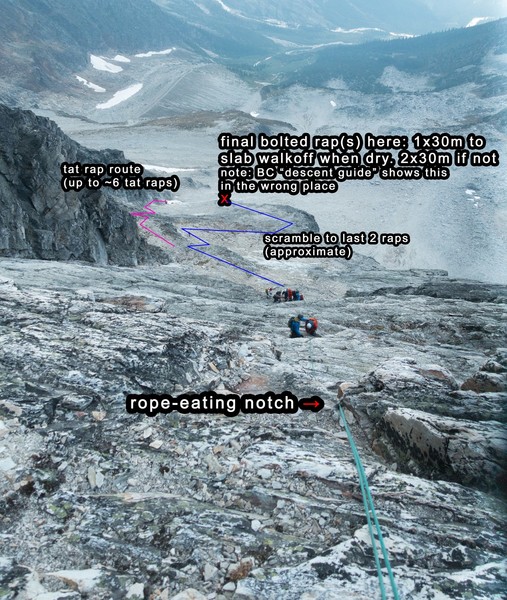 Beta photo showing the approximate scramble route between the 10th and 11th rappels. Photo credit: Jason Curtis
Another pair in our group made it to the base ~1.5hrs ahead of the rest of us (they hadn't gotten cut off by the large line-cutting group, although they were stuck behind the rock-dumping pair (see rant below)), so they kindly returned to the high bivy col and grabbed our pre-packed bivy gear and brought it down for us.
<Rant>
For us, the combination of good weather, long weekend, and the Bugaboos being closed meant that the route was pretty overcrowded. We estimated there were 30+ people on the climb. We encountered the worst behavior I've ever seen in the alpine, so here's a rant on the topic that I'm getting off my chest..
Some personal opinions on climbing etiquette and passing other teams. It is okay to pass other teams if:
1. You ask them politely and they say "yes" OR you can do so with no inconvenience to them
AND
2. You are capable of moving significantly faster than them afterwards, such that you only slow them down during the time you are actually passing them
Some examples of this:
Good:

Two soloists who passed by us as we were simuling up the ridge. They cruised on by without slowing us down for more than about 15 seconds.

Not great:

A pair of simul-climbers, who were still roped up on the summit bypass descent route, who hugged Kala's heels so closely that they and their dragging rope dumped a pile of rocks on her, didn't apologize, barely got ahead of us in time for the rest of the descent down the ridge, and then proceeded to dawdle their way down the mountain, slowing down the 20+ people behind them, because they "weren't worried how long it would take them to get down"

Questionable:

A group of ~6 people who scrambled around to the side of us while we were doing one final rappel on tat before getting to the first bolted station, because we saw there were already 3 teams waiting in line anyway. I suppose this one is questionable, because technically their scramble was faster than our rappel, but in our minds we were already in line for the next rappel, and we were just choosing the slightly safer option since we had extra time anyway.

Worst:

The team who *actually cut in front of Kala and Russ as they were waiting in line for the first bolted rappel, literally pushing other people out of the way to get their rope set up first*. I believe this team was a subset of the aforementioned group of ~6 people who cut around us. I'm still mystified how they thought this was acceptable behavior - isn't learning not to cut in line and not to push other people something you do in kindergarten? When we confronted them about it, they refused to admit they'd done anything wrong.
A separate personal opinion on doing many sequential rappels:
A competent team simul-rapping on a single rope is pretty much faster than any other possible rappel set-up. Double-rope raps are not faster - they take longer to set up and run a higher risk of getting stuck. Fixing a bunch of ropes is not faster, unless some members of the team are incapable or extremely slow at setting up rappels themselves.
We have at least one data point for this, as we had to cumulatively wait ~1.5+ hrs for the line-cutting team to get their multitude of ropes fixed, and yet by just doing a series of efficient single-rope simul-raps as a pair, we reached the base only about 2 minutes after they did.
</Rant>
Gear Notes:
Rack of cams to 1", a set of nuts, 12 slings. Simuled with ~20m of rope out between us.