Trip:
Formidable - South Face
Date:
8/27/2017
Trip Report:
I climbed Formidable this past weekend with my friends Noel and Ed. At the TH we ran into a 3-person party that we knew who had to make a backup plan on the fly due to a new fire in the Thunder Creek area (they had planned on Logan). We ended up having a similar itinerary with them and shared the camp and parts of the climbing route.
The hike in was uneventful, albeit increasingly hot from Kool Aid lake and onwards.
Formidable from somewhere between Cache Col and Kool Aid lake: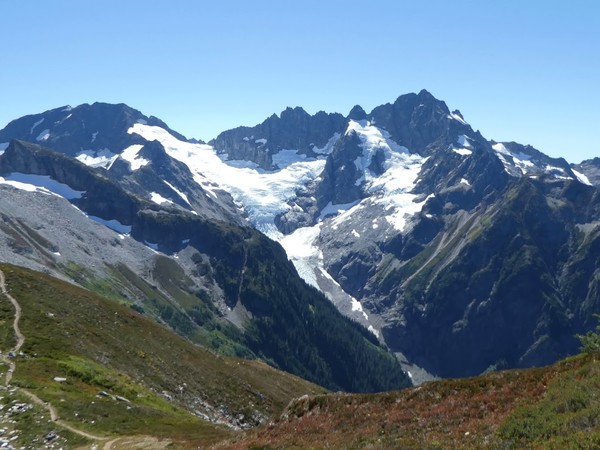 The Cache Glacier has a few cracks open and some icy bits but we opted to do it unroped.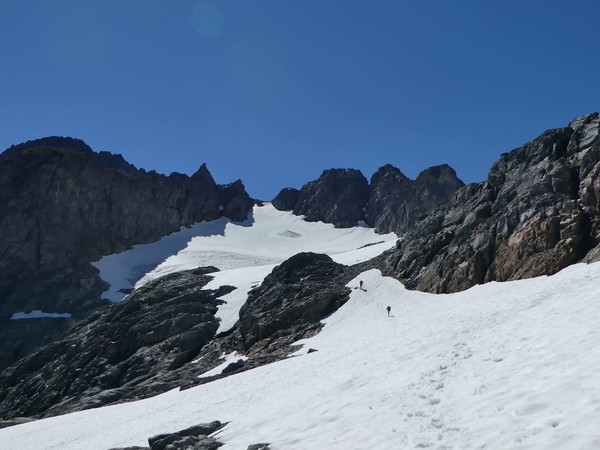 The Red Ledges were easily accessible by downclimbing 10 feet into a moat, skirting it a bit, then scrambling a class 3 gully. We camped in meadows just past the Red Ledges. Due to the heat and sun we retreated into our bivies for a nice siesta with extra clothing hanging from our shelters as extra shade.
We enjoyed a spectacular sunset, partially thanks to the wildfires: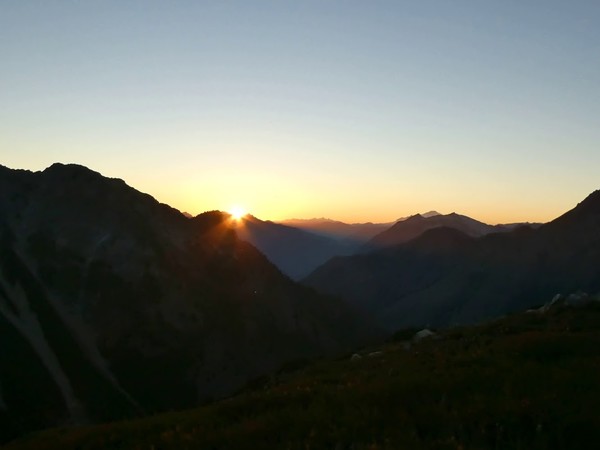 On Sunday we got up pre-dawn, which is not that early these dog days of summer, and headed up to the Middle Cascade glacier. This one was crevassed enough to make us rope up, but other parties might be fine soloing it.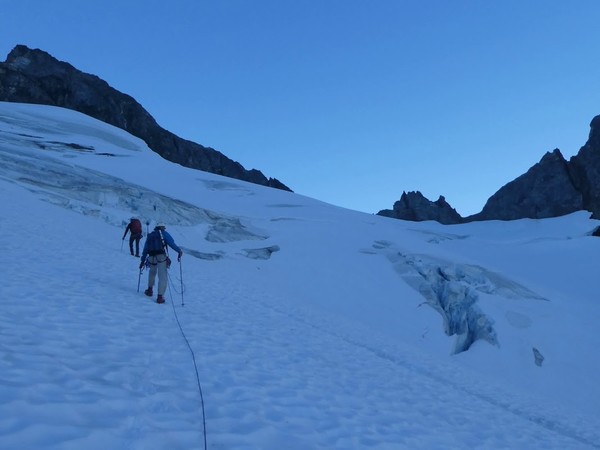 The Spider-Formidable col was dry but had some steep, firm snow on the S side. I put on crampons and was glad to have done so.
Descending steep snow: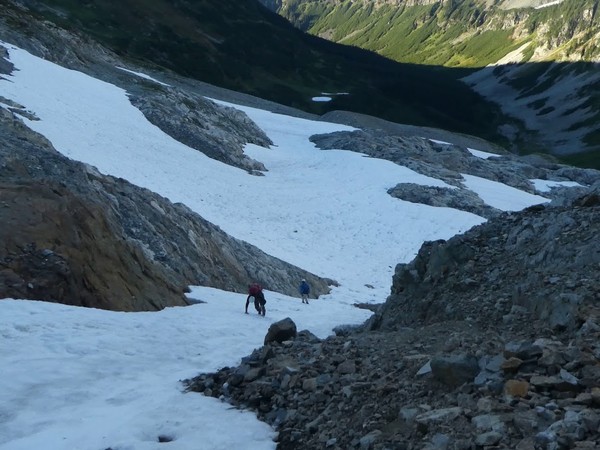 Views opening up from the col: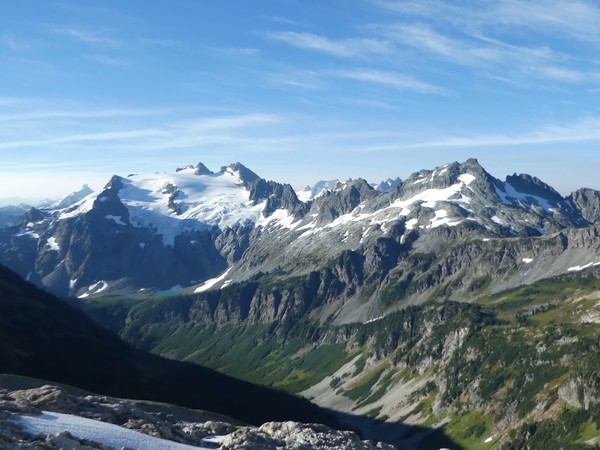 After dropping a couple hundred feet we traversed snow and talus along the Ptarmigan Traverse trail until the saddle just below point 7285.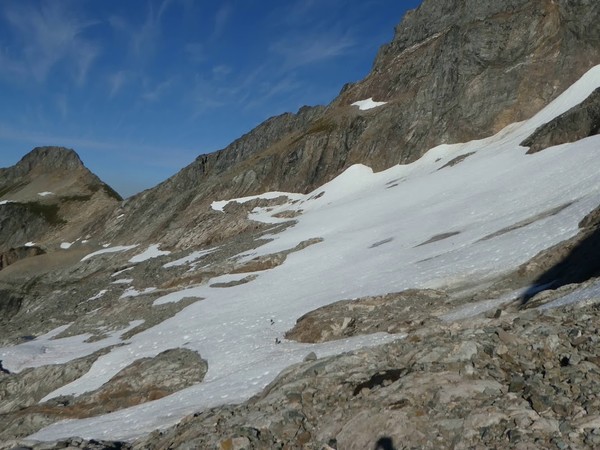 From here we descended a shitty loose gully and then traversed mostly talus, with some snow then scrambled class 3 to just below a snow field. We climbed that (firm) and attained the ramps leading to the "ledges" option as described by Klenke on summit post. This was solid and easy. Then we traversed and scrambled fun class 3 to the summit.
Typical scrambling on the S face: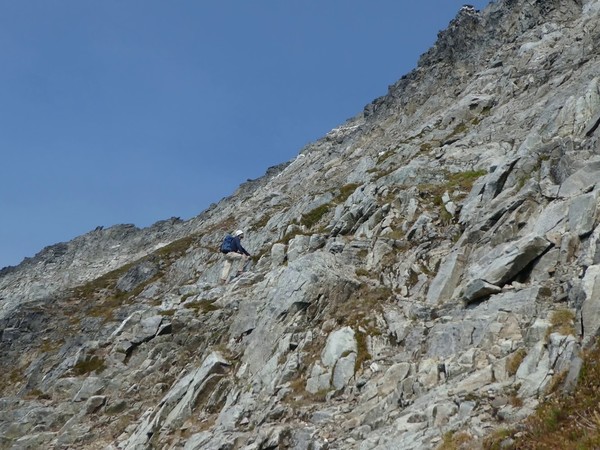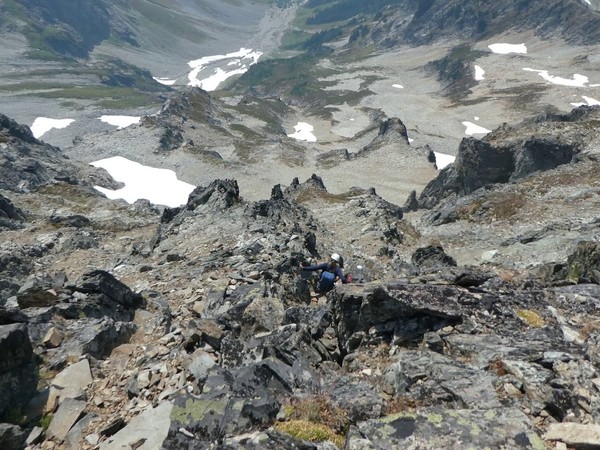 After a leisurely time enjoying the views and mutual company we headed down and got to camp by 6:30. Monday we retraced our steps from Saturday and got to the car by noon.
This peak is a milestone for me: 75/100.
Gear Notes:
Ice axe, crampons, rope for Middle Cascade glacier. No need to belay anything or rappel.
Approach Notes:
One gully on the traverse along Mixup Arm is nasty to cross. Steep snow at Spider-Formidable col.