Trip:
South and North Twin Sister - Loop traverse
Date:
8/26/2017
Trip Report:
Yesterday, I spent a 15 hour day on a loop tour of North and South Twin Sister with my friend Lukas, a climbing partner of almost 20 years. We covered 18 miles of terrain and gained more than 7000' in elevation. Best of all, we made it back to B'ham's Casa Que Pasa within 3 minutes of closing to replenish with multi-pound burritos. We found on this trip that if you push to accomplish your goals and don't give up until you are absolutely stuck and shut down, you might actually succeed while facing that which seems initially impossible.
We left the Middle Fork of The Nooksak by the gated bridge at 7am and walked up the logging roads, then trails, to the flanks the West Ridge of South Twin. We cached a bike at the turn off of North Twin's west ridge trail and wondered about the history of an old cabin site (~4520') in the valley between North and South Twin as well as marveling at the spring gushing out of the valley between the two Twin Sisters (~4740' last reliable water en route to the summit...fill up here).
We dispatched the class 2-3 west ridge of South Twin summit and both remarked that it felt shorter and easier than North Twin's similar West Ridge which we had done 11 months earlier. Both of us felt baffled that write-ups described it as slightly harder and longer. Maybe it was due to the fact that South Twin's west ridge was just the approach hike for our longer tour which we had in mind for the day. We were following the GPS track of a pair of runners who climbed both peaks and connected the two by walking along the glacier on South Twin's western flank, arriving back at their car in an impressive 6 hours.
Their route descended South Twin's southeast ridge to a notch, and then dropped westerly down steep cliffs onto the glacier. We had no information about their experience other than their GPS track, which had taken place in May two years prior. As we descended increasingly steep chossy 4th class cliffs and downclimbed past two sets of rappel slings following their path, it dawned on us that that party may have had a rope (we didn't), and likely had had more snow present during their trip (before much of the spring snow had melted), perhaps covering the steep final cliff portion which we found abutting a menacing glacial moat.
As we gingerly descended the western cliffs of South Twin's southeast ridge, through loose cliff steps peppered with gravel and sharp rockfall, we hoped to find a straightforward step onto the west side glacier. Backtracking up and down and zig zagging back and forth on exposed 4th class terrain, we had no such luck. Our efforts cliffed us out a mere 50 feet above the invitingly close glacier, obviating how effortless it would have been to have stuffed a rope, harness and rappel gear into our packs. The weight savings of going ropeless no longer seemed worthwhile. I was sketched! (Moral: bring a rope if you go this way!)
Verbalizing my fear to Lukas and the obvious conclusion that we were going to have to retrace our steps merely ignited his persistence. He committed to handholds at our feet and lowered himself into vertical appearing 5th class terrain, feeling out blind foot placements, discovering positive handholds which were hidden from our vantage point above due to the increasing cliff steepness. Beneath us was the bottomless blackness of the glacial moat which emanated such a spooky vibe that I dared not look directly into the inky void for fear of seeing death itself. Our causally rated outing had suddenly been transformed into full on business class if not downright formal affair. The exposure was palpable and it's texture was scary.
My instinct for self-preservation urged bailing (if that were even still an option), but Lukas' sticktoitiveness kicked into high gear. He inched down methodically from positive handhold to solid handjam to secure foot placement, ignoring the bottomless moat beneath him, focused on reaching a small ledge bridging to the glacier.
In retrospect, the combination of my more conservative preoccupation with safety with his boldness to press on has likely been a winning combination for our mountain success over the years. While writing up this TR I reckoned that partnerships which are too bold risk premature death while those which are too conservative never get anything done. Somewhere between the two is the balance. Thankfully we found it that afternoon. A few minutes later we jumped the final step onto the glacier. With hands in Union gloves and nary a worry, we strolled merrily on our way as if we were Joe Arpaio and Donald Trump were president. We were blissfully amnestic of the fact that the grim reaper himself had just lifted our necks from the stocks of the guillotine and tossed us, like a disgusted bouncer, into the alleyway. I wasn't arguing. We pressed onward toward the notch between North and South Twin, skittering in the glacial sun cups in our approach shoes, casting sideways glances for signs of hidden crevasses, stepping around only one. Casual.
The next segment of our adventure found us at the notch between North and South Twin. In this mid afternoon hour, prudent mountaineers would have elected to continue scrambling down the west sloping valley and hightailed it safely back to the trailhead. We are slow learners however and we dumbly pressed on up the southeast ridge of North Twin into unknown (to us) terrain, consoling ourselves that once we tagged the summit of North Twin, we were on familiar ground and could autopilot down the west ridge. After all, we were following the GPS track of a couple of lamos in running singlets and mesh vests with gel packs who had just jogged this route in 6 hours. WTF!
I felt that the southeast ridge of North Twin was only slightly more difficult than either of Twins' west ridges, but more exposed with more loose rock. The scenery however, was breathtaking. Mt Baker was directly to our (north)east, revealing it's more private side containing the Squak and Easton glaciers. South Twin's massif behind us, with it's intricate ridges and adjacent glaciers, was stunning.
Ascending further, each step closer to the top of the North Twin's southeast summit held an increasing percentage of dread that we might get cliffed out above a deep notch separating us from the the true summit. The connecting steps and ridges of our route grew steeper, and the exposure grew more intrusive. At one point, I paused and scrolled through my iPhone's photo albums specifically to study summit pics from last years's ascent of North Twin. I knew I had some wide sweeping panoramas and perhaps I could find a detailed perspective of the cliffs beneath our feet? I found an archived photo of our current perch, thinly veiled in a swirl of mist. As I zoomed in, a man with lesser rectal fortitude would have promptly soiled his REI zip off pant-shorts.
"Lukas, we're screwed," I bellowed up the ridge. "There is no safe way down to the notch from here. It's too steep and cliffed out. Let's bail!" These words impacted Lukas like a gnat farting a mile away. Nonplussed, he was dismissive, "Bail? You've got to be kidding. To where?"
I mumbled about some steep chossy gulley hundreds of feet beneath us that might lead back to our approach valley. Lukas ignored me as if I'd just suggested we go bobbing for apples in an overflowing portapotty. He then pointed out a series ledges, downsloping and covered with loose rocks several hundred feet beneath us: they appeared to wrap around to the west and perhaps might connect to an easier adjacent ridge to the true summit of North Twin, bypassing the notch entirely? With the sun approaching the horizon, I felt like a man who'd been kick in the balls a thousand times and was about to get his 1001st kick. What the hell, what's one more kick?
We scrambled down sketchball loose gullies interrupted by short 4th class death steps toward his proposed imaginary route. Less than a hundred feet lower we were hit with an epiphany that all climbers have experienced at some point: the frontal perspective of a cliff face from far away often makes it look much steeper and intimidating than it really is.
Sure enough, the impossible cliff which appeared to guard the true North Twin summit from our side of the notch was actually just low angle 3rd class terrain when we got right up in its grill. Elated, we bagged the North Twin summit, allowing ourselves a 5 minute rest break before descending the straightforward west ridge as the sun dipped close the San Juans. When darkness finally required headlamps, we had arrived at the descent trail in the forrest. Bowler! We still had a couple of miles to hike to reach my bike hidden in the trees. Lukas, sans bike and evidently reaction formating by his recent foray into ultra-marathoning, pathologically announced he would run the rest of the 6.5 miles back to the car. "Don't you want to run too?", he asked. Um, no.
I walked the final miles to my bike, pausing only to dump pebbles out of my shoes and insure that the weird sound in the shadows was indeed croaking frogs and not a ghost intent on making me piss my pants. My bike had a flat tire, a mere flesh wound at this point as I was equipped with a pump and patch kit. I repaired it by headlamp then coasted a half dozen miles down well groomed logging roads in the dark reaching the car at 10pm. Lukas had arrived at the car 15 minutes prior. What a stud!
All in all a grand adventure, and I do mean adventure, as the outcome was quite uncertain at times, but accompanied by a persevering partner, we prevailed. I could not have pulled it off otherwise.
Lukas' uploaded all of his videoclips from the trip into an into an
unedited video compilation
. I found it funny, amusing and quite dorky in it's candid realism.
His Strava link of our path is
here
. Evidently, the ~ 4 hour moving time is an inaccuracy due to his GPS tracker being set on "run mode", which stops the clock if one is moving less than a running pace, as we were much of the trip. It took us 15 hours car to car, with many short breaks.
There is a
TR
from dberdinka who did a similar trip SOLO _AND_ BIKED from Bellingham. Great style! Chapeau! His route smartly descended the NE ridge from South Twin's summit to reach the glacier on the west side, thus avoiding our drama. This may likely be the better descent route for ropeless parties.
Gear taken: Approach or running shoes, light axe (e.g. Camp Corsa), light aluminum crampons (Black Diamond Neve 'pons worked very nicely with my approach shoes); my partner never took his axe nor crampons out of his daypack. Jolly Ranchers worked well during the grind sections to maintain morale. Tire repair kit and pump for your bike.
Gear I wished that I'd had: A rope to rap over the scary moat gap or steep sections on the the SE ridge of South Twin which leads to the glacier. Completed will and testament placed on my desk at home, along with a list of my savings and retirement accounts to make things easier for my heirs. Rosary and holy water.
All photos copyright Charlie Wolf 2017
On the southern flanks of the west ridge of North Twin, approaching South Twin: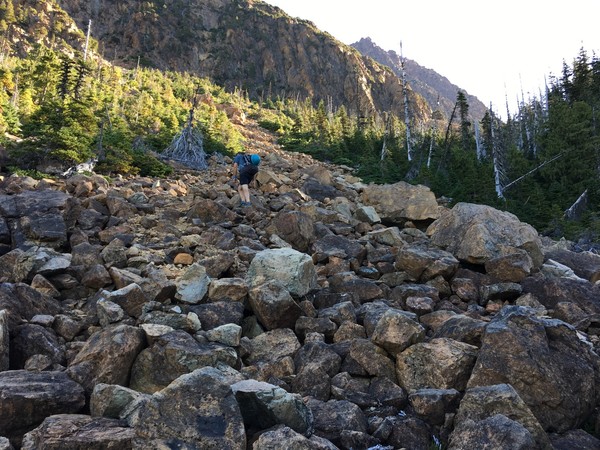 The valley between North and South Twin with South Twin's west ridge in skyline: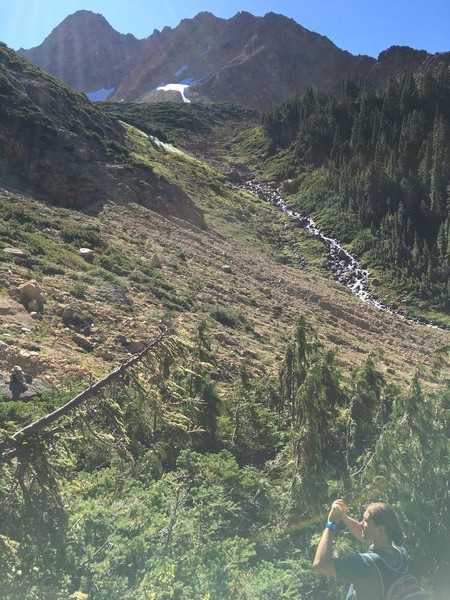 The view NE from South Twin's summit toward Mt. Baker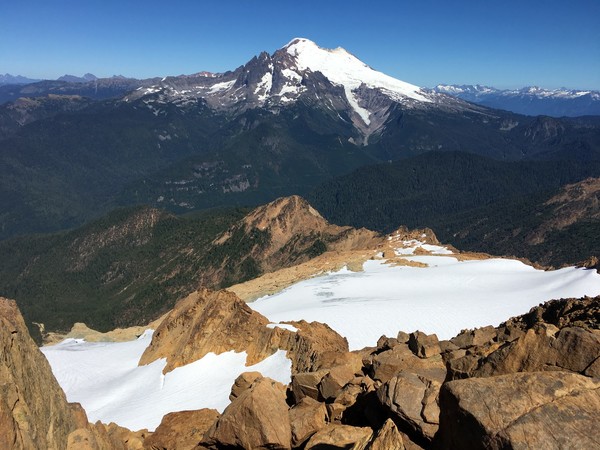 Lukas on summit of South Twin with North Twin in the distance. After descending South Twin and traversing the glacier back to North Twin, we went up North Twin's righthand (SE) ridge and down the left (West) ridge: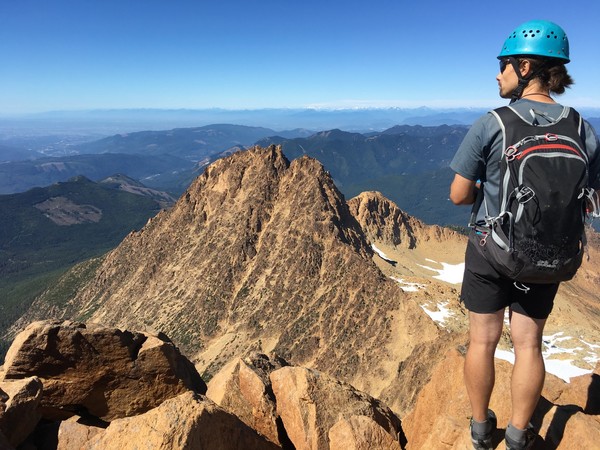 Descending toward South Twin's SE ridge: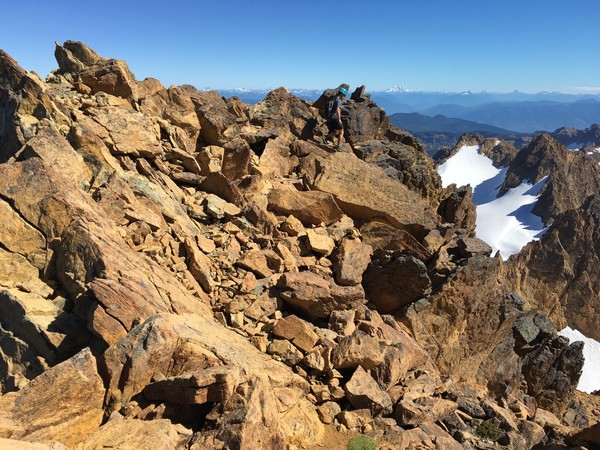 Descending toward South Twin's SE ridge: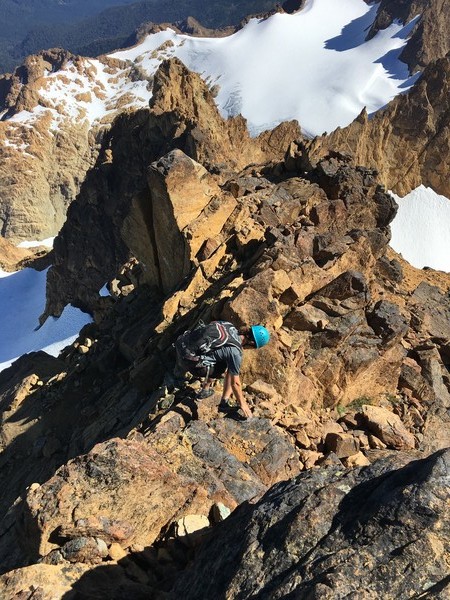 The glacier east of South Twin and Mt. Baker: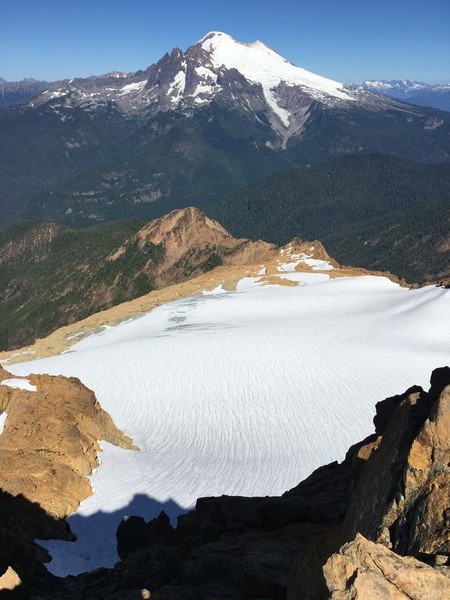 Finally arriving at a spot where we could step onto the glacier after descending ropeless down the eastern slope of South Twin's SE ridge: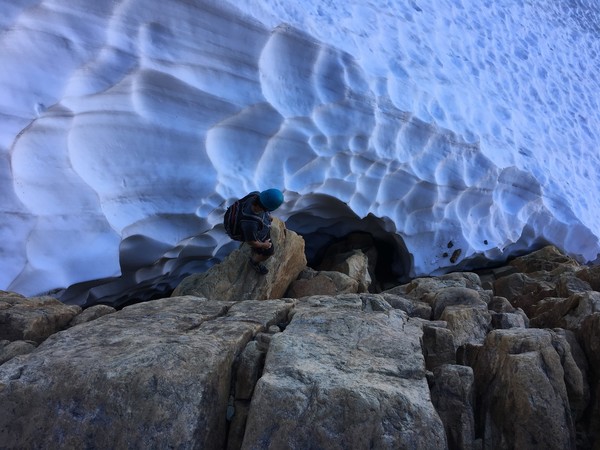 On the glacier at last!: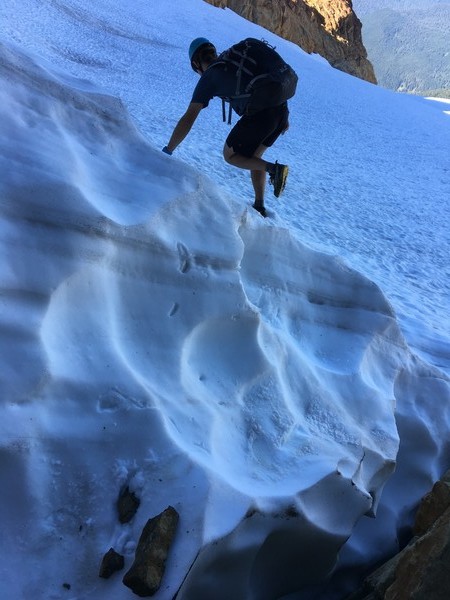 Looking back at our descent route from eastern side of the SE ridge of South Twin: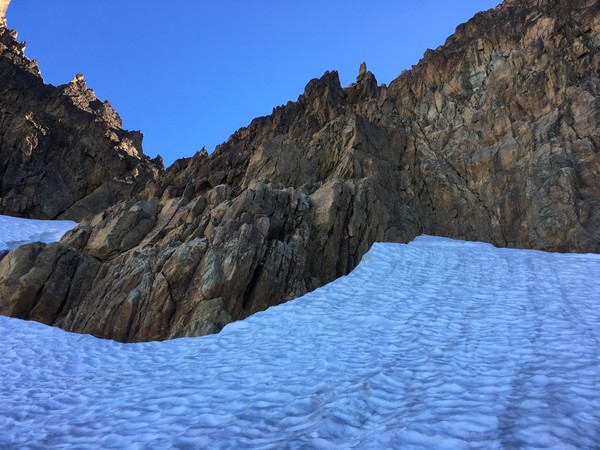 Twin Sister's Glacier and Mt. Baker: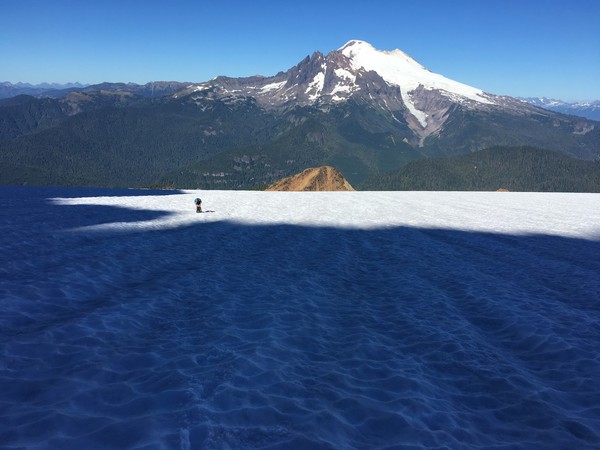 Looking up South Twin from the north. The NE ridge descends the left skyline: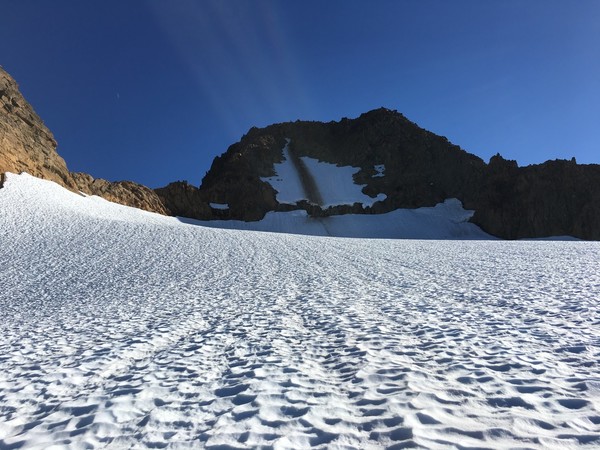 Approaching the SE ridge of North Twin: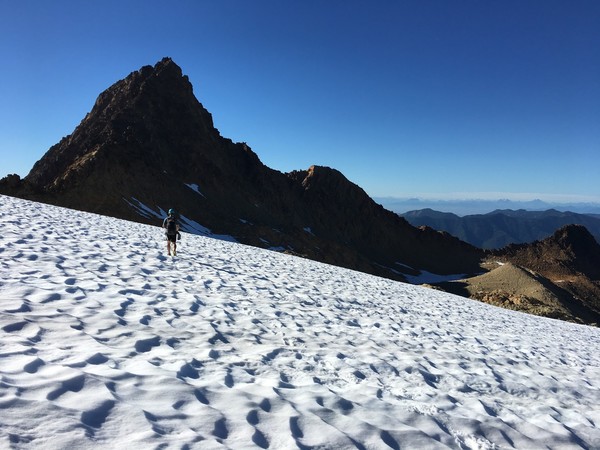 Closer to the SE ridge of North Twin: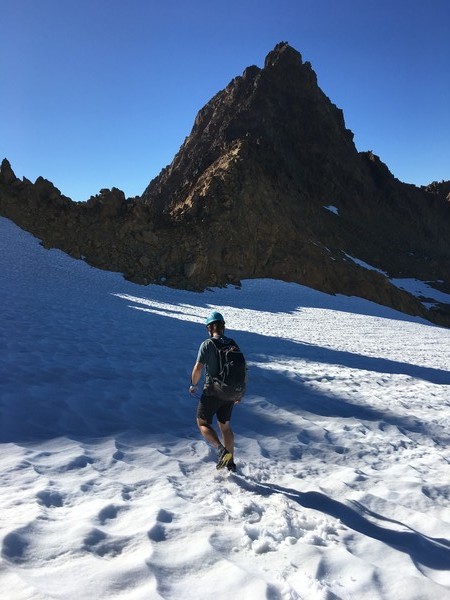 Lukas near the eastern summit of North Twin. He's looking toward the summit notch: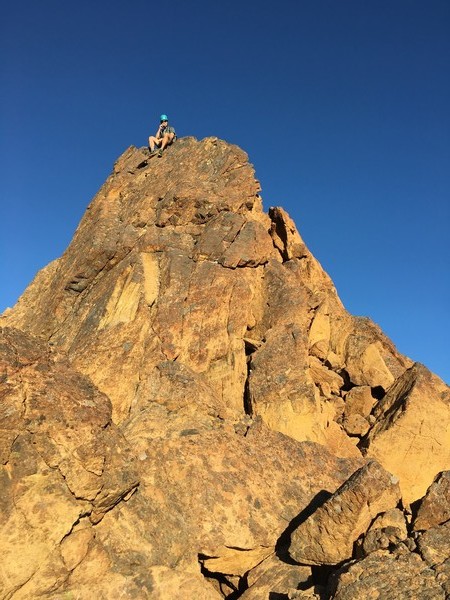 Descending, low North Twin Sister's west ridge: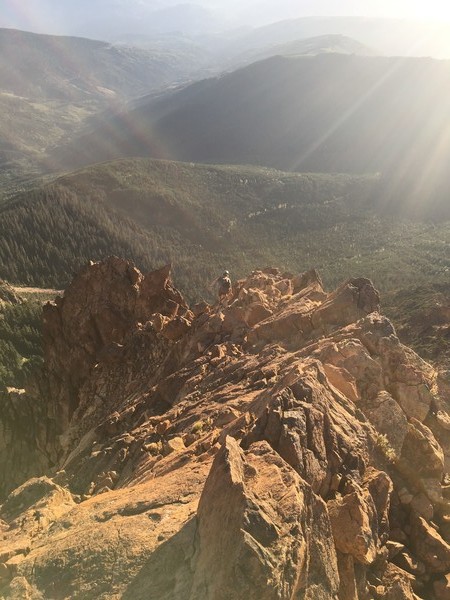 Sunset view of South Twin Sister's West Ridge from low on North Twin Sister's west ridge: