Trip:
Mt Triumph - NE Ridge
Date:
8/12/2017
Trip Report:
Me, Fred, and Max climbed the NE Ridge on Triumph in a day on Saturday. It was fantastic! Though smoky.
We TH bivied for a couple of hours on Friday night and were on the trail at 2:30 am. We reached the saddle on the trail above the lakes in 2 hours, the col in 2 more. I think it was about 2 more to the notch in the ridge. Summited at 11:30 am, back to the trailhead at 9:30 pm.
Navigating after the campground at the first lake was tough in the mostly dark, we took a few wrong turns. The snow was firm both directions so crampons are advised (as Max learned the hard way). We took a ramp on the right hand side of the gully to reach the notch in the ridge. This was really easy, third class at the worst spot. We simul-climbed the entire ridge except the crux crack, which I followed in approach shoes without doing a single crack technique move - because I suck at those.
We rapped I think 5 times on the way down, near the crux and at the bottom mostly. We found two places where it was more than a 30m rap to the next station... Not sure what that is all about since everyone says a single 60m works. It worked, but was kind of dumb belaying out like 10 feet to the next station. Just make sure the first person to rap has the rack.
The views the entire time from the col were great although there was still a lit of smoke - thanks a lot Canada!
All in all a great day out! We were all pretty wiped by the time we hit the car again, and I was a bit bummed to miss out on the bivy, but the weather called for rain on Sunday. I would say it is moderately reasonable as a single day trip if you are comfortable simul-climbing or soloing low 5th class.
Fred posturing on the summit while the Pickets and Max look on: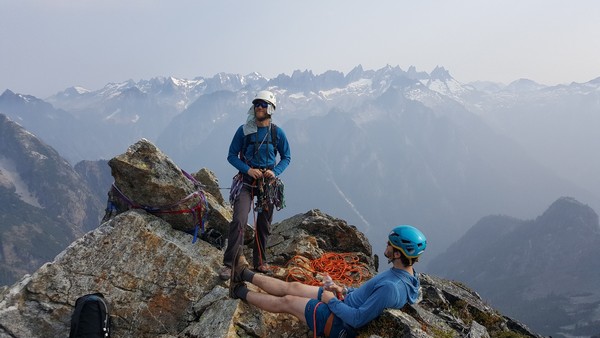 Some cool clouds spilling over the ridge between Triumph and Despair (no joke intended):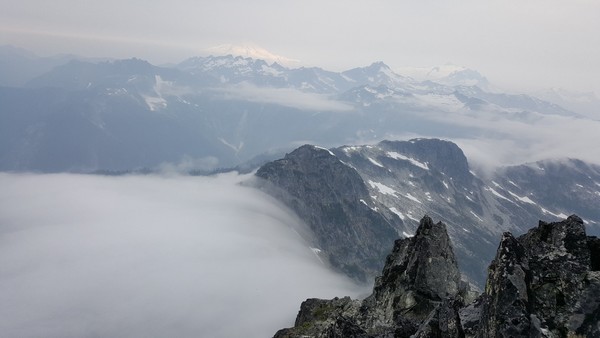 A colorful moment in the mountains (literally):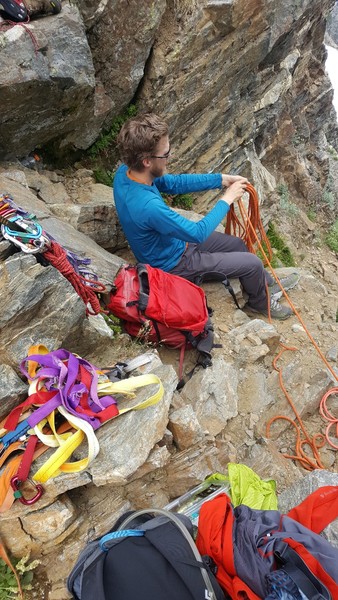 Gear Notes:
2 30m ropes
approach shoes
6 cams to 3"
set of nuts
13 runners
axe
crampons
Approach Notes:
Doing it in the light would be good, at least until the second lake.