Trip:
Slesse Mountain - Northeast Buttress
Date:
8/12/2017
Trip Report:
Carl & myself and Doug & Sasha climbed Slesse over the weekend as two teams of two. In summer and with a rope I still found it "very exciting". We timed the weather well, shortening our schedule and climbing the buttress all on Saturday to avoid being on wet rock in bad weather on Sunday.
Friday evening we staged a truck on the Slesse Creek Road (2wd fine) and drove around to the TH on the Nesakwatch Creek Road (higher clearance recommended). Left the trailhead at dark and hiked 2+ hours up to the propeller cairn for a nice bivy. Our plan was to carry our light bivy gear up the route and crash somewhere on the backside if necessary.
Saturday we were up at dawn and moving towards the start of the route. The buttress looming above us in the early morning light: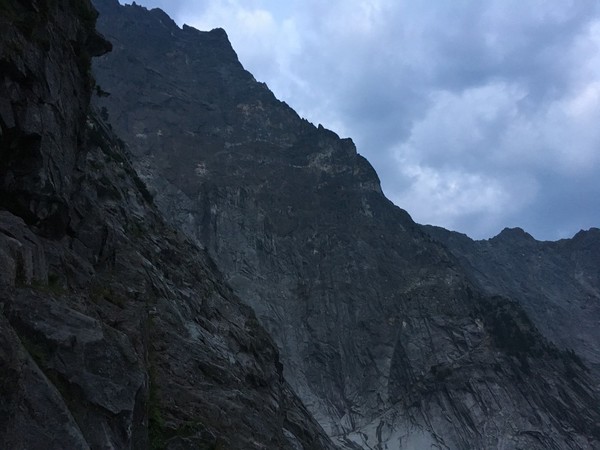 The pocket glacier was effectively gone, leaving nicely polished slabs to walk up to the bypass ramps.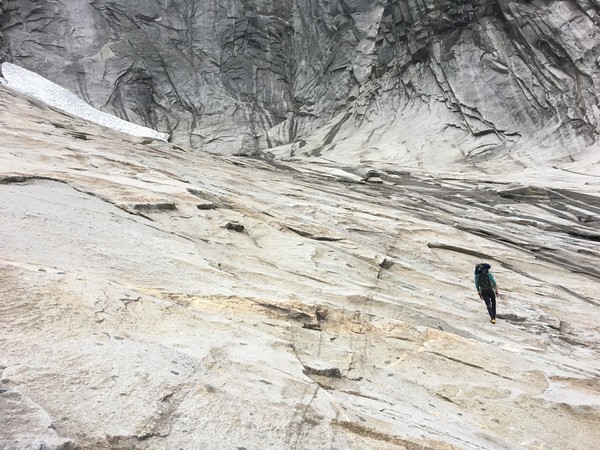 We scrambled up the ramps and all the way to a small gendarme several hundred feet up the route. If you're comfortable getting across an exposed 4th class step around midway up the ramp then you should have no problem making it to the gendarme unroped. Starting up the ramps: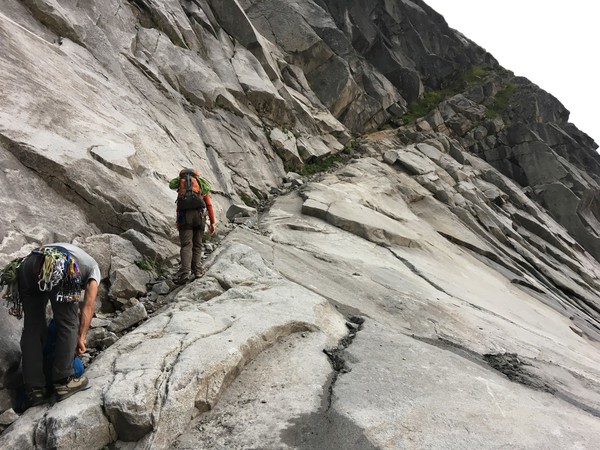 We made it from the gendarme to the big bivy ledge via the direct buttress in 5 pitches with a bit of simuling. The crux 5.10 pitch was fun and juggy. The 5.9 pitch above it had a short tricky step that we thought was the hardest move of the climb. Carl leading the crux pitch: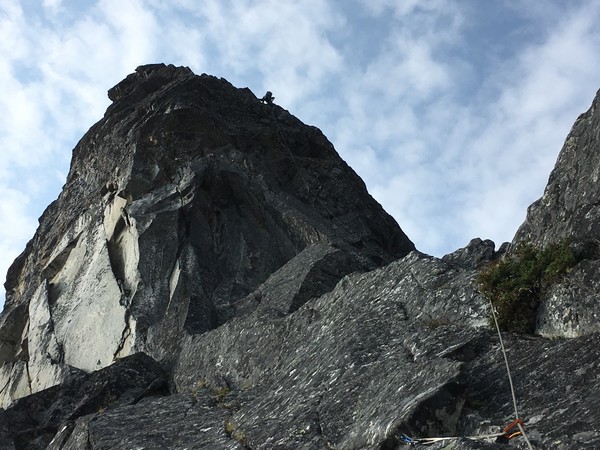 There's still some patchy snow for water above the bivy ledge: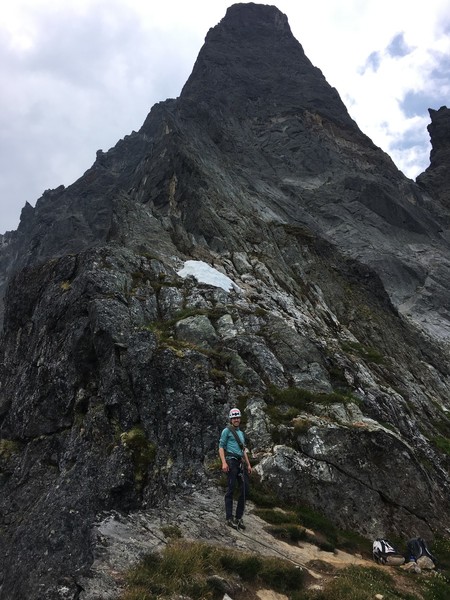 From the bivy ledge we made it to the summit in 6 pitches with a bit more of simuling. Carl arriving at the Slesse Sheraton with the buttress laid out below: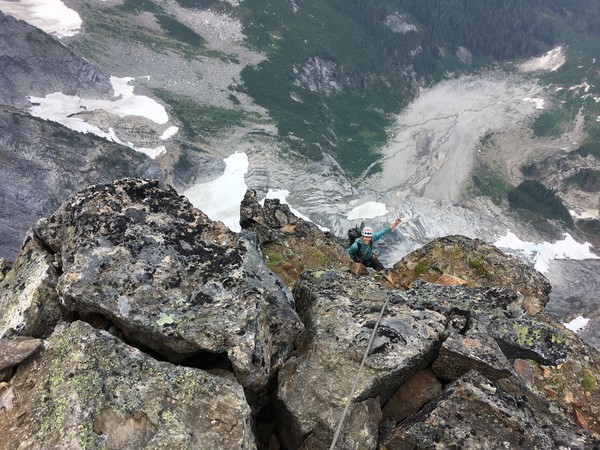 Overall it took about 9 hours of efficient roped climbing up the route. Views on top were shrouded in smoke and clouds. Baker: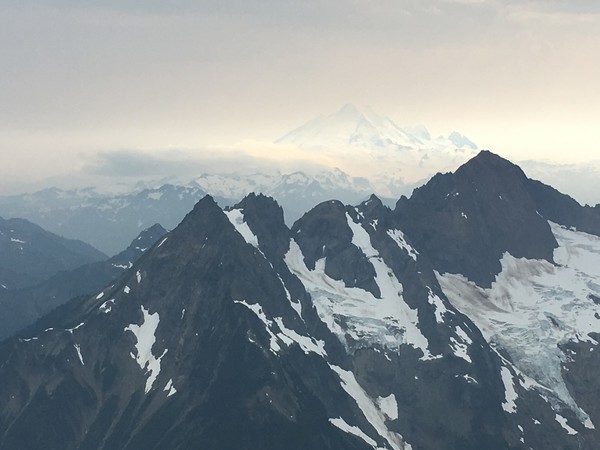 Shuksan: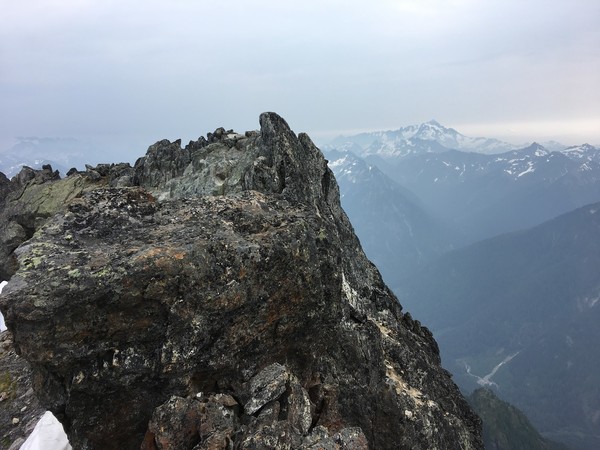 Summit cheese: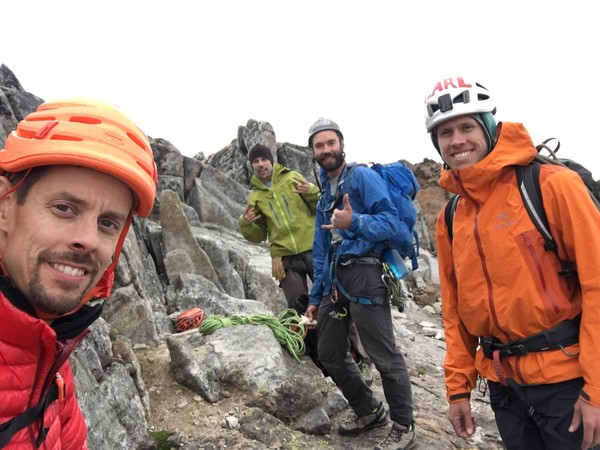 The register was an impressive read. "Very exciting" indeed: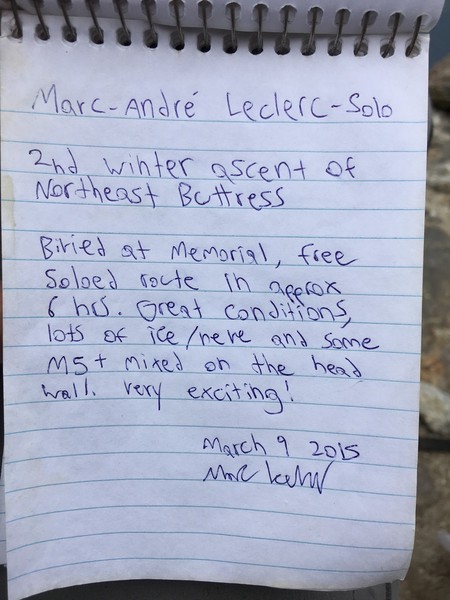 We crashed all the way back down to the truck around midnight, just as the first drops of rain started to fall. Perfect timing!
Gear Notes:
Crampons and an axe were not needed nor carried.
Approach Notes:
The trail is well marked and beaten in. It's amusing to read older trip reports about folks bashing through brush on the approach. It's a highway at this point.