Trip:
Victoria Peak- Vancouver Island - New Route: Summit or Plummet, 5.10a, Aid 1
Date:
8/10/2017
Trip Report: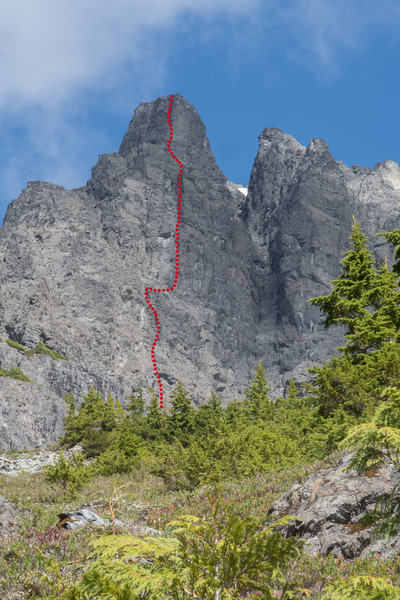 A quick discussion at the Victoria Valhalla store about an unclimbed face one Tuesday afternoon and the next thing you know Karsten Klawitter and I were driving up island late one Wednesday night with thoughts of what could be on the horizon the following day. I had attempted the climb a few weeks back with Andreas Hinkkala- On the initial attempt we climbed three pitches up the face before getting weathered off, so I knew the approach and the first 3 pitches would go quickly.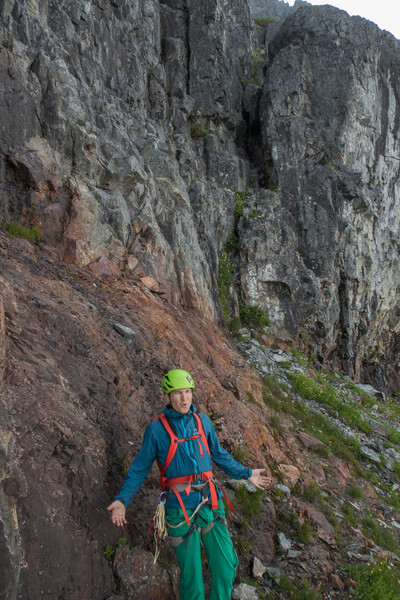 Here's Karsten getting his stoke on while we rack up. There are a few options on how to get off the main ramp and up to a vegetated area above. We climbed the gulley behind Karsten here- a couple 5.4 moves and one more low fifth bulge will get you on your way to the large gulley system that makes up pitches 2-(5.6) and 3-(5.7/5.8 depending on line taken).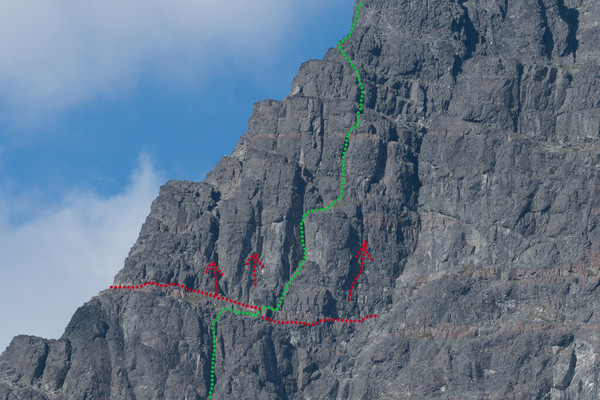 Once atop pitch 3 you'll find yourself on a large ledge system that connects the West Ridge and Sceptre gulley. The natural line that holds you to the middle of the face is half a rope length to the right of where you top out of the 3'rd pitch. Another large open gulley is an option on the left as well as another crack system to it's right. If a party wanted to avoid the 10.a pitch they could possibly enter the Sceptre gulley and return to the face higher up, furthest right in this picture.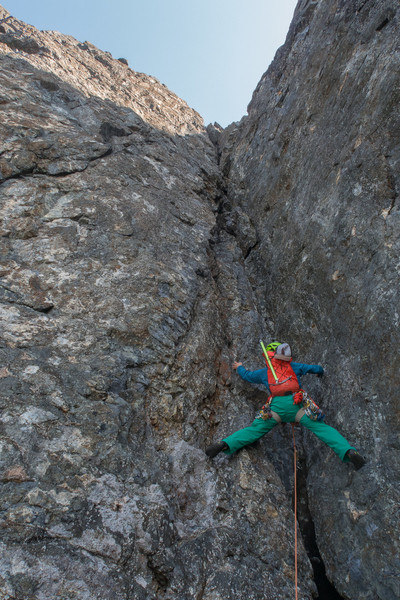 Pitch 4 has a little scrambling with a few 5.7 moves- 35 meters out you'll find yourself on a nice hidden ledge looking up the first business pitch the route has to offer. Pitch 5 was a solid 5.9 pitch with a couple moves that felt 10.a. Here's Karsten lower down on pitch 5.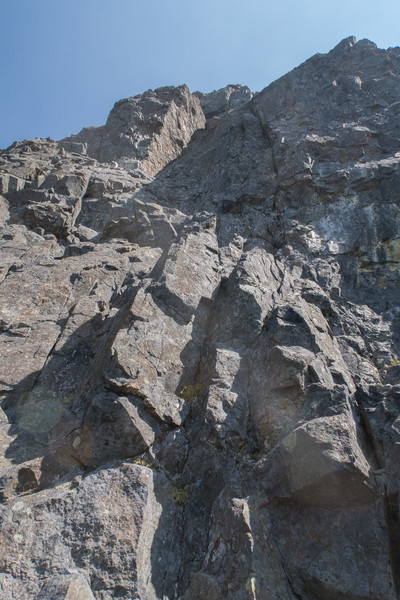 Once up the 10.a corner we opted to sneak out right, avoiding the short upper gulley. Here we once again had options as to where we should climb. The natural line as seen from below took us up a dihedral crack into some steepness. Here's a picture as seen from the ledge below- we were both shocked as to how steep this corner was. A nice 30 meter pitch of 5.8 landed me on a small one person only ledge. We set up shop here for the difficulties above.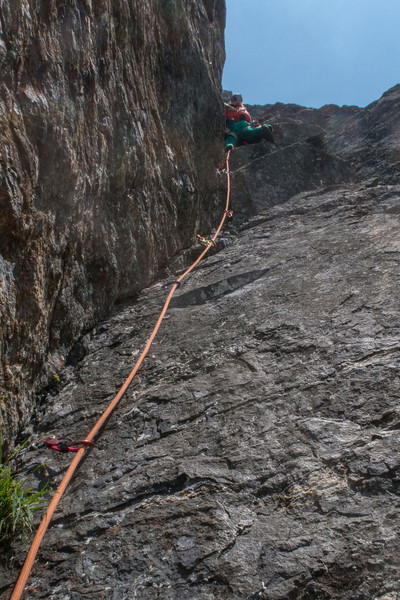 Once past the anchor pitch 7 gets real, really fast. Thin face moves along side a finger crack in the corner had us aiding pretty much from the anchor onwards. Here's Karsten dealing with the roof on pitch 7. After aiding thru and my attempt at climbing the pitch on top rope we both felt this pitch would go free in the 5.11a or 5.11b range.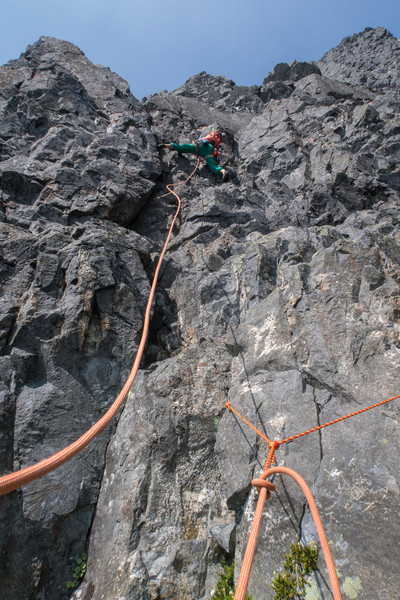 Once past the difficult aid section we scooted out right. Pitch 8 went at 5.7 and led us to let another ledge system that connects the West Ridge and the Sceptre gulley. With the upper headwall in mind we plotted a route up and left looking to gain the West ridge below the upper head wall. Here's Karsten on lead climbing pitch 9 (5.8).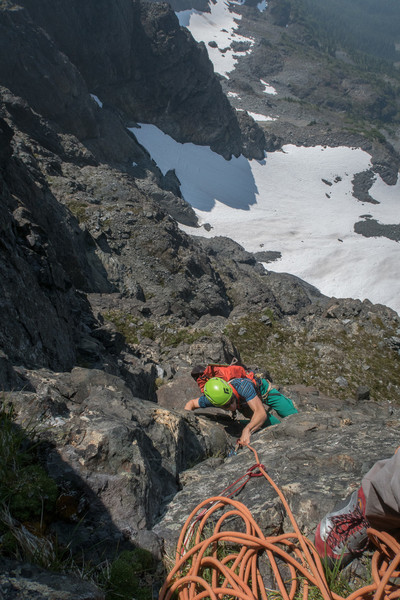 Here's Karsten coming up to the anchor on pitch 10, which went at 5.7.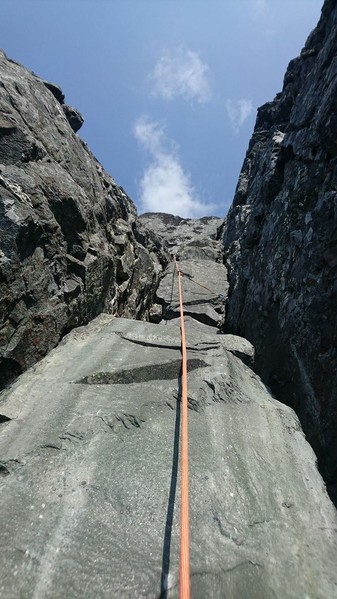 Karsten pulled his camera out and snapped this view up pitch 11, which had some memorable moves in the 5.9 range.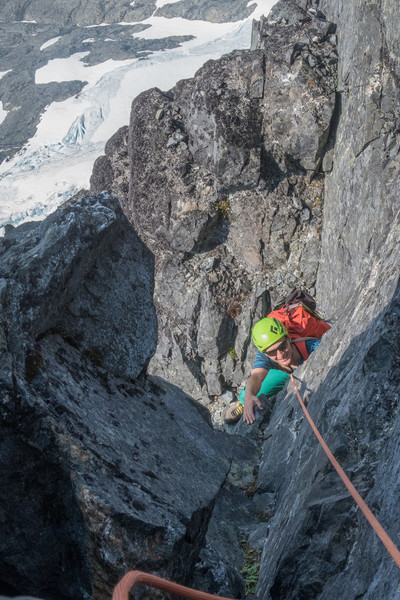 Here's Karsten topping out on pitch 11. Once on the upper head wall the North Glacier came into view making for a memorable alpine pitch. Pitch 12 was short and had us packing up our climbing shoes and looking to simul climb some easier terrain en route to the summit. Little did we know but there was one more short section that required a belay. Pitch 13 had an airy 5.8 traverse on a slopping ledge- once past this we scrambled our way to the summit. All in all it took 12 hours to climb the route. With night fall closing in on us we opted to down climb the south face and make a long traverse down the South ridge then bushwhack our way back to the high logging roads. If we had half ropes I think we would have rappelled down the Sceptre gulley, but we were tired and looking for the path of least resistance.
Summit or Plummet- 13 Pitches, 5.10a, Aid 1, 600 Meters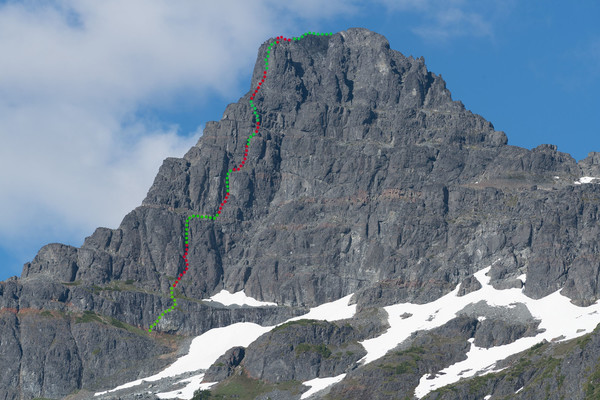 Gear Notes:
-Single Rope
-Half set of nuts
-Cams to #3. (doubles 0.4 thru #3) Could have plugged a #4 numerous times though not critical
Approach Notes:
Detailed approach maps and beta for this side of the mountain are found in Island Alpine Select, by Phillip Stone.
http://www.wildisle.ca