Trip:
Mount Formidable - South Face
Date:
7/21/2017
Trip Report:
Jason and I climbed Mount Formidable via the South Face on our way through the
Ptarmigan Traverse
GPS Tracks from Spider-Formidable col:
https://www.gaiagps.com/public/2Y8CiNjYYGoF0RJltK090zkK
We had camped at Kool Aid lake for our first night, then took a leisurely morning to wake up, break camp, and hike up to the Spider-Formidable col. The red ledge seemed to be in decent shape - there was still a snow finger giving fairly easy access to it although the last few steps were steep and right above a big moat - definite no-fall zone.
We roped up for the Middle Cascade Glacier - we passed a few open crevasses but barely even had to work to navigate around them. At the Spider-Formidable col there are two notches. The West one looks more inviting from above, but the East one is definitely easier.
We reached the col around 12:30pm, then took a break at the slabs below the col for our party of 7 to regroup and discuss plans. Several people went off to climb Spider Mountain (word is that it is even looser and less fun than Formidable), a couple rested at the slabs, and Jason and I took off for Formidable.
Just as we were approaching a nice bivy site below the saddle in the ridge that led to Formidable, we saw Russ and Josh descending from the col, having just climbed Formidable. We stopped to chat with them for a few minutes and get some beta, since all we had was the Becky guide description.
We left the bivy site around 1pm, easily ascended to the saddle and descended the steep gully, then crossed a snowfield, passed below a rib on some choss, and crossed another snowfield to a ridge (the "rock shelf" marked in the photo below) which we gained with a couple 3rd or 4th class moves. This ridge was marked with a cairn which was visible from across the snowfield (although we hadn't noticed it until we got up close).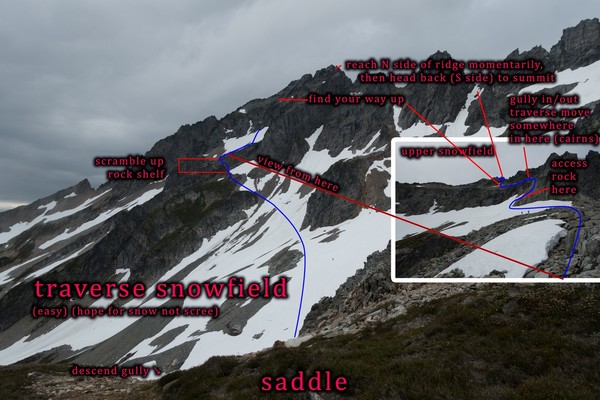 Beta photo showing the view from the saddle above the steep gully. Photo credit Jason Curtis)
From there we followed the ridge up to a higher snowfield. We ascended the snowfield and exited it to the right onto some rock. We then ascended and traversed left, up increasingly loose and spooky rock (ugh). At one point, we traversed on a ledge around a steep gully - there was a bit of a 4th class move and we might not have thought to go that way if we hadn't seen a cairn and rap slings on the other side.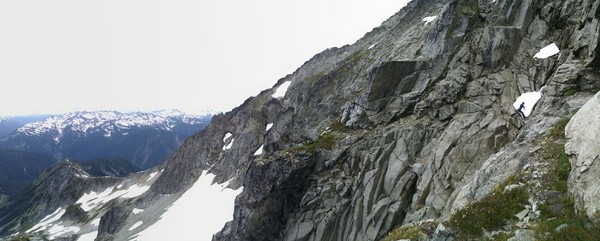 Beta photo of the gully we traversed around on ledges. Photo credit Jason Curtis
From there we basically wandered our way upwards, following occasional cairns, and eventually reaching a ridge which we traversed up and to the west a bit to the true summit.
We summitted around 3pm, and were back to the bivy site by 5pm. We passed some rappel anchors on the way down but didn't use them (no rope, and I'm not even sure how helpful they would be). It took us 4 hours round trip from the bivy site - we moved really quickly over the snow (perfect conditions for a light jog), but extremely slowly and cautiously on the loose scrambling.
Gear Notes:
Ice ax
Mountaineering boots
1 cordalette (unused)