Trip:
Bonanza and Martin - Mary Green Glacier and W. Ridge
Date:
7/15/2017
Trip Report:
It seems more than a few of us have waited long enough to get into Holden with normal access. Like a dam ready to burst, once the remediation ended we are flooding to get some alpine goodness. I don't like crowds (or sloppy seconds for that matter), but in this case, I didn't care. It was worth a run in there to get some. And, in the end, it was not so crowded.
My friends Alex and Andy met me early Friday morning and we drove to Field's Point Landing. We caught the Lady Dexu and then the school bus. I will not say much more about this ride or our "reception" and Village visit other than... umm, never mind.
From Holden we hiked in to Holden Lake and then the pass. It was hot AF and the going was slow. I expected this to take just 4 hours but it took six. At the pass there were a few folks already and we scouted about to find a flatt-ish spot for our 2p tent and bivy. There were snow patches and we found a reasonable stream of running water out of one. Score!
Alarms set: 3:40. We were up and moving within an hour. The way up from the pass was about 40% trail and 60% snow up until the infamous waterfall slabs. There was a steep snow patch right before the slabs that required about 30 feet of careful stepping (slick) and then we were at the base of those slabs. They were cruiser and caused no issues. We roped up above the slabs and headed up the Mary Green. She was cruiser as well. We stayed climber's right until just below cliff bands then cut left until the final slope leading to the bergschrund. There were a couple or three spots to transition from snow to rock and we picked the most tame one of them. We unroped and headed up. A second party of three caught up to us here. We chatted with them and decided to minimize rockfall by 1) climbing together and 2) avoiding rappels on the way out as much as possible.
Approaching the waterfall slabs. I was underwhelmed: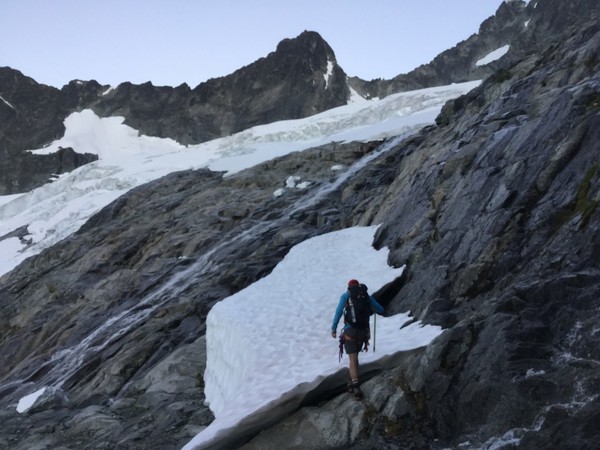 Looking up the Mary Green. Damn she got a purty mouth!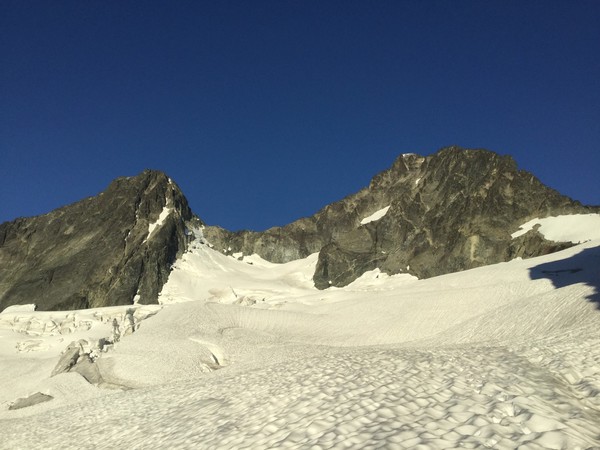 Traversing high on the Mary Green: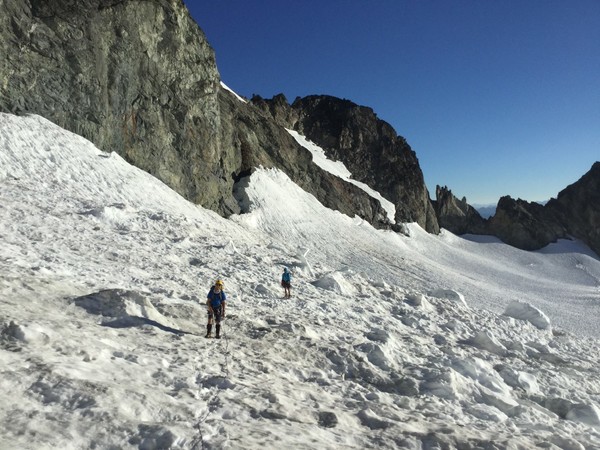 Transitioning from snow to rock at the 'schrund: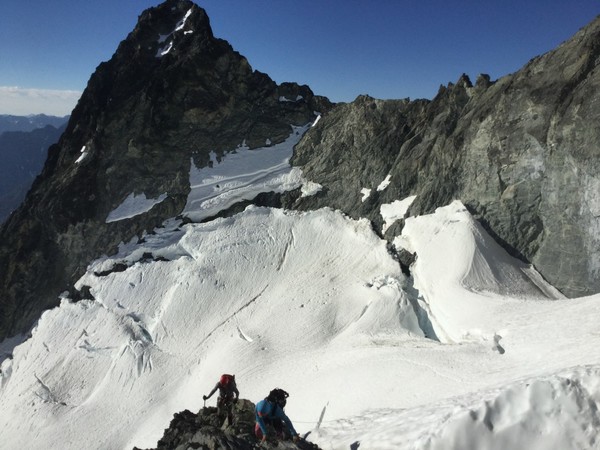 The scrambling was easy and snow free. We had to do some zigging and zagging but ended up in the right spot just below the ridge. The final 4th class bit was fun and easy and very secure.
Fun scrambline on Bonanza with great views down of the Mary Green: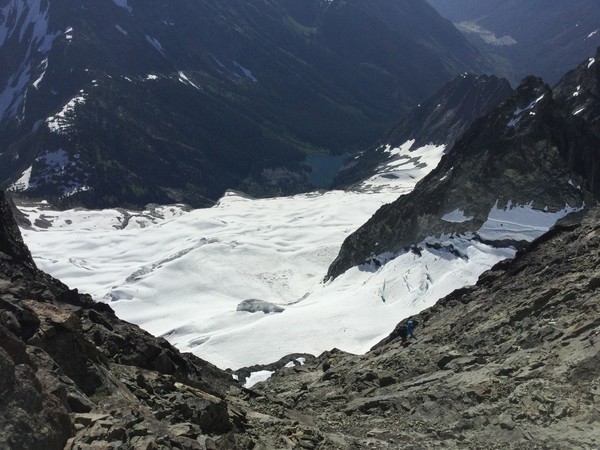 Topping out on Bonanza: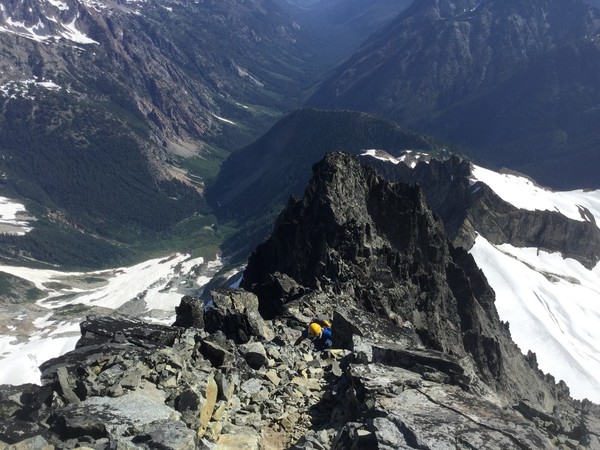 After some summit lounging, we headed down. We downclimbed the whole route without rappelling. It was all chill.
We rested back at camp for an hour. Since it was early (1pm) we discussed heading up Martin. One of my party opted to chill rather than go up Martin. One member of the other party we had met on Bonanza wanted to climb it, and so he joined us.
We were all a bit tired, but probably I was most tired. The going was slow. And I was eating shit, but was determined to beat the sunset. What should take folks 3 hours took us more like 4. I have little to say about Martin other than she is a shit pile of epic proportions. I can't wait to climb that other notorious shit pile - Custer.
From afar it just looks steep. But it is a chossy shitpile: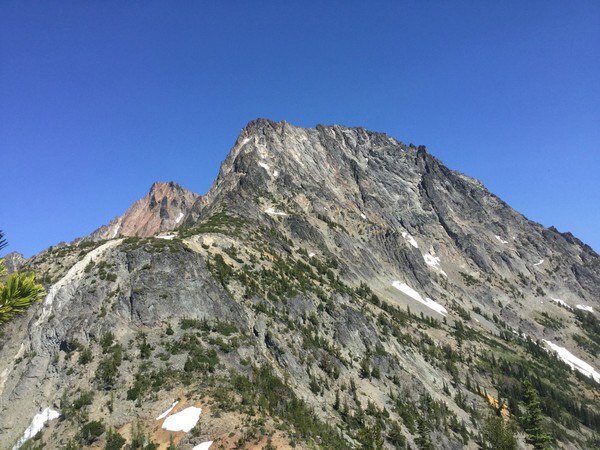 Shit gully on Martin: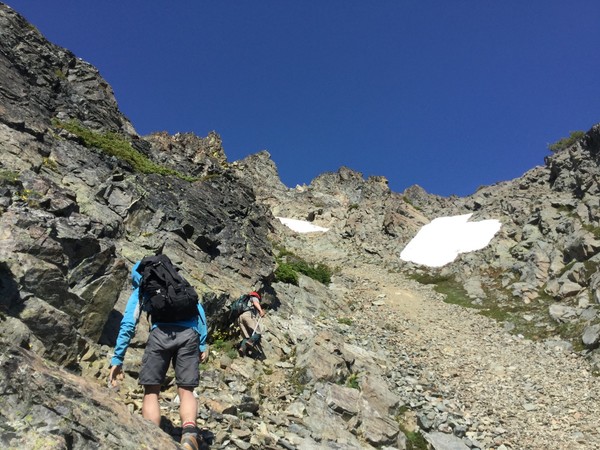 Some nasty, steep scrambling near the summit of Martin: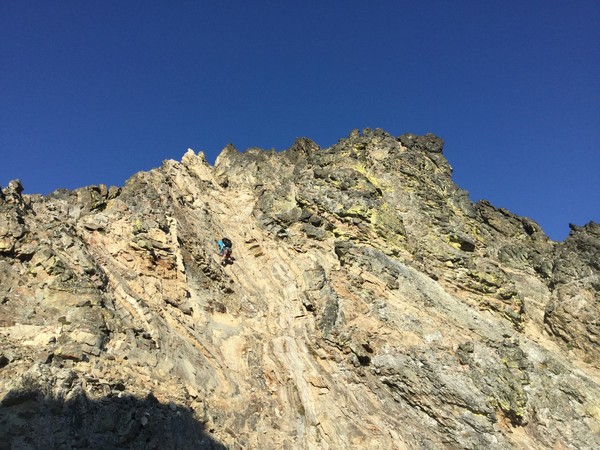 Summit p0rn from Martin: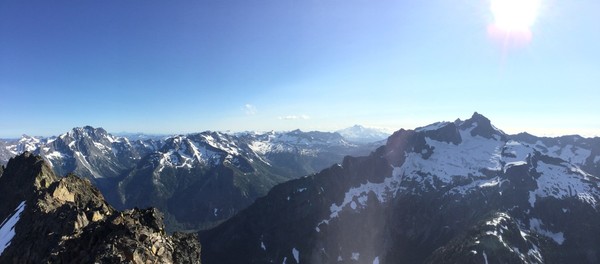 From the summit of Martin we retraced out steps. We rappeled the top 4th class step and downclimbed the rest unroped. 3 hours later we arrived at camp. It was 9:20, but no headlamps were required. I soothed my aching pains with a couple drams of Eagle Rare and crashed at midnight.
The hike out Sunday was uneventful. The Lady was an hour late and my beer was lukewarm in the car. That kind of sucked, but it was better than climbing Martin. Even boiled beer would be better.
Gear Notes:
Ice axe, crampons, helmet, 40 m glacier rope.
Approach Notes:
Follow the trail around the lake and pay attention and you will avoid all but maybe 100 feet of schwacking through slide alder.