Trip:
Sinister Peak - NW Face/W Ridge
Date:
7/3/2017
Trip Report:
Last year
I attempted Dome and Sinister but only got Dome. I had plans to go back and bag the N Face via the Agnes Creek approach. With the snow pack and late-notice partner bailing I opted for the standard approach. And I had 4 days.
The plan was to move heavy packs up to the bivy sites at 8700' on Dome in two days, then summit the N face of Sinister on day 3, move back towards the cars a bit, then finish the hike out on Day 4. We got most of the plan done except we bailed on the N face and opted for the "sure thing".
My pack at the cars weighed 47 lbs on the way in and 42 on the way out. We used approach shoes for Downey Creek Trail and part of Bachelor, so carrying mountaineering boots accounted for some of the weight. The rest was food and gear.
The approach took 11 hours. I really felt the heavy pack. The Bachelor Creek trail was better than I recall from last year. A lot of the deadfall has now been pounded flat and bootpath established around and over it. The old stream crossing has now been completely abandoned in favor of the "bypass" at 4000' and there has been some gardening done in there on the slide alder. There is a clear path through this section.
Allthough I'd like to use flowery language here and say that we had a vegetation ass-raping or scrubbed our teeth with foliage, I can't really. It was long and time-consuming but not horrible. Perhaps I am just inured to this type of terrain? Perhaps it's the beat-down of life finally wearing me down to submission? Thank you sir, can I have another?
We arrived at Cub Lake around 7 pm. It was frozen over and nobody was camping there.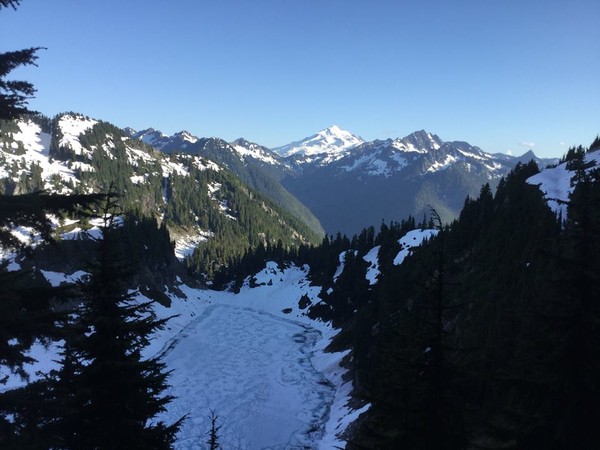 Most folks were camping in the flats or on the benches just past Cub Lake. So did we. There was an army of people there - it was almost like being in the Enchantments. Crazy!
We got up at 5am on Sunday and hiked up to the bivy spots on Dome. It took about 7 hours with the heavy packs. The standard trail was still snowy and there was fresh stuff breaking off the waterfalls so most folks went up the bypass to Itswoot. So did we.
View from Itswoot in the morning: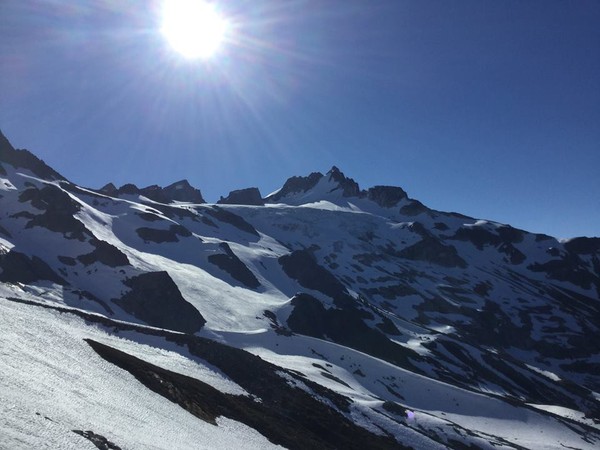 I collapsed in my bivy for a bit waiting for the party of 8 Mountaineers on the summit to start back. My partner and I then climbed up there. The ridge was melted back plenty so we could scramble right up to the crux and quickly belay it. While on the summit clouds blew in and got worse all evening and most of the night.
Sinister from our bivy spot: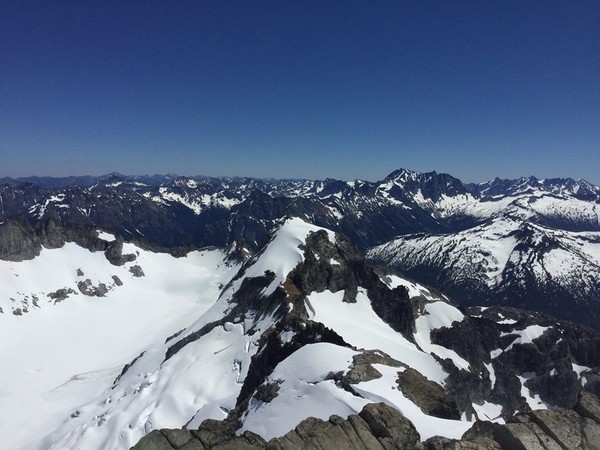 Looking close at the N face a crack was visible with several holes on the left and right of it. I did not like the looks of this. My partner was sure we could bypass it. After haulting 40+ lbs of shit up over two days I wanted a "sure thing" and no shenanigans so I pussed out and talked my partner into bailing on the N face and doing the standard.
Big crack mid-way up the N face of Sinister: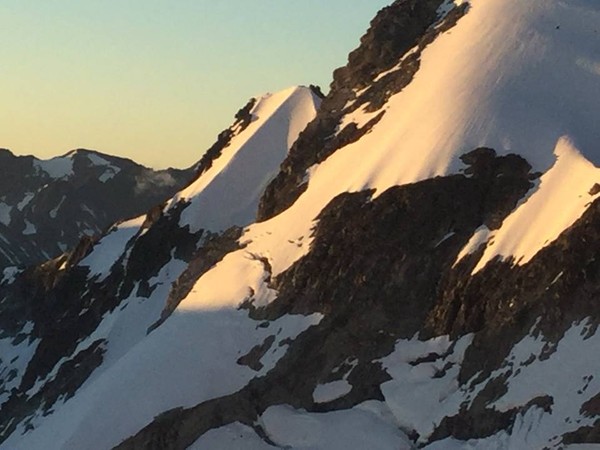 Alarms went off at 3:40 am and we were surprised by a clear sky. We were off to sinister!
Sunrise!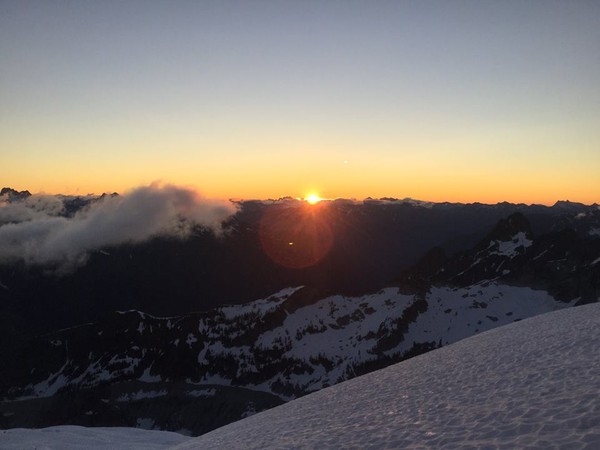 Views were glorious on the Chickamin Glacier.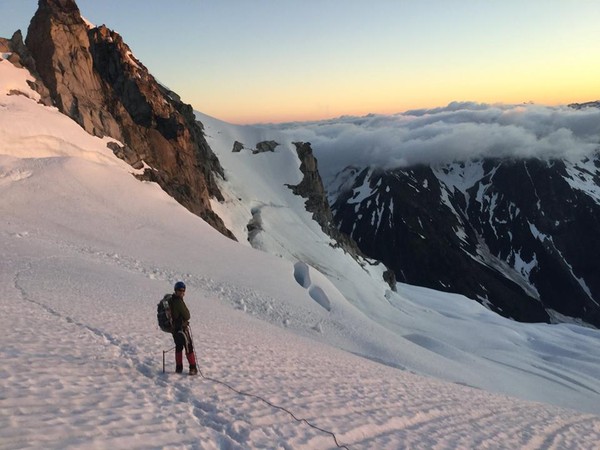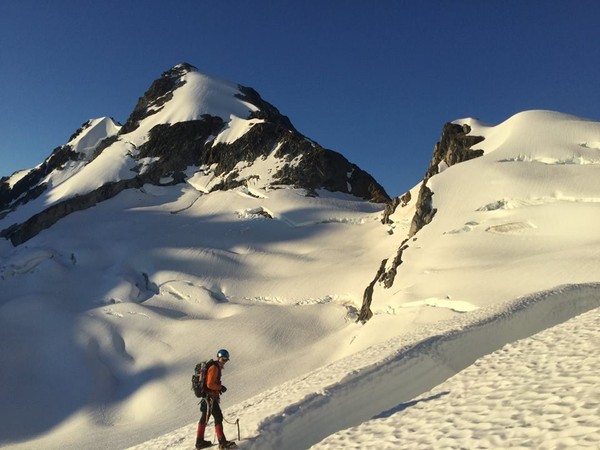 There were serious crevasses and seracs en route to the Dome-Sinister col but a good boot path wound around them. Right now it's a fairly easy and safe path. I'm not sure how long that will last.
Once at the col we picked a way up that looked scrambly. Soon we were on a 4th class section and pitched out one 40m rope length. From there we scrambled up. My partner opted for the snow slopes on the NW face and even got some steep snice (he reported 70 degree, see 'fins' in the snow in the picture above). I stuck to rock to the right along the W ridge and scrambled class 2 and 3 to the final snowfield (very moderate). We were then on the summit: 3:15 from camp to summit.
Summit shots: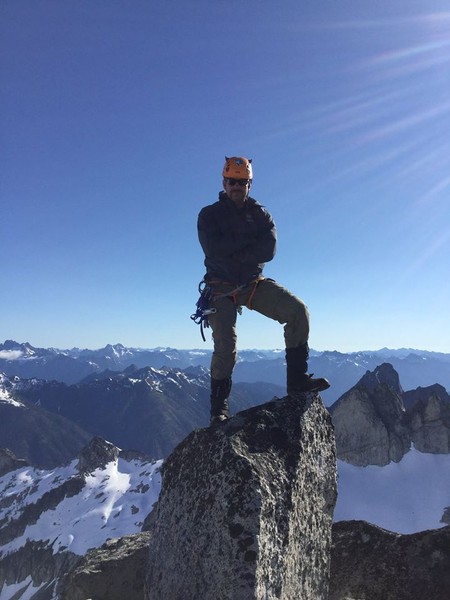 From the register we saw that two parties had summitted so far in 2017- both the day before. We were the third. On the way down two parties of two were headed up. WTF? Sinister is getting busy - and the Bulgers popular!
Descending the W ridge of Sinister. Dome in the background: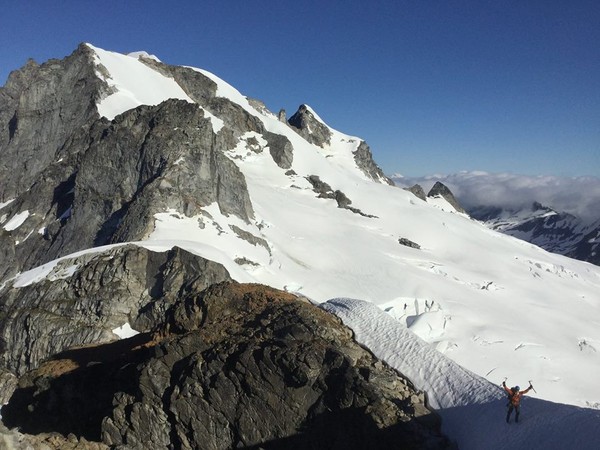 We returned to our camp from the first night and decided to stay there. I had stashed a trekking pole and approach shoes there. Separately, under a rock, I had stashed a mountain house wrapper with some garbage inside. Some asshole busy body took my garbage, shoved it in my shoes, and left a passive-agressive note, lecturing me about the pristine environment and packing out my stuff. To you, asshole, I left that garbage under a rock to keep the critters out, separate from my poles and shoes, so the critters were not attracted to them. The garbage was always meant to be packed out. And it was -along with much more. Next time mind your own fucking business and don't jump to conclusions.
Gear Notes:
Standard Glacier gear. 40 m rope was a bit short for our rappel.
Approach Notes:
Bachelor Creek