Trip:
Mt. Challenger - Challenger Glacier via Easy Ridge
Date:
6/24/2017
Trip Report:
Climbed Challenger via Easy Ridge from the Hannegan TH over 5 days starting 6/21/17. My first trip in the Pickets.
My wife and I recently relocated to Bellingham from Juneau, AK so that I could attend graduate school. Even when the move was still just an idea, I've justified it with the Pickets.
"There's too many people here, lets go back to Alaska"
"Ya but... the Pickets!"
I can't count how many times something similar to those words have been exchanged between us since we moved here...
After a spring of far too much work, and not nearly enough mountains a perfect weather forecast finally aligned with time off. We set off after work obligations were finished on Wednesday and were hiking by 7:30 PM on the Hannegan Pass trail. Sure we could of just gotten a early start on Thursday, but more time in the mountains is more better.
Day 1:
We hit snow at Hannegan camp just as it was getting dark and decided to camp there. The pass, and surrounding peaks still have plenty of snow, the words "should have brought the skis..." were uttered enough times on this trip that it probably means we should have brought the skis, though there were a few sections that I was very happy to not have skis on my pack.
Day 2:
Snow lingered for a little over a mile after the pass, and we felt pretty lucky when we picked up the trail almost immediately after bare patches of ground started to show. There were a few creek crossings on the trail that were annoying but not too bad, Hells Gorge being the worst, mainly because if you slip your going down a water slide from hell. The path down to the Chilliwack crossing was easy to spot, marked by a big cairn just after the river comes into view for the first time.
Hell's Gorge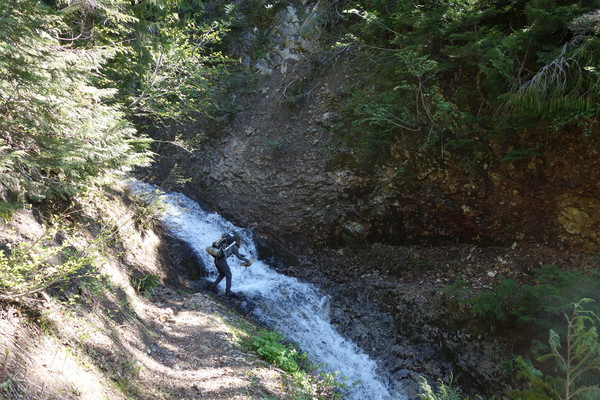 The ford was knee deep, and the water was swift enough that staying upright while walking over the slippery rocks was not trivial, but using each other for balance we were able to make it across without drenching our gear.
Chilliwack Crossing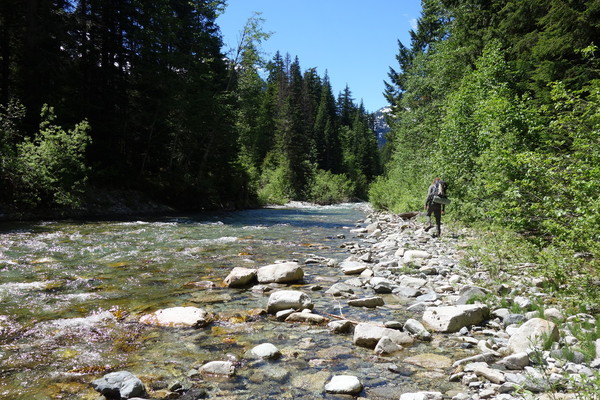 The climbers trail is well worn and easy to find. Aside from a few annoying treefalls the trail was easy to follow and we stayed on it until hitting snow maybe 2 or 3 hundred vertical feet below the large saddle on easy ridge. We camped at a running water source near a patch of trees just above this saddle.
Day 3:
Our day started out with our first ever sighting of a wolverine! We spotted it on the ridge crest and watched it move with uncanny speed across the slushy snow down to the slopes below Easy Peak. By the time we had the camera out it was pretty far away.
The climb up Easy peak was not as easy as the map made it look, we opted for a direct route that involved some loose 3rd class but avoided the steepest snow. The views from the top of easy peak are spectacular, the ridge walk toward Whatcom Peak was one of the most enjoyable sections of the trip.
Easy Peak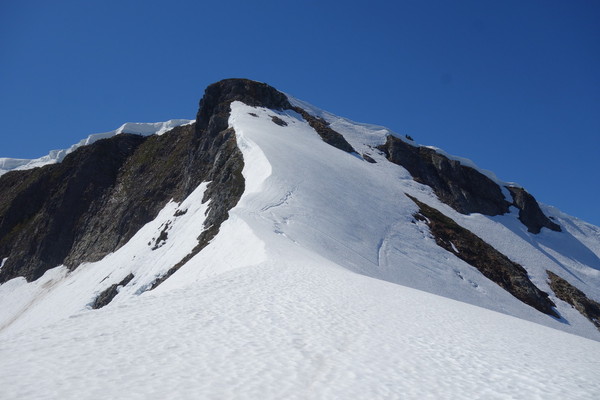 View from Easy Peak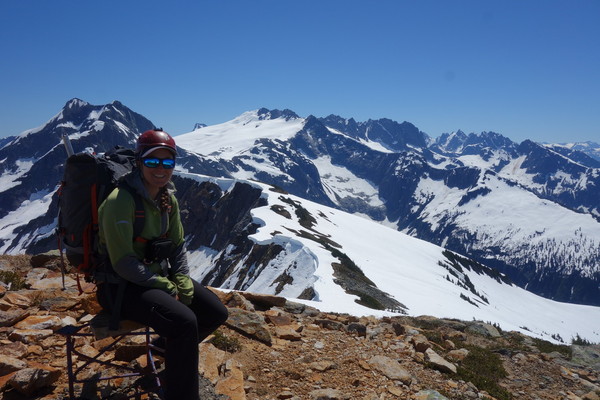 After losing a tragic amount of hard earned elevation on easy snow slopes we arrived at the "Imperfect Impasse". The canyon was chocked with snow, which probably made it easier, but it was still not trivial getting in and out as there were deep moats on either side. We spotted a easy looking ramp that would take us to the snow and decided to go it un-roped, but after a spooky move around a corner I decided to make an anchor and toss Melissa an end of the rope. She belayed me across from there. I set a picket in the middle of the canyon to protect the move getting off of the snow and on to the rock. There is a big ledge on the opposite side where I was able to make an anchor and belay Melissa across. From here it was pretty straightforward, but exposed, 3rd class slabs up to the snow slopes above.
Imperfect Impasse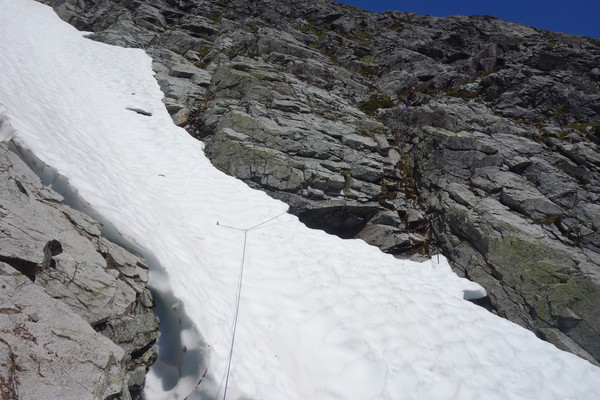 Route up to Perfect Pass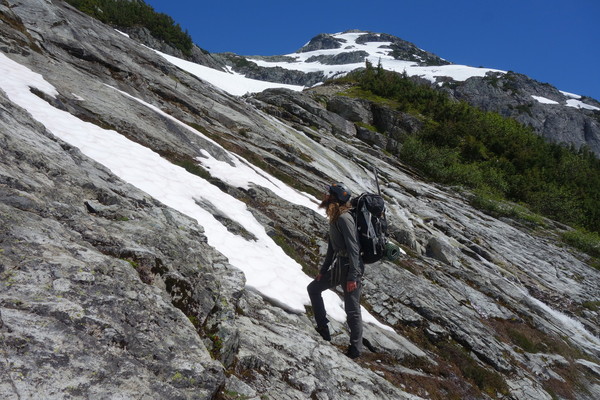 The slog up the snow slopes to Perfect Pass was exhausting, but we made it to a nice camp site pretty early, and had plenty of time to dry out our boots, and enjoy the sunshine and great views, and rest up for summit day.
Perfect Pass Camp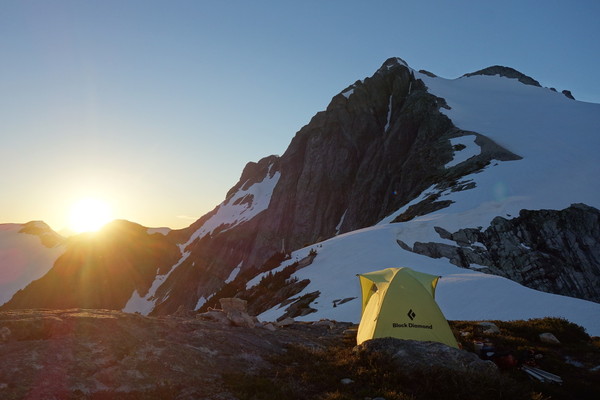 View of Baker River Valley and Blum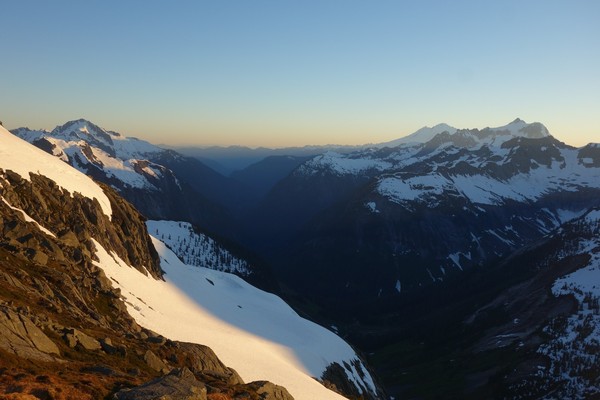 Day 4:
The Challenger Glacier might be the easiest part of this whole climb. Soft snow, a gentle angle, filled in crevasses, and light packs made this a quick and enjoyable jaunt up to the summit ridge. A thin layer of steep icy neve clung to the north side, so we decided to stick to the ridge crest. We made a picket anchor and Melissa belayed me across a thin snowbridge over a moat to the rock. Three short pitches of easy fun airy scrambling brought us to a ledge with a piton. It is basically a sport climb from here with 4 fixed pitons and one fixed cam up to the rappel anchor.
Challenger Glacier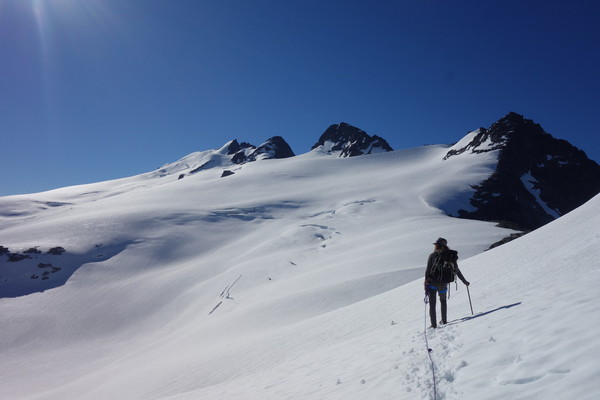 Summit Ridge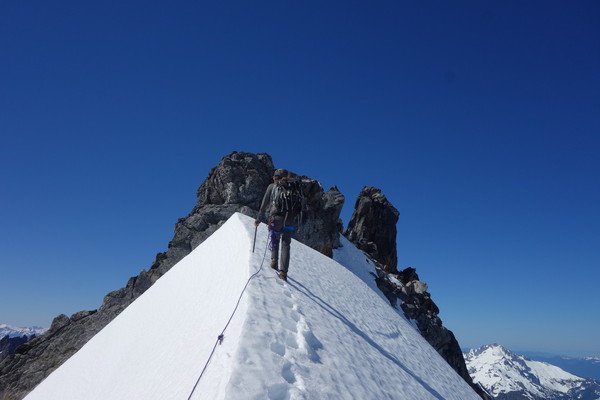 Near the top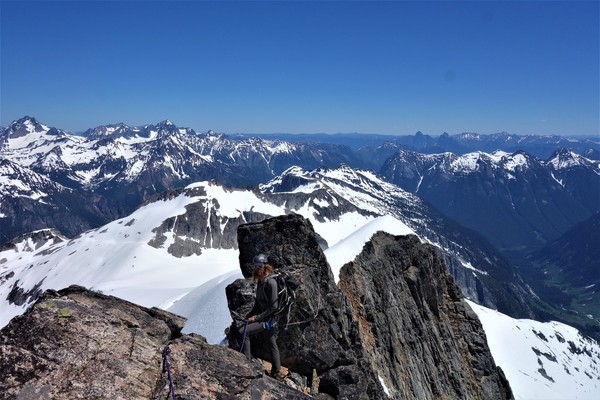 The summit of Challenger is one of the most awe inspiring places I have ever been. We took in the views of the jagged peaks surrounding us while watching cornices on the ridge line connecting Challenger to Fury break off and plummet down toward the glacial lake spotted basin below.
Summit of Mt. Challenger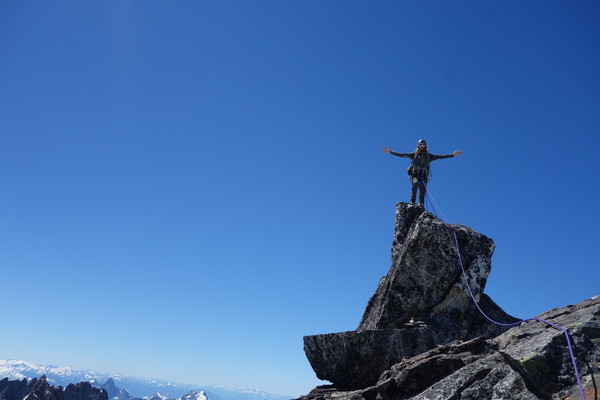 Northern Pickets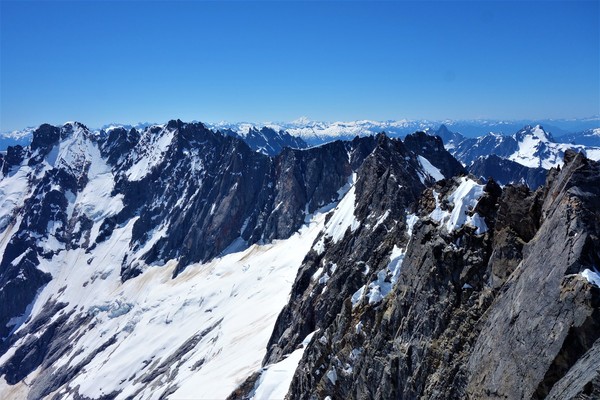 Our 30m rope was just long enough for the rappel, and on the way back we stayed below the crest traversing slick snow with good rock handholds. One more rappel brought us back to our picket anchor. We quickly descended the glacier back to camp to start the long journey home. Our goal for the day was to make it back to Easy Ridge, the descent down the snow was fine, but getting back across the impasse was no easy task. Down climbing slabs is never fun, but adding wet boots, heavy packs, and death exposure makes for a stressful situation indeed. We moved slowly and carefully, and eventually made it back to the ledge where we belayed the day before. This time I spotted an old rusted 1/4" bolt, no way were going to rappel off that, and there were no good boulders or rock horns to sling, so I made the small cam and nut anchor and lowered Melissa down into the moat. The bridge we had crossed getting onto the rock was gone but she impressively was able to surmount the overhanging snow using an ice axe and a picket. She made a picket anchor in the middle where she would be able to belay me up out of the moat, but first I had to get down. Not keen on soloing the downclimb, and definitely not willing to rappel off that old bolt I made a compromise and rope-solo-down-climbed off of the bolt. No idea if it would have held a fall, but it made me feel better and I was down in the moat in no time. Melissa belayed me up and over to the other side where I set anchor in the same spot as the day before. I belayed her as she downclimbed around the spooky corner and she was able to place one small cam for me before making to a large tree to belay from. Downclimbing this section with just that little cam between me and the tree 100ft away was the psychological crux of the whole trip.
Hmm...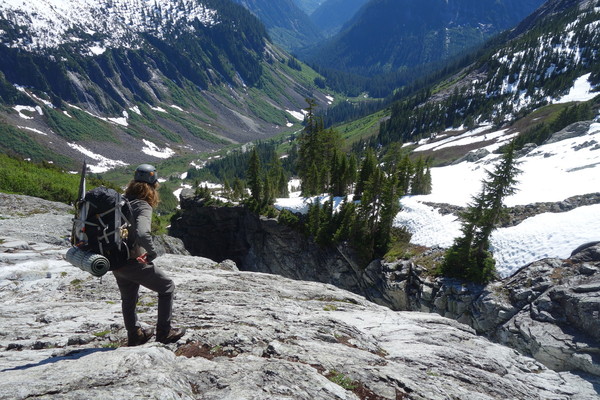 It was a huge relief to be done with the impasse and after a short break we started the long slog back up to Easy Ridge. We ended up making to the summit of Easy peak just as the sun was setting and made camp there 12 hours after starting our day.
Sunset from Camp on Easy Peak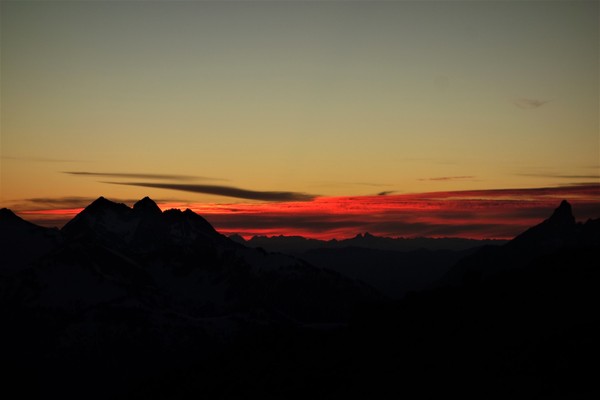 Day 5:
The hike out was quicker and less painful than expected, we were mentally prepared for the usual death march that happens and the end of most of our multi-day outings, but we made it down to the Chilliwack before noon and to the car by 6:00 PM. The crossing was deeper on the way back (it was scorching hot out), but still manageable.
Hannegan Trail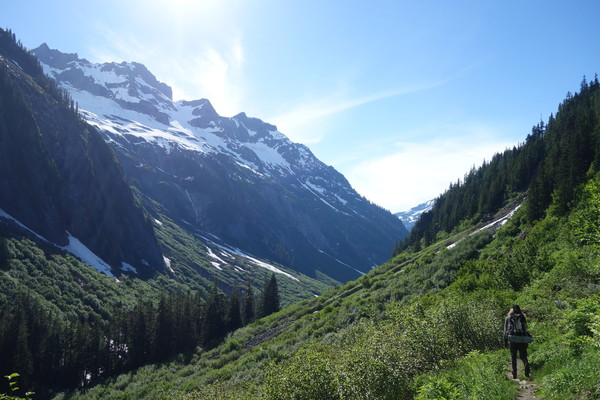 Overall it was a grand adventure, and a much needed break from life in the city. We didn't see a single person, or any tracks past Hannegan pass, and it felt like we had the whole northern part of the national park to ourselves. Can't wait to get back out there.
Gear Notes:
Hiking boots and strap-on crampons
Ice Axe
2 pickets
2 small cams
3 nuts
6 alpine draws
30m glacier rope
Approach Notes:
Long