Trip:
Mt Constance - Finger Traverse
Date:
6/11/2017
Trip Report:
I've spent almost 10 years looking at Mt Constance yet always seem to get distracted by other peaks in other places. Horror stories of a steep burnt out trail, endless loose scree, and a maze of gullies and ledges haven't made it especially appealing. But it's hard to ignore from Seattle and as with many prominent mountains I yearned to know what it looked like from the top. Thankfully the views aren't required to satisfy that yearning, it's just a simple need to demystify a view from afar. Which is good because Sunday the views were barely good enough to see the next gully or ledge ahead of me making a complex mountain that much more engaging.
Traffic jam on the Dose road early morning Sunday: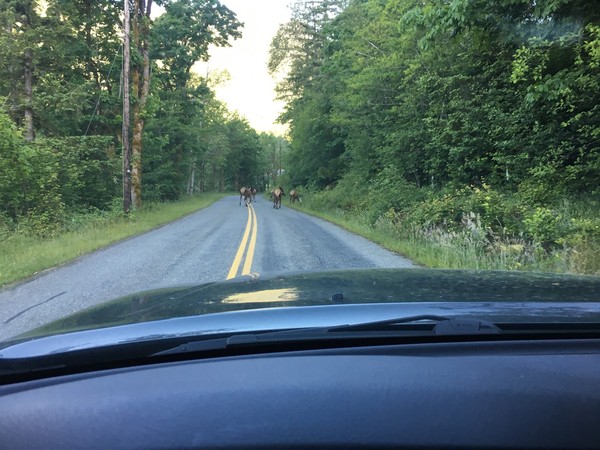 The road is now closed ~1 mile further downstream from the big washout. I brought a bike and made quick work of the now 5 miles to the old trailhead, then put in some earphones and set off uphill. The first 800' or so are an absolute mess of deadfall and brush and the old tread is only visible maybe half the time. There's a trail here somewhere: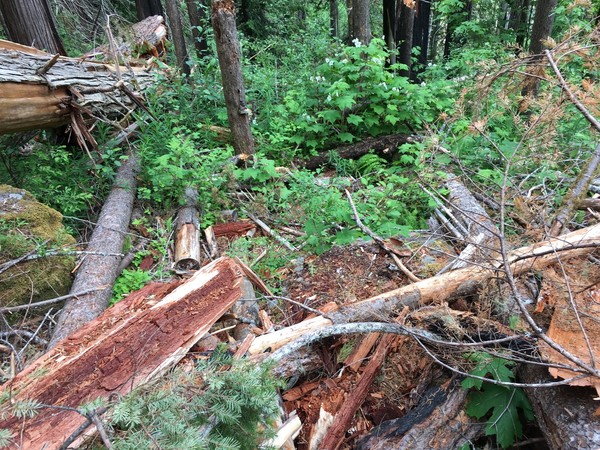 It gets better the further up you go and I reached the lake soon enough. At that point the weather was still promising: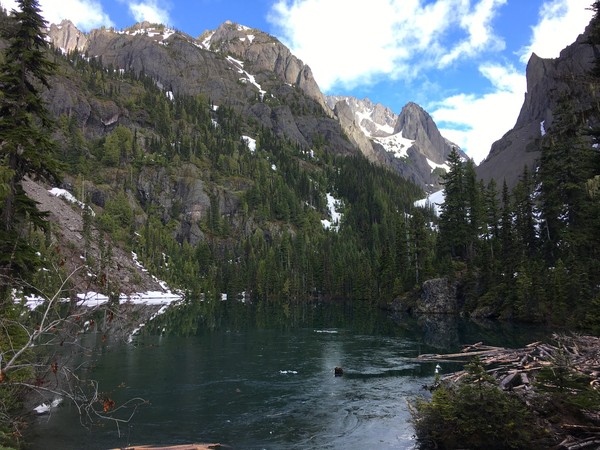 Avalanche Canyon and the south chute were mostly covered in frozen snow which made uphill travel quick and pleasant. As I neared the Cats Ears the cloud ceiling started dropping and by the time I got through to the other side visibility turned to pea soup: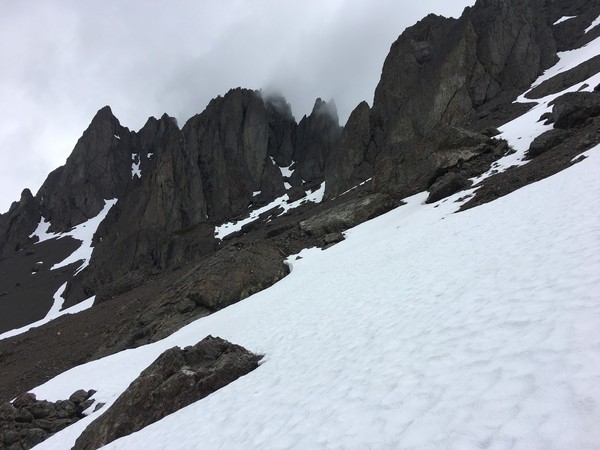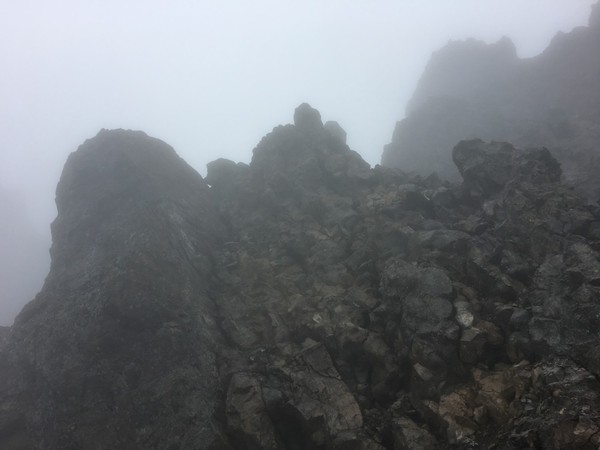 Even with poor visibility I'd read enough trip reports and had enough beta to piece together step by step directions from the top of the south chute: drop down below buttress, up scree gully, through notch, down snowfield, etc. It worked, albeit fairly slowly as I methodically checked and rechecked my beta. Eventually the summit block came into view, and the clouds even thinned a bit on the north side: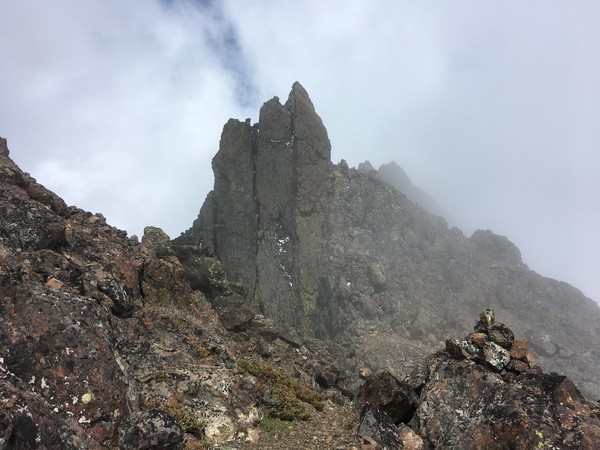 On top looking down at my footprints where I traversed to the north side. The fog and clouds below make for a disorientating photo: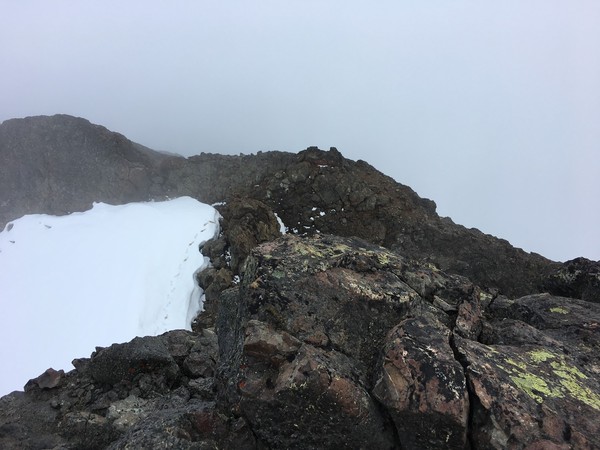 More disorientation. Looking horizontal across the finger traverse: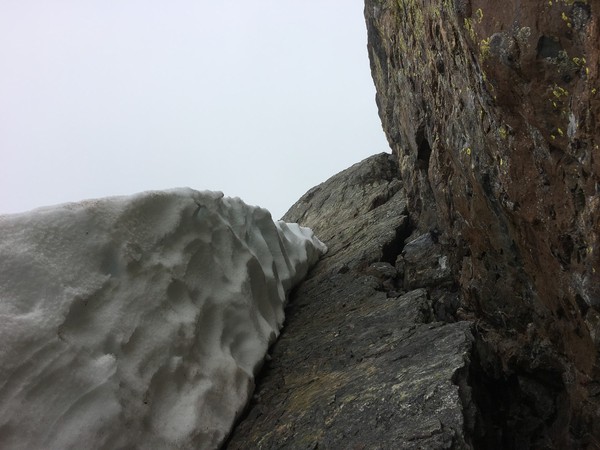 Finally orientated back in Avalanche Canyon late afternoon, the clouds parted and told me my timing was terrible for the upper mountain: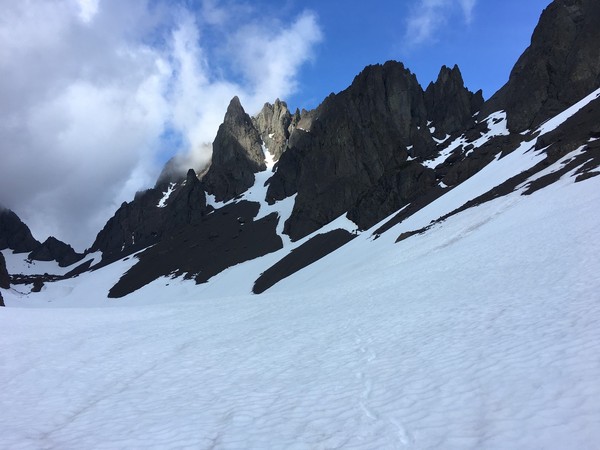 Still a very cool area and now I have a reason to go back and see the views.
Gear Notes:
Helmet, crampons, and an axe for sure. Plus a bike!
Approach Notes:
Mother Nature has not been kind to the trail to Lake Constance.