Trip:
Mt. Rainier - Ptarmigan Ridge
Date:
5/28/2017
Trip Report:
Climbed Ptarmigan Ridge on Rainier over the Memorial Day weekend. It was the kind of trip that gets you reinvigorated on being out in wilderness, in the alpine, not too far by car but far enough away from an increasingly urban Puget Sound region (while keeping the urban agglomeration in sight at the same time). There is some beta in this report to add to the very useful stuff that already exists online.
We left Seattle early Friday afternoon and the trailhead by 4:20pm (after running into two well-known speed ski-mountaineers from Utah in the parking lot), camped at St. Elmo's Pass (where a Ptarmigan was sighted, Chili-Mac was spilled, the International Space Station flew overhead, and two skiers passed by at 4am) and the 10,300ft Ptarmigan Ridge high bivy Saturday.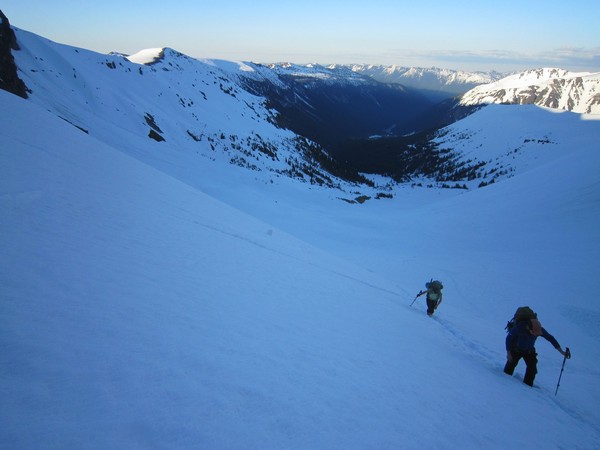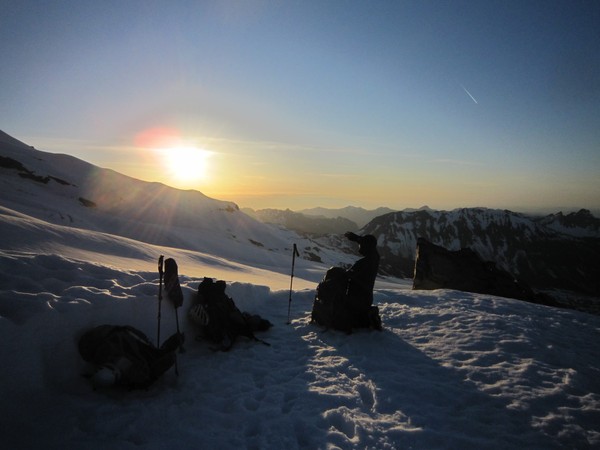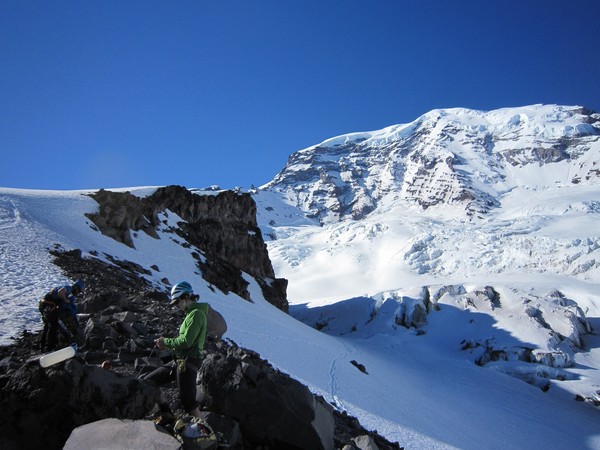 With Alisse in the lead crossing the Carbon on the second day we saw no less than 13 people climbing towards Liberty Ridge. The sun on the glacier was merciless and the slopes to gain Ptarmigan Ridge felt endless. We had passed some wet slides on the way up and so Andy led a chossy downclimb in the vicinity of a rap station to avoid some solar slopes, after which we belayed a snowy traverse to access the high camp.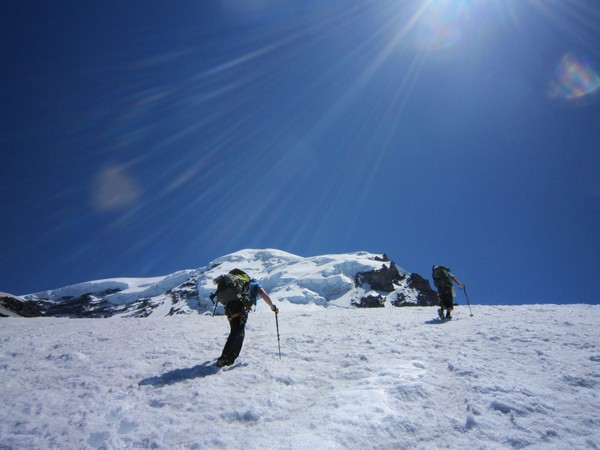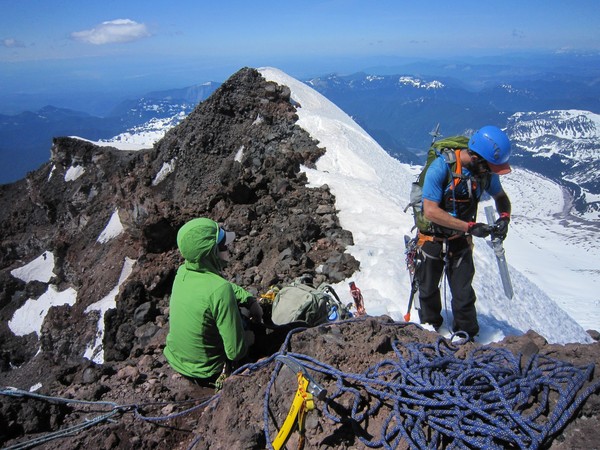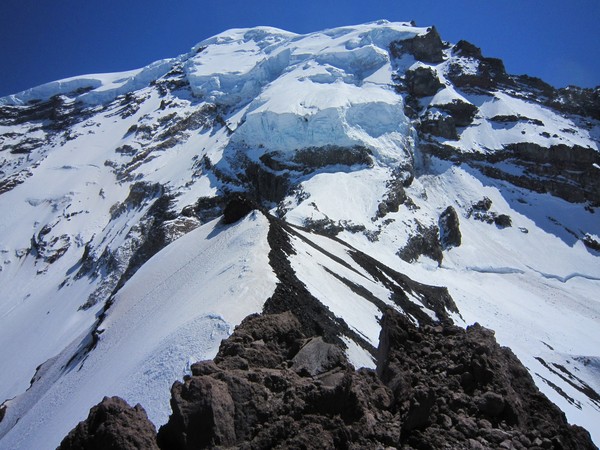 We spent the balmy afternoon and evening hydrating, listening to rockfall clatter down the route, eyeing the ice cliff for signs of instability, looking over at the climbers camped at Thumb Rock, wondering about a helicopter that buzzed the mountain on the way to the Emmons (we later learned of a relatively positive outcome), and conjecturing about conditions on the ridge.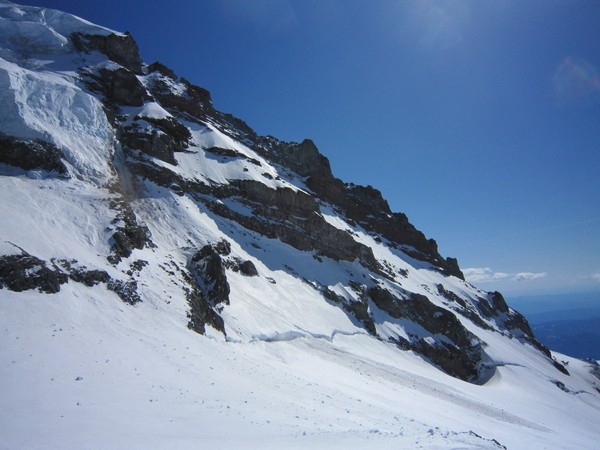 Alarms set for 2:30am, we went to sleep around 8pm. The ice cliff woke us up at 10:30pm when it randomly calved. Later the wind whipped up and made for a fitful night. A groggy start and we were out of camp by 4:15am or so. We jogged under the ice cliff and started climbing the well bridged bergschrund by 4:40. At this point it was light enough to see without a headlamp and arguably a bit late to be starting up the route.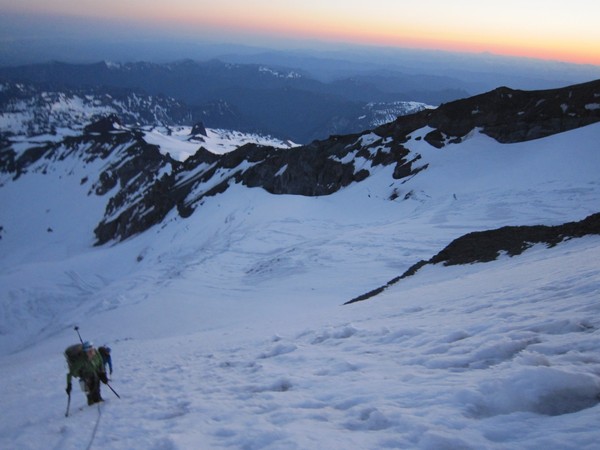 We climbed slowly and steadily up the first chute, finding excellent crisp snow. At the minor rib we completely stretched the rope and did a long running belay, keeping at least one picket, ice screw, cam, pin, or nut between us, across the horizontal traverse and up another chute to the where the variations diverge. Gorgeous pink light illuminated the cliffs above the traverse and also brought down a few small stones. It was a relief to reach and climb in the shade.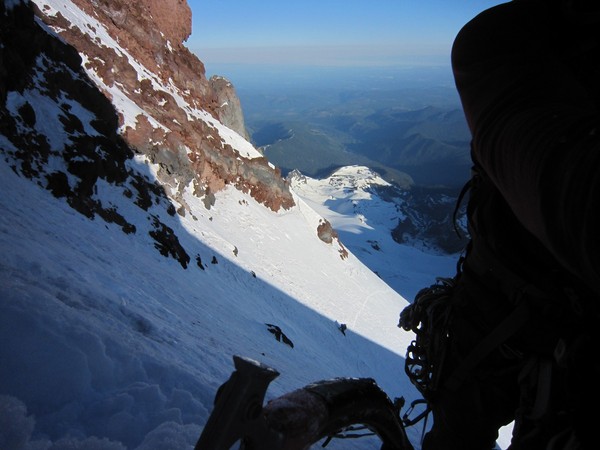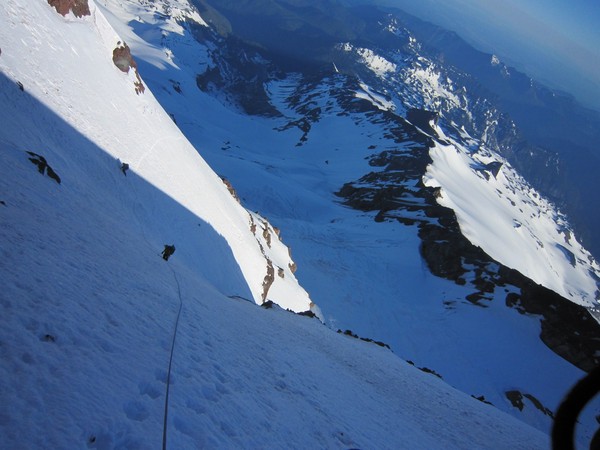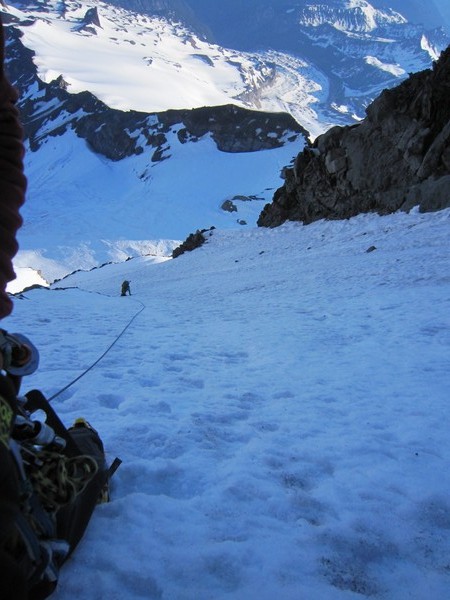 We had seen some perverse-looking ice towers on the left variation which looked quite unstable and that simplified our decision making. Right was right. An unintentionally long break was had before continuing up another chute filled with 60 degree windslab. After burrowing through the overlaps, we reached a small saddle with a bivy site. Another steep snow chute led to a fun and easy mixed pitch below the rock step.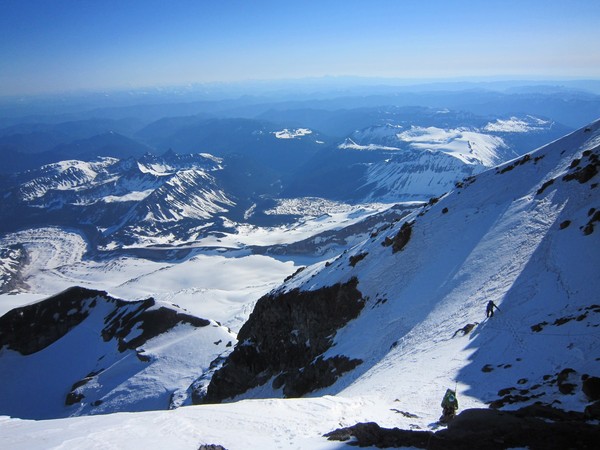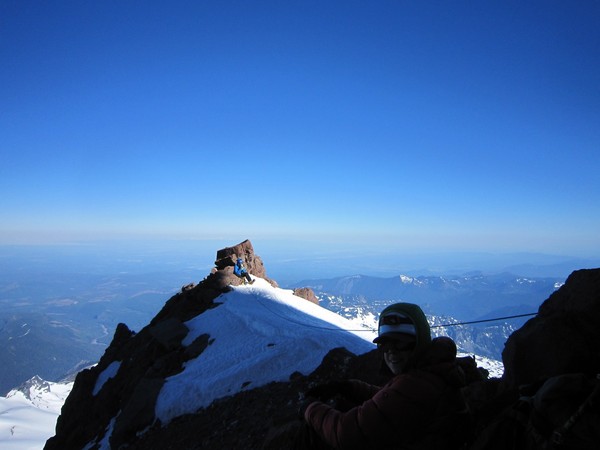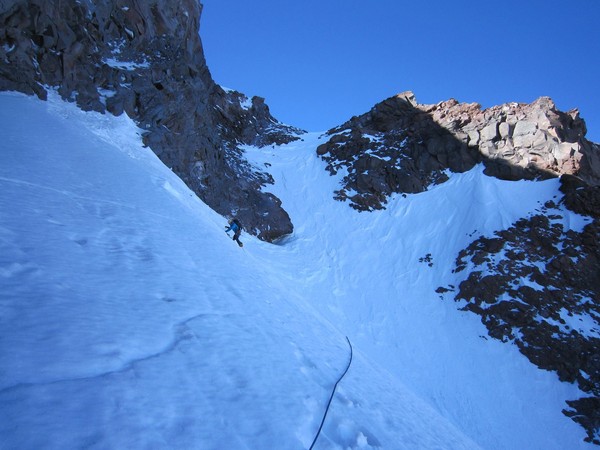 Unable to locate a fixed pin to belay from, I set a two nut and picket anchor 20 feet below the step. There is still a fixed pin at the crux as well as other options for gear. I'd seen this rated anywhere from low-fifth to 5.6 to 5.8, and in the condition I found it, there is at least a move or two of what I would call Joshua Tree 5.7. The feet are small initially and the good holds are a very long reach with an ice tool. I stemmed out left to a rocky smear, tapped my right front points into the centimeter thick ice smear on the right, and committed to a lock-off on my tool to reach high to a good hold with my bare left hand. This was not before some cursing about the apparent unexpected difficulty. Immediately easier terrain followed, with excellent snow to bring up my partners off a deadmanned picket and rock I chopped behind to create a hybrid rock/snow bollard.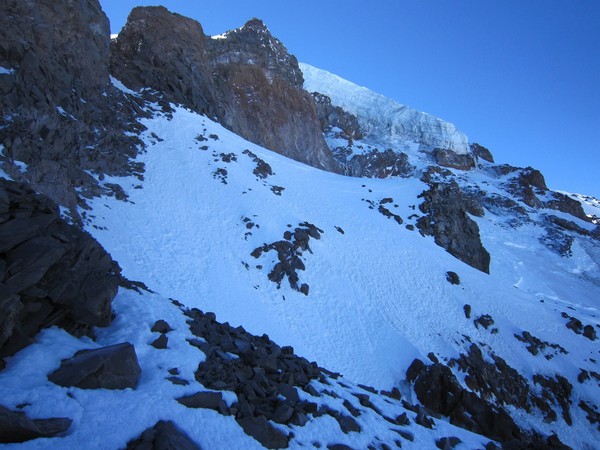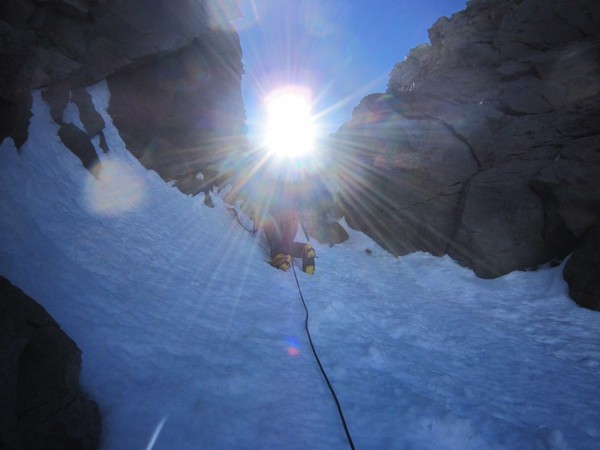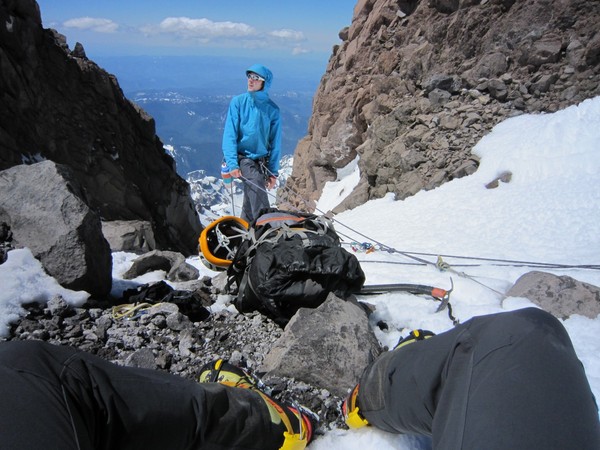 As others have written, the steep climbing is effectively over after the rock pitch. The day was flying by for us, it was already nearly 1pm and we still had 2000 feet to gain to the Liberty Cap summit. An uneventful slog on tired legs led us to the top by 4pm.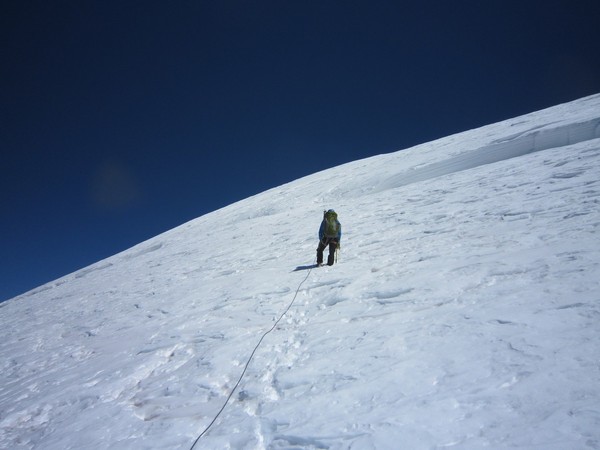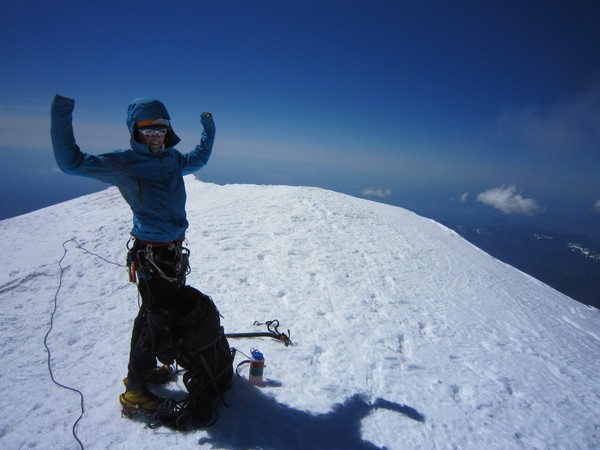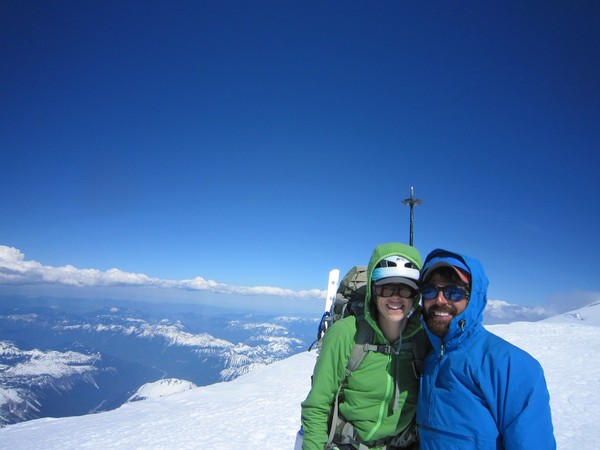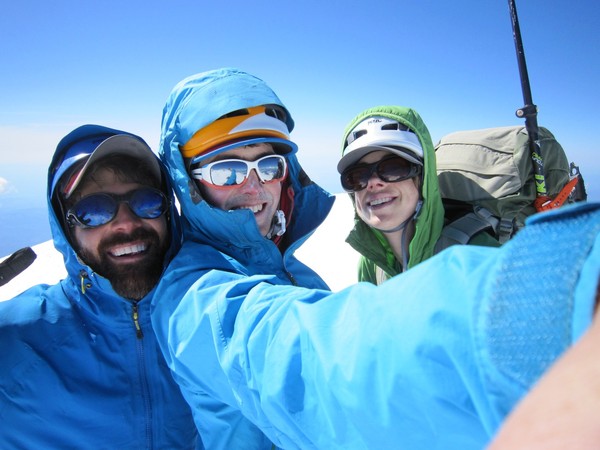 The weather was still holding out, the slight chance of convective showers never materialized. A nice bootpack led down to the col with Columbia Crest and down the Emmons. A few shortcuts were taken, one of which involved jumping a crevasse. We elected to stay at Camp Sherman for our third night. Some nice skiers gave us water and interesting conversations were had and overheard as the sun set over Puget Sound City and the water and Olympics.
Disaster was avoided in the morning after an errant blue bag was located in the snow after being partially buried. A few long glissades on horribly gloppy wet snow got us down from Steamboat Prow. We encountered a mama bear and young cub on the hike out to round out what had been an excellent time in the mountains.
To cap it all off, we went to the all-you-can-eat lunch buffet at the Muckleshoot casino and gorged on a strange and wonderful variety of foods including crawfish, steak, pizza, sushi, clam chowder, pasta, bread pudding, chocolate mousse, and big mugs of coffee. And there was no traffic getting back to town.
Thanks to Alisse and Andy for the great trip and thanks to Joseph who generously and selflessly loaned us his megamid and who would have been there if not for the recent knee surgery to enable a return to climbing later this year.
The route is in excellent condition and seems set to stay that way for some time. Most of the blue ice I've seen photos of on the route is still buried and the route will undoubtedly get sportier as the season progresses.
Gear Notes:
60m 7.8mm twin/half rope
6 alpine draws
1 blue dmm offset stopper
1 medium HB nut
1 small lost arrow
1 thin knifeblade
1 small blue metolius cam
3 pickets
5 ice screws of varying lengths - too many this early
1 ice axe
1 ice tool
crevasse gear
megamid
Approach Notes:
Pay for climbing pass online, print permit form beforehand to impress Ranger with your organizational skills.
White River Campground > St. Elmo's Pass > Curtis Ridge > Ptarmigan Ridge