Trip:
South Twin Sister - West Ridge
Date:
5/21/2017
Trip Report:
Climbed the west ridge of the South Twin Sister yesterday with two buddies. It was a great (though very hot) day in the mountains. Light packs and enjoyable climbing. I had been down the west ridge of the south twice, but never up it.
We pushed bikes up the road for about 5 miles (except Fred who had to walk out). Then snow forced us to hike the rest of the way. The trail was a bit brushy: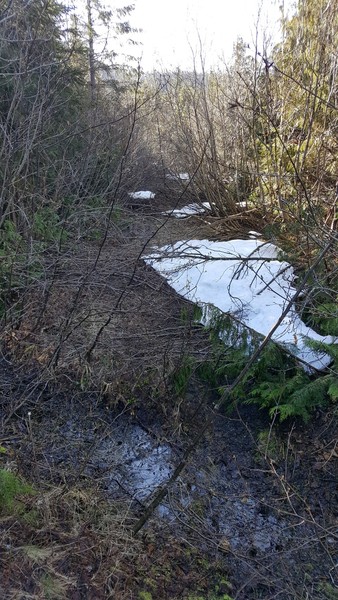 We kicked steps up a steep snow slope to access the ridge at about 6100'. At about 6700' the rock gets more difficult and we took the south side snow slope, which proved to be tough in itself - steep wet snow slogging up to near the summit.
For the descent we downclimbed the NE face, crossed the glacier to the 5900' notch and descended snow to the basin between the twins and out to the bikes.
It was a great day in the hills. Lots of mountaineering challenges - approach, brush, steep snow, gambling on a descent. Loads of fun.
This is an interesting time of year to climb in the Sisters range, the snow really adds to the mountaineering challenges versus the easy summer scramble.
Gear Notes:
Axe, helmet, crampons, bikes.
Approach Notes:
Bikes to 5 miles, at snow, then booted.