Trip:
Mt. Hood - Sandy Glacier Ice Caves
Date:
1/28/2017
Trip Report:
Bad news bear time. I was part of a team of four who visited Mt. Hood this past weekend, along with the masses. Our goal, however, was a winter exploration of the Sandy Glacier Ice Caves.
We left Timberline parking lot at ~8:45am on Saturday (1/28), arrived at Illumination Rock with our heavy photo-and-ice-gear-laden packs about three hours later. Descended the Reid Glacier and terminus snowfields until ~7,500ft, then traversed over the bottom parts of Yokum Ridge to the Sandy Glacier. We arrived at the ice cave entrance location at ~2pm.
Alas, no entrance, no ice caves. It very much appears that a *large* section (probably a couple hundred feet) of the Snow Dragon and Pure Imagination caves is now gone, collapsed. Instead, we found the remnants of the old sides of the ice cave, resulting in a large half-pipe-like formation. We were unable to locate any entrance to the caves; perhaps an entrance will resurface after the winter snows melt. Hugely depressing.
I took a few photographs of the old entrance area to the ice caves on my phone (too bummed to photograph with my big SLR camera), but my phone later took a long tumble of indeterminable length down the steep terminus moraine slopes of the Sandy Glacier - a product of clumsy hands. Another big bummer. But here is an image that I found online, with an approximate drawing of the collapse area, along with the approximate location of our camp.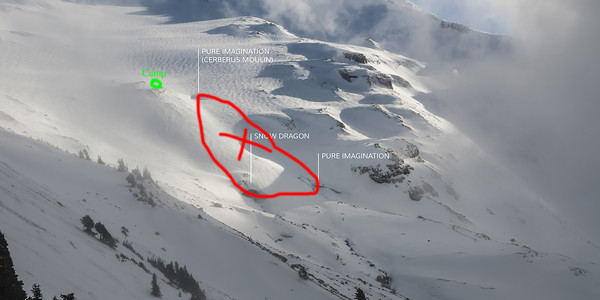 The winds really picked up Saturday night, causing a lot of schizophrenic snow conditions on the way back - lots of wind slab and solid ice to traverse. At times sketchy. Took much longer to make it back on Sunday than to get there on Saturday given the change in conditions. Type 3 fun. A hell of a lot of effort for no ice cave. Fortunately, we had good company and still managed to squeeze a good time out of the adventure.