Trip:
Banks Lake - Sundance Kid and Champagne
Date:
1/23/2017
Trip Report:
I've been living in New England the last year and a half but had to fly back to the PNW for a quick trip to try and catch some of this ice before it was all out. Started watching the weather and temps seemed borderline acceptable - figured it would be worth the risk regardless. Booked a ticket with miles for $11 RT from BOS->SEA for a few days out. I lined up a couple friends and partners; Paul for the weekend of Jan. 21st-22nd, and had Dallen fly in from SLC the night of the 22nd to help me round out Monday and Tuesday, the 23rd-24th, before I had to head back to Maine to be home when my wife started her vacation.
After seeing
Wayne's blog
post my stoke was high and my heart was set on Banks, as I've never climbed there. Once I landed the temps were rising at Banks Lake and Paul and I received word from his friend that is was indeed too warm to realistically/safely spend the weekend out there. Instead, we enjoyed some downtime in the Seattle drizzle. Temps were forecasted to drop again Monday and settle between the high 20s and 32 degrees most days.
Sunday night I picked up Dallen form SeaTac and we make our way to a *** motel in Ephrata by 1:30am. Slept for 4 hrs and then drove north to scout routes. I was blown away by the sheer number of lines in the Banks Lake region. Most seemed out but clearly had been climbable a week or two before. After driving along the eastern shore and getting familiar with the layout we settled on a few lines around Bush Bash (I'm not actually sure which climbs they were). The ice was in good condition - we each led a single pitch of WI3/4 and then decided to head up the road and see what else looked decent.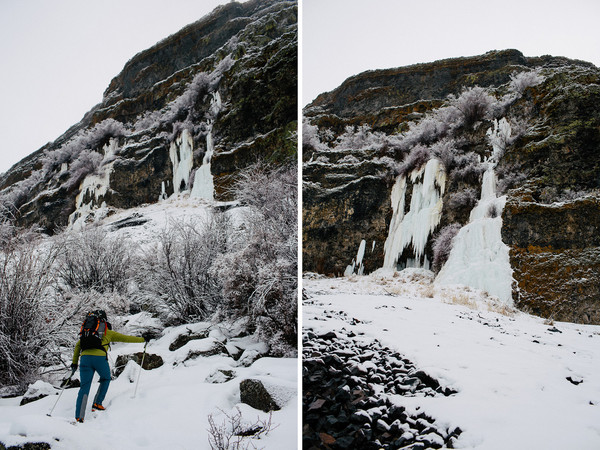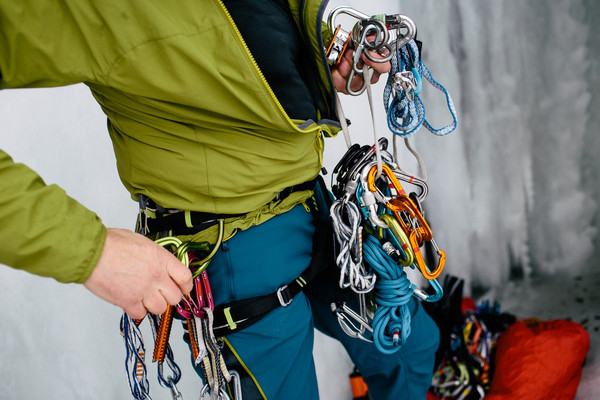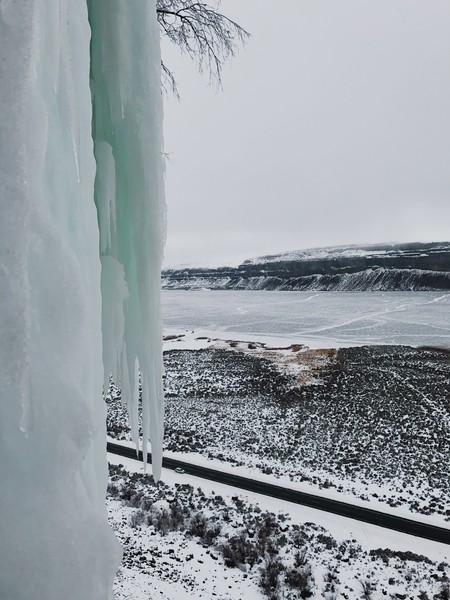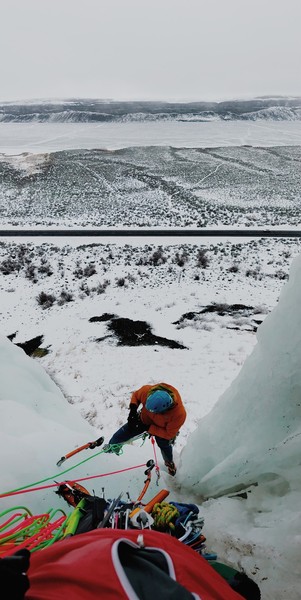 We read the description for The Emerald and it sounded alright. Taking a chance we hiked up, and then back toward the climb. As soon as we could see it, we laughed at how the 'guide book' didn't even come close to doing it justice. I was super stoked about possibly getting on this route - it looked incredible! After about a .5mi approach (a real slog for Banks) we could hear the steady stream of water running over the ice. It was loud and sent a clear message. We marveled for a few minutes about the beauty of the line before heading back to the car.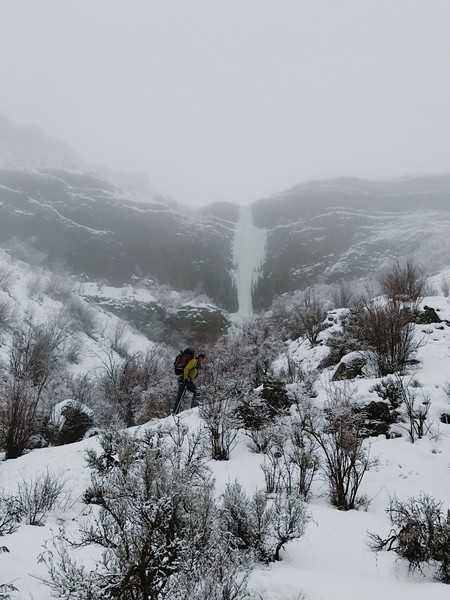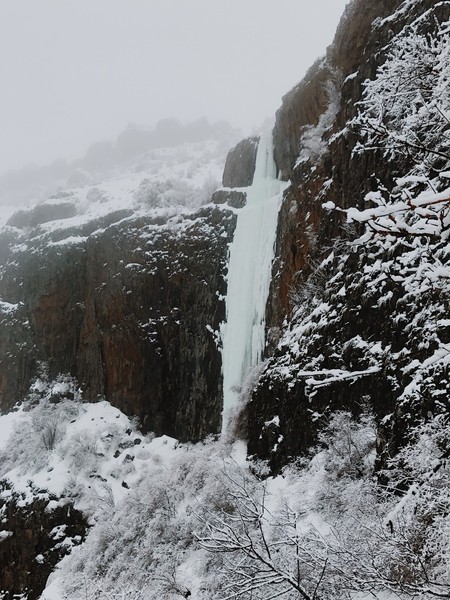 At this point we decided it would be best to use the remaining daylight to plan Tuesday, our next and last day of climbing. We cruised up the road to see what Megawatt, Kilowatt, and Gigawatt looked like. They were thin and looked like they had shed large sections of ice recently. Racing the last bit of daylight we made our way over to Moses Coulee. Butch Cassidy, and the Sundance Kid both looked like phenomenal climbs through the binoculars but a bit too lean and anemic. Just a bit up the road we saw a 3rd climb. It looked fat and really cool. We decided it would be our first climb of Tuesday. (This 3rd route is actually Sundance Kid, but at the time, based off the description and distance listed in the book, I was confused).
We returned and Dallen started up the first pitch, immediately getting drenched from the melting run-off. What sounded like a small amount of water was the equivalent of standing under a shower head. He swam his was up the climb until he was able to stand in a small ice cave/hole. After cleaning up a bunch of the ice, Dallen made his way out and up, finally escaping the downpour. Somehow I had left my hardshell in my duffle bag so Dallen sent his down to save me from the inevitable. Following up was certainly much easier than his lead. Wish we would have brought swim goggles for that one. After swapping out gloves and Dallen attempting to squeeze the water out of his layers, I led up the remaining portion of the climb.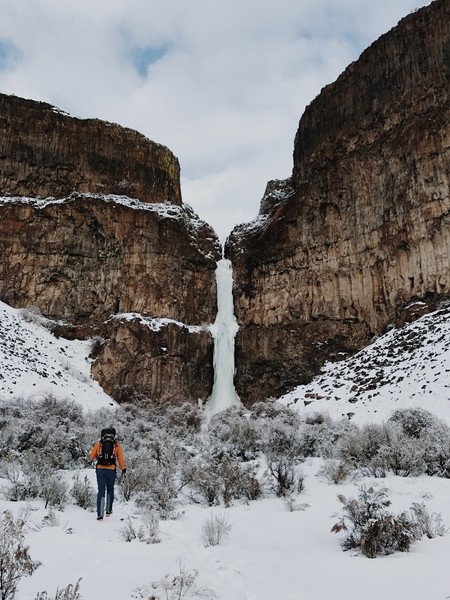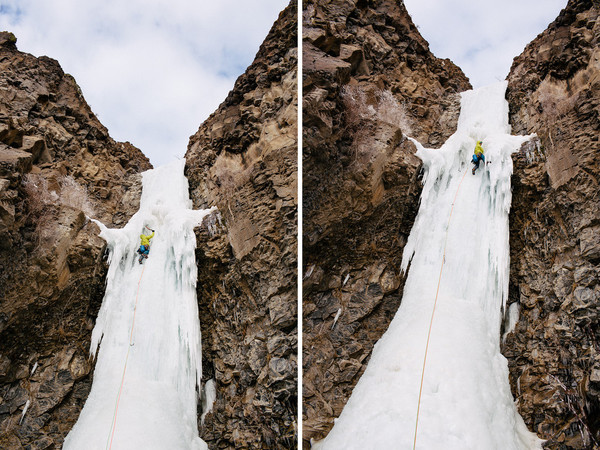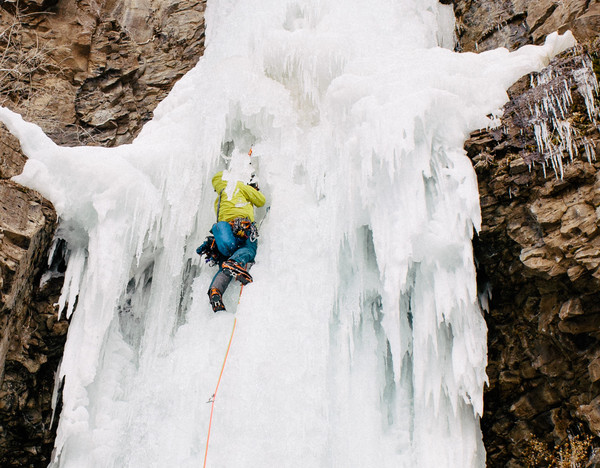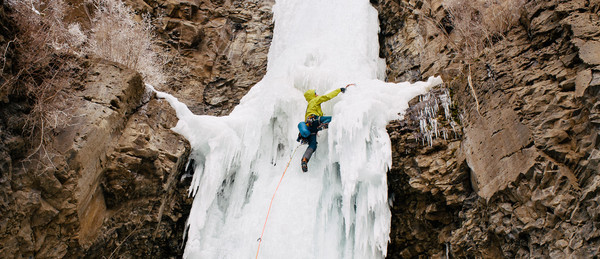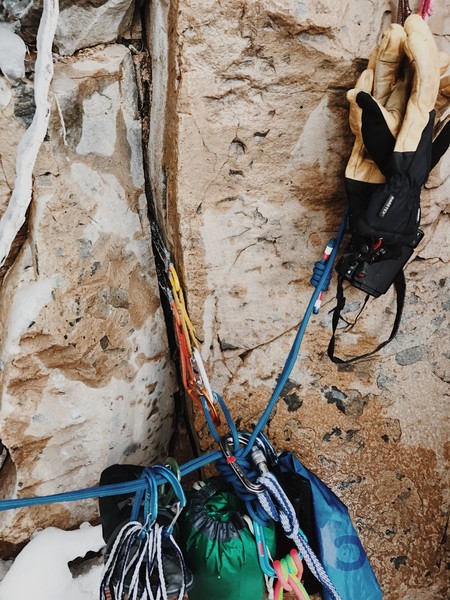 We made quick stop back at the motel so Dallen could change his soaking we base layers and then headed to Champagne.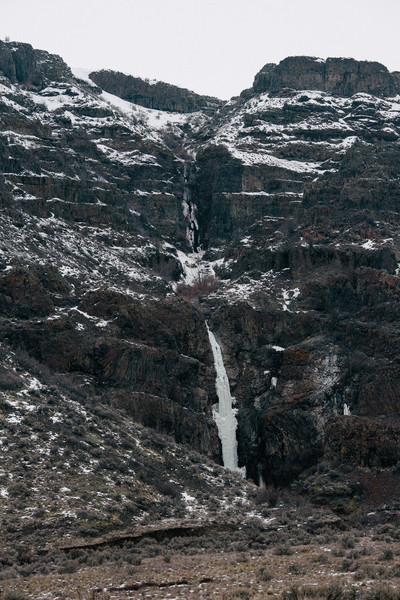 This was the highlight of the 2 days for me. We started a bit late in the afternoon and I was eager to lead the climb. The surface was a bit wet and my gloves absorbed a lot of water but very reasonable considering what we had climbed earlier in the day. The first pitch was outstanding WI4, lots of hero ice. Vertical for a bit but with steps from all the other climbers undoubtedly getting on it in the previous weeks. The 2nd pitch started okay and turned to hallow thuds and delaminating ice by the top. I belayed off the best anchor I could find, a small collection of marginal saplings about 25' back from the edge of the climb. Dallen followed up as night set in. We coiled ropes and walked off (whoever goest up next will find the cordellette and locking biner that I mistakenly left in the dark. Oops.)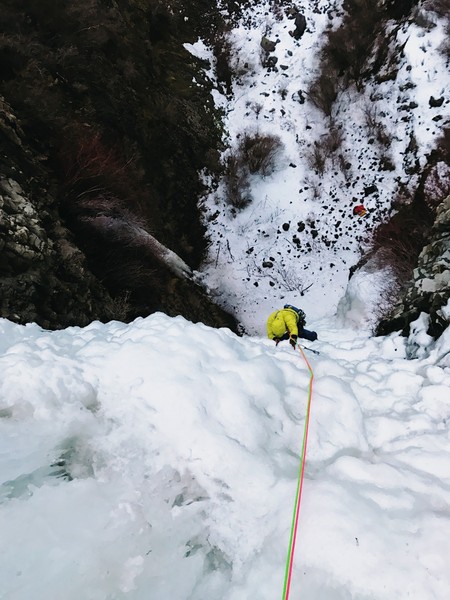 Wednesday morning we made a quick stop at H2O2 and decided it was running a bit much and the ice was less than ideal given the 33 degree temps.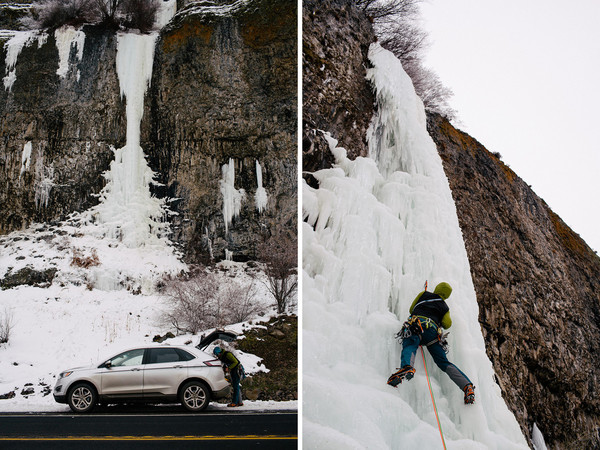 Drove back to SeaTac stoked about what we were able to get on despite the warming trend as of late. Many routes had enough of a base that they could last assuming more consistent cold weather arrives soon. Many others will obviously need a significant drop below the current 29-33 degrees to stop the substantial flow of water.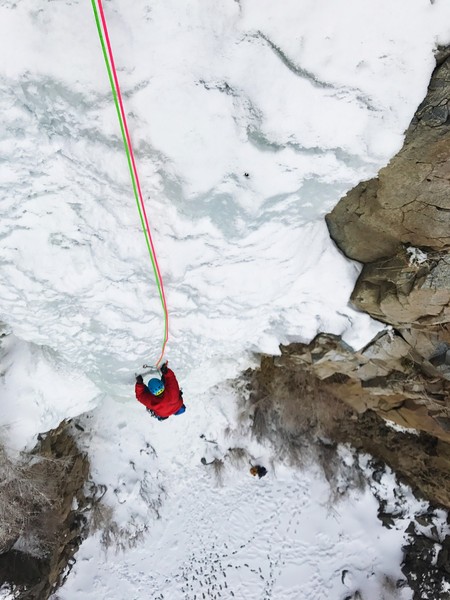 Gear Notes:
Gore-tex pants/jacket
A few pieces of rock pro for the belay anchor on Sundance Kid while you dry out layers
Swim goggles would have been welcomed on Sundance Kid
Approach Notes:
Incredibly short