Trip:
Lane Peak - The Zipper
Date:
1/28/2017
Trip Report:
I climbed Lane Peak yesterday with my friend Scott. We arrived in Longmire well before the gate opening and hung out a bit - even chatted with some familiar faces.
The gate opened pretty close to right on time and we got in the conga line. The lot at Narada Falls had a few cars. We headed up the hill immediately encountering 6-12" of fresh unconsolidated powder. These were the conditions we encountered all day on the N side of Lane.
We originally intended to climb Lover's Lane, but there was fresh avy debris under it and with the soft snow we figured it would be a time-consuming wallow at best. We opted to follow a party of three up the Zipper. They were 15 minutes ahead of us and setting a glorious boot path (thank you!)
We made quick work of the zipper unroped. At the col we noticed the other party doing a variation straight up, so we broke trail around to the normal ascent gully and up it. The gully was mostly filled in with just a bit of thin slushy snow over rock just below the big rappel tree. At the ridge we hesitated thanks to exposure and a bit of sketch, and opted to down climb to the rappel tree, build an anchor and belay from there to the summit.
A party of two showed up and we shared our double rope rappel with them (we had brought 2 60 m ropes for the rappel in Lover's Lane - might as well use them!)
The hike out was uneventful and pleasant. We got to the lot at 4:50 and made it out of the gate before it closed.
KK topping out on the Zipper: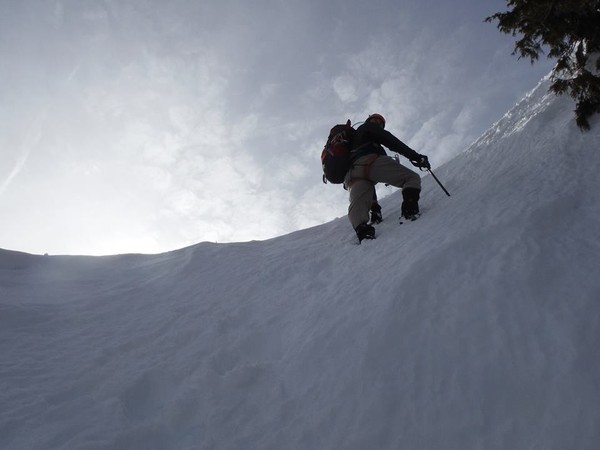 Scott traversing to final pitch: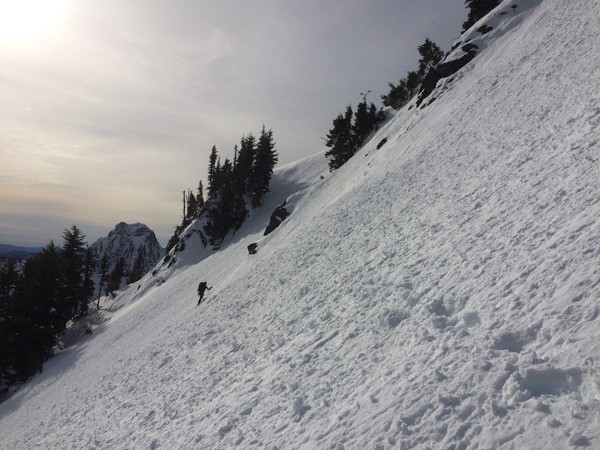 KK climbing the final gully: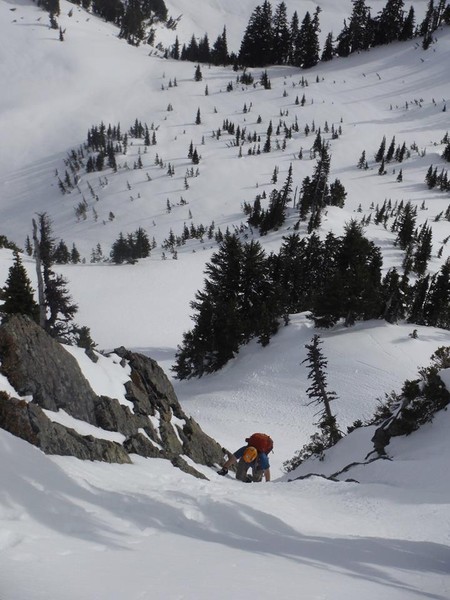 KK selfie at the rappel anchor: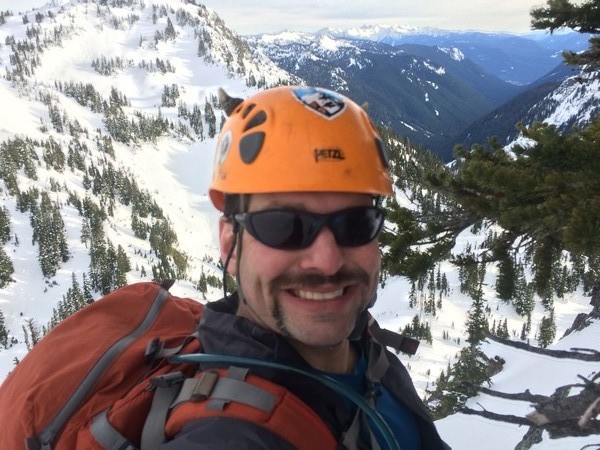 Scott on rappel: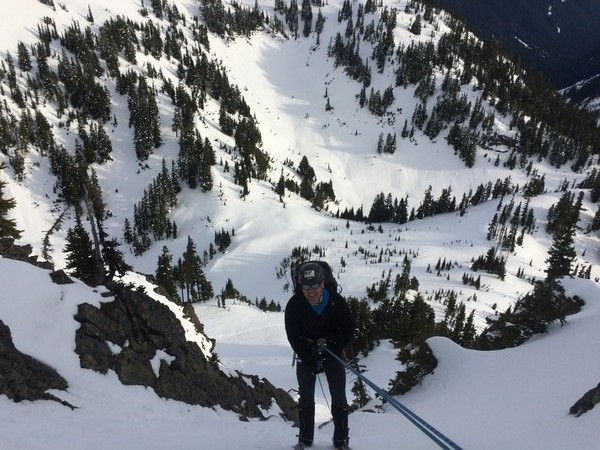 Raindawg on descent with a creepy lenticular:
Gear Notes:
Crampons, ice axe, 2nd tool nice but not required. 3-4 pickets if you are so inclined. At least a 60 rope to rappel from the tree.
Approach Notes:
Soft unconsolidated powder over a hard layer