Trip:
White Chuck Mountain - NW Route
Date:
10/22/2016
Trip Report:
Me and a buddy climbed the NW Route (south face of the NW ridge) on White Chuck on Saturday. We had great weather and a good day out. Hit snow line right at the parking lot, there was about 8" on the summit (lots of wind deposited snow in areas though made for some postholing).
There was quite a bit of rime on everything on the way up, though a lot of it melted off by the descent. It seemed pretty sketchy as the foliation of the rock is downsloping making for poor footing and no holds or even places to hook your axe. It would be a better route with lots more snow. We made it fine with no gear other than axes. The summit was warm and pretty calm.
We were pretty surprised to see two solo guys come up behind us as we sat on the summit. The plan was to go somewhere isolated and little traveled, I think there ended up being 5 parties on the mountain that day including someone on the NW Peak, not sure how they got there with all the rime on the face.
Tristan trying to find holds on the down sloping rock.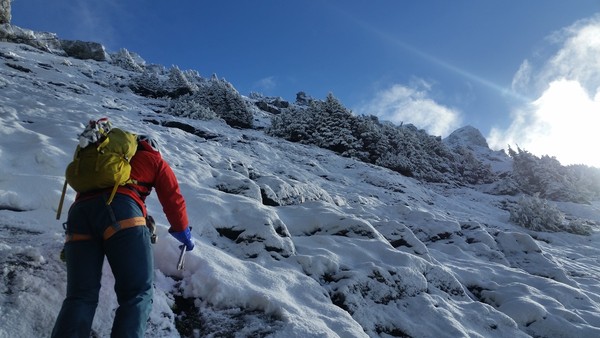 Gear Notes:
Ice axe.
Approach Notes:
Lots of driving on gravel to about 5000' NW of the peak.