Trip:
Illumination Rock - Iron Maiden
Date:
10/22/2016
Trip Report:
More of a conditions report than a climbing report, for folks who may be interested in getting their early-season alpine on.
TL;DR: Thin conditions, lots of mixed.
With the weather that came through the last week or two, I was watching the freezing levels and it looked like they'd get some good frozen stuff up high, and then we were due for a thaw-freeze cycle. Perfect recipe for alpine ice, I thought! So, I recruited climbing partner Jason to go up there with me and take a look.
First pitch was decent ice in the gully, not really deep or solid enough for screws, but good sticks so not bad. First chimney was a spicy mixed affair with some drytooling. The headwall traverse didn't look promising, I got halfway across and was confronted with loose snow on slabs, so we downclimbed a bit and then came back up under the next chimney on thin ice on slabby rock. The next chimney was another mixed affair, really fun climbing here but strenuous for me on lead. We rapped off from the west gable, summit ridge was looking scary and we were pretty worked.
Left Timberline at about 8, climbing around 11, done rapping around 4:30, back at the car at 6:30.
I haven't done this route "in season," but I did the West Ridge in spring last year and I thought it was much more straightforward.
FYI, the SE Buttress, April Insanity, and Rime dog are all thin ice on slabs., much respect to anyone who takes them on in these conditions. March Madness is basically nonexistent, a few small icicles up high but nothing continuous.
Route line (approx):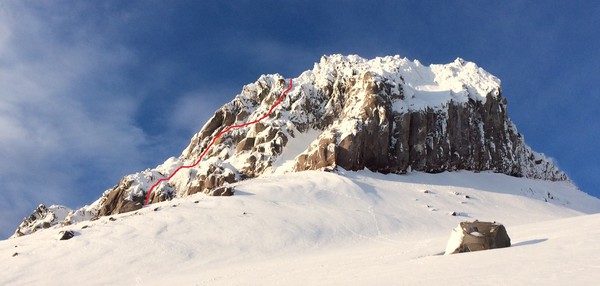 Start of the 1st Pitch: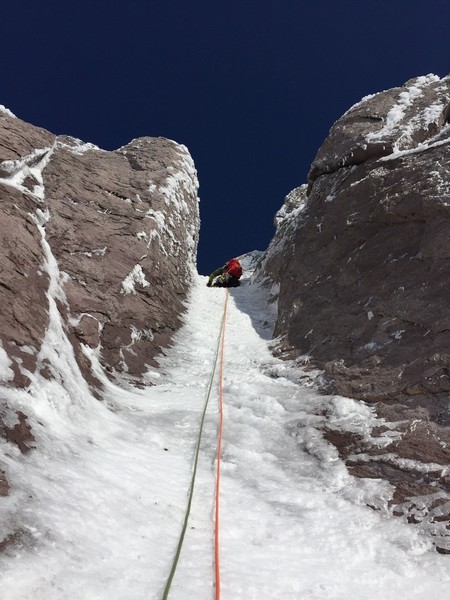 Near the top, looking down the final chimney: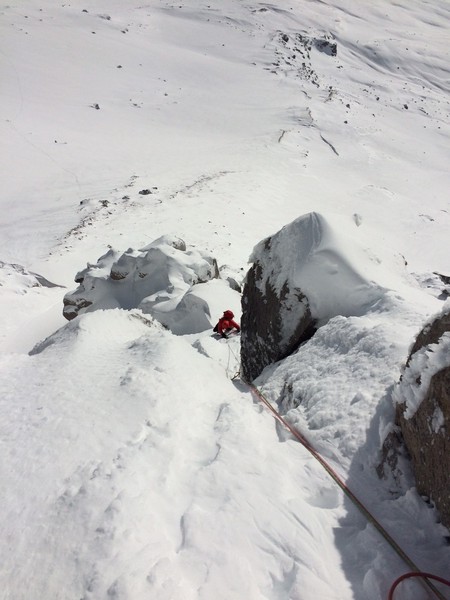 Gear Notes:
Short screws (basically useless), picket (basically useless), a couple cams 0.75-2 (useful in a few spots), nuts, a few pitons, and a spectre.
Approach Notes:
Normal southside approach, really good conditions.