Trip:
Mount Whitney - East Buttress
Date:
9/7/2016
Trip Report:
Ever since I had to turnaround on the East Face of Whitney two years ago I've been jonesing to return for another shot. Get back on that horse and what not.
This year I tried really hard to secure Labor Day Weekend (proper) reservation for the N Fork... but damn it was tough. I ended up with an entry date of 9/5 and opted for 3 nights. The idea was flexibility: altitude issues, weather, etc. The hope was to climb
both
the E Face and the E Buttress.
Last time I camped at Upper Boy Scout Lake and used diamox. That worked okay, but I vowed to camp at Iceberg for the next time around (foreshadowing).
I flew into Vegas on Sunday to meet Gaucho Argentino, who flew in from Atlanta. We then drove into Lone Pine and opted for a good meal, a hot shower and a good night's sleep (read, hotel). The next day we drove up to Whitney Portal early and hiked in. Both of us had packs that were WAY too heavy. It took 7 hours from TH to Iceberg.
I arrived first and encountered an incoherent woman yelling for help. At first I heard her voice but did not see her. After 20 min of searching and walking uphill toward her voice I finally spotted her on the E side of Iceberg Lake. She was obviously suffering from lack of food, water, altitude and God knows what else. She had no pack, food, or gear (she left a fanny pack and trekking poles about half way down towards UBS Lake). I led her to camp, got her water and flagged down two summiters coming down the Mountaineers route. I convinced these reluctant climbers to help said victim down at least 1000', and gave them 1.5 liters of water and a pack of Gu for her. They left together. Hopefully she is OK.
Fading light at camp:

I was worried about the altitude and AMS but so far, so good. We made camp, and dinner. I had trouble eating (no appetite) but got through my Mountain House. Then my head began to ache. The pain increased. Think about the worst hangover you have ever had. I took two advil. Nothing. I waited for three more hours. I took three more advil. Nothing. Fuck. I tried to go to bed at 8:30 pm. I could not lay down - the pain was worse. So I stood outside and hung out until it got too cold (subzero). I tried to make myself puke but could not. I finally laid down, exhausted, but could not sleep. I told Gaucho it would be unlikely I would be up for a technical rock climb with an alpine start. Finally at around 2 or 3 am my mouth got suddenly watery. I recalled those glorious days of my youth and mass tequila consumption in Tijuana and got out of the tent mighty quick and proceeded to paint the rock wall at our tent site chili mac red. I immediately felt much relief, and, full of hope, laid down, still with a head that felt like it had been pierced by a nine inch nail from ear to ear. Eventually, at about 4:30 am I fell asleep.
At 7:30 am, I awoke to the frozen inner tent condensation melting and dripping on my face. I wiped down the tent with a towel and noticed the lack of a headache. I then thought about how much it would suck to lie around all day and even worse - go home empty handed. So I drank a miso soup. It stayed down. I packed my shit and headed up the Mountaineers gully for a consolation prize at 9:00 am. Gaucho remained in camp to rest.
Pano from the notch:

The ascent went quickly (2:15) and I enjoyed the summit for an hour before descending to camp.
KK: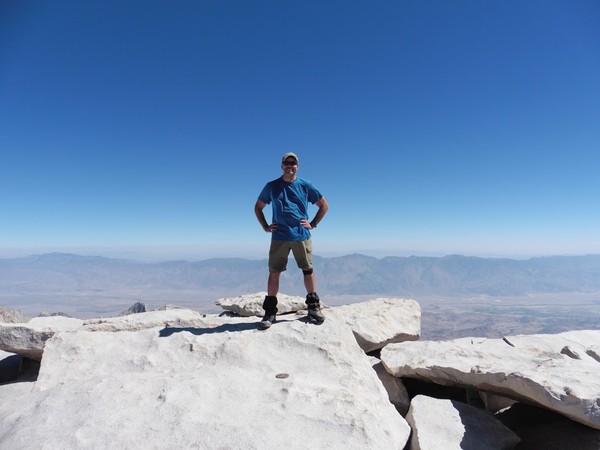 Summit p0rn: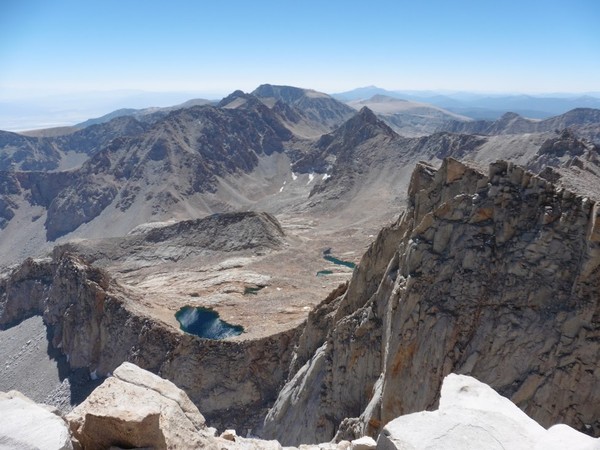 Gaucho at camp taken on descent:
Sunset at camp: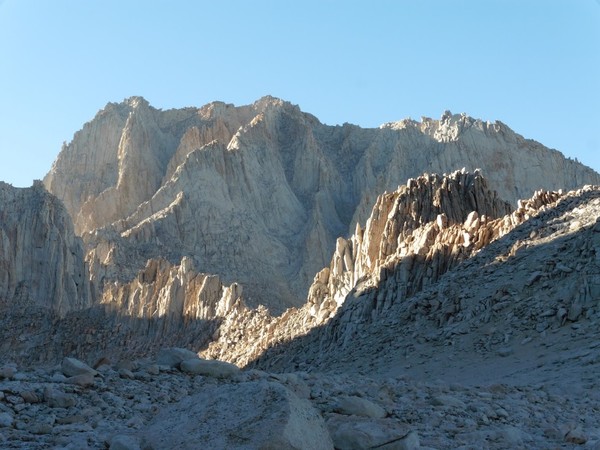 Guess what? Game on. I told Gaucho I was healthy, acclimated and ready to hate fuck the E buttress the next day.
Another party of 4 arrived at camp, also planning this same route. I figured 6 was not terrible and it proved correct. We got an alpine start on Wednesday and ended up just behind said party. This caused a one hour delay in starting but they were quick and never impeded us after that.
Alpine start: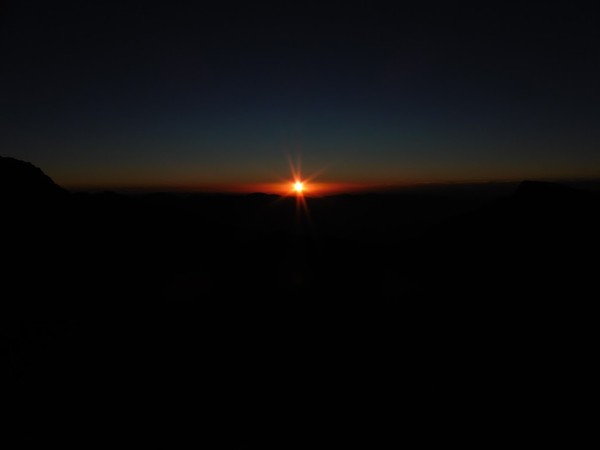 We cleared P1 to P6 in good form.
Gaucho, leading: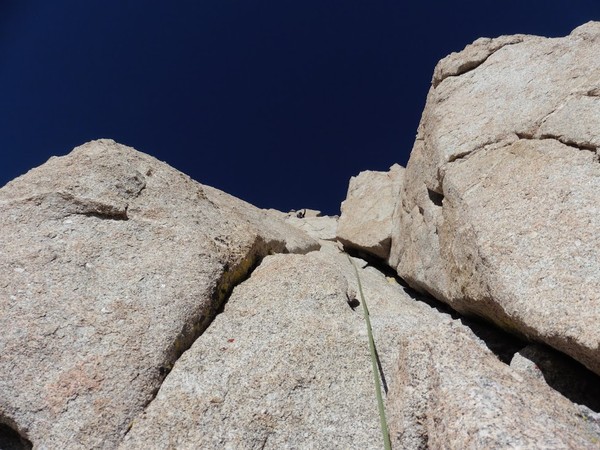 The crux: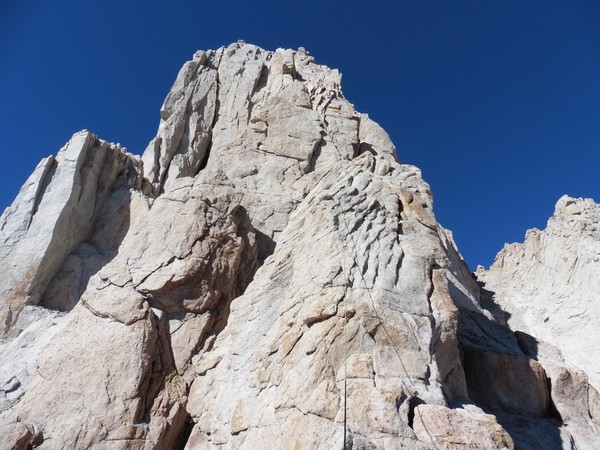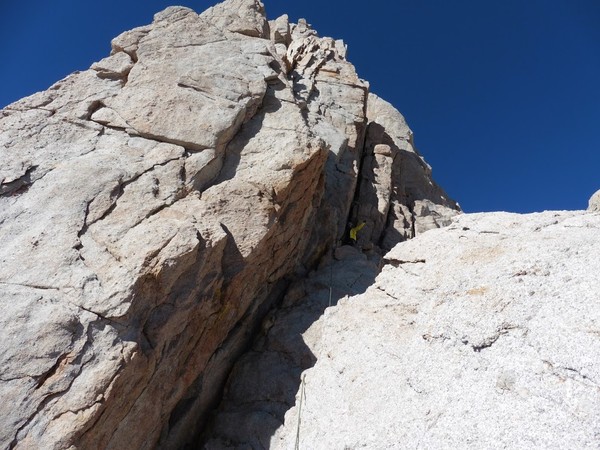 Gaucho at an anchor somewhere mid-route: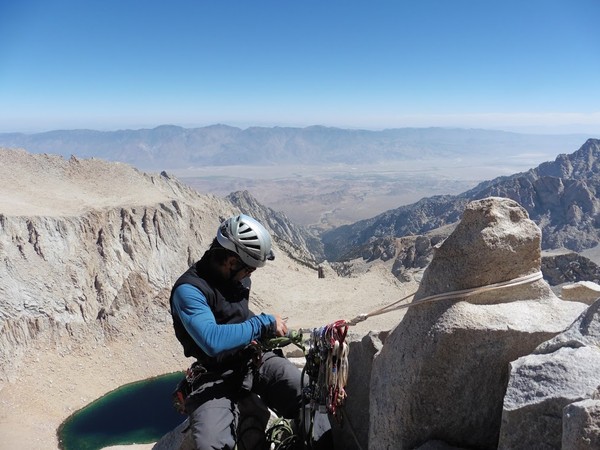 Gaucho topping out. P6?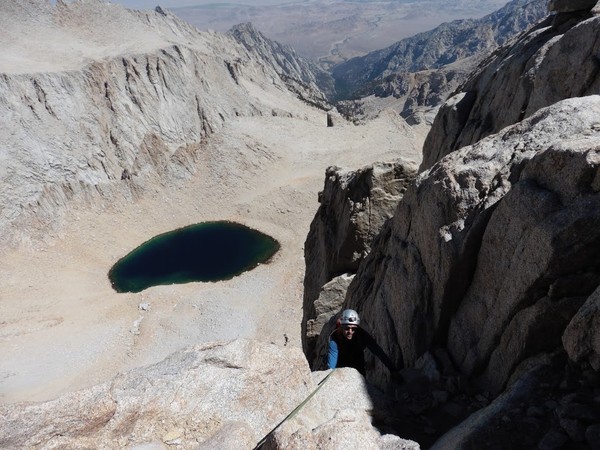 And, again: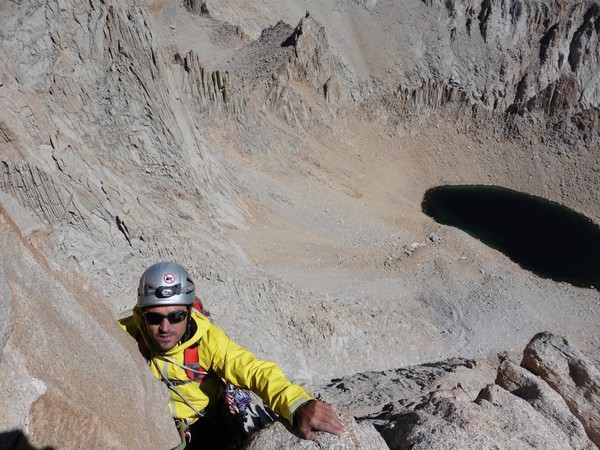 We had trouble with P7 though - I think we went too far to the right. The consequence was some time spent with shenanigans getting back on route. And, not knowing when that would happen, we pitched out what should have been simulclimbed or just solo'd. I led 4 pitches up top where I placed one piece of pro combined.
Gaucho topping out: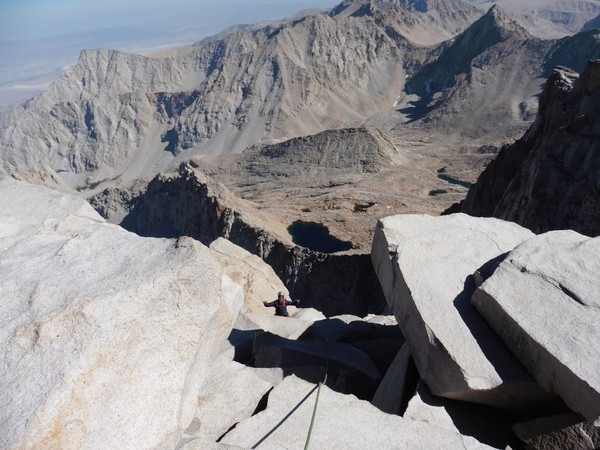 AMS can't beat the Devil: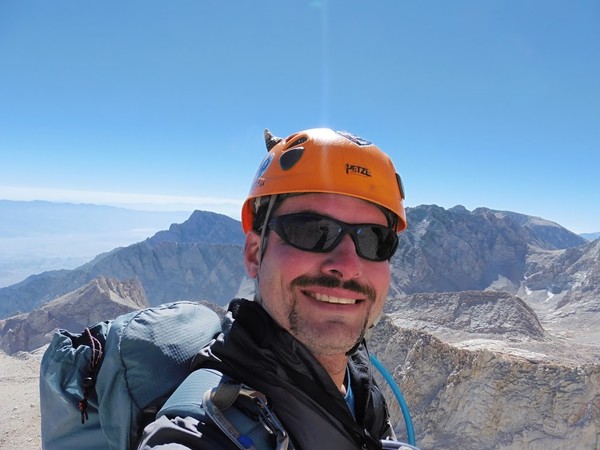 The descend went smoothly (shit, I sussed it out just one day before).
Fucking rad reflection in Iceberg Lake: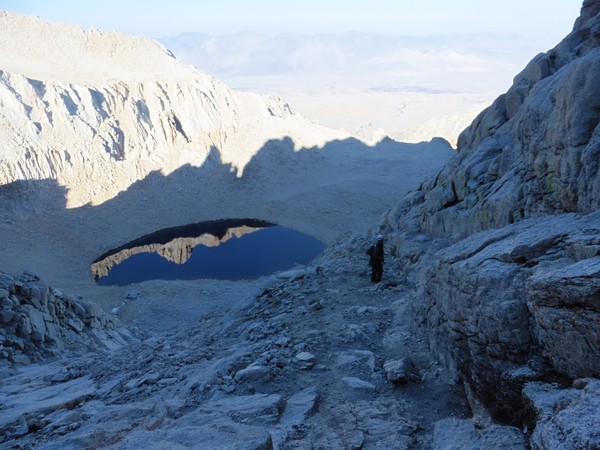 View from above Lower Boy Scout Lake on the way out. Portal indeed!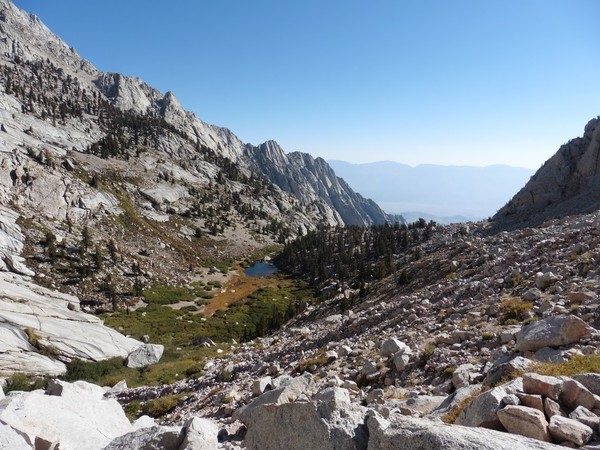 I really enjoyed the IPA and calzone in town. The drive back to Vegas kind of sucked though.
Gear Notes:
Helmet. Set of nuts, cams .5 to #3. A couple small cams.
Approach Notes:
Snow free.