Trip:
Dragontail Peak / Mount Stuart - Backbone Ridge & Complete North Ridge w/ Gendarme
Date:
7/30/2016
Trip Report:
With a combined age of 108, JP and I climbed these two classic routes "old man style" - avoiding all that knee crushing bullshit the youngsters are inclined to do. This was JP's first ascent of Backbone and my first of the CNR - a nice trade that was.
Dragontail: Backbone Ridge -Jul 30-31
Walking from Stuart Lake trailhead at 3:07am. At 6:15 we reached the snow crossing atop the moraine, which we donned aluminum 'pons for and dispatched easily. By 7am we had scrambled the ledges and were roping up for p1.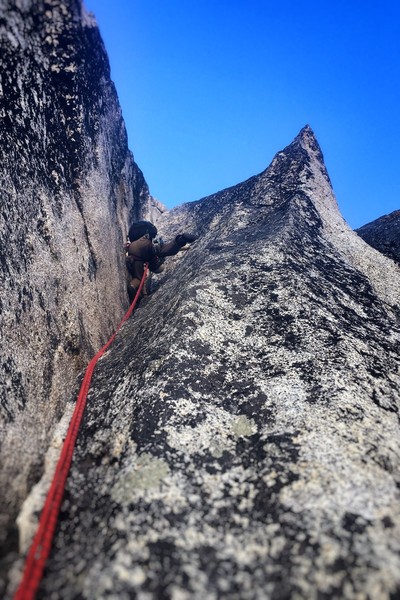 JP sending OW crux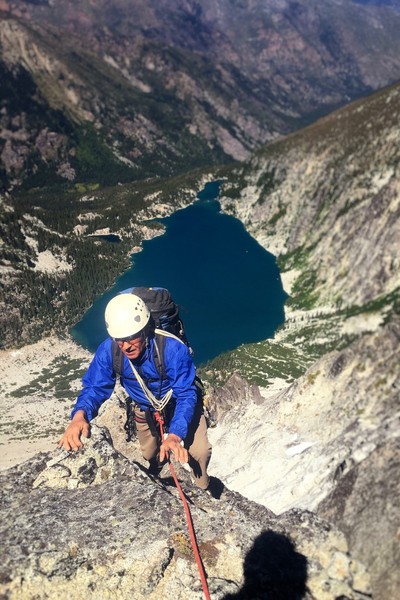 Such great position!
We simuled the 100m 4th-class section and by 10:40am we were at the base of the Fin where we took a nice lunch break. Began climbing the Fin around 11:30. Even though we climbed the left side of the Fin as described in our guidebooks, we still had some route finding issues and lost time.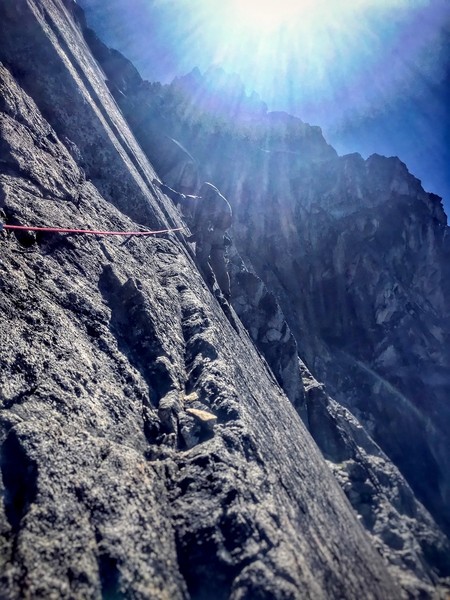 JP starting a wild traversing 5.9 pitch on the Fin
Summit 4:30pm.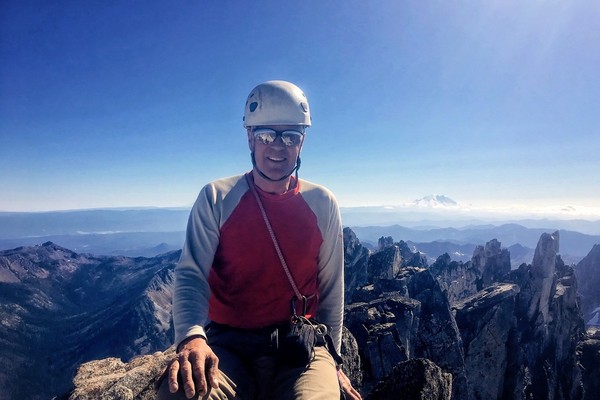 Summit glory
We bivied overnight below the summit, just outside the Enchantment Zone area - old man style.
Woke up the next morning after a windy night. Didn't sleep too well. Beautiful sunrise though. Used 'pons and trekking poles to descend the snowfield to Aasgard Pass.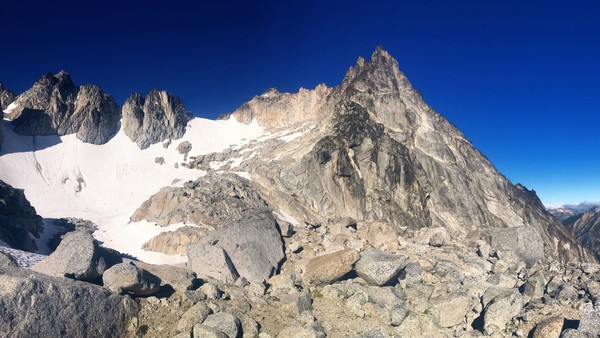 Dragontail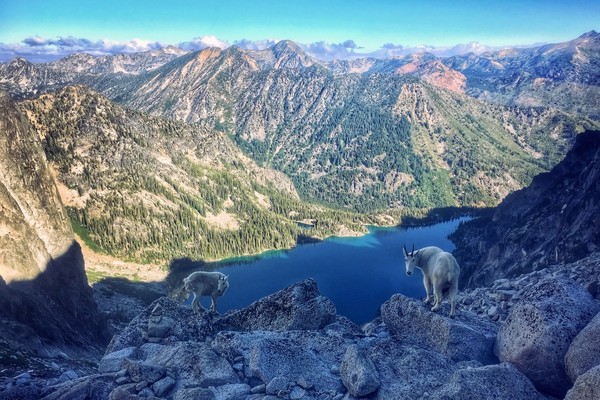 Obligatory goat shot
Left bivy at 7:30am, at the trailhead at 12:38pm. We went in to town and bought a fresh made pie at Dan's Market and some ice cream. Then we headed to my secret recovery cabin and fed our faces.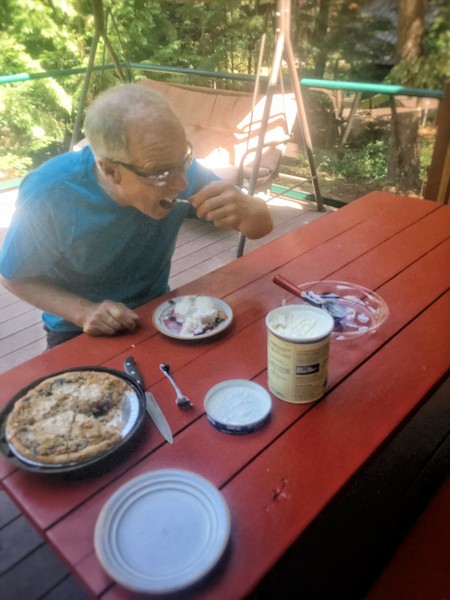 JP fills his pie hole
Slept
real
well that night. Relaxed most of the following morning at the cabin, drinking coffee. That afternoon we ran into Leavenworth for some supplies. Visited Der Sportsman, Dan's Market, Safeway and the Mtn House. Spent money. Then we had lunch at the Munchen Haus. Of course I couldn't pass up a delicious pint of Dark Persuasion German Chocolate Cake Ale...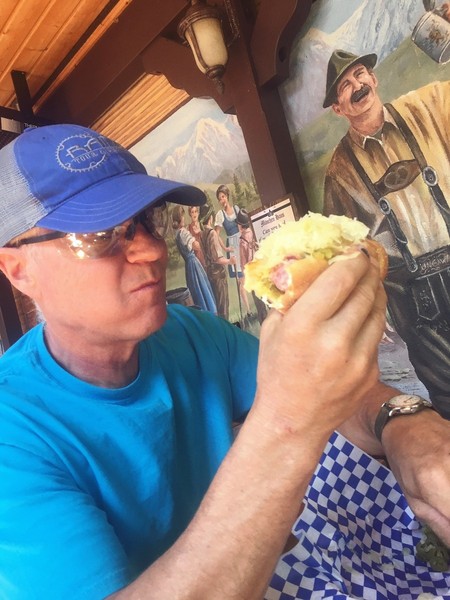 JP hoggin' down a Helga's Giant Kelbassi
Then we went back to the cabin for more R&R.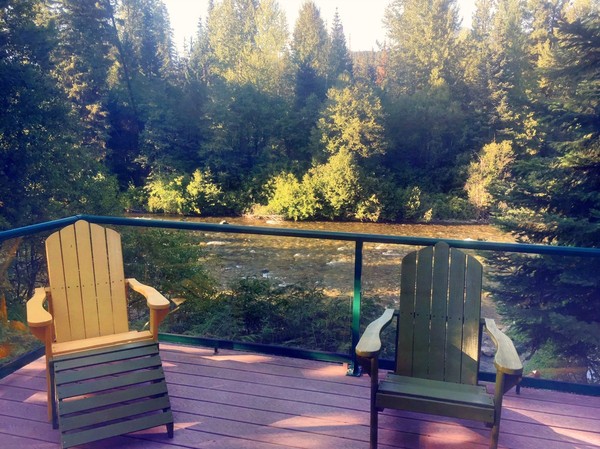 Old man climber secret weapon: the recovery cabin
Complete North Ridge of Mount Stuart - Aug 2-4
Left Stuart trailhead at 12:10pm. At 1:45 we turned left on the climbers trail and began following Mountaineers Creek. It was easy at times and challenging at others - lots of blow down and some boulder hopping. Pretty hike through the woods along a stream though.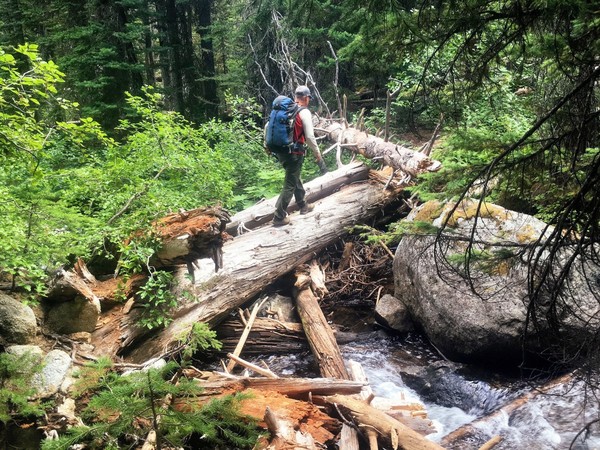 Log crossing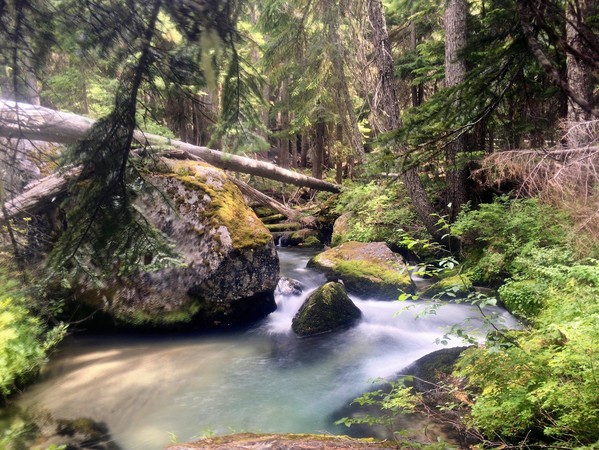 Mountaineers Creek
At 4pm we made camp in the basin below the final scree field approach. From below we saw the bivy boulder at the toe was already occupied. It was now cloudy, breezy and sprinkling off and on.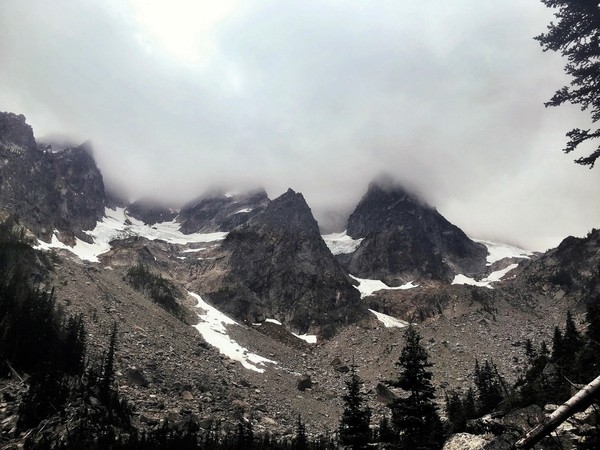 Ominous clouds over Stuart
We found some boulders that offered varying levels of shelter. One was quite overhung and suitable for cooking under.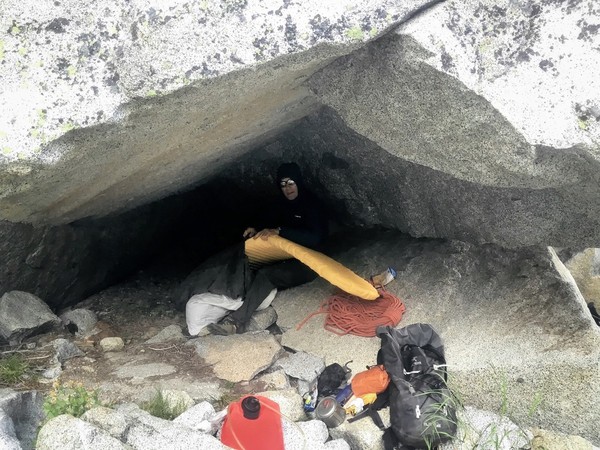 Looks rather cozy for a rock
However when it began raining harder it began to drip in a way that made us wonder about it as a sleeping area. JP found a drier location and I managed to wiggle into a semi-upright position and stay dry. About 9pm the party who was camped under the bivy boulder at the toe of the ridge came tromping by in the dark - they were bailing.
The next morning we awoke to sunshine.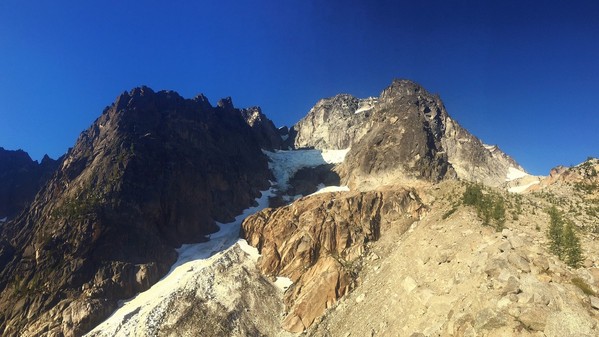 Bluebird skies on the CNR
Left camp 6:20am. 7:15am we were at the toe of the CNR. At 7:55 we began climbing p1. By 9:45am we'd dispatched p3 and began simul-climbing. At 12:40pm we'd reached the upper ridge notch.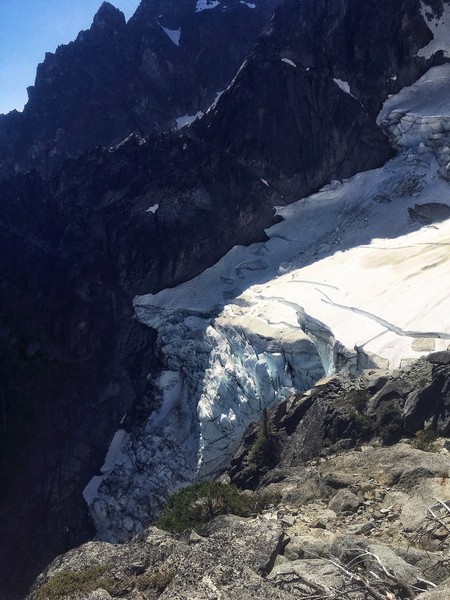 Ice Cliff Glacier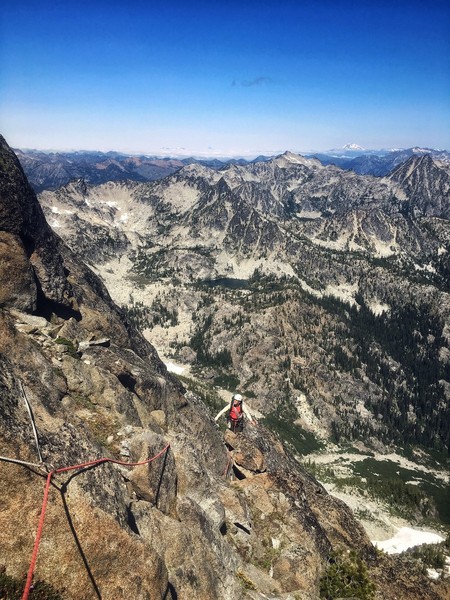 JP negotiates easy ground on the lower N. Ridge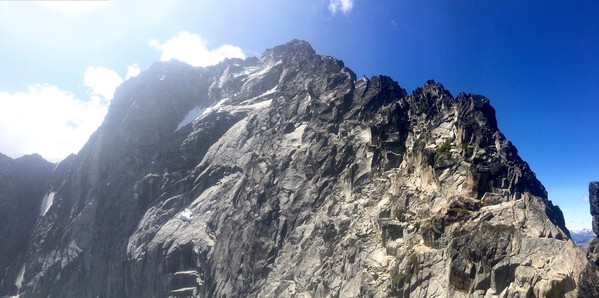 The upper N. Ridge from the notch
After seemingly endless amounts of exhilarating simul-climbing, we arrived at the base of the Great Gendarme around 3pm.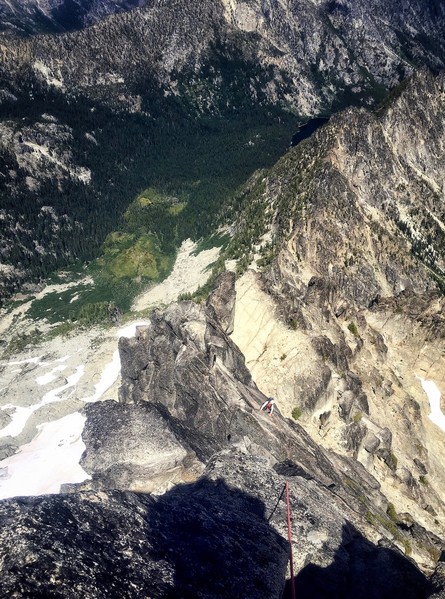 Stellar position on the upper N. Ridge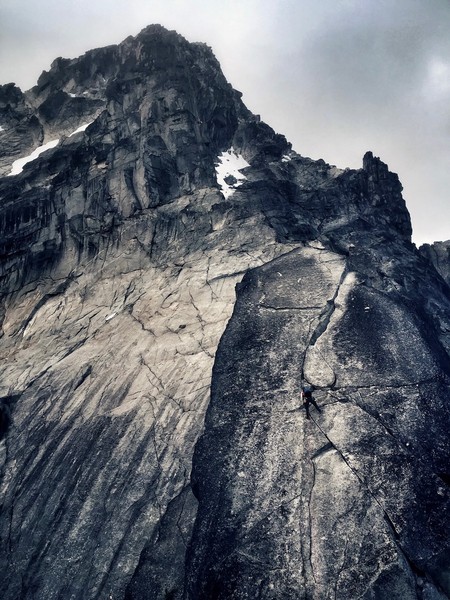 The striking Crack-on-Slab pitch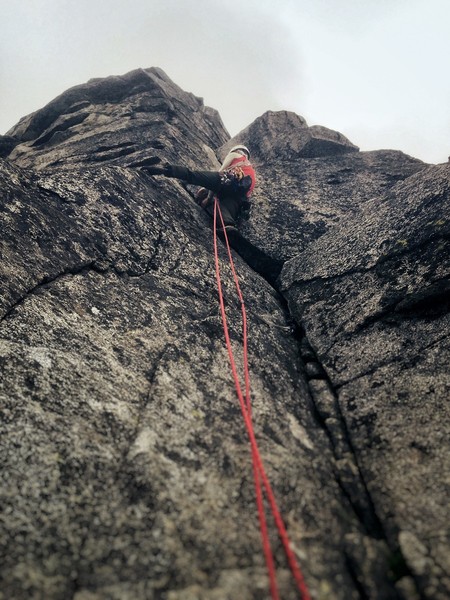 JP leading the 5.8 layback on the Great Gendarme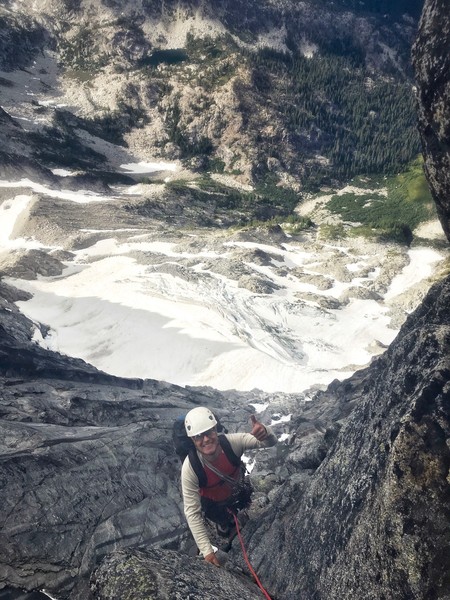 JP finishing the 5.9 OW pitch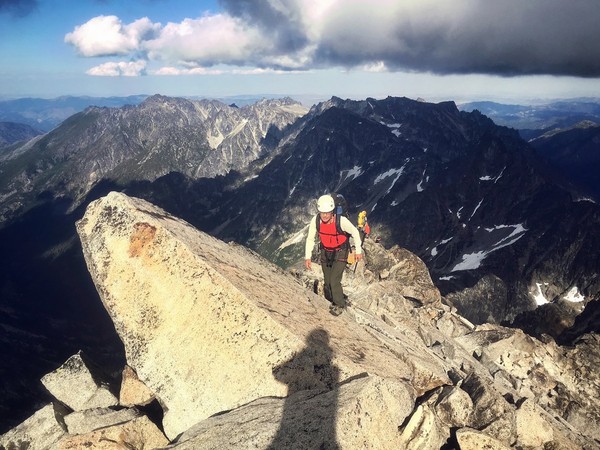 Approaching the summit
5:35pm on top.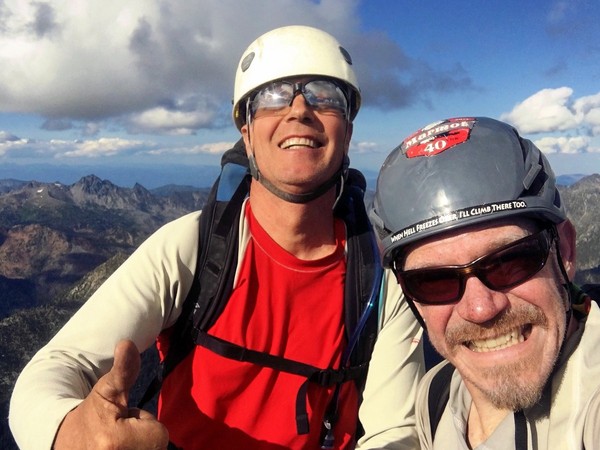 Summit selfie
We descended awhile, using the trekking poles and 'pons for a short bit on some steep snow above the Cascadian Couloir. Just above the Couloir we found a sweet bivy and settled in for the night.
The next morning we awoke to another splitter day.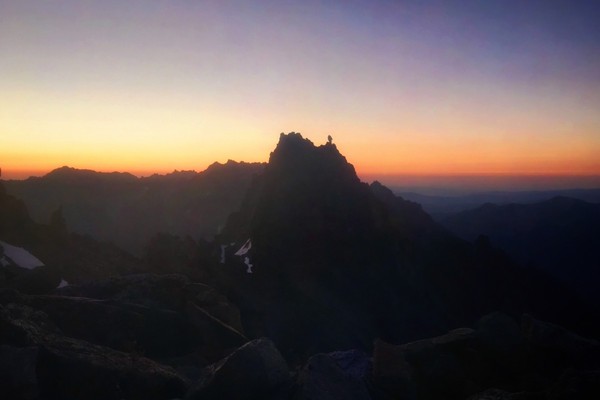 Sunrise on Sherpa Peak
We were traveling at 7:15am. Using
Abegg's advice
we descended the 3rd & 4th-class ridge past Sherpa Peak towards Sherpa Pass. It went without a hitch. Just stick close to the ridge and don't drop too far down to the south.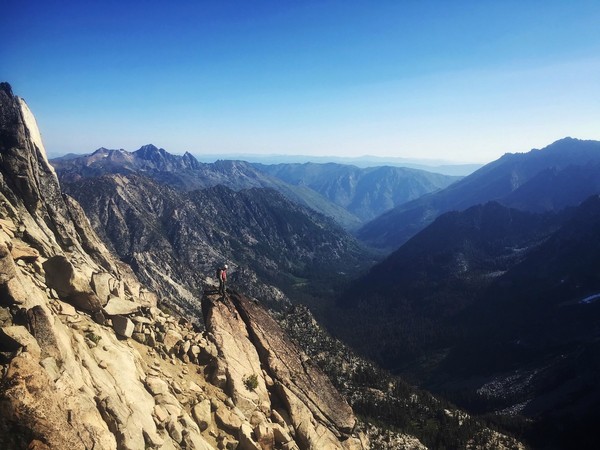 JP descending the ridge
Arrived at Sherpa Pass at 10:55am after 3 hrs, 40 min. Negotiated steep snow from the pass, then boulder-hopped to Mountaineers Creek. Regained the Stuart trail at 1:45pm; trailhead at 3:05. Another stop at the Munchen Haus came soon after.
More Photos
:
Dragontail/Stuart Jul 30-Aug 4, 2016 photo set on Flickr
Gear Notes:
Brought an old #5 on Backbone, used it. Brought a #3 on CNR, used it.
Approach Notes:
The usual. Used 'pons and trekking poles on both routes, no axe.