Trip:
Storm King - Californication
Date:
8/14/2016
Trip Report:
NH, TBV and I climbed Storm King this past weekend. Due to late time route planning changes we fell a bit short of trying to add in Goode, but that's OK. I still want to climb the NE buttress and who knows, maybe 6th times a charm... or 7th... or 20th.
We arrived in Stehekin on the morning express, loaded up at the bakery with gut bombs, and stashed beers at High Bridge. Systems Go!
The forecast was for 95 degrees in Stehekin, but it felt a bit cooler. We made it up to Bridge Creek in under 2 hours and made quick progress to Park Creek. However, the hill side switchbacks up to Two Mile camp proved a bit more oppressive and hellacious... and arrived at the log bridge at 5:20.
Back of the envelope computations yielded an unsatisfactory result: should we stop for 20-30 minutes to refill on water and continue on up to the 7400' camp, it would require at least 4 hours and that would be both unpleasant and possibly pointless - some rest would be required to tag both summits in a day and move camp. so we opted for a more relaxing single peak summit.
Sunday involved headlamps in the cool morning. Time to 7400' was 4 hours with fresh legs and light packs, so we called it right. The "cairn" marking the climber's "trail" was blackened and not much of a marker. The Goode fire has done a number on the section of trail where you head uphill and stays that way until well over 5000' foot elevation. There's a lot of ash and blackened dead fall. Not sure how well this will hold upf or the next few years. But for now it's OK and you can walk wherever you want - it's fucking Mordor up there.
At 7400' we refilled on water and rested. It was getting warmer at this point. Then it was on up to the summit and back to camp, taking our time, and using up all the daylight hours.
Leaving the trail:
Scorched earth above the Park Creek Pass trail: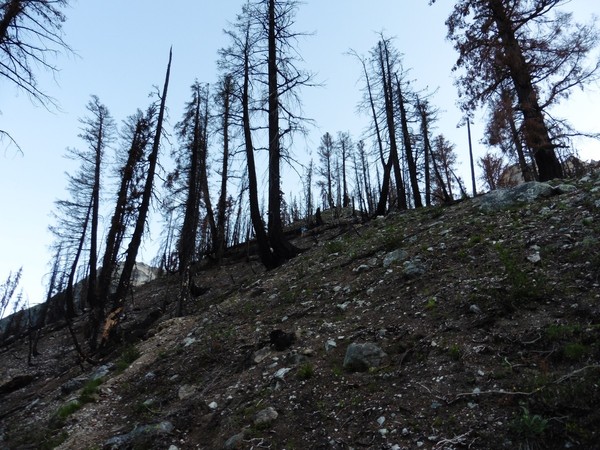 TBVisitor scrambling just below the 7400' basin: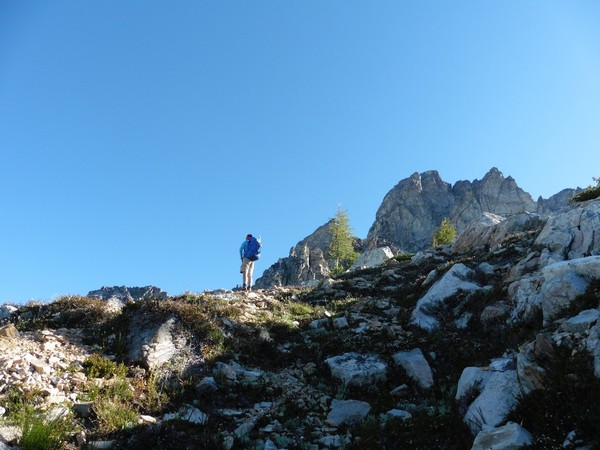 Traverse from 7400' basin to the Hall of the Mountain King: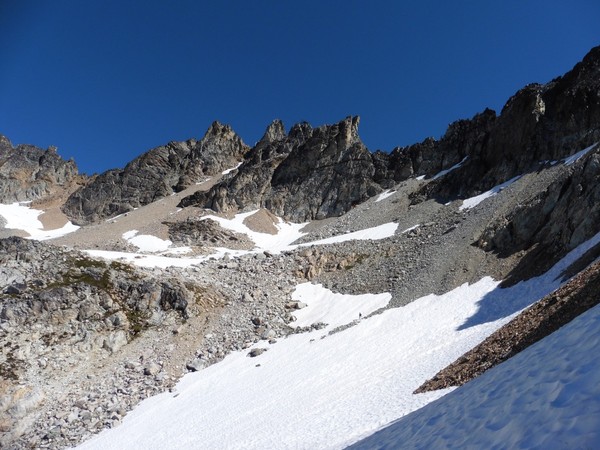 Embrace the choss: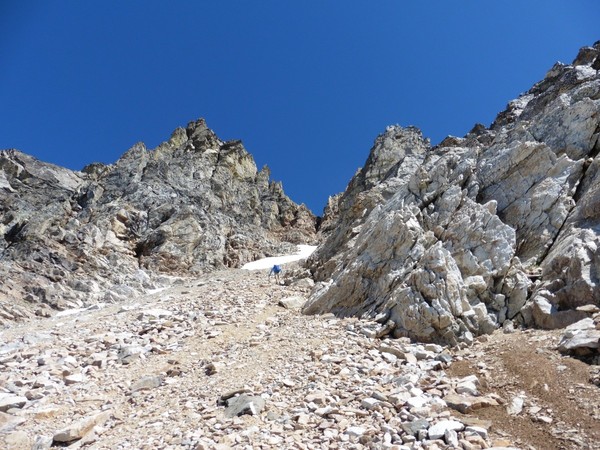 Storm King summit blocks: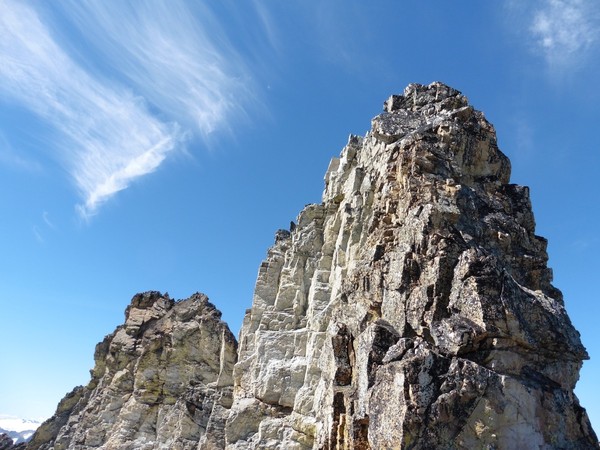 \m/ KK \m/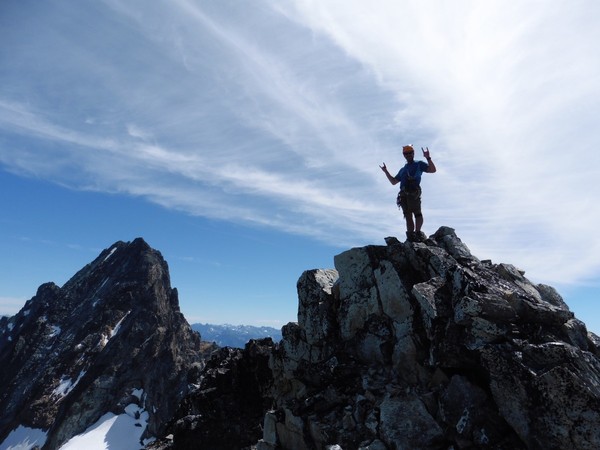 So satisfying to look over at this peak and finally say "I was there":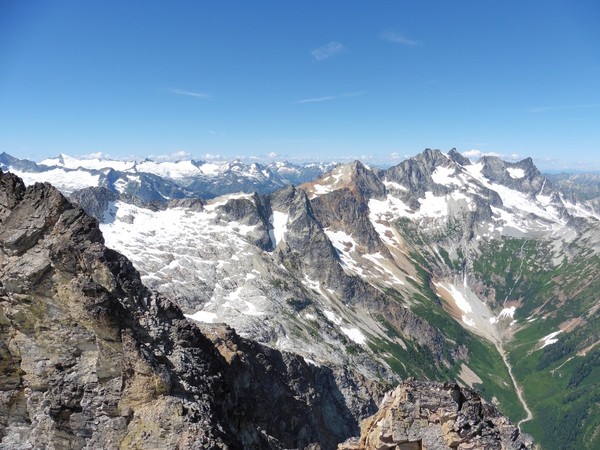 Opposite sentiment from above: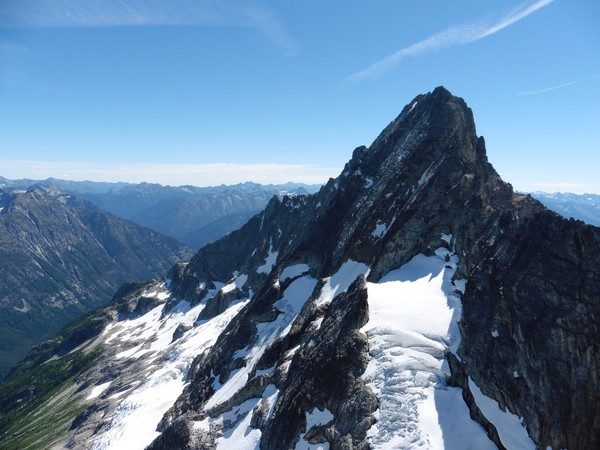 TangyBV rappels the summit block: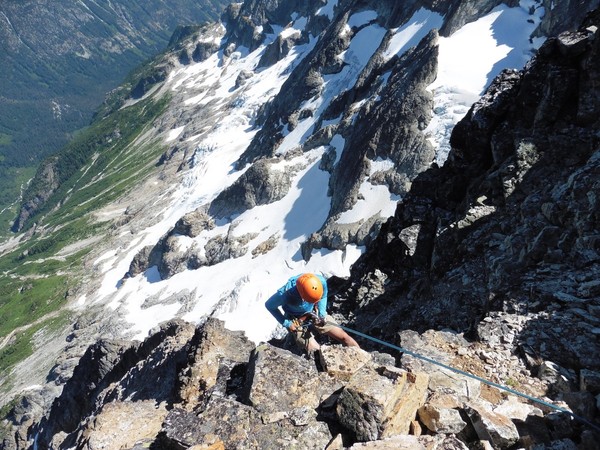 Paradise: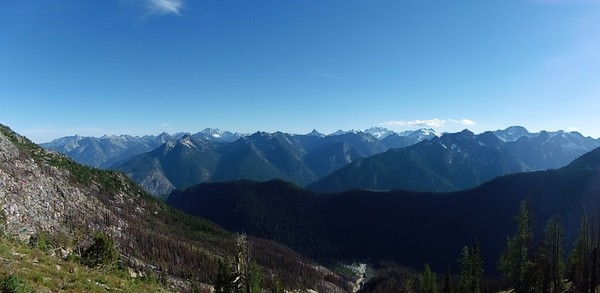 Gear Notes:
Ice axe, crampons, helmet, rope and harness to rappel the summit.
Approach Notes:
Mordor.