Trip:
East Fury - Standard
Date:
7/25/2016
Trip Report:
Short version: I dayhiked East Fury from Ross Dam trailhead via Access Creek. The weather was perfectly clear and a bit too hot. Because my timing was a bit off, I left the trail for Access Creek in the dark, and predictably screwed it up, wasting an hour or so thrashing upslope south of the creek before orienting myself. The steep chute up to MacMillan Col was mostly snow-free, with intermittent snow on the heather traverse to Luna Col. From there, the ridge traverse was efficient and no harder than class 3 (one tat-nest removed), but long and tiring. The southeast glacier was fairly broken up, and covered with soft snow, so the fastest route was mostly on the third class rock to its right. There were a couple of cracks below the summit knob, which were easy to get around. The chossy rock left of the summit snow dome felt safer than the steep slush.
Longer version
.
Fury from the approach ridge: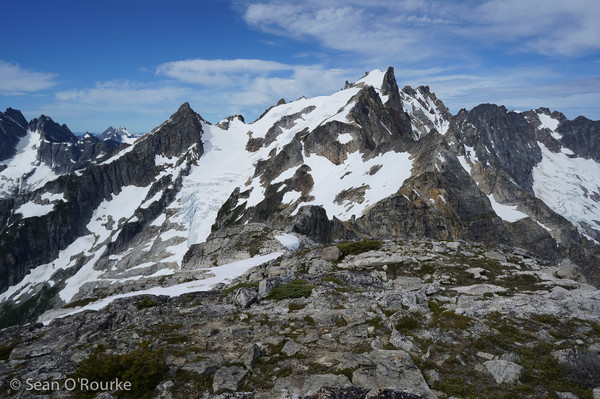 The traverse to Luna Col: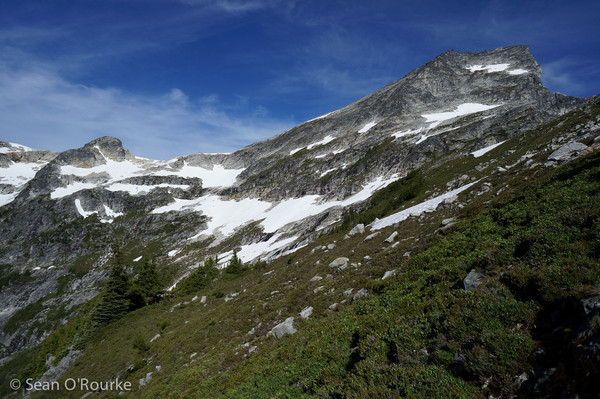 Northern Picket panorama from summit: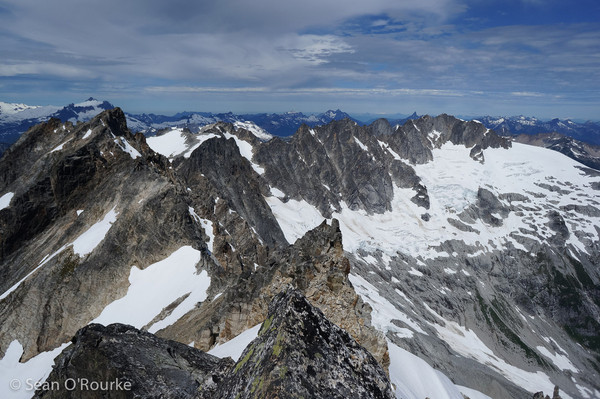 Gear Notes:
Ice axe was helpful crossing some of the steeper snow slopes between Luna Col and Fury. Crampons were unnecessary -- trail runners were fine for the soft snow, and there was no bare ice.
Approach Notes:
There's still a logjam where Access Creek meets Big Beaver, but unlike last year, it is partly submerged, so it's a thigh-deep ford. Stay north of the creek until about 4000'.