On Sat, July 23, Dave and I climbed Solar System on Habrich. Both of us have done Life on Earth so we wanted to try a different line. Since there is generally very little TR information on this route I wanted to provide as much information as I could. We used the other fellas TR on cascade for which his photos we also found helpful.
http://cascadeclimbers.com/forum/ubbthreads.php/topics/1129687/TR_Mt_Habrich_Squamish_British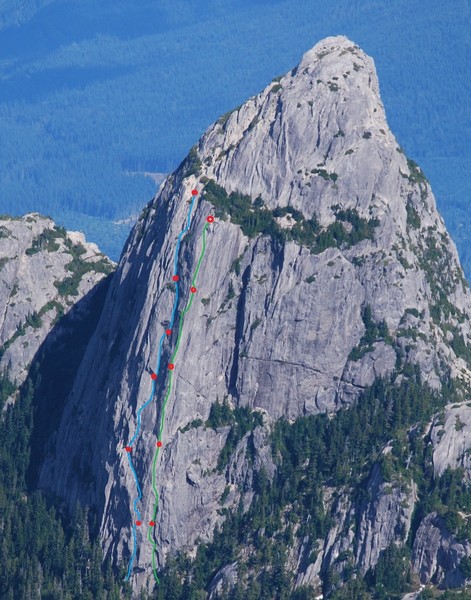 Topo of the route:
Green is Life on Earth
Blue is Solar System
Orignial hi-res photo can be downloaded from this link:
https://www.flickr.com/photos/mtngoat/9387003385
Pitch 1
This pitch starts from a treed ramp, accessed prior to dropping down and around the wet/muddy corner as you head to Life on Earth. There are obvious cut branches, I believe some flagging and there is even an orange decal placed in a tree that you can only see if you are standing at the upper belay spot looking back down toward the approach trail.
From here you travel up onto the rock and a bit right to where you see a vertical left facing dihedral above your position. This dihedral is very wide where it begins (looks kind of like a roof from below) and the crack eventually tapers down to a smaller crack. As you approach this crux roof (felt like 10a) there is a decent #1 C4 placement and then once at the roof/crack a #4 C4 fits well down deep. Continue up the crack, using some face holds on the right, until it diminishes and ends with a 15-20ft unprotected 5.7-5.8 slab, that you follow upward then at the end veer right to reach the bolted belay. This pitch is about 40m and seems to be 5.10a.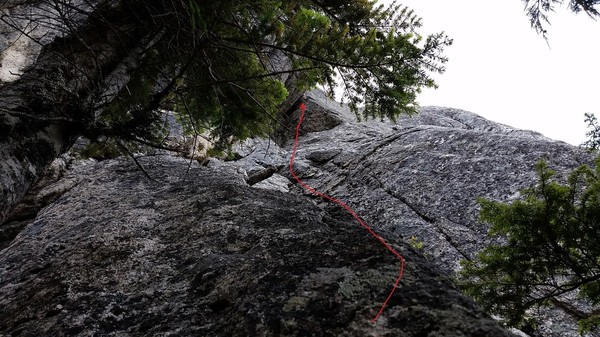 Looking up the 1st pitch from the belay spot in the trees.
Pitch 2
Begins with a three bolt aid ladder. To reach the third bolt from the second is the equivalent of high stepping in aiders. I'm 5'-11" and by standing in a 60cm sling with a knot in the middle I was just barely able to reach the hanger. This is where things begin to get exciting. The Alpine Select in its very brief descriptions says "3 bolts for aid lead to an obvious ramp". Well they forget to mention the +50ft between the aid bolt and the ramp, which is essentially run out 5.8-5.9 face climbing, since the gear is no good as will be described.
From the 3 bolts you face climb up about 15ft and left to the next available piece of protection in a crack/flake. The problem is that the rock where the protection is available is straight garbage, friable granite. I placed two cams a few feet apart but did not put any trust in them. The other cascade TR mentions you can either get to the first piece of gear here and either go left or right. Right didn't look very appealing at the time but in hindsight it may have provided a more direct/shorter line to the "ramp" which is essentially a large leftward trending crack that is low 5th. After the two pieces of pro I moved about another 15ft up and left to where there is a very obvious three finger size pocket and a small crack right beside it. If I had had a #1 tri cam this may have fit into the flaring pocket, a cam would not fit. Instead I then placed a small nut, which when first set into place exploded the rock requiring a larger nut on the second attempt, and a yellow mastercam. Both marginal at best. From here you carry upward and rightward toward the ramp for 25+feet of 5.8-5.9 unprotectable face/flaring groove climbing. The last traversing move rightward toward the ramp revealed a thank God jug. Again not necessarily hard climbing just unnerving being above such terrible gear.
The easy ramp then meanders up and left for another half a rope length until you get to a stance about 20feet back from a few trees, which you would walk into if you went to the very end of the ramp. Here I built a 4 piece belay in crumbly rock and belayed Dave off my harness. This pitch is closer to 50m, and I would grade it 5.8-5.9.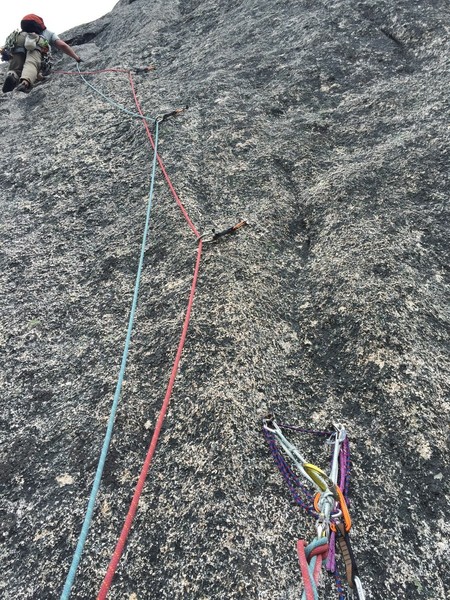 Me clipping the rope into some gear above the 3rd bolt, about to head leftward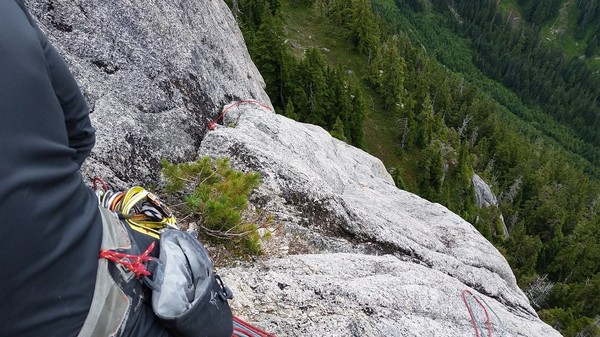 Looking back down the ramp from the belay at base of the third pitch
Pitch 3
Dave started up the next section and placed a cam in the friable hollow sounding flake 15ft above the belay. He then proceeded up and placed x2 more garbage cams above the dark looking hueco feature (a sign you are on route). From here he climbed up another 15-20ft of unprotectable 5.8-5.9 face climbing above x3 pieces that were certain to blow out. Above this there was a piece or two in actually good rock. Further above there is a vertical canoe shaped death block sitting on a ledge. Dave put a nut behind it but it was only psychological. I'm sure others have climbed over this piece many times but I bet a fall on say a cam placed behind that feature would break this rock apart. This pitches continues into the corner and ends at a semi awkward hanging style belay in the corner next to where the next pitch heads a bit right and then up the obvious groove/dihedral. Pitch 3, 40m 5.8-5.9.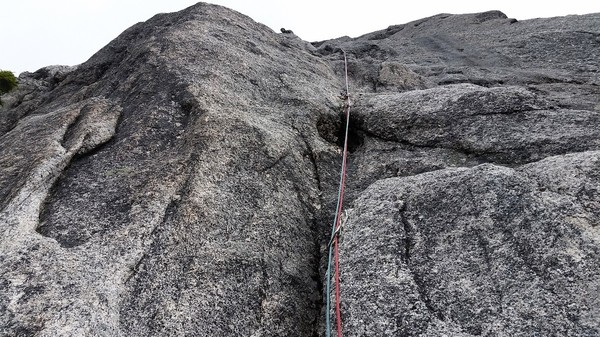 Dave running it out on the 3rd pitch. Note the dark hueco feature above the first piece of pro, as a feature to recognize that you are on route.
Pitch 4
I didn't get great confidence from the belay here so I immediately placed two cams into the flaring crack just before surmounting the corner to get into the dihedral/groove. The next 30 meters for me seemed like the best quality climbing on the route with surprisingly good gear. You have to switch between jamming in the flaring crack, to sort of chimneying your way up, placing feet sometimes on the right wall with your back on the left. This part was enjoyable to be honest and somewhat physical as you slowly groveled upward. At the end I placed a half decent #1 C4 and veered right onto the face over some obvious chickenheads (fearful they would break off) and then ended on a narrow ledge/crack. Here I placed a okay nut higher up as a redirect and fired in three marginal cams in the crack above my feet. I then belayed directly off my harness and stood in a position to brace any potential fall. We had double ropes so one rope went up to the redirect while the other went straight to my harness. This pitch was about 30m and 10a.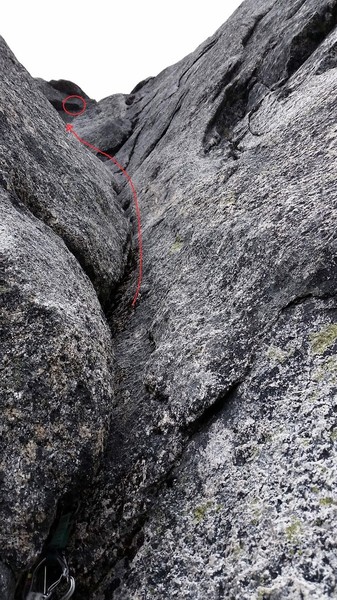 Looking up the base of the 4rth pitch, note the roof feature in the next two photos.
Pitch 5
Dave came up and placed a few okay cams as he proceeded up to the overhang/dihedral. This is another crux of the route, not necessarily to climb, but to be able to view/reach your gear in and behind the deep overhung corner. Dave, with minimal visual ability placed the #4 in the flaring crack and did the short but challenging layback move to surmount the steep corner. From there you continue up the same crack and into easier terrain. Eventually you climb through a bush and to a large ledge. Dave could have belayed from here but instead continued up an obvious low 5th crack from the ledge that brought him to a tree belay. This made the pitch 60m with the 10a move down low at the overhang, becoming easier the higher you got.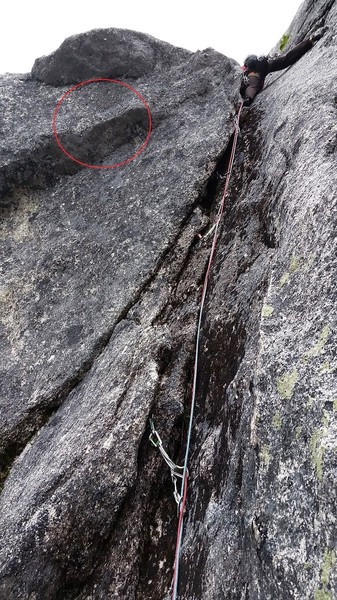 Dave making the final moves around the overhanging corner.
Pitch 6
I scrambled quickly up to the last bolted anchor, albeit I went past it and then belayed from a tree. This pitch was 30m and was 4rth/low 5th. Thereafter we rapped down Life on Earth.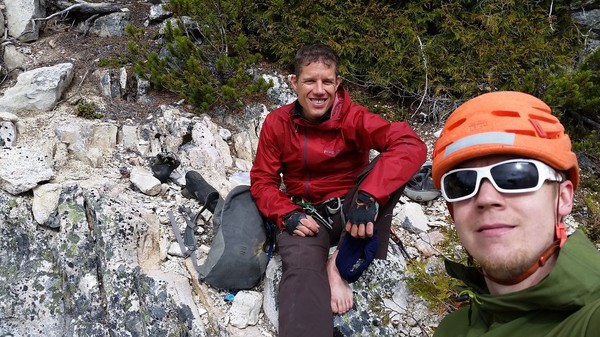 Top of the route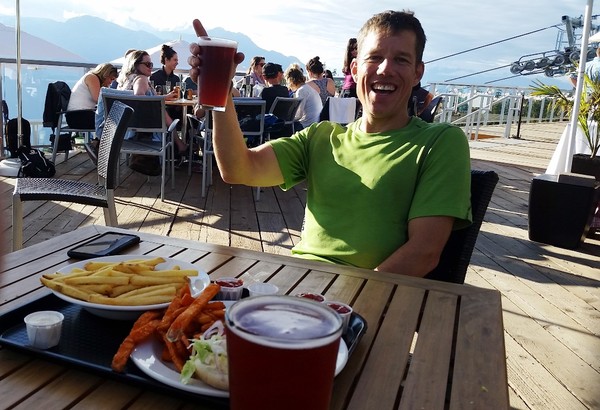 Stopping for a beer and burger at the Gondola is outstanding!
Overall I cannot recommend this route to others in its current condition. The runouts on pitch 2 and 3 are in both our opinion R rated, and given that the rock at the gear belays at the top of pitch 2, 3 and 4 are marginal a leader fall could very possibly put these anchors in jeopardy if loaded, in my honest opinion. I certainly welcome comments from others who may disagree with my assessment and I also recognize that there are probably other climbers who have felt this route was well within their comfort zone.
Life on Earth is remarkably better for both its rock quality and available protection.
There also wasn't much info on what gear to bring. We brought a double rack of cams from blue mastercam to #3 C4, a #4 C4 that was used on half the pitches, and a small set of nuts. We also had 70m half ropes (don't need 70s). We basically used all of the gear we brought at some point on the climb.
We drove up the backside and pushed our bikes up. Riding down is simply fantastic and saves so much time.
Either way I'm still glad I did this route once but I wouldn't go back to climb it unless there are bolted anchors and some additional bolts on the run out sections.
Cheers,
Henrik