JasonG and I joined forces to tackle the (somewhat overrated) Gunn Peak massif on Saturday. We knew the approach was brushy and would be wet, but we also knew that at least the trail would be super slick and steep. It did not disappoint, in fact it exceeded all of those expectations.
After arriving at the trailhead and chatting with another choss dawger waiting for her partners, Jason changed into his boots and placed his sandals in the back of my truck. I glanced at them and happened to notice some strange looking mud caked on the bottom of one. I picked it up to inspect closer. Upon further investigation, I determined it was poop. Not only that, it was probably human poop given the appearance and texture. Upon announcing this discovery to Jason, our new friend (who must've overheard) declared from the safety of her vehicle "its not mine!".
With some trepidation, we shouldered our packs and ambled down the old road to Barclay Creek where I went upstream to stash some beer and Jason went downstream to clean off his shoe. A 5.10d log provided a butt puckering way across the stream. We both stayed dry but it was not to last. With the Fred Flintstone carwash effect now in full force, we clambered upwards on the well-flagged trail and continued along well past where the trail actually turns up a small watercourse, high in the approach basin. After realizing we had overshot the trail and finding ourselves in your typical North Cascades steep slide alder/fern/salmon berry thicket, we forced a way up until regaining the trail near the divide where we took in what little view the clouds yielded. Jason intelligently donned his rain gear for the wet brush, I decided I'd rather be wet from water than sweat and was rewarded many times over. I reached a point were if Jason had suggested bailing, I'd reluctantly agree. Annoyingly, he seemed oblivious to any suffering.
After pouring water out of my boots and hiking up my soaked pants, we pressed on across what we believe to be a beautiful basin but couldn't tell you because we couldn't see anything. Jason correctly chose the "hidden ledge" that looks like a regular ol' gully to access the upper part of Gunn. Spiraling up around the peak would normally afford one a grand vista, if not for the persistent cloudiness on that day. Supposedly it's pretty exposed on the final 100' to the summit but we wouldn't know, it just looked like the "inside of a ping pong ball" as Jason succinctly put it.
The summit (we're pretty sure it was the summit) is a comfortable place to take a break so we spread out our gear to try and dry it out. Ironically, the solar radiation felt relatively strong on the summit despite the thick clouds. Jason tried to take pictures of the gloom. I took one of him doing what he does best, climb mountains and take photos. (have I mentioned how much I love the CC.com photo-uploader?)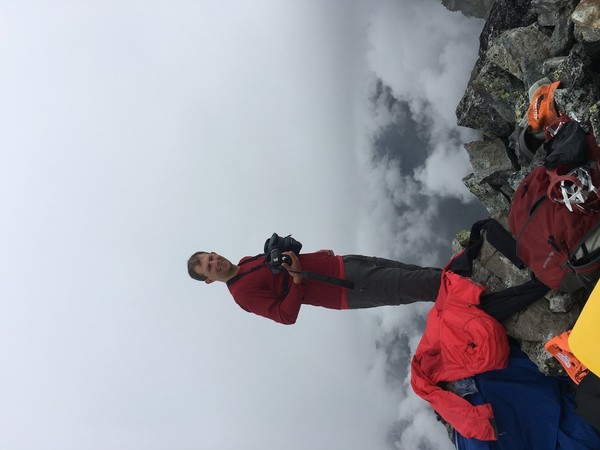 While chatting with Jason, he admitted that he's considered a "bastard" in certain friend groups as he has a strong anti-enabling instinct. While I think Jason's bar is relatively low for being an actual bastard, I agreed that I must be one as well. Recently I was chastised for suggesting that someone, (who'd repeatedly complained about not having a job and refused to take anything less than their dream job) should investigate temporary openings at Home Depot, where they had previously worked. Though candidate Trump would probably also understand this sentiment, we agreed his campaign could use some "fine tuning". Anyway, we bastards spent a good 45 minutes on the summit hoping for a view, anything really. Nada.
We did encounter a nice boot ski down the short couloir to the basin and were more vigilant to keep the trail while descending. The boot mud skiing down the trail was exciting. Reaching Barclay Creek again, I waded through, as it would only result in clean water in my boots, instead of the muddy sweaty stuff currently inhabiting them. We caught up to the other (younger) group who had wisely turned around in the basin of despair and helped soothe their disappointment with a beer at the trail head but I'm pretty sure they called us old bastards under their breath. Not much for views but a memorable day out in the mountains.