Trip:
Darrington - Exfoliation Dome/Three O'Clock Rock
Date:
4/9/2016
Trip Report:
Just a quick conditions report...
Two weeks ago (4/3), my wife and I climbed the first 6 pitches of Total Soul at 3 O'Clock Rock. The top two 5.8 pitches were still very wet, so we rapped. Most, if not all, of Silent Running is dry from what I could tell. The first pitch on Total Soul is a easy boot pack up snow. The approach to 3 O'Clock Rock is very easy...probably only a 30 min hike.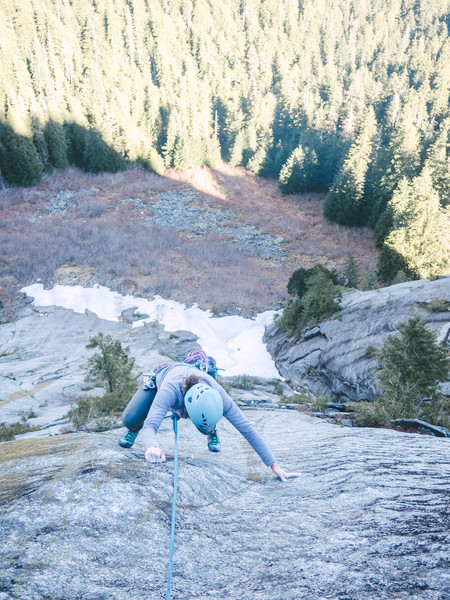 Last week (4/9), my wife and I went out for another Darrington slab adventure, this time to Exfoliation Dome. The road to the trailhead is blocked a mile out by fallen trees, so we pulled into a small pullout and hiked it. Starting up the correct "granite sidewalk" is tricky. There's kinda two. I have friends who started up the wrong one, had a mini epic, and didn't end up climbing anything. The true granite sidewalk is the second one that you come to hiking the road. Both start in a rocky creek bed. There is a pretty obvious pullout just beyond the correct creek bed. I constructed a cairn by the start of a very faint climber's trail. Proceed to hiked up the creek bed, and carefully scramble up slabs, zigzagging around steep areas. At one point you climb up a tree to gain a ledge on the left side. I quickly constructed a handful cairns that should help the sometimes tricky navigation of the creek. Expect to scramble a bit. Nothing crazy though. After 25 or so minutes, the granite sidewalk begins, and then just slog up to the base of the obvious buttress, where there is a tree and some nice seats. The West Buttress and Dark Rhythm routes start about there. We climbed Dark Rhythm, starting a bit too far to the right, but joining in above the first pitch anchors. We didn't realize this till later, but we effectively skipped the first pitch and climbed straight into the second pitch anchors. I had to do a kinda awkward traverse down low, but it wasn't bad. So if you want to find the true start, go directly left from the tree to find the first bolts. I went straight up from the tree and then jogged left after 20-25m. The whole route is dry except for the very easy final pitch, which is still climbable. You'll just get your rope a bit wet. The third pitch has some nasty flakes, that will catch your rope on the rappel--move over to the West Buttress route and rap the last two pitches there if you want to ensure an uneventful descent.
Approach time was between 1.5-2 hours. Descent from the base of the route was about 1.5 hours. Still not bad even with the extra mile on the road. If someone wants to do some community service, bring a chainsaw...probably wouldn't take more than an hour--the time it would take to hike that section there and back.
Was a beautiful day. The setting on Exfoliation Dome is definitely more dramatic than 3 O'Clock Rock.