Trip:
Hells Canyon / Wallowas / Elkhorn Mtns - Baker City Bash: a Week of Rock, Ice & Skiing
Date:
1/25/2016
Trip Report:
Drove to Baker City Monday January 25 from Lynnwood, arriving at 6pm at JP's house. When I arrived he was hanging out in his new shed with his buddy Mark and Pete Keane, Director of Timberline Mountain Guides. Mark & Pete had just come back from ice climbing at Pine Creek in the Elkhorn Mts. and JP had been skiing the slopes below them. It was a happening place! Eventually we all went out to dinner at Barley Browns where I enjoyed a pint of their excellent Breakfast Stout. Yum.
Tuesday Morning JP and I headed to Hells Canyon, ID to hit some winter sun and limestone sport climbing.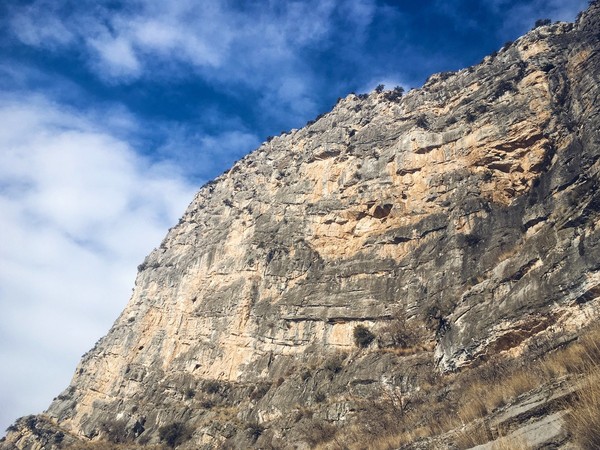 South Face of the Flatiron in glorious sun
We climbed four adjacent routes from L-R: a forgettable 5.9 warmup, then a seriously fun 5.9 and two excellent 5.10c's. JP and I led all the routes. Super fun stuff.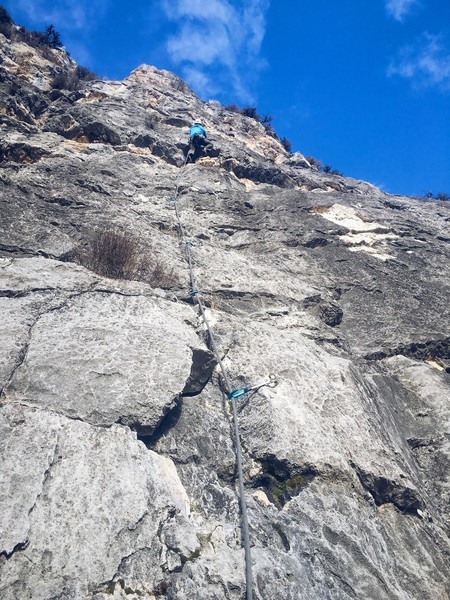 JP getting some o' that sweet limestone
Thursday JP and I headed to the Southern Wallowas for some backcountry skiing. We drove snow machines to Norway Basin and skied 2,000 vertical feet of pure powder with nary a soul around. It was sweet but my legs were toast.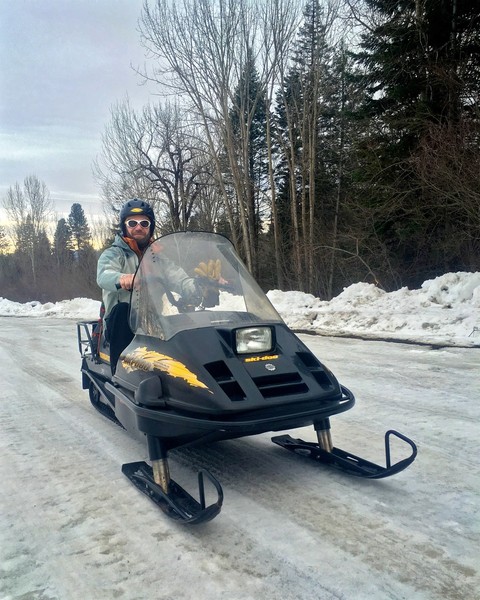 My first snow machine ride!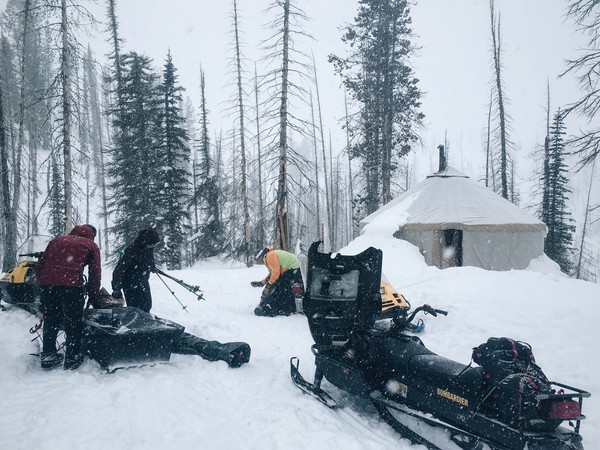 The yurt at Norway Basin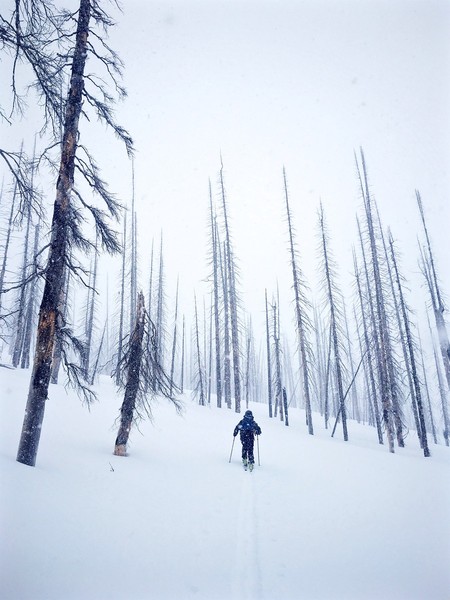 JP skinning through the trees
JP skis like a Nordic god
Friday was my 45th birthday. I woke up stiff and sore. I drank coffee, helped JP shovel two inches of snow off the walk and made more coffee. Eventually I had a second breakfast, followed almost immediately by lunch. I went for a walk around 3pm down to Barley Brown's Tap House and enjoyed a Don Vanuchi Stout, then brought home a growler of their Starbottle Stout. Dinner was hamburgers, mashed potatoes and salad. I had a slice of homemade German Chocolate cake for dessert and some of the Starbottle. It was a good birthday.
That evening JP and I packed our packs to go ice climbing in the Elkhorn Mountains.
Saturday morning JP & I snowmobiled up the Rock Creek drainage - a very bumpy ride that took longer than expected due to the fact we were breaking trail through fresh powder. At 8am we left on the snowmobile. At 9am JP had to go ahead alone to pack down the trail. At 10am we were finally at the trailhead.
Snowshoeing from the trailhead we initially went up the wrong creek, losing maybe 30 minutes before getting back on course. At 12:30pm we were headed up the final slope to the cliffs where we could see the ice formations.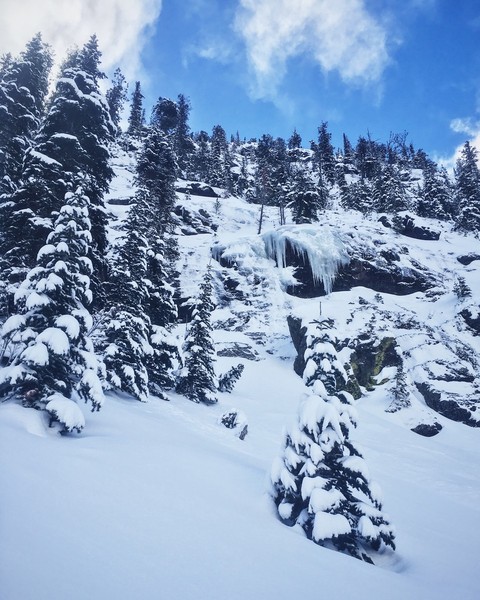 There's ice up there!
Then came a
very
strenuous traverse across the slope through waist-deep powder. We ultimately had to break out the shovel to make headway to the base of a flow called Tobacco Gully. It was 1:45pm.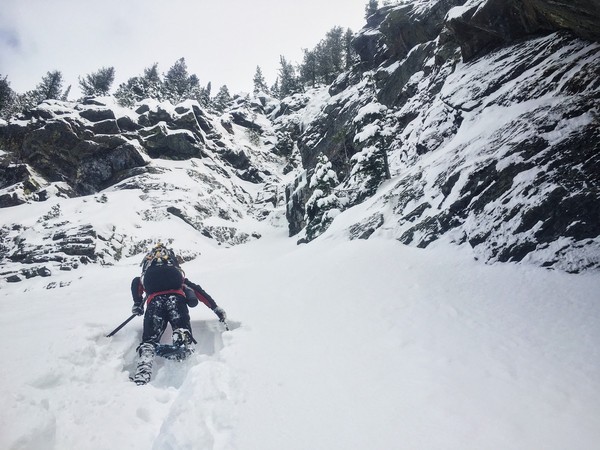 JP busting ass through deep pow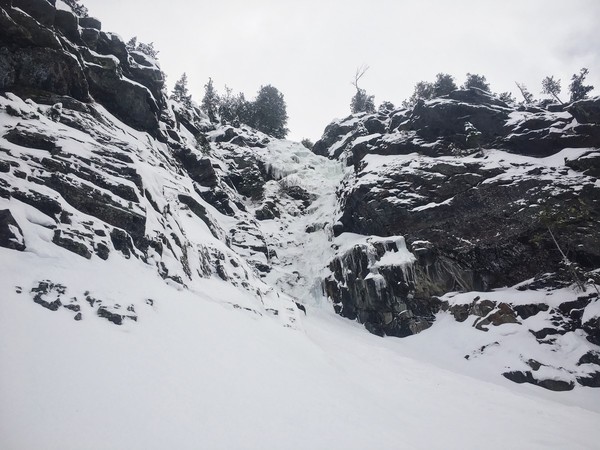 Tobacco Gully
After kicking out a stance at the base of the cliff, we determined that it was too late to climb; we began our descent at 2:15 and were back at the trailhead by 3:15, and the car at 4:15. Oh well.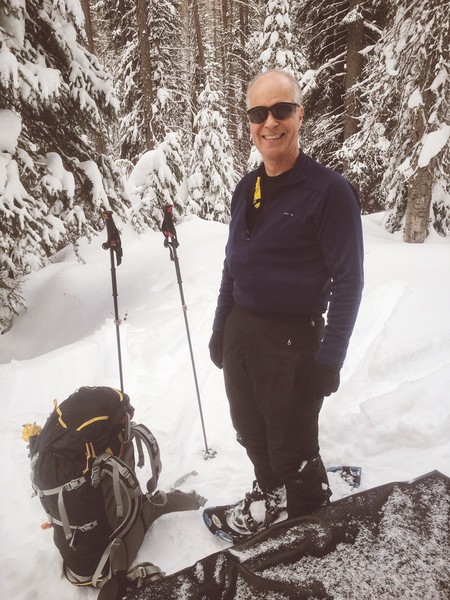 JP at the TH saying: "that was a whole lotta' work for nuthin'!"
I needed to rest after all that effort, so Sunday I went nordic skiing with Judy at Anthony Lakes. It was gorgeous.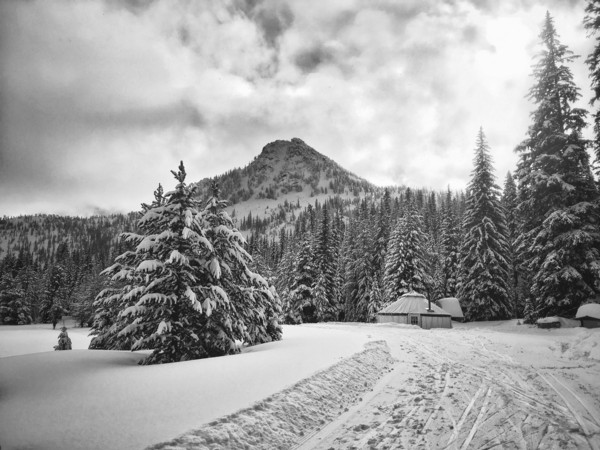 Gunsight Mountain, Elkhorn Mountains from the Anthony Lakes Nordic ski area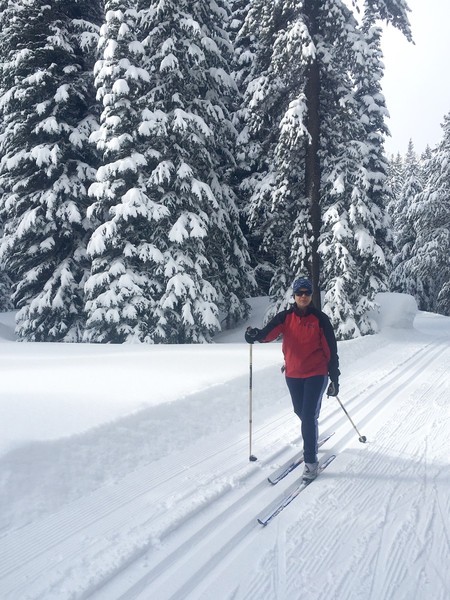 Judy gliding away
Monday we went back up Rock Creek to finish what we'd started Saturday. Another bumpy snowmobile ride put us at the trailhead at 9:30am, and we were on our way by 9:50. Snowshoeing back up our packed trail from Saturday was easy and we were at the base of Tobacco Gully at 11:05am.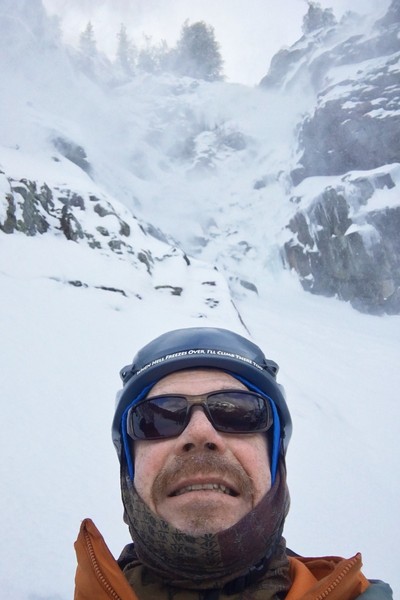 Ice climbing rule #1: don't take a selfie as a spindrift avalanche descends on you...
JP began leading at 12pm. Tobacco Gully is usually easy WI3 - but not today! The left side was thin, rotten ice while the right was either bare rock or bulletproof blue ice that our crampons often bounced off of.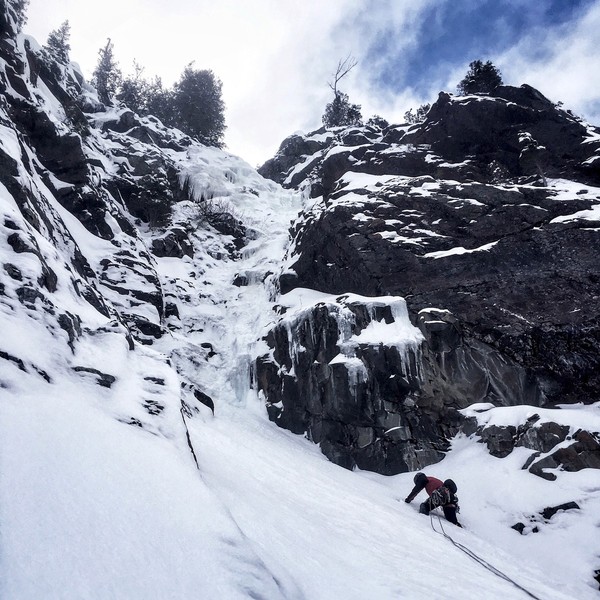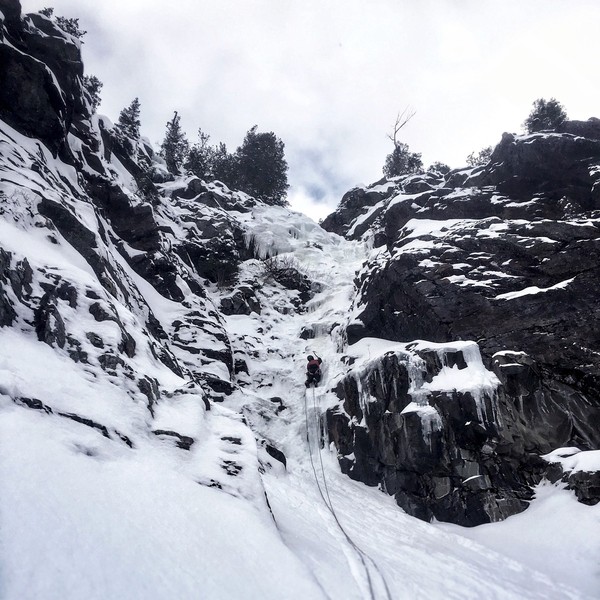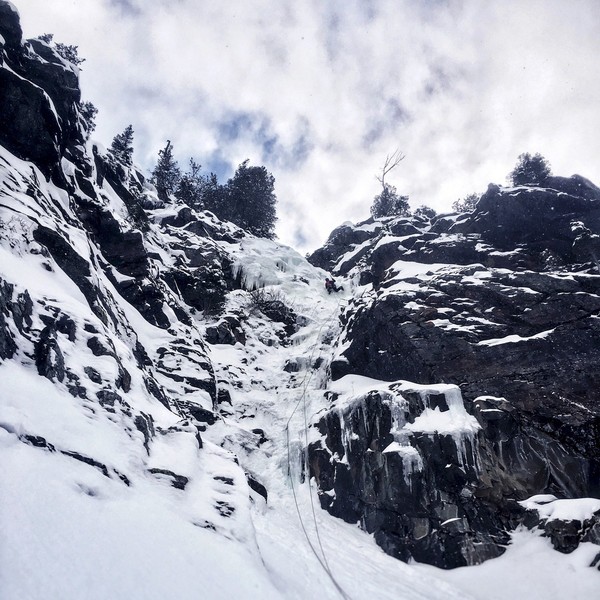 I began following at 1:15pm. I managed to climb it clean, but it was quite the effort. Certainly wouldn't have felt comfortable leading it.
After a double rope rappel, we were down at 3pm, descending by 3:30, at the trailhead at 4:10, and back to the car by 5pm. Good times, glad we went back and got it done!
Gear Notes:
Rock, ice and ski gear: I brought it all.
Approach Notes:
6hr drive to Baker City for a week of outdoor fun? Hellz yeah!