Trip:
The Pleiades - Traverse (almost)
Date:
10/24/2015
Trip Report: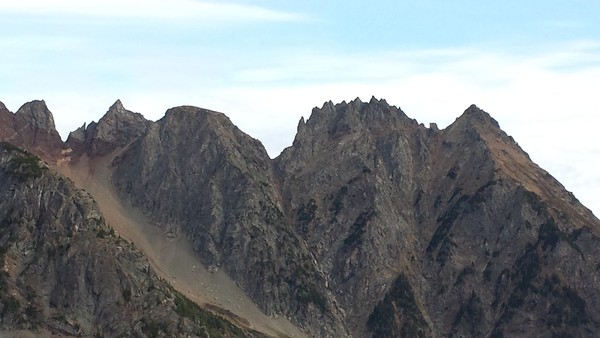 Five of us decided it was time to FINALLY go and climb the Pleiades. A few of us had gone the previous winter when the lack of snow made cramponing up the second peak from the west (and the easiest one to bag) made it super accessible.
We left the TH at Twin Lakes at 9am (I had a party the night before or something). The hike to the shoulder of Larrabee went really fast and before we knew it we were looking into the basin east of High Pass. From there we had to make our own trail through some hard packed dirt, which was harder than I would have thought; a trekking pole would have been sweet.
The rock was indeed loose going up the gully between the first and second peaks but we stayed far apart and it wasn't particularly dangerous. At the notch we quickly decided to skip the first summit and head to the goat ledge. Over the second and down the far side to the rappel we had read about. We were looking around for the rap area and found an easy gully to down-climb instead. (I really just carried the rope for training anyway).
The down-climb gully was just to the lookers right of the notch after walking down the heather slopes from peak 2. Here is a crappy photo: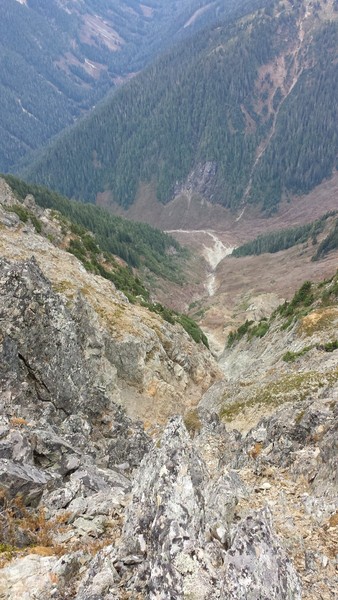 The rock is solid-ish and looks black with lichen. From the bottom: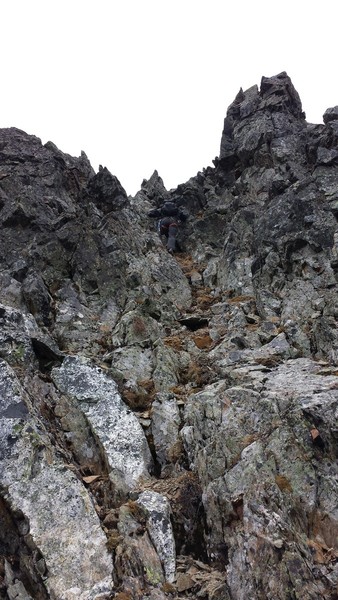 Climbing up from the notch between peaks 2 and 3 looked impossible from straight on but it was just foreshortening; we headed up and hit the goat ledge, a rusty red and yellow dike cutting all the way through the mountain.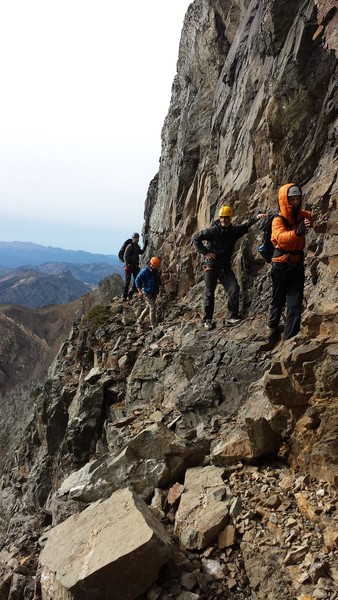 This made route finding easy, plus some Internet research, thanks "Matt" from NWHikers which helped us find the correct summit gully on the first try.
Climbing down from the summit of #3: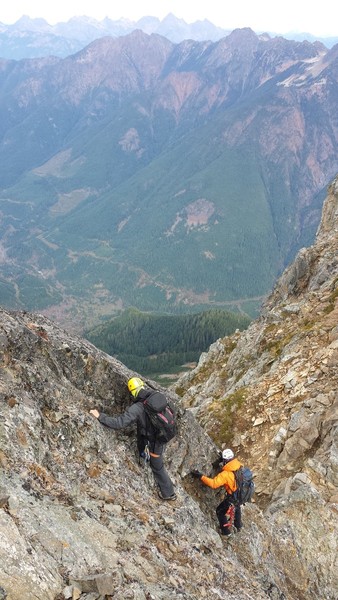 Back to the goat ledge and over to #4 was easy, then all the way back and home. We looked into climbing peak #1 but the weather was looking wet and we didn't have any beta on it other than a vague memory of Beckey saying something like "go up" or "follow your nose". We did scout it and hope to go back. Let me know if you have done it!
The route: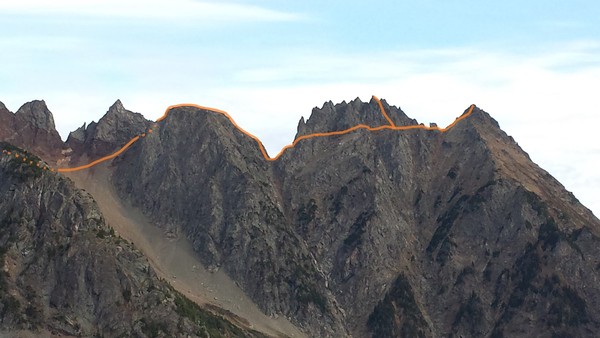 Gear Notes:
Hands and feet... plus extra weight for training (or a rope and webbing if you don't like down-climbing).
Approach Notes:
Easy trail from Twin Lakes. No snow.
7.5 miles total
3400' vertical cumulative
8 hours total