Trip:
WA Pass - Liberty Group Traverse
Date:
9/16/2015
Trip Report:
For our BOEALPS ICC grad climb, Coco, Ilia, Priti and I did the Liberty Group Traverse. Given that it was 26 pitches by the guidebook, we figured it would be a great exercise in alpine efficiency:

Liberty Bell - Beckey Route (5.7-, 4p)
Concord Tower - North Face (5.7, 3p)
Lexington Tower - North Face (5.7, 3p)
North Early Winters Spire - Northwest Corner (5.9++, 5p)
South Early Winters Spire - South Arete (5.5, "10"p)

3:05am: Approach
Our day started at 2:30am waking up at Lone Fir campground, and we managed to start up the Blue Lake trailhead by 3:05am. Unfortunately, Coco seemed to have gotten some food poisoning and had been throwing up all night. Amazingly, she was still game for giving the traverse a try, so we just took the approach a little slower. After a bit of navigational difficulty and some bushwhacking in the dark, we made it to the Liberty Bell notch by about 5:30.
`
5:50am: Liberty Bell - Beckey Route
Coco decided to sit out the first climb to give her nausea a chance to settle down, so Priti led Ilia and I up the Beckey route in the dark. We chose to free solo the single 5.7 slab move on the fourth pitch to save some time, scrambled up the rest of the way to tag the summit at 7:00am, and completed the two rappels back to the notch. Luckily by this time, Coco was not feeling worse and we decided to continue with the traverse.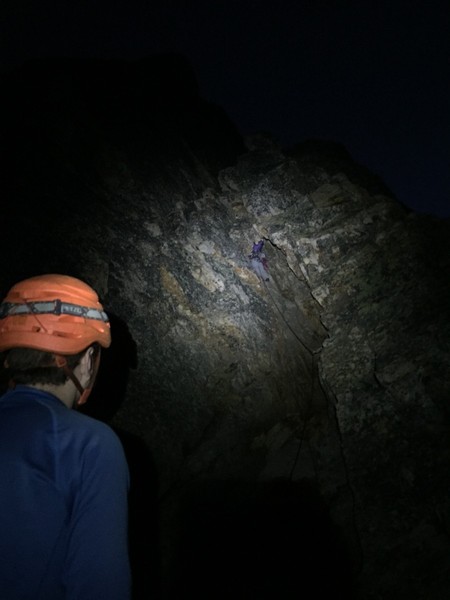 Priti starting up the chimney/tunnel on the Beckey Route in the dark, while Ilia belays
7:30am: Concord Tower - North Face
Ilia had climbed the North Face of Concord Tower before, so he and Coco went first. The three pitches went smoothly - Ilia remembered a convenient bolted anchor at the top of pitch 2 that he had noticed last time he climbed it. We summitted at 8:50am, then did two bolted 30m rappels south to the Concord-Lexington notch.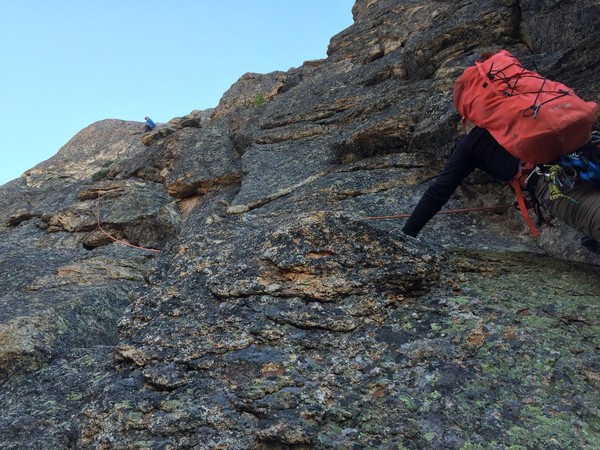 Coco following on the second pitch while Ilia belays from a bolted anchor.
9:30am: Lexington Tower - North Face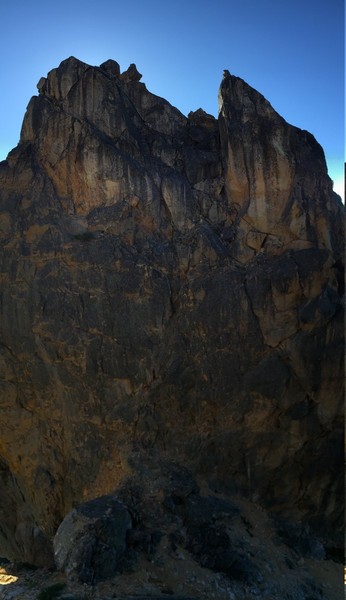 Lexington Tower from Concord-Lexington notch
Coco decided to do some leading even though she was still feeling sick. The first moves to gain the ledge on the first pitch are awkward (as advertised), and she actually slipped and fell before getting her first piece in, and Ilia executed a very graceful spotting catch. She was fine though and got right back up and led the rest of the tower. As on Concord, Priti let me lead all the pitches since we planned for her to lead all of the Northwest Corner. The last pitch was just 4th class, but we stayed roped up for it since we had to go up and over the summit to continue the traverse to the south. We summitted at 10:30am, then went down the south side of the summit perhaps 20ft to some rap slings for a single 20m rappel to a notch. From here we traversed along a ridge and a large ledge (would make a great bivy spot!). At the very south end of the ledge there are some rap slings on a tree for a 30m rap. We changed into approach shoes to descend and traverse a scree gully to get to the base of the Northwest Corner route.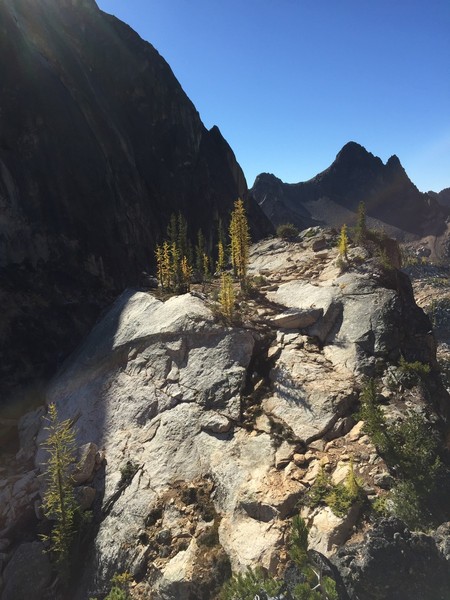 The ledge south of Lexington Tower, with NEWS in the background.
12:10pm: North Early Winters Spire - Northwest Corner (Boving-Pollack)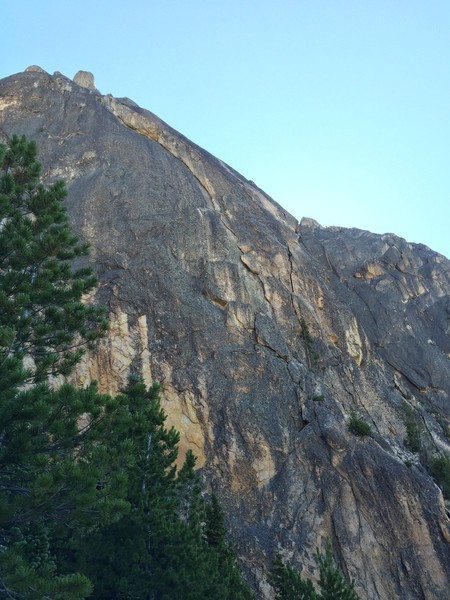 We got a great view of the Northwest Corner route from the ledge south of Lexington
At this point we were about right on our predicted schedule, and we were optimistic that we'd be able to complete the NW Corner in time to take the SW Rib route up SEWS, which we preferred to the South Arete. Priti started the lead, and we smoothly worked our way up the first two pitches (the first three by supertopo). However at the belay station for the third pitch (the first crux, with the zig zag flakes) we found ourselves behind a party of three climbers. They were incredibly gracious and let our entire group of four pass them at the tiny belay ledge between pitches three and four - if we ever figure out who you guys are we're happy to buy you some beers!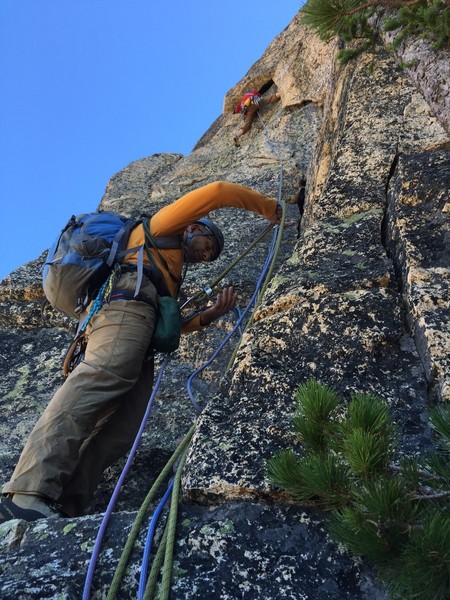 Waiting below the party of three while their leader worked up the zig zag flakes on Pitch 3.
Pitch 3, the first crux pitch, is a set of zig zag flakes which are wide enough at the top to be unprotectable without a #6. I laybacked them and barely managed to make it up without taking or falling - I would not have been happy leading them.
Pitch 4, the second crux pitch, is a long "5.9" offwidth corner, which all four of us found incredibly difficult. We called it a 5.9+++ or perhaps a 10a/b, but maybe that's just because it was a burly offwidth. I was lucky enough to have Priti to rope-gun it for me, but Ilia and Coco had to get a little more creative. Luckily, it protects well with wide gear up to #5.
Priti and I wrapped up Pitch 5, scrambled up and tagged the summit right at 3pm, and then returned to a sandy ledge to wait for Coco and Ilia, who topped out around 4pm. While they tagged the summit, we set up the first rappel. However, instead of going south for the normal descent via the Chockstone route, we went west to descend via new bolted anchors on the West Face, which Priti had done earlier in the summer. She couldn't remember if they required single or double rope rappels so we set them up as doubles, but we could have done them all in single rappels. I think we ended up doing three 30m raps followed by one 60m (the 60m was not necessary though).
On the way down, Priti had a very very close call - as she was setting up a single-strand rappel on a gri gri, she accidently set it up on the short ends of the EDK, and had actually unclipped her personal anchor before realizing the mistake.
We reached the base of the route at about 5:30pm and took some time to hydrate, eat, and discuss which route we should take up SEWS. Unfortunately, between waiting behind the other party and taking a while to complete the route ourselves, we had run far behind schedule. We decided that ~2 hours before sunset wasn't enough to finish the SW Rib before dark, and resigned ourselves to the South Arete.
6:30pm: South Early Winters Spire - South Arete
I led two simul pitches to the summit of SEWS - one for the first two "real" pitches and one for the remaining 4th class scrambling. Ilia and Coco managed to do it in one simul. We summitted at 7:15pm, just before sunset at 7:30! Priti led a simul down to the rappels while Ilia and Coco just free-soloed. It was just getting dark enough to need headlamps as we did the two rappels, completing the descent at 8pm
10:00pm: Back at the cars!
Gear Notes:
With the short approach, Priti and I brought a full rack to 4", plus doubles in cams from .4-4, 8 single slings and 5 doubles.
We had intended to bring a #5 but miscommunicated at the parking lot who was bringing it. It would be have definitely been useful on P4 of the NW Corner, and if we'd done the SW Rib we'd probably have had Ilia and Coco leave theirs placed for us on the wide pitches.
Also, as I mentioned earlier, I think a #6 could be used to better protect the zig zag flakes on P3 of the NW Corner.