Trip:
White Chuck - NW Ridge
Date:
7/11/2015
Trip Report:
The brush on Saturday soaked us from the waist down within 30 seconds of leaving the parking lot. Intermittent rain and 100 yards of visibility most of the day were sort of discouraging but Dave, being on his first "climb" was ecstatic the entire 5 hour round trip. I was pleasantly surprised how grippy the rock remained when wet. There are cairns right where you want them, but not too many.
Fun day in the mountains and makes me curious about the other mid- fifth ridge routes on the mountain. Anyone have the scoop on those? Scary? Good Pro?
Summit shot, look at that view!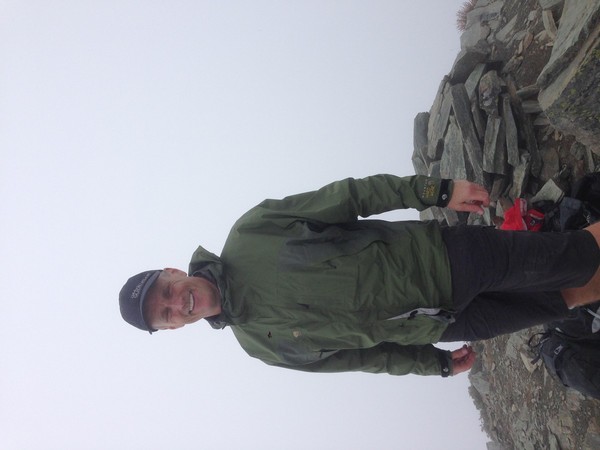 Dave negotiating the "crux", we didn't expect it to be so overhanging.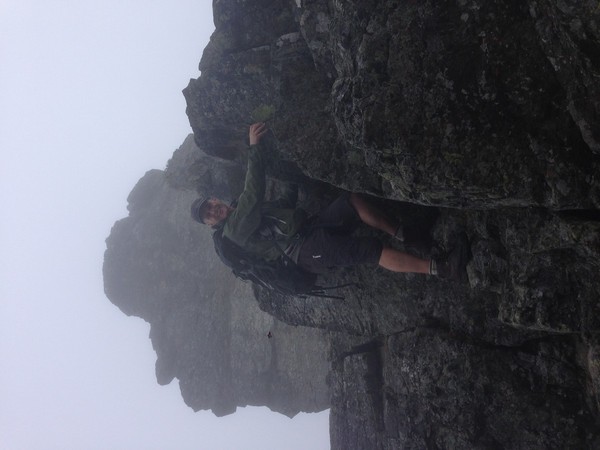 One moment of visibility, checking out the grid bolting possibilities.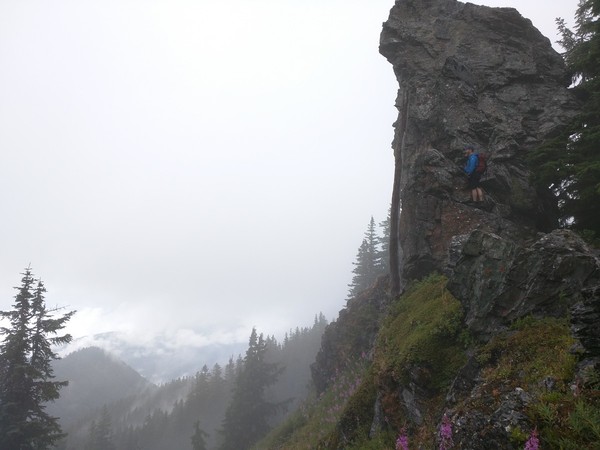 Gear Notes:
Took a rope and didn't use it. YMMV.
Approach Notes:
Driving Directions from summitpost.com (these are pretty accurate). Subie Forester was perfect for this road, full size trucks would probably get pretty scraped up by vegetation and the clearance was helpful in a few rougher places.
State Route 530 leads into the center of Darrington. Turn left (north) in front of the convenience store.
After ~0.2 miles turn right on Sauk Prairie Road.
After ~1.5 miles turn right onto Dan Creek FSR #24 and follow this for 8 miles keeping left at the fork at 4.3 miles. The road switchbacks several times then begins a long traverse into the head waters of Dan Creek.
After ~8 miles on FSR #24, the road reaches a T-intersection. Turn left onto FSR #2430
Shortly thereafter stay right at a minor junction onto FSR #2435.
From here-on follow FSR #2435 for 5.3 miles as it winds it way into the headwaters of Decline Creek. It eventually reaches the ridge-crest, switchbacks some more, and comes to a fork.
At this last fork, stay to the right and follow to the end of the road at just over 4800' elevation. This is where the trail starts.