Trip:
Cutthroat Peak - Cauthron – Wilson
Date:
4/24/2015
Trip Report:
I with my friend Gerry climbed Cutthroat Peak Cauthron – Wilson route on Saturday April 18th 2015.
We were inspired by this
trip report
and an excellent weather forecast. We started from Redmond at 6 pm on Friday and arrived at Blue Lake trailhead at 9:30 pm. We slept in Gerry's mini-van. Our alarm did not go on in the morning and we got up late at 5 am. We started hiking back on highway 20 at 6 am. It was already light and finding the way was easier. We also could enjoy the marvelous views of North Cascades.
We took our way climbing the slopes eastwards of the obvious drainage on the south side of Cutthroat Peak. The snowpack was hard in the forest. We did not take our snowshoes. Hiking towards east side of the mountain we gained a basin and soon came to a view of our route. We were at the beginning of the couloir at 7:40 am.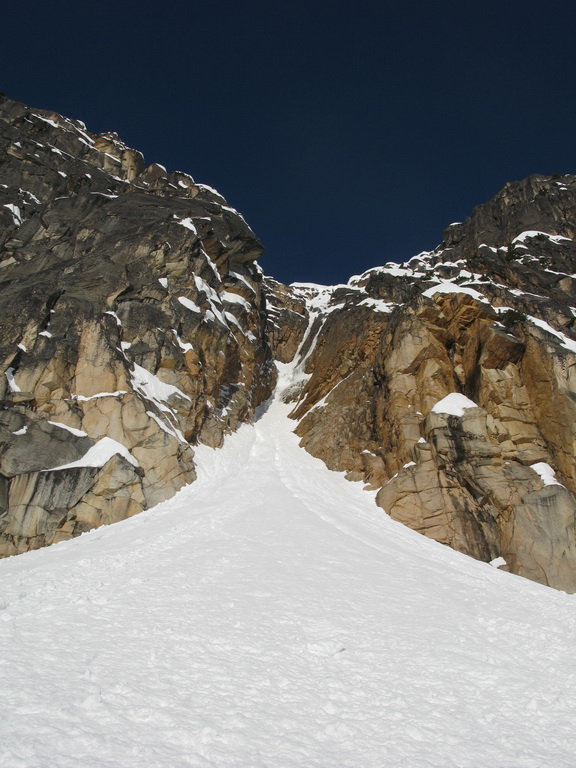 As sun rose higher the snow began softened and we had to hurry. We put on our crampons and harnesses and started climbing. We soloed the beginning of the couloir, kicking steps in the snow. We continued solo over small ice steps.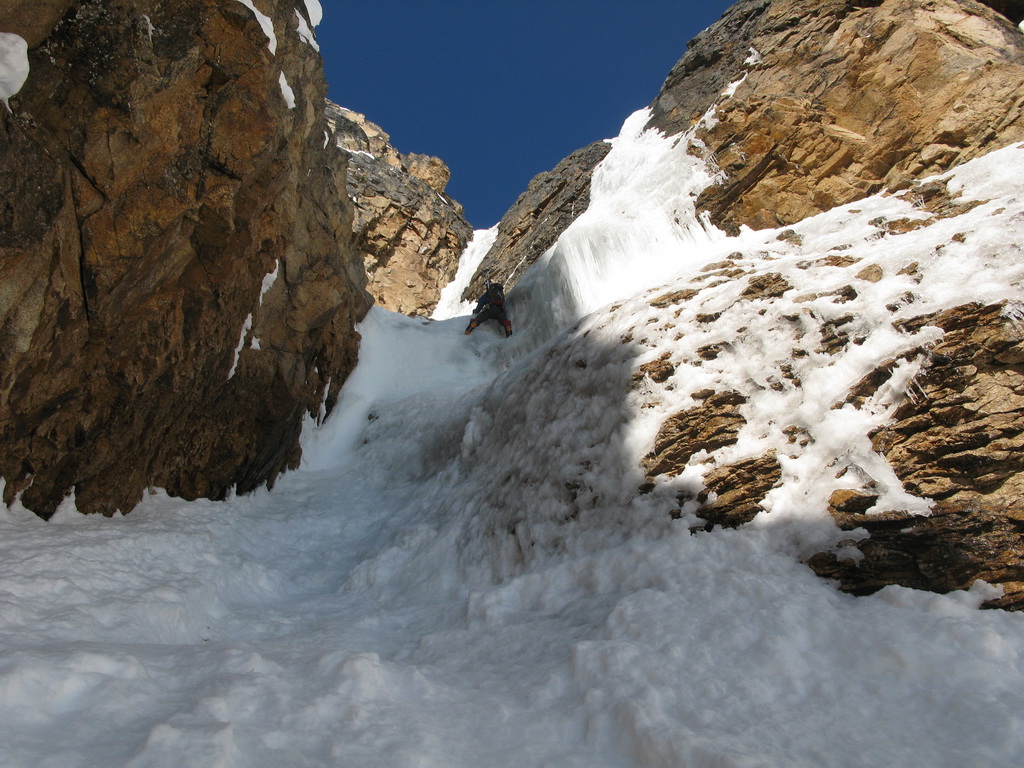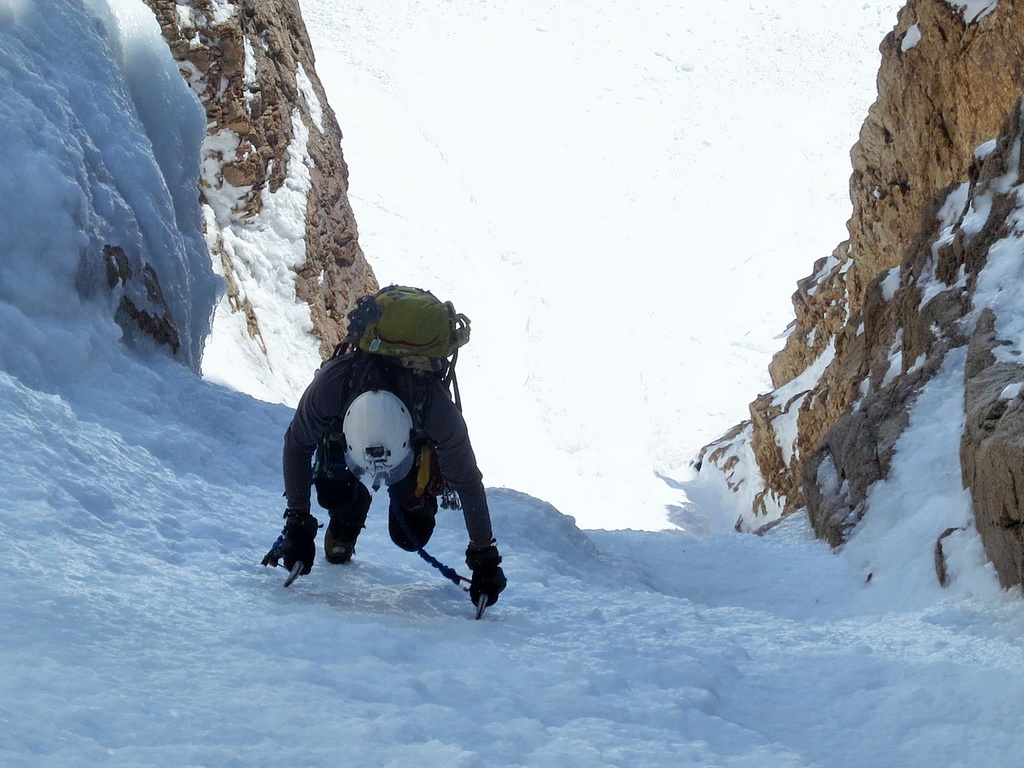 A small spindrift avalanche came on us from above. I got only powder and Gerry was hit by some harder staff on his helmet.
Soon we came to the corner pitch. Here we roped up and I took the lead.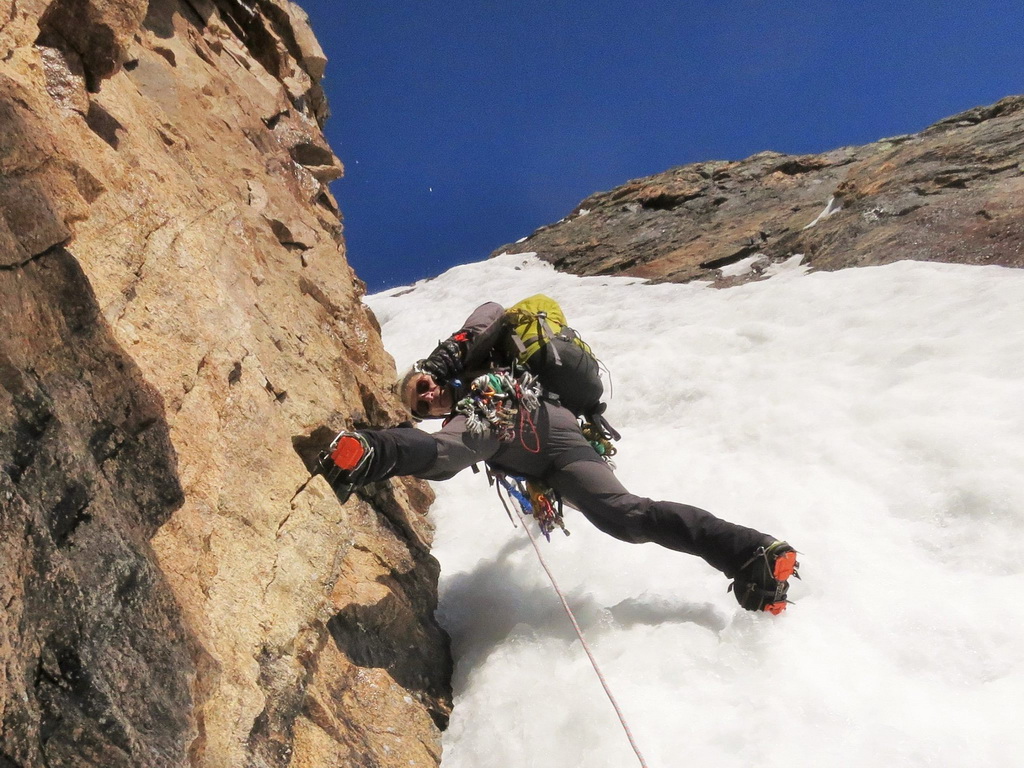 The ice was fat enough for the tools, but soft and covered with slush soaked with water. The screws were useless here and I tried to find rock protection on the left side of the corner. The protection was not good, mostly thin cracks. I managed to put 2 pins and one small nut. Fortunately the climbing was not difficult. After half of a pitch or so the angle lowered and the pro became better. I spotted a good crack and a stance at the left side of the couloir and made a belay.
From our spot we could see the summit and a potential more direct way to it to the left. So instead of continuing the couloir we decided to traverse snow slopes by this effectively climbing a variation of the route.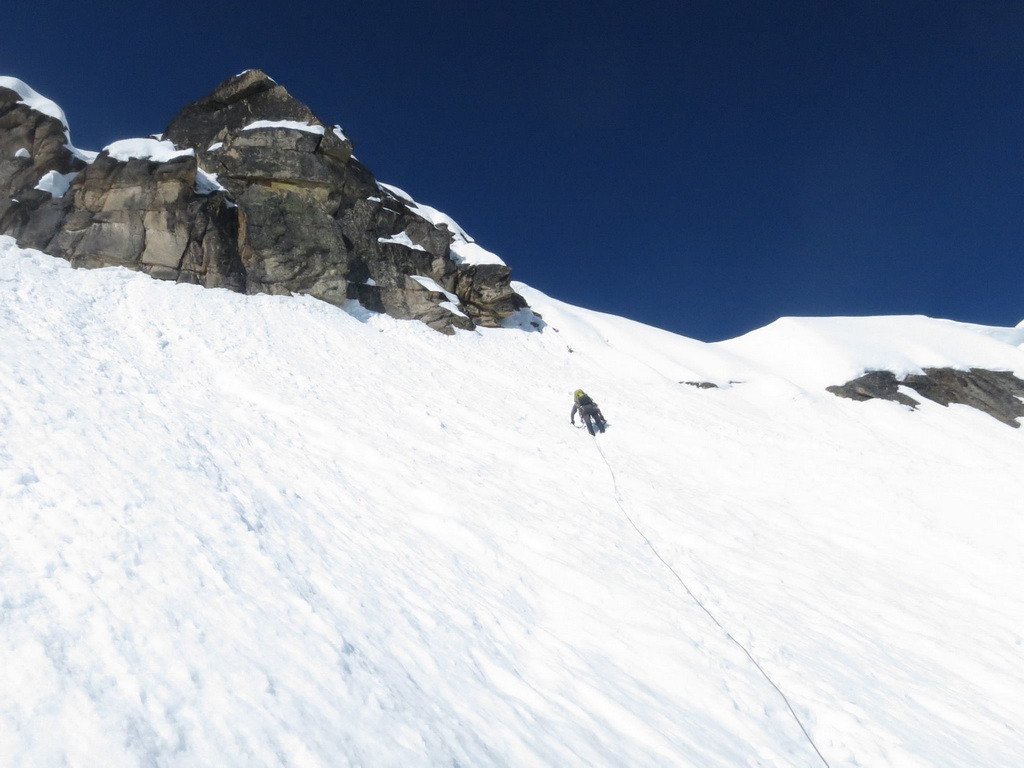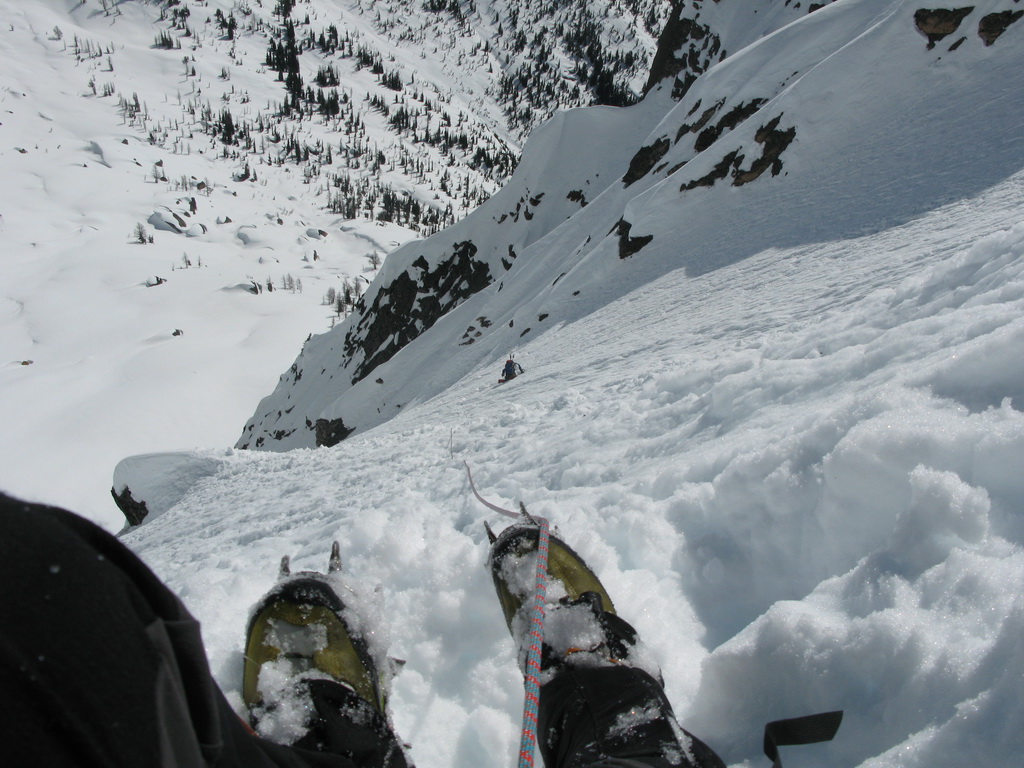 After 2 more pitches of snow climbing we came to a moat and a tree above it. Gerry took the lead and climbed a spicy pitch on slabs covered with soft snow with some drytooling and marginal protection. That was the real crux of the climb.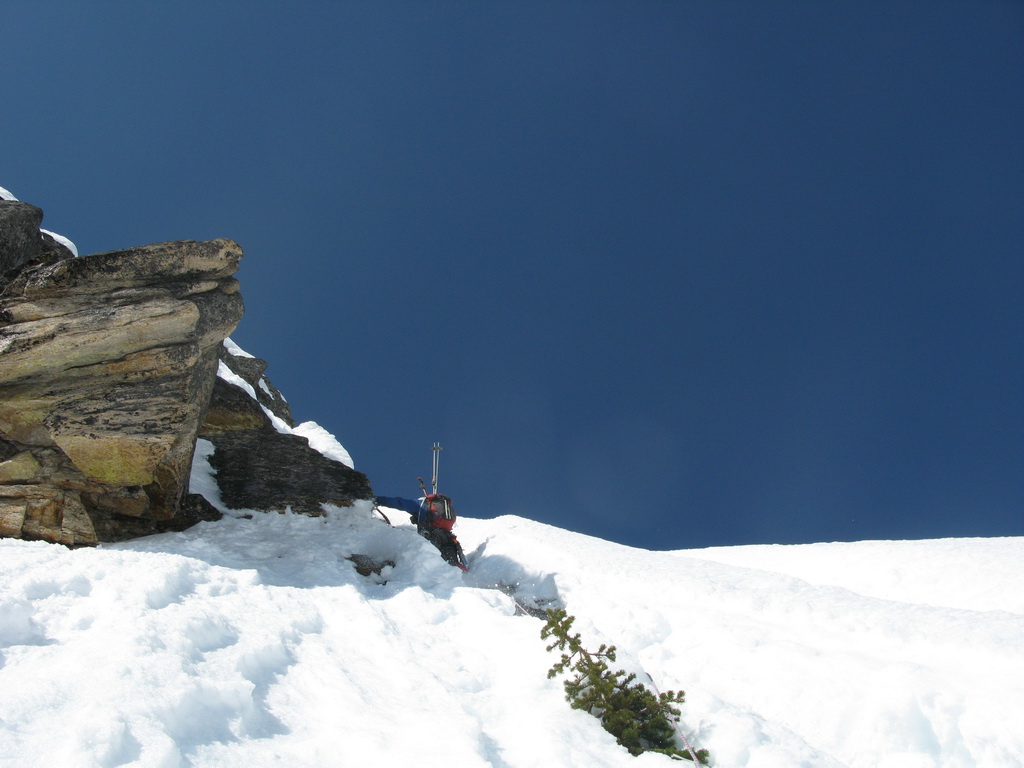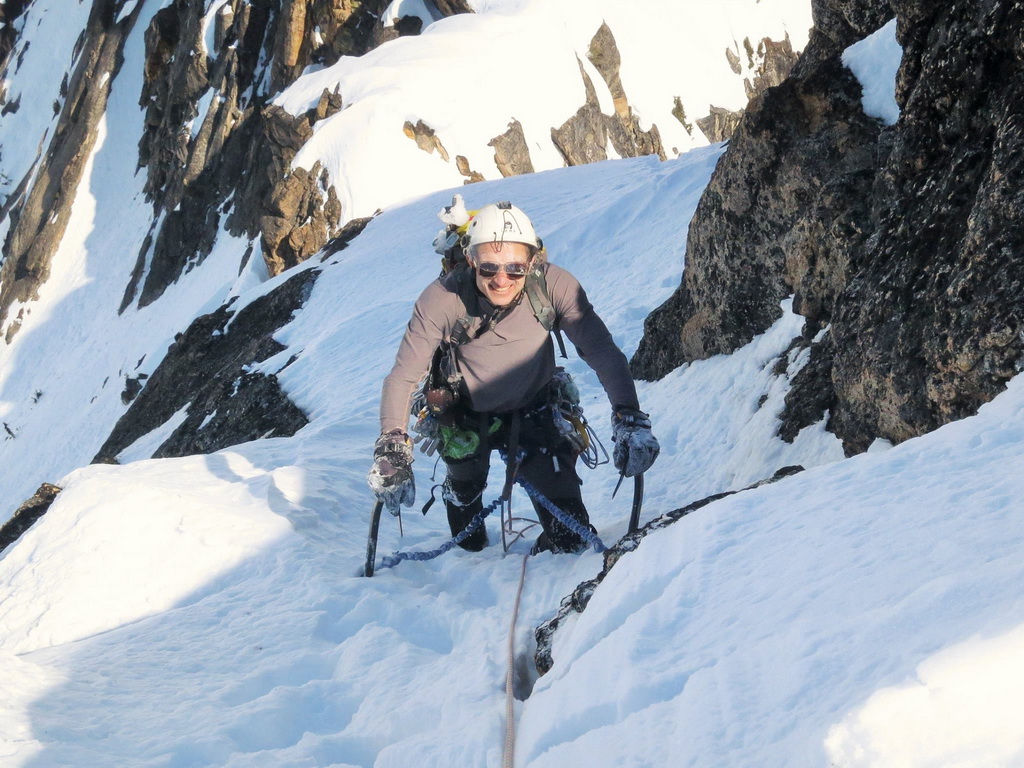 We summited at noon.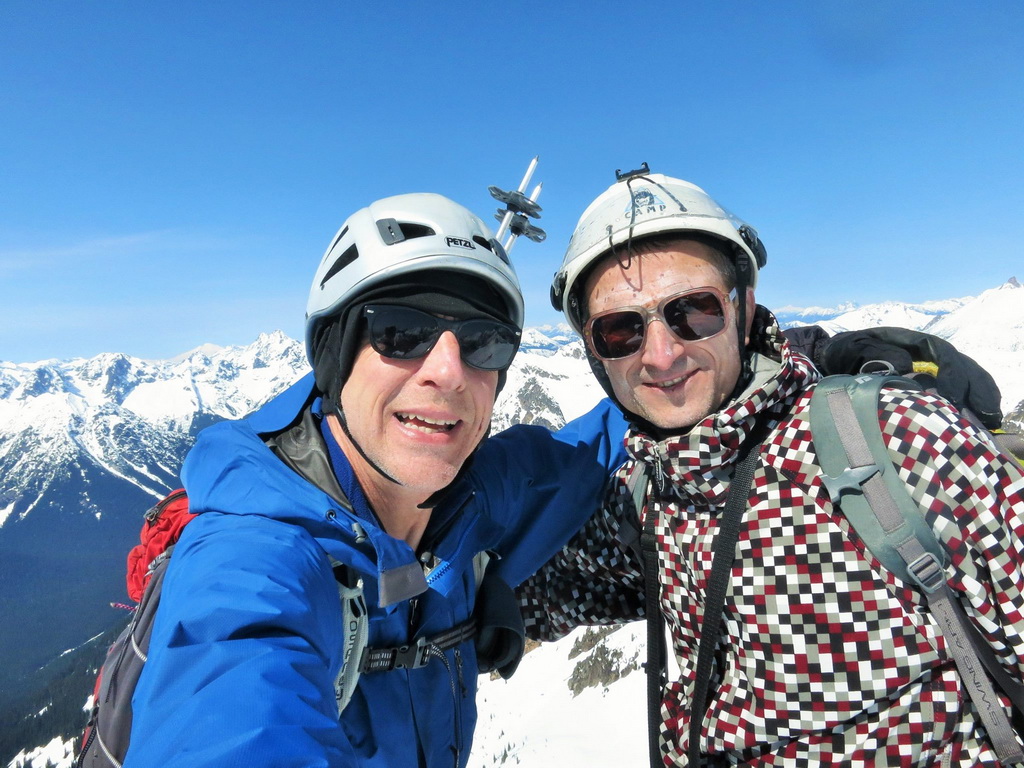 We found an anchor on a rock horn, most likely left by previous party and rappelled down the obvious snow gully. After a double rope rappel there was another anchor and we could see the next gully going to north-west direction. That was probably a descend way down West ridge. However, we decided to go down the East Buttress instead. We hoped that it would be more direct way and we could find existing rappel stations. We climbed a little bit up the next gully to gain the south side of the mountain.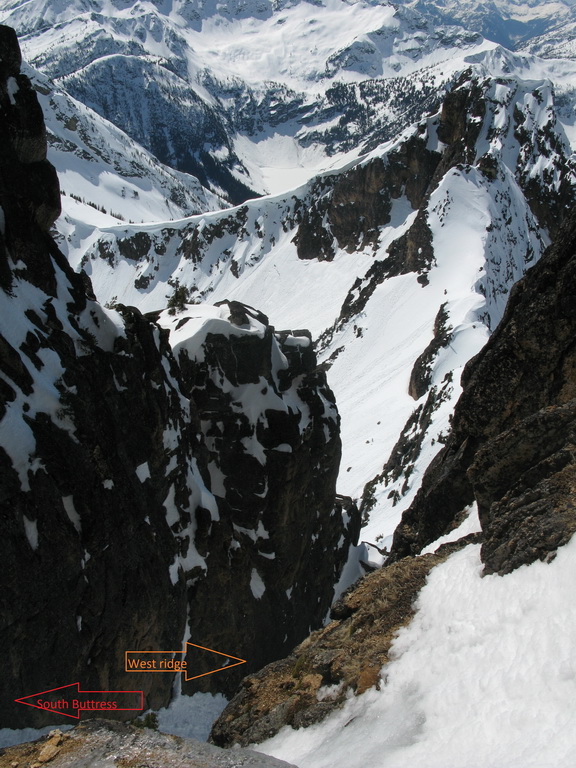 We rappelled South Buttress in 4 double-rope rappels. We did not find any existing anchors; they were still buried under the snow. Twice our rope was stuck and we had to retrieve it.
We gained a southern corniced ridge.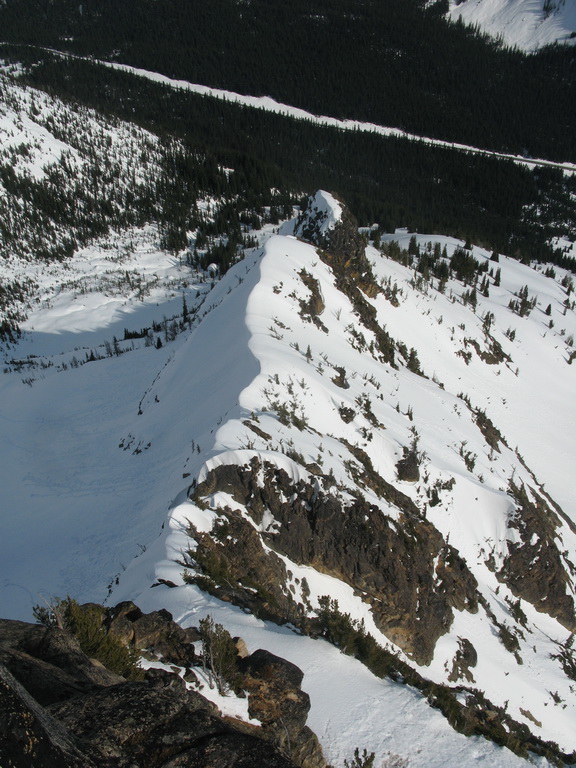 There was a snow gully on the west side of it and an existing rappel anchor. Descend to the east side looked much steeper. We did not leave any gear on the approach and did not have to come back to our tracks, so we decided to descend to the west. After a single rope rappel we downclimbed snow slopes and descended to a highway further to the west from the place where we started.
Our way in red and probable West ridge descend in orange.
We came to the car at 7 pm. Maybe we should take a way down West ridge, but we don't know for sure if it was much easier or not.
We were back at home at 11 pm. Good day! My first climb at Washington Pass area!
Note: The ice in the corner will probably soon melt away this season.
Gear Notes:
2 ice tools each
2 half ropes
5 ice screws – not used
Set of nuts – used some
5 pins – used 2
Cams .4"-2" Used some, we wish we had smaller sizes
Some slings
Webbing, rappel rings for rappel