Trip:
Mt Hood - Pearly Gates Right, Crater Rock, White River
Date:
2/16/2015
Trip Report:
Climbed Hood today via the Pearly Gates right variation topping out around 8:30 am. The snow was stiff and chalky up high, with some good styrafoam to make the climbing good and the early-morning skiing poor. The Right variation had a short but steep bulge of maybe 80 degrees which made for a couple of fun moves.
The old chute provided some very stiff and icy skiing, so we sat around on the Hogs Back waiting for it to soften. Also, as there were multiple teams descending the old chute roped together without protection, we were wondering if we'd get to see a show.
While there, we got the crazy idea to go tag the top of crater rock, and then for shits I skied the (surprisingly) steep North face of the thing in (surprisingly) good snow.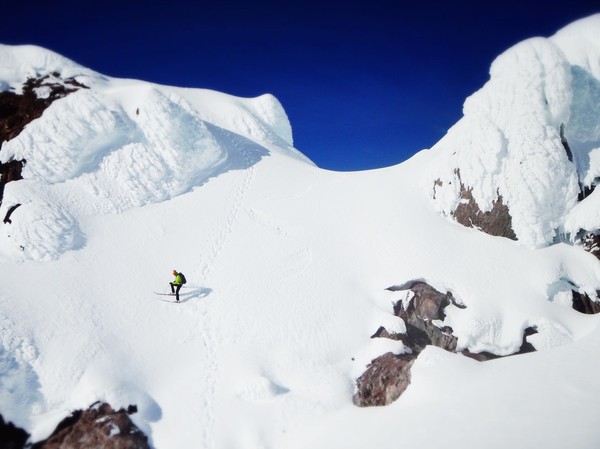 We skied out White River from the top with some good corn turns taking us back to Timberline.
More photos at
MountainLessons.
Gear Notes:
Two tools best, one tool and one whippet viable at best. No pro.
Approach Notes:
Top of Palmer in 1 hr, top of mountain in 3. Skiing is unrivaled.