Trip:
Sloan Peak - Fire on the Mountain
Date:
9/12/2013
Trip Report:
Headed out to Sloan's Southwest face to get on a route thats been on the list for awhile.
Fire on the Mountain was a fun route that flowed smooth. The approach and descent are both super mellow, and have easy route finding. Make sure to use both
Rad
and
Sol's
route descriptions. We only had Rad's and got off track on the last pitch.
A little more beta that may be helpful:
- From the twin hand cracks on p2/3 (linked), veer mostly straight up and right until you see the big roof overhead. Traverse left under the roof and belay at the start of a right facing corner. A short pitch then brings you to the heather ledge.
- P5 goes up the big left facing dihedral off of the heather ledge.
- The missing pin on P6 is not at all a problem, it protects great with small cams.
- Not having Sol's description, we traversed low fifth around the gendarme on p8. Apparently it goes straight up the gendarme.
- We made a cozy bivy for 2 next to a water source a couple hundred feet below the face.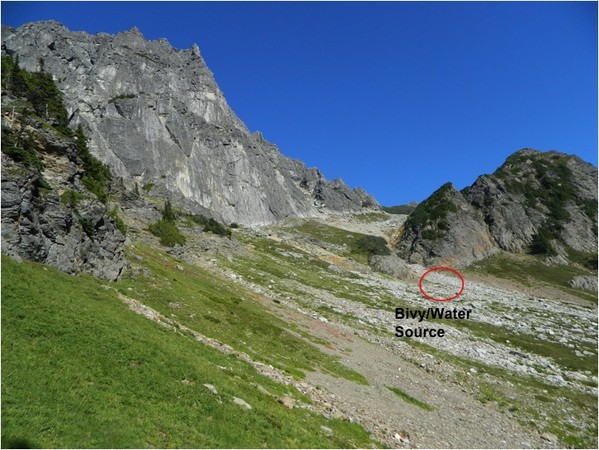 This route can be easily done car to car. We hiked in after work (2 hrs to base) on Wednesday, climbed Fire on Thursday (5 ish hours up, 2 ish down back to bivy) and were considering doing Diamond in the Rough on Friday. I forgot the route description, and had to be at the Esmerelda trailhead Friday for Stuarts North Ridge Saturday, so we decided to do
Ancient Melodies
on Exfo to avoid getting out to late. I would highly recommend Ancient Melodies as well!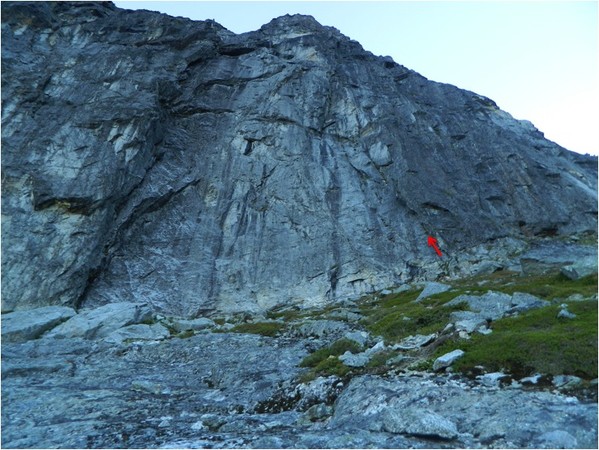 First Pitch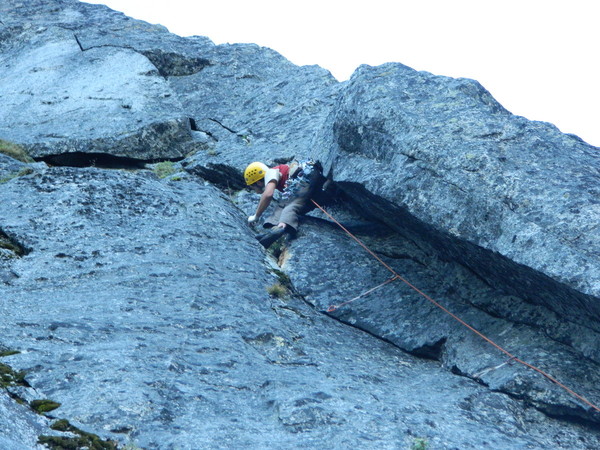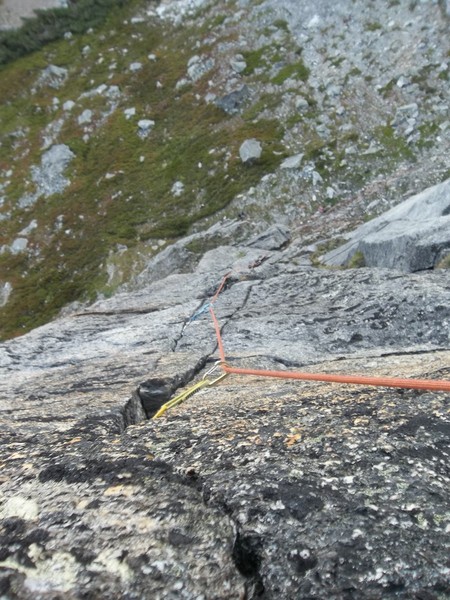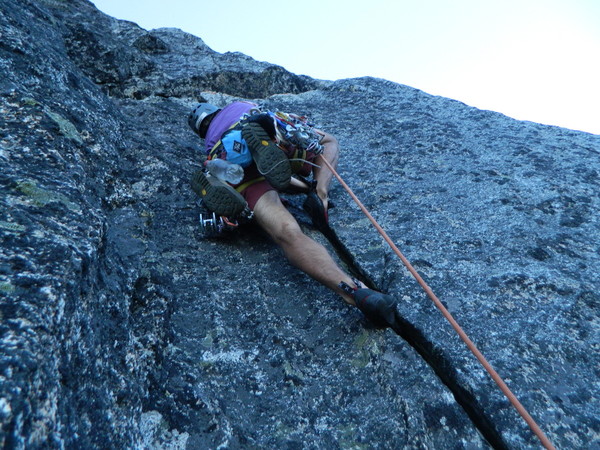 Splitter start of Pitch 2
Steep!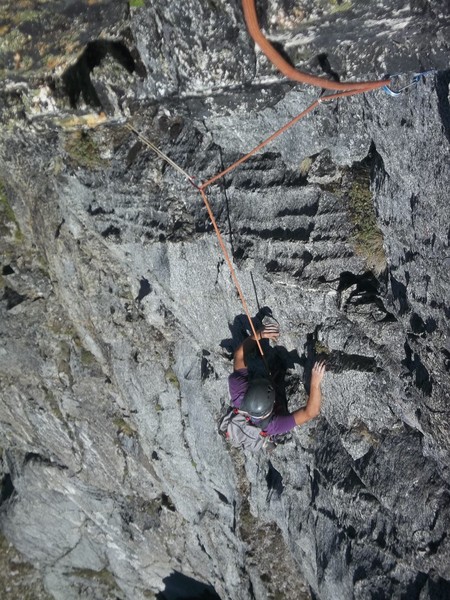 Amazing features!
Back country necessities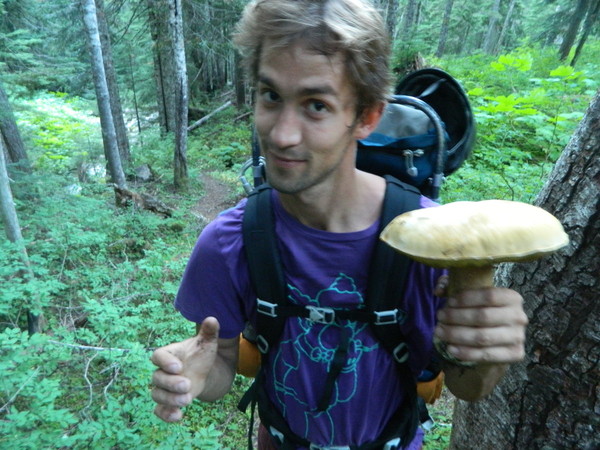 You trust this bro on belay?
Gear Notes:
Doubles to 3 and a single 4, offsets, set of stoppers.
Approach Notes:
Take exit 208 off I-5 and drive 4 miles east on SR 530 to Arlington. Continue on SR 530 for 28 miles more to Darrington. At a three way stop turn right (south) onto Mountain Loop Highway, and continue 17.2 miles (not sure how accurate this mileage is as we were not looking at the odometer) turning left on FR 4096 which is about a mile past Bedal campground. Continue on FR 4096 for 3 more miles to the trailhead! If approaching in the dark, the trail hides about 30 ft back from where the road ends.
The trail ends in a boulder field below the NW face. Looking up and left, head for the notch which will bring you to the SW face.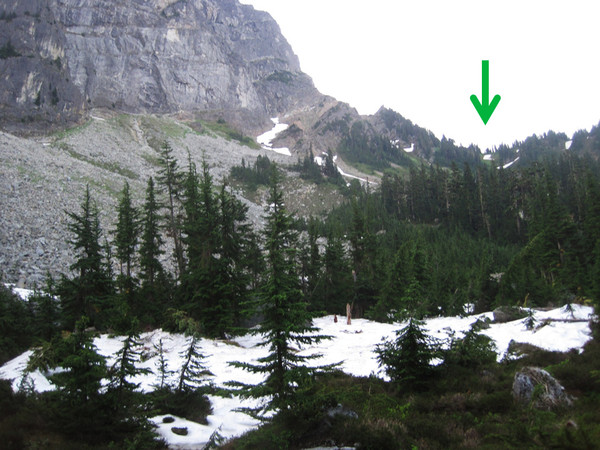 Photo by Rad
Descent
From where the route meets the corkscrew, follow a gully below the South face to a ramp that leads down to the glacier. Either down climb or rappel. Follow the glacier to a pass that leads back to the base.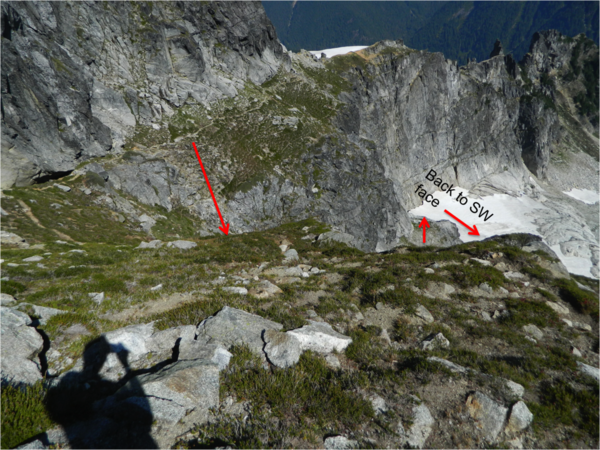 Taken from where the route meets the corkscrew.