Trip:
Eldorado Peak, NCNP - East Ridge
Date:
7/28/2013
Trip Report:
I failed to win the debate (as usual) over objectives so Juan and I took a hike up Eldorado to get some exercise. Sunday morning I was late to the rendezvous, we stopped at Starbucks, the Ranger Station and then part of the way to the trail head drove 10 minutes back toward Marble Mount to get a signal strong enough to call home one last time setting the apathetic pace for the rest of the day. Since Juan is old and lazy and Iím fat and mostly ignorant, we left helmets and our rope in the truck and departed the Trail head at the crack of 8:41 am, arthritic desk jockey disposition mitigated by judicious Advil and sunscreen. Juan had new boots to break in and I was excited to document the carnage that ensued. Unfortunately, nary a blister was observed and Juan retaliated by mercilessly mocking my compression shorts.
We meandered up the trail, sweat mixing with the clouds of dust and picked our way through the talus, discussing the Mariners turn around, favorite Norman Maclean stories and the virtues of ear/nose hair. I was surprised by the healthy snowpack once in Roush basin considering the frequent sunny days this summer. 2013 may turn out to have a good Fall ice climbing season.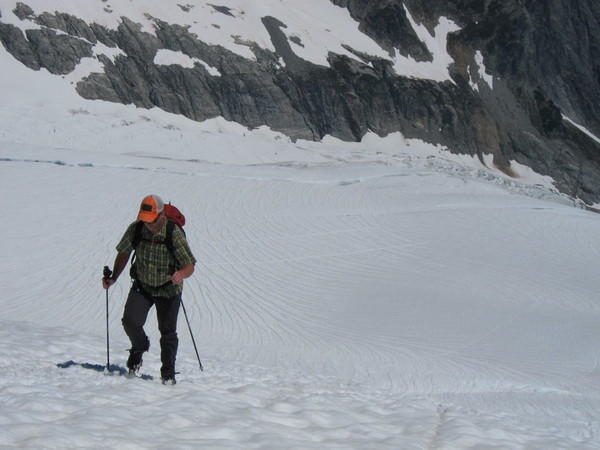 John Styling the East Ridge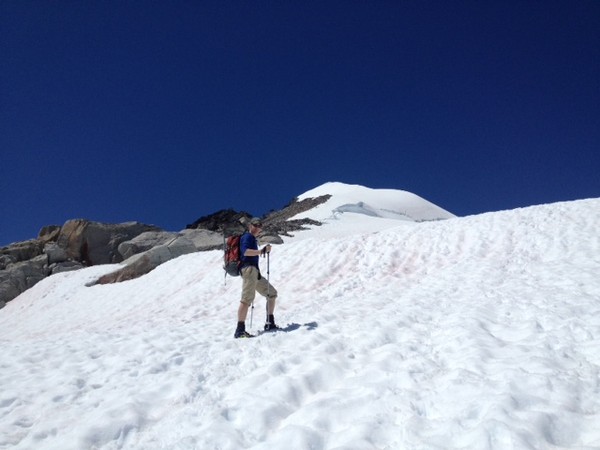 Token Snow ArÍte photo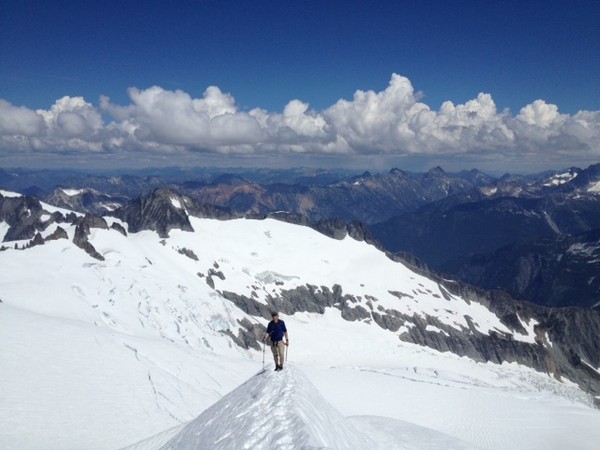 The final ascent to the summit was uneventful and it was great to relax on the summit rocks while reminiscing about peaks weíve climbed and yet to attempt.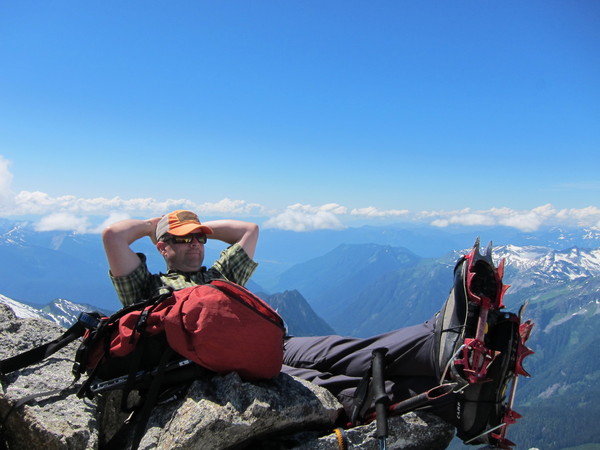 Some excitement on the descent, I was briefly detained in a slide alder thicket and discovered this small pile of shoes. We let them be in case they were some form of sacrificial alter to the snaffle or some such scheme.
We briefly lost the trail just before crossing the river where the sudden swarm of mosquitoes compelled us to forge our own log crossing on less than desirable logs. After a short bush whack, we were greeted at the truck by yet another multitude of all manner of flying insects at 5:30 pm. We quickly changed and headed to the Buffalo Run for some much deserved nourishment. It was fun to see so many folks out enjoying the weather but Iím sure we had the most fun which makes us the best climbers.
Gear Notes:
Advil, sunscreen
Approach Notes:
It may be steep but at least it's hot and dusty!