Trip:
North Sister - Early Morning Couloir--Solo Attempt
Date:
7/14/2012
Trip Report:
I love the Three Sisters area and it had been way too long since my last visit, so I decided a trip was in order
. The east face of North Sister has always inspired me and is such a beautiful place, so on the 13th I packed up my gear and headed out to the Pole Creek TH with the intention of climbing the Early Morning couloir route the following morning. The hike in amongst the fragrant pines and along splashing Soap Creek was as wonderful as I had remembered.
All packed and ready to go: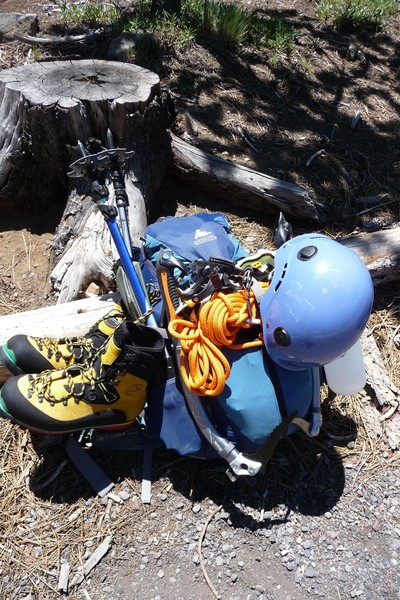 A friend I met beside Soap Creek: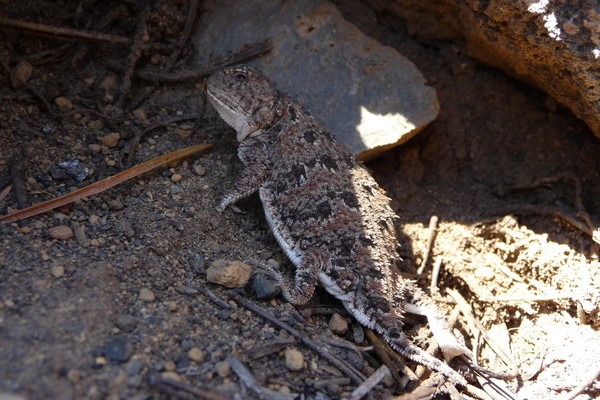 North Sister over Soap Creek: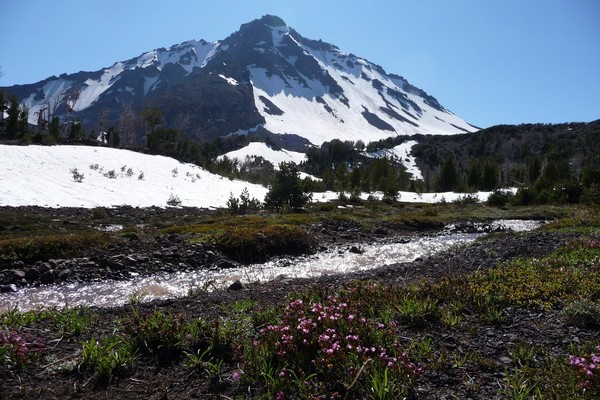 I dropped my pack and hiked around the area for a while, taking in the awesome views and scouting out a good spot to set up camp. Eventually I found a great protected site on a ridge at about 7000 ft and got all set up.
Camp: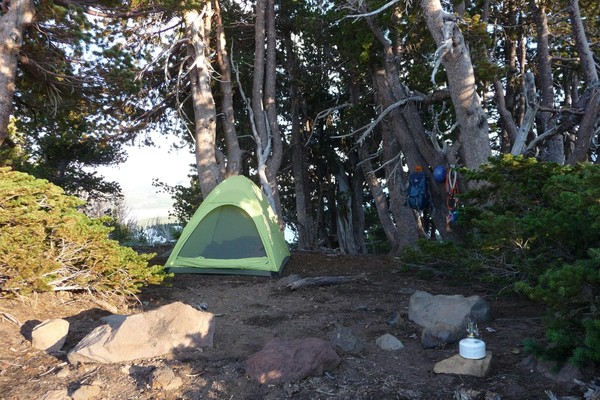 Broken Top from camp: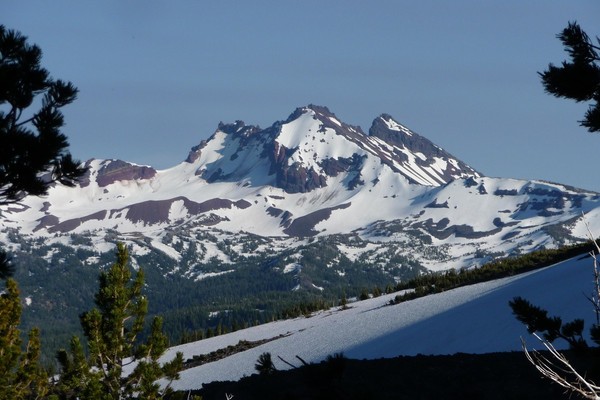 After filling up my water bottles and having some chili mac for dinner I settled in to relax and gaze at the mountain as the sun went down over the ridgeline.
North Sister at sunset: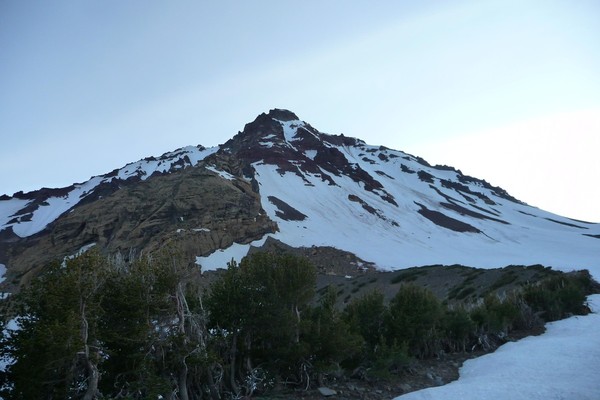 I wanted to get a nice early alpine start and be up climbing before sunrise, so I set my alarm for 3:15 am and went to sleep. I vaguely remember my alarm going off, then me shutting it off, then the next thing I know i'm waking up and its past 5 am. Damn! So much for the alpine start!
I scrambled to get dressed, eat some museli for breakfast, grab my gear, and I was headed off by 5:45. At least I woke up before it was fully too late I guess!
North Sister at sunrise: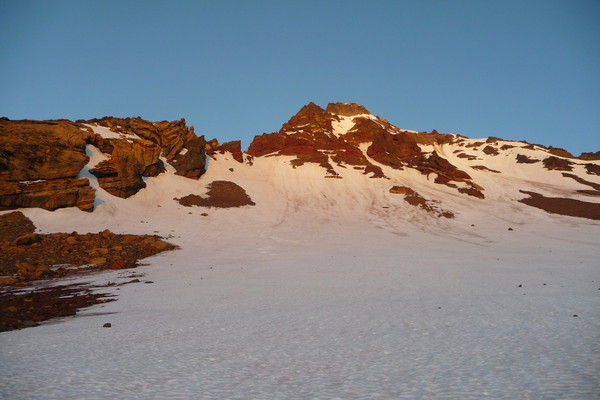 Broken Top at sunrise: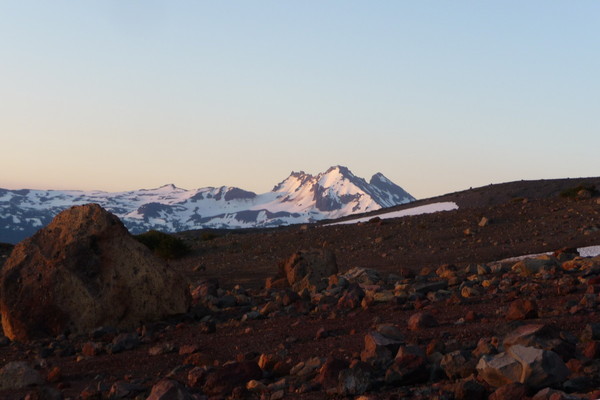 Climbing towards the Early Morning Couloir: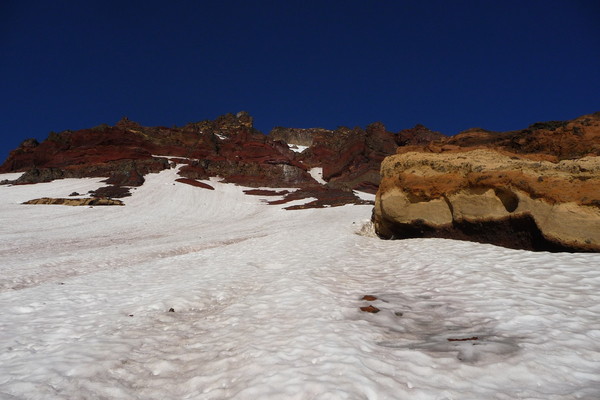 Looking North towards Mt Washington, 3FJ, Jeff, and Hood:
Entering the Couloir: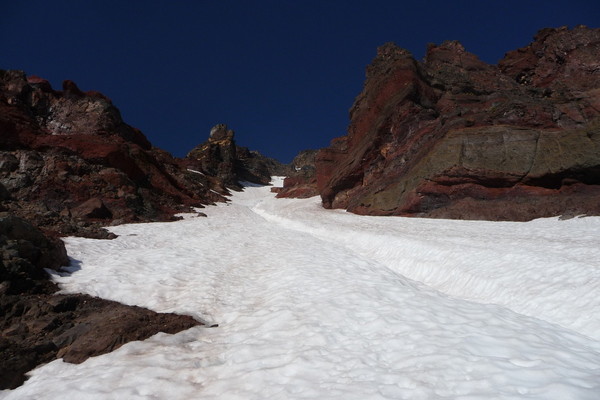 There was definitely lots of signs of rockfall, but luckily as I climbed nothing much came down, and what little did was funnelled into the large runnel that ran the length of the couloir. The snow wasn't that great, it reminded me of shaved ice for a snow cone. I came across several small cracks opening up, but they were all easy enough to go around or climb over.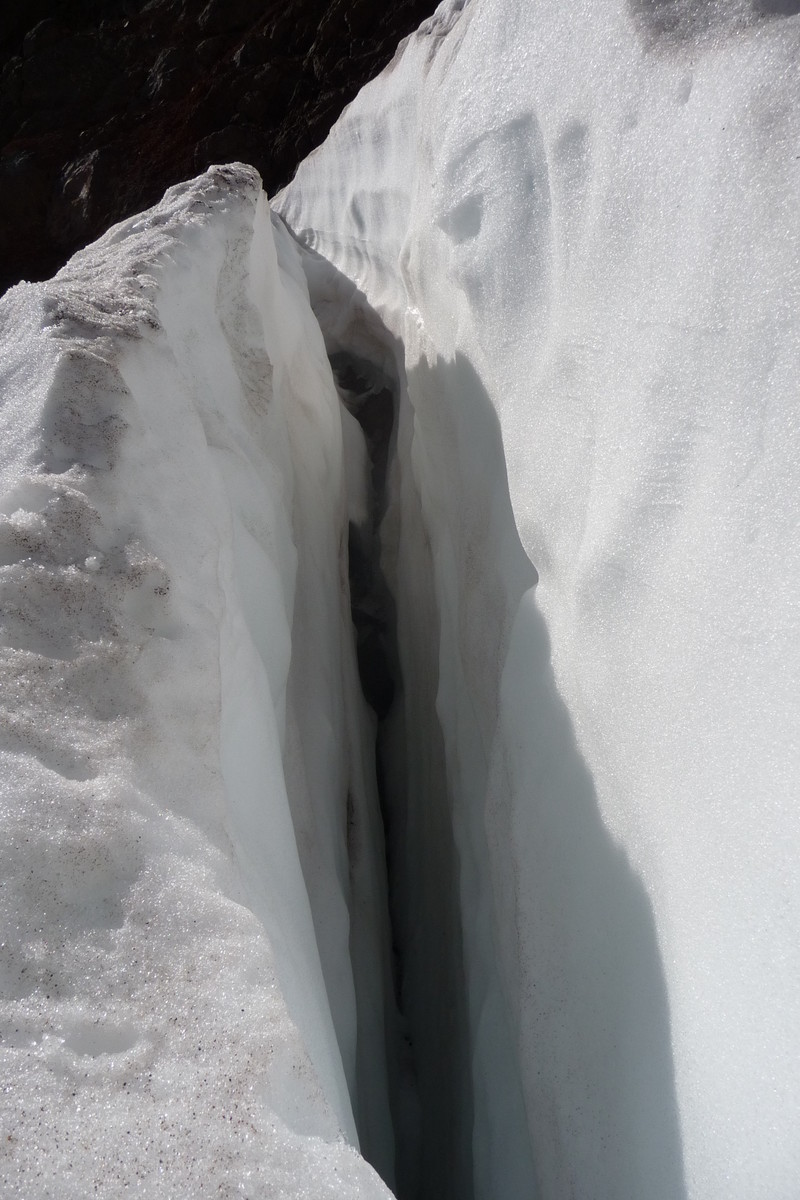 Midway up the couloir: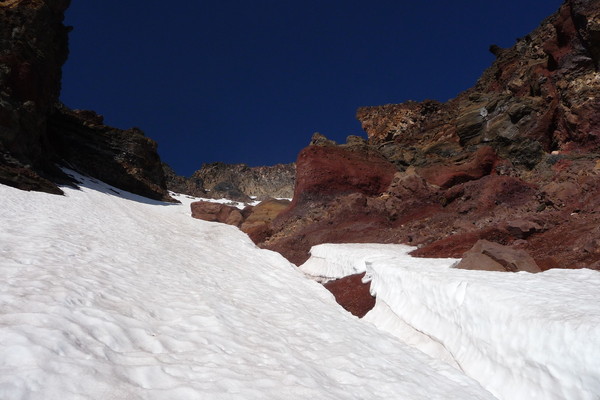 Me having fun!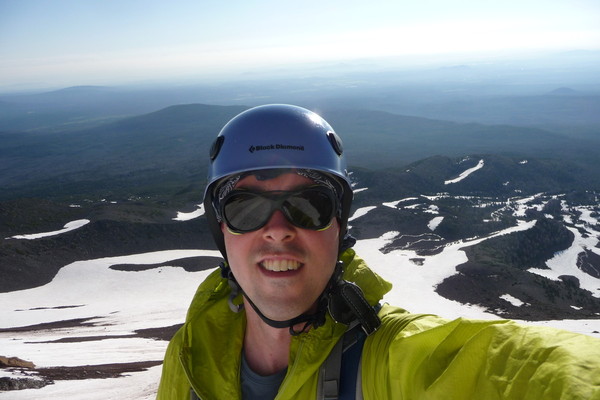 Climbing...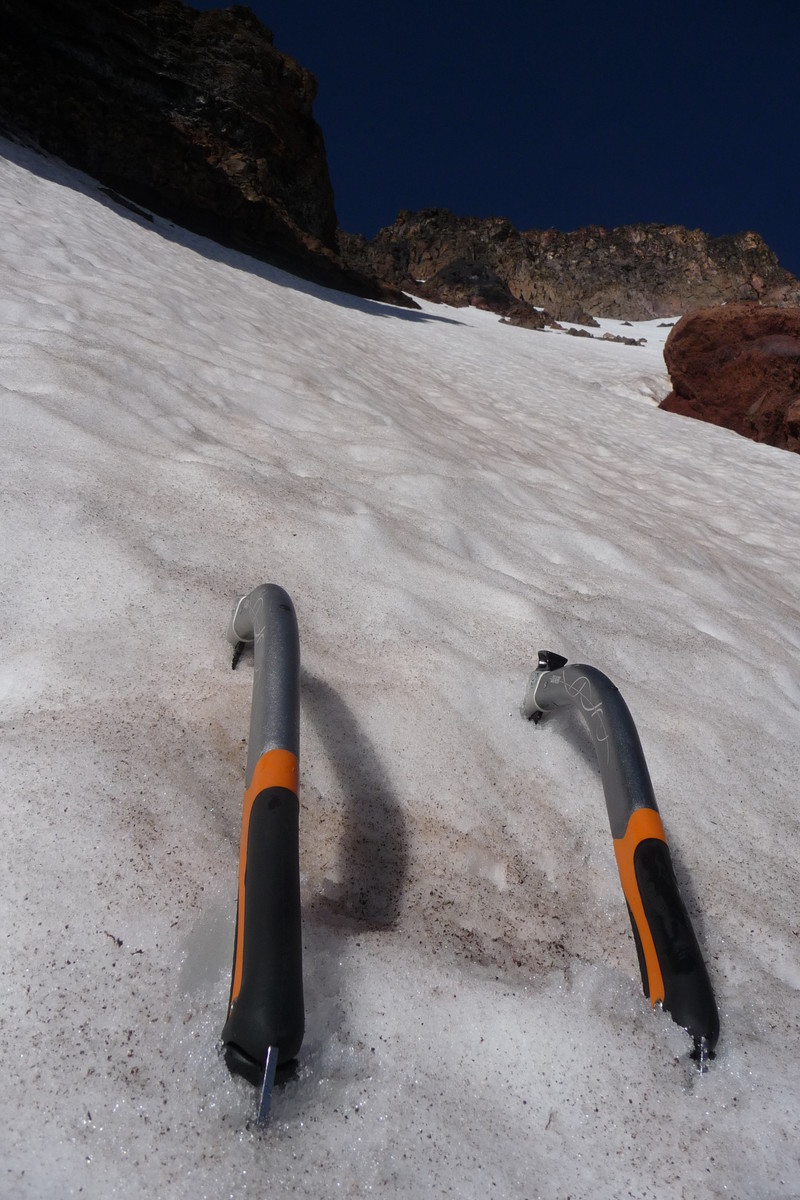 Nearing the summit headwall: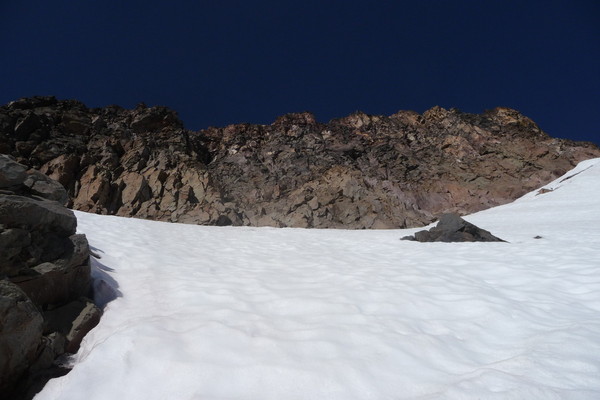 Looking down from the top of the couloir: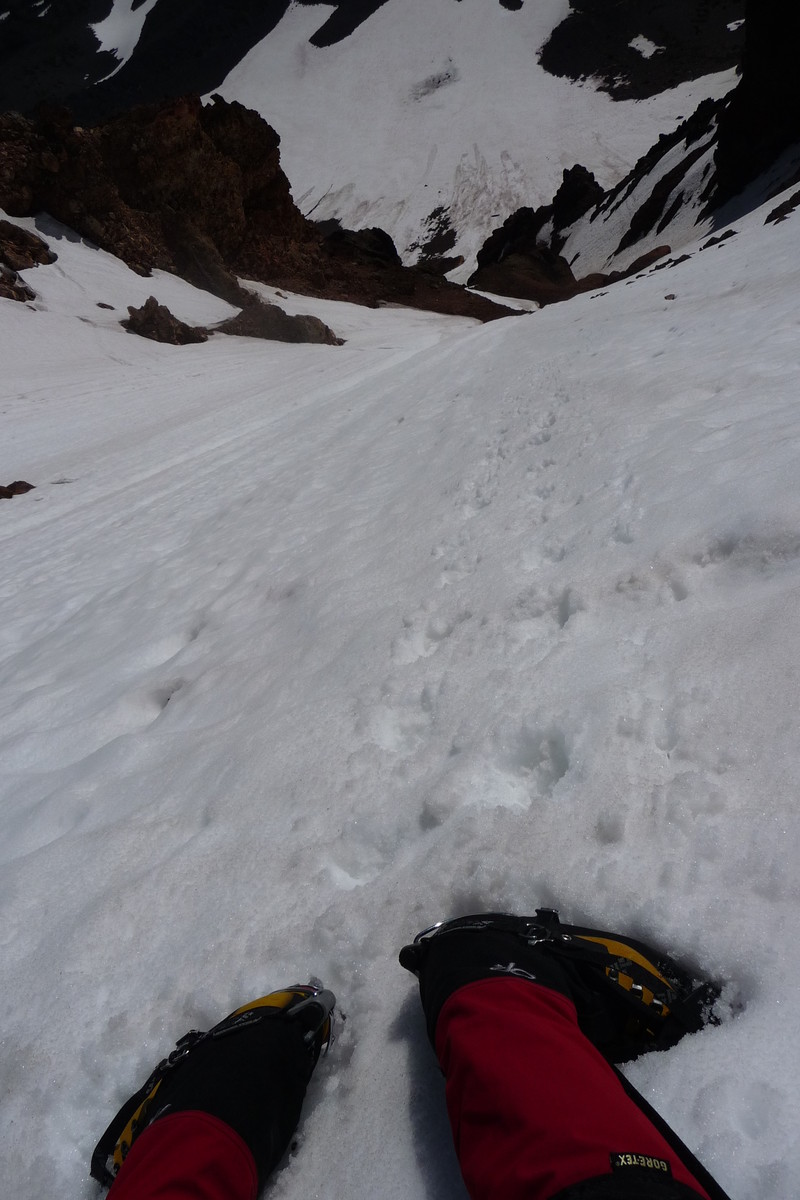 At this point a cluster of large boulders broke loose from above and came crashing down 10 ft to my left, scary!
From here, there was not an easy way up to the top I could tell. I was curious as to what I would see if I traversed to the south so I headed over there for a look-see.
Traversing South: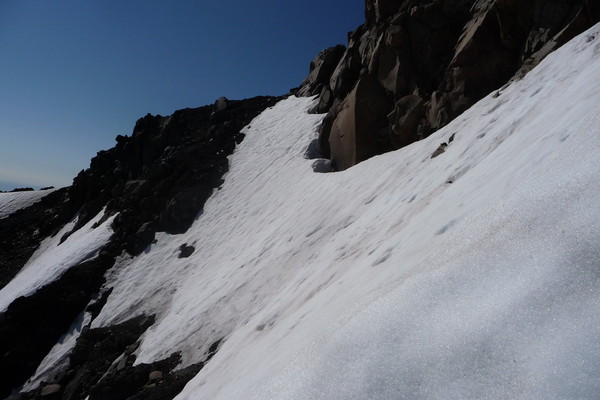 I was greeted by amazing views of Middle Sister, South Sister, Broken Top, and Bachelor! But the options here for going up were even worse...
South and Middle Sister: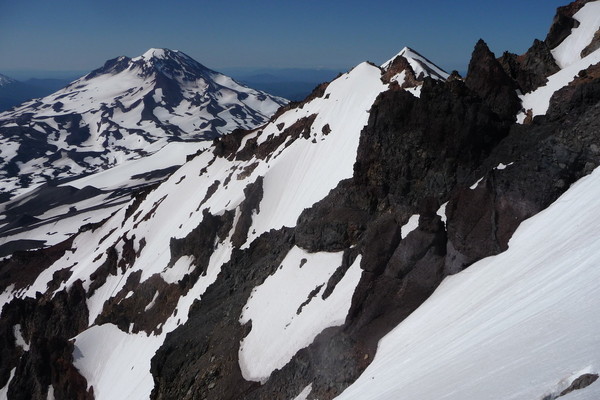 South Sister, Broken Top, Bachelor: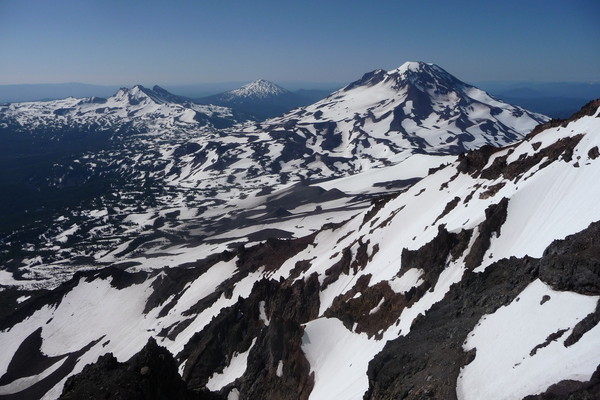 Looking North, you can see my tracks: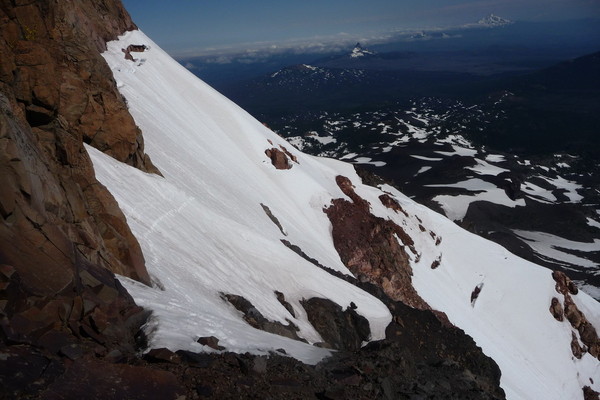 I decided to traverse back to where I emerged from the couloir and attack the headwall directly. From below it looked doable, like 4th class or low 5th class. Once I got on it, it was much harder than I thought, made worse by the fact that all the rock was loose and unstable. Hand and footholds were easily broken off, and worse of all the tops of all the rocks were sloping and covered in a volcanic sand that made it very slippery.
Climbing up the headwall: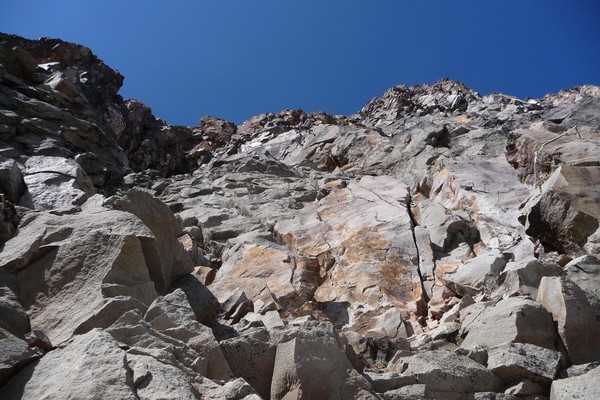 Sand covered loose rock: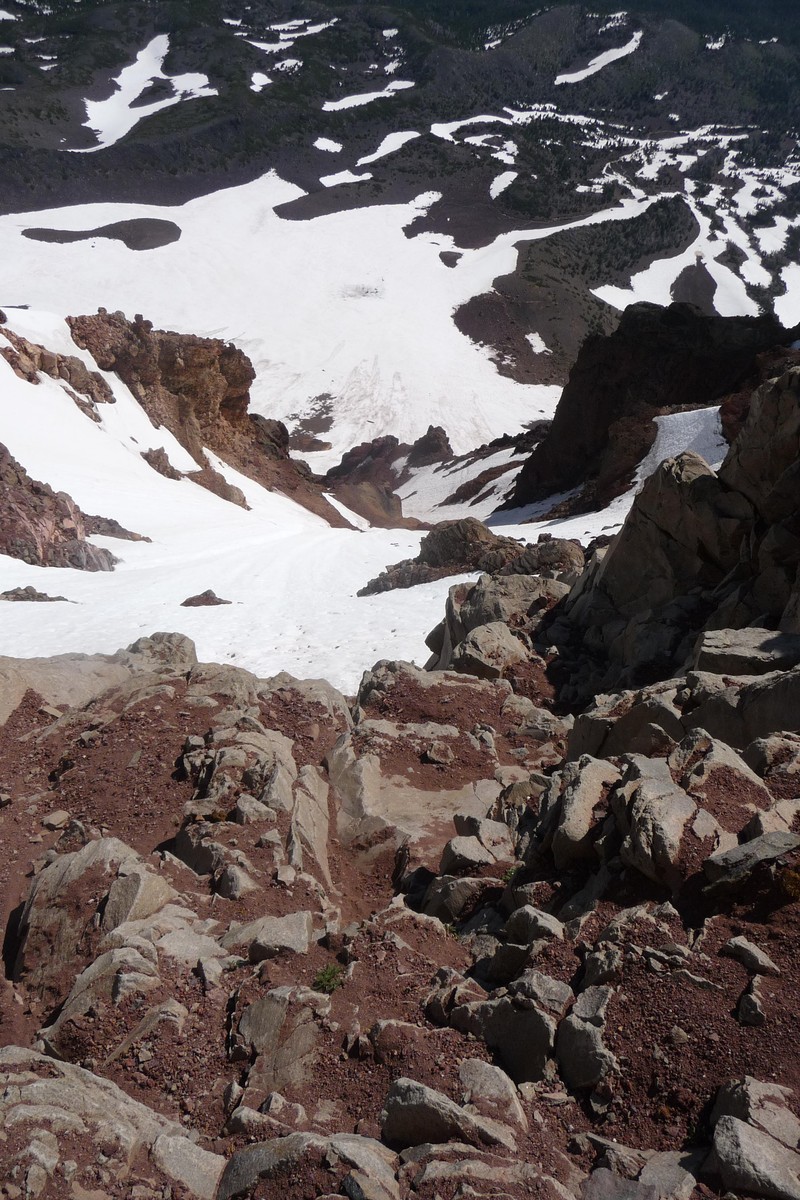 I wasn't comfortable soloing this, so I decided to bail. Plus I knew I didn't have enough gear to rappel all the way down if I did climb up it. So I climbed up to a rappel anchor I spotted from below, a single wired nut fixed in a crack, and set up a short rappel with my 20 m half rope.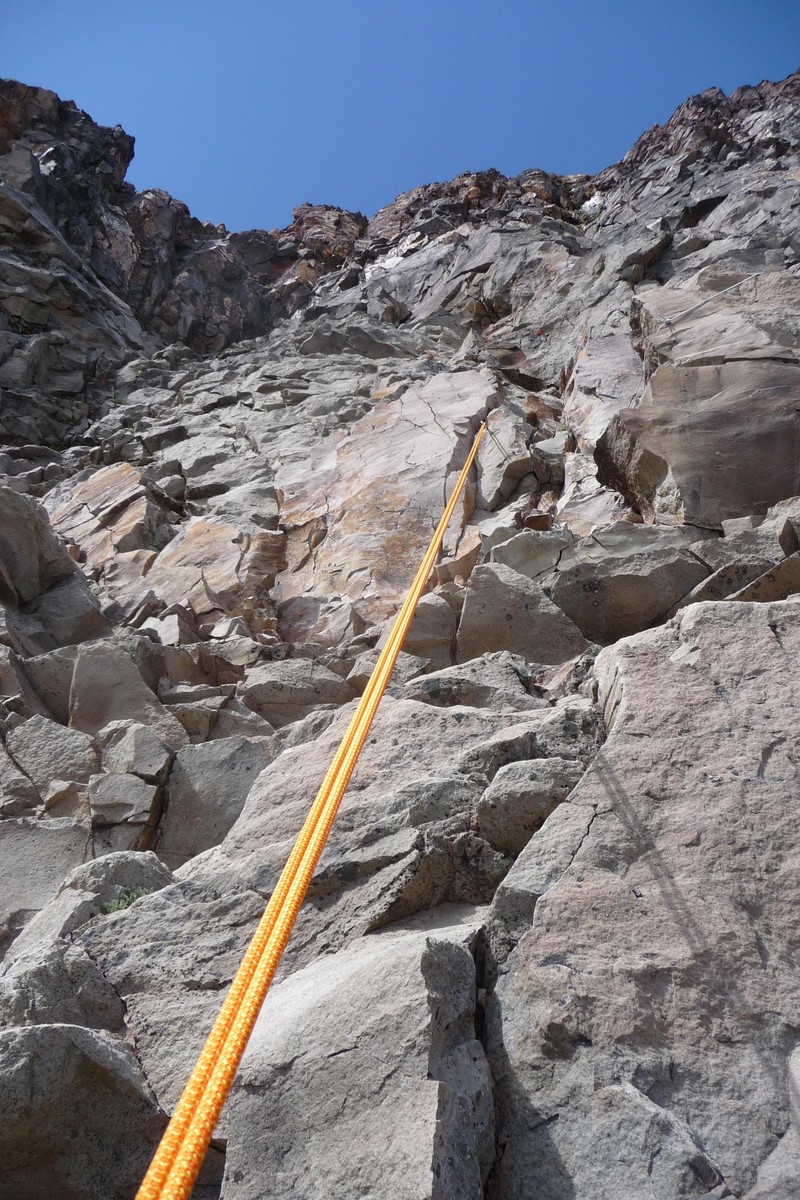 I still had a bit to go before I was back on the snow, so I slung a stable boulder with some cord and made a 2nd rappel back down to the snow.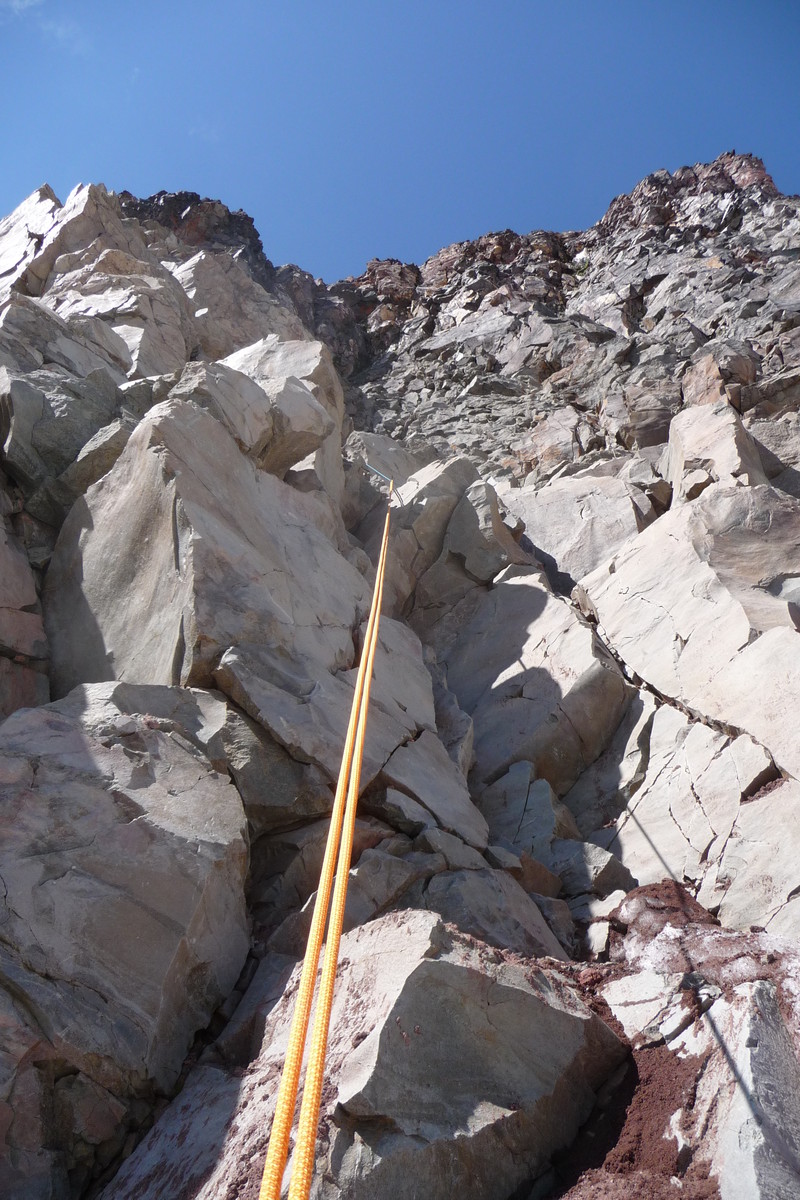 By now the snow was becoming much more slushy, which made the monotonous downclimb even worse. I was very glad and relieved to finally be off the mountain and out of the rockfall hazard! I was back at the tent by 1 pm and I dropped my gear and took a few hour nap. I awoke to thunderstorms coming in, so I figured I had better pack up and head back to the car.
Parting shot on the way out: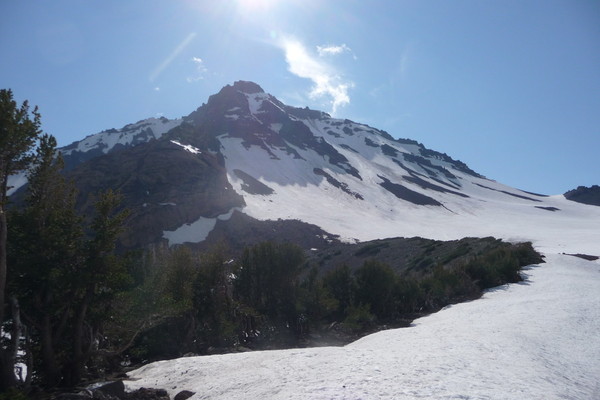 A fun trip and a good experience!
Gear Notes:
Ice tools, crampons, helmet, 20 m half rope
Approach Notes:
Pole Creek TH to Soap Creek, approached in tennis shoes and packed climbing boots