Trip:
Sahale Peak (ski descent) - up Quien Sabe, down Sahale Arm
Date:
7/8/2012
Trip Report:
On Sunday my friend Brennan and I did a little loop on Sahale Peak: we hiked up to Boston Basin, skinned up the Quien Sabe Glacier, then rapped off Sahale's summit and skied all the way down to the road just below the Cascade Pass trailhead. There is so much snow yet!
Here's Brennan a bit above the moraine in Boston Basin, with Johannesburg Peak towering in the background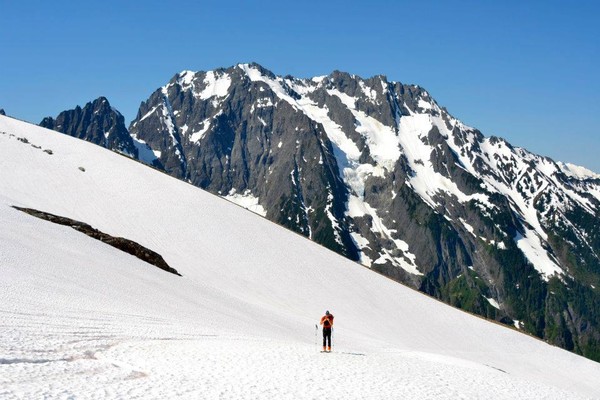 Looking up the Quien Sabe Glacier toward Sharkfin Tower and Boston and Sahale Peaks. We were able to skin all the way up to the Boston-Sahale saddle. The route is in awesome shape.

Looking west again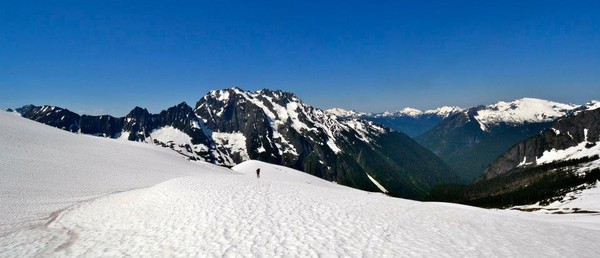 Taking a break below Sharkfin Tower. There's a small moat but the approach gully to the tower is in great shape.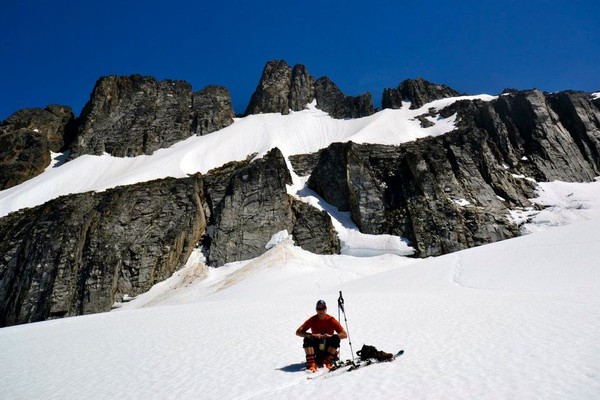 Forbidden, Sharkfin, and Boston from high on the Quien Sabe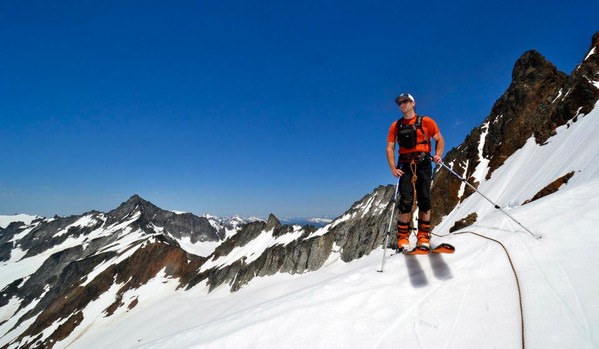 Giant cornice on the final traverse to the base of Sahale's summit pyramid. We skinned up to this spot but decided a boot pack might be a good idea from this point on. The snow was verrry soft up here.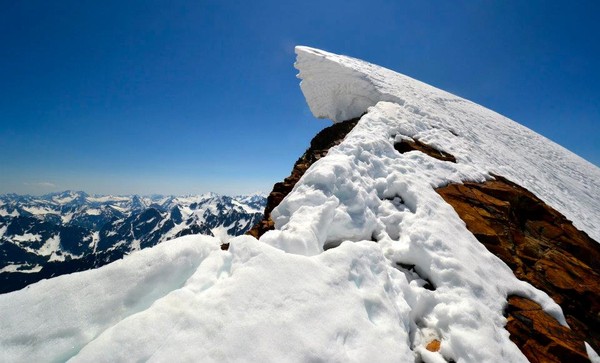 Looking back toward Boston and Buckner above Ripsaw Ridge while on the traverse to Sahale's summit pyramid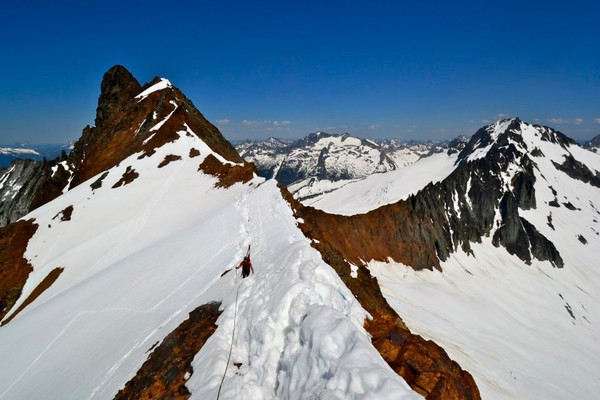 The cornice from the other side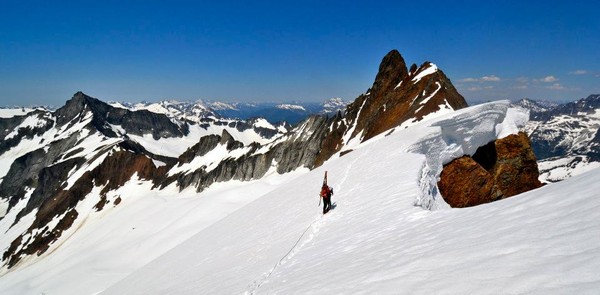 Again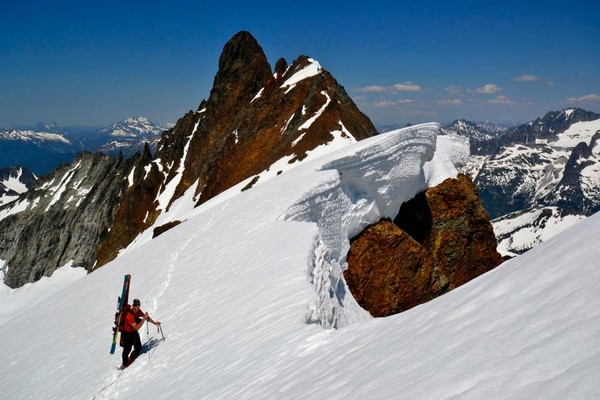 On top of Sahale, with skis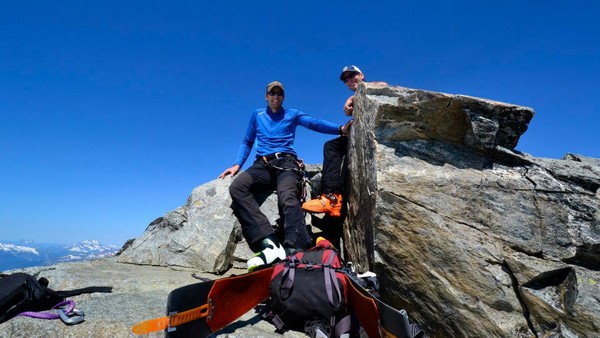 Rappelling off the summit pyramid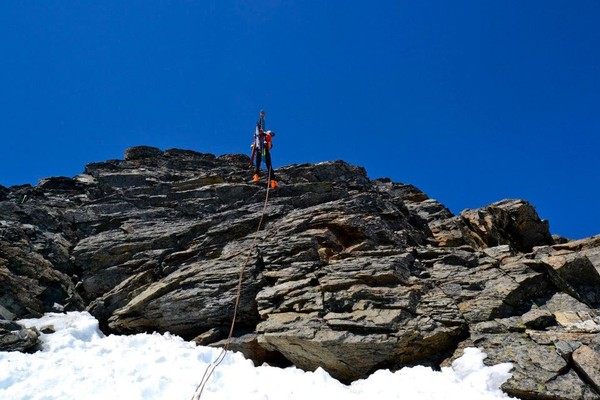 Now for the payoff... Brennan gets ready to ski down the Sahale Glacier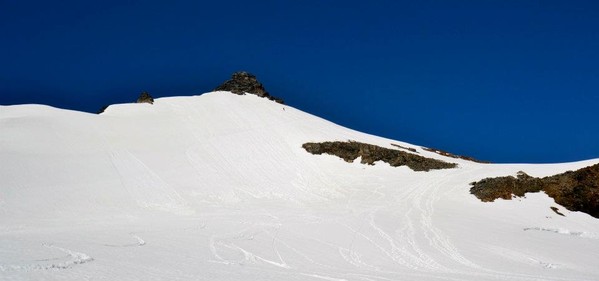 The snow was actually pretty good most of the way down, and at any rate with a 5000' descent in July you can't complain.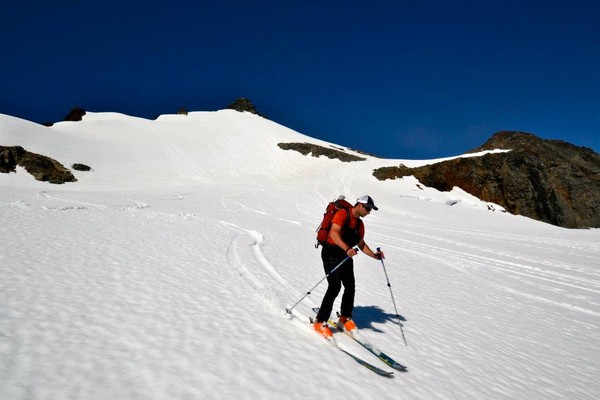 Not too bad a view for a little ski trip
The Sahale Arm is almost completely snow-covered, but we had to take our skis off 4 times: once to walk a short section of trail on the arm (pictured here); once to hike uphill for a couple of minutes on the arm; once to hike up to Cascade Pass after having skied a hundred feet below it, and once to traverse the slide alder below the pass to find a route down into the basin.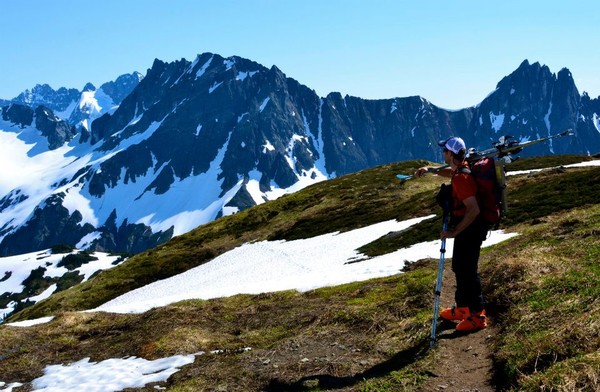 Skiing down to Cascade Pass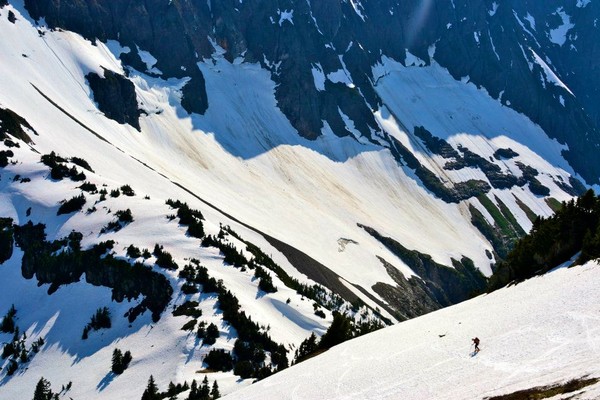 Gear Notes:
Skis!
Approach Notes:
Approach to Boston Basin is in really good shape; snow starts about 200' below Boston Basin