Trip:
Wolf Rock 5.9
Date:
1/7/2012
Trip Report:
So this guy informs me there is a sweet route at wolf rock last weekend, so taking advantage of our incredible January sunshine (57 deg bishez!) so I grabbed my favorite pnw transplant from Boston Steve, and Bend yokel Forrest, and we rolled out there in the morning.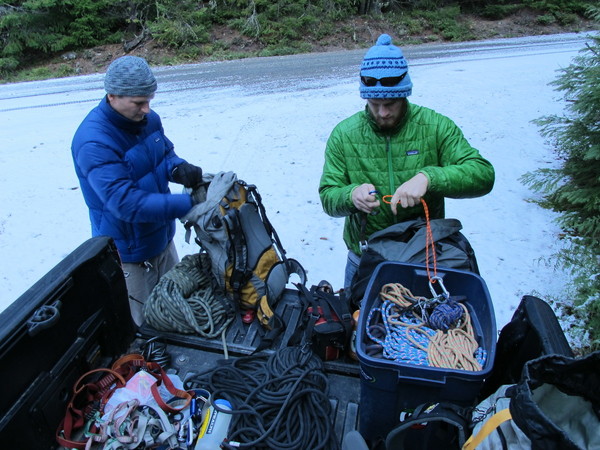 Originally the plan was to find some rumored, deep, rappel-in cave system on Santiam Pass, explore that and then meet out at wolf for a pitch or two, but as we climb out of the valley and see how nice the inversion has made it up high, we agree to climb Der Wolfwand. Well, Forrest badgered us into it really, but it didn't take much convincing.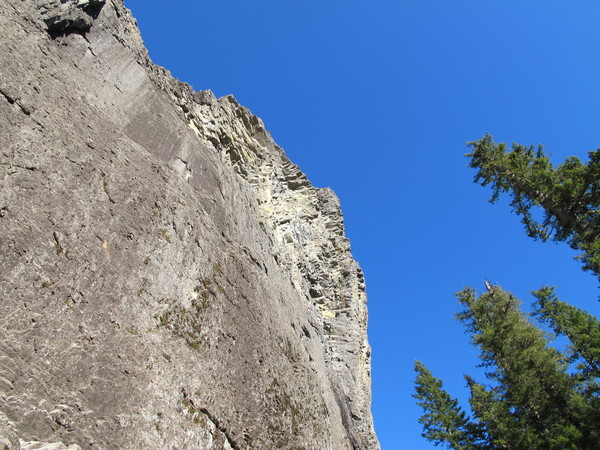 Now I have a history of being a, um, different, belayer for Steve dating back to his first climbing experience after moving here from Boston (first pitch ever climbing w him I tied him off midway up superslab so I could escape the belay to attend to explosive beer shits and then gave him a hip belay on the marsupial traverse later that day), and this trip was no different. Forrest was belaying his lead on p1 and decided to trade belayers with me so he could take care of business before heading up, so mid route I announced to Steve that I am now his belayer. The rest of the pitch was completed with only minimal rockfall on Forrest and I. Oh, I forgot to mention that Forrest forgot his helmet, so he stuffed his entire puffy into his knit hat and wore that for whatever protection it provided (not much). He kinda looked like a rasta-mon, or perhaps a Taliban terrorist. Anyway, we all get up p1, and I get to lead a short, easy ramp right and then the uber cruxy 5.9+ third pitch (fun!).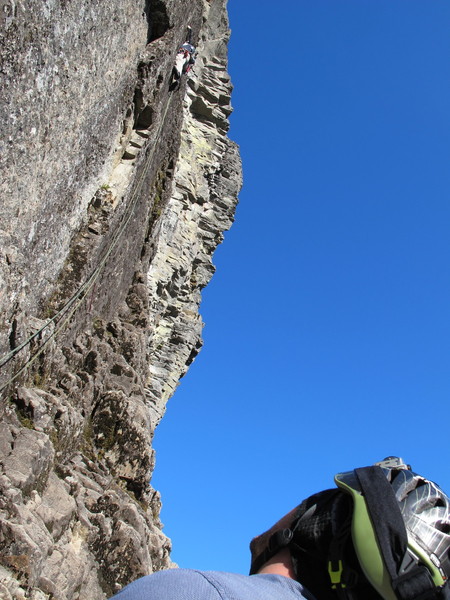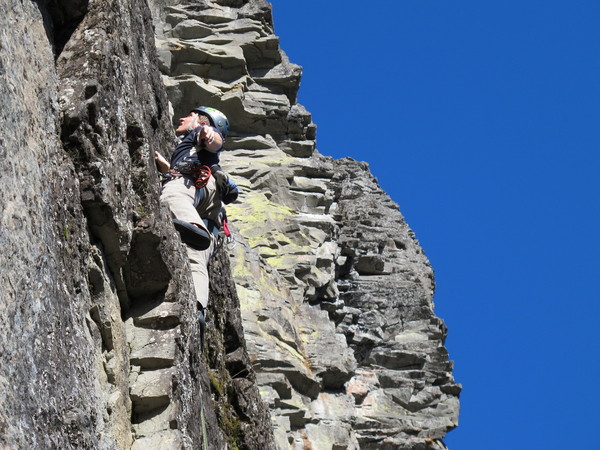 I was surprised how pumped I got on the steep third pitch but as informed, the holds are all there, you just have to look a little harder.
I dragged both of their fat asses up to the next ledge (great belay ledges throughout the route btw) and Forrest then pulled a cruiser lead up the shorter 4th pitch while Steve and I rocked out to Infected Mushroom and various other techno beats on my 10$ speakers (best 10$ I ever spent!) at the belay.
Steve took over again for the 5th pitch and that is where the mountain started coming down all around us. At that point the route moves left under the Barad Dur roof system and the rock gets slimy and loose. We considered doing some cleaning, but decided that more cleaning would likely only excavate down to more loose rock so we continued on, walking on eggshells. I think I pulled the chossiest lead of them all for the 6th pitch; a left traversing, bouldery/ledgy, loose sonuvagun. It was, however much better than Steve had led me to believe (he only found 2 of 7 bolts when he led it earlier and had a loooong wander to the anchors). I luckily kept the bolt line for the entire climb, though you'd never guess it by the amount of moss and choss in the final 20 ft. I thought I was off route as all hell and just when I gave up and tried to escape up a gully right, I found some hidden anchors. I think the bolters got tired of cleaning, or perhaps saw that the clumps of moss were the only thing holding the route together. (respect to those before me tho) I believe it was also on this pitch, just when I am freaking out in the midst of all that choss, that I hear an "Oh Shit!" from the belay (nothing inspires confidence like those two words right?!), then "Ian, it doesn't concern you, keep climbing!" Forrest dropped his belay device, I later found.
Beyond that, there was a long unprotected 4th class slab, then another neat 5.2 ramp to shrubs and a scramble to the top. I must say, a little more cleaning, or perhaps a bolt or two would make the ramp/gully feature above the last anchor belay a fun finish instead of climbing right up the smaller face.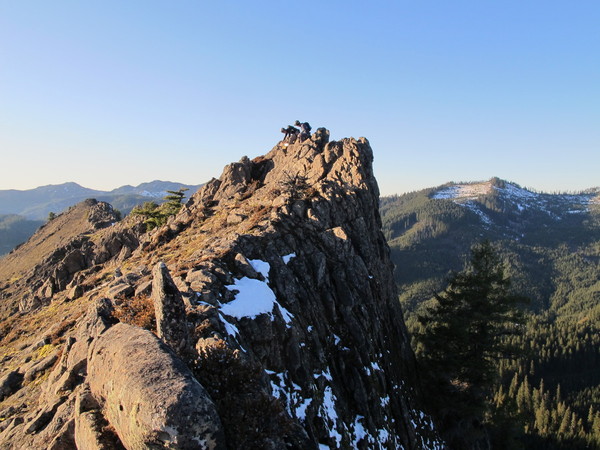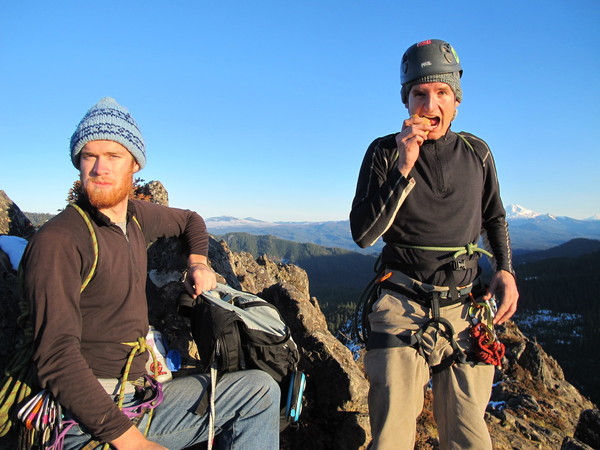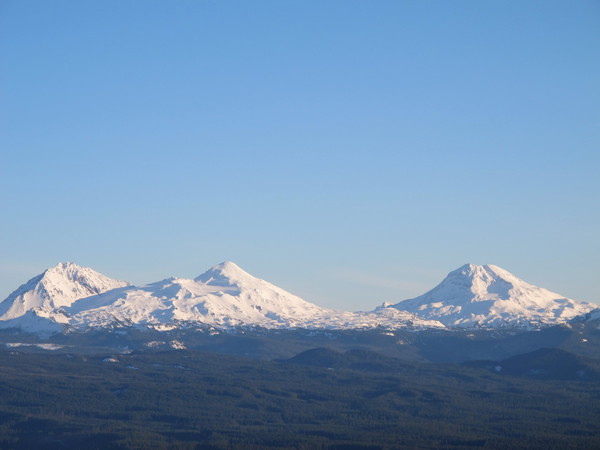 On top we dined on baguette, pocket warmed bacon, and kids fruit snacks while watching the sun creep ever lower on the horizon. The descent was harrowing as usual, made ever more so by the water running down the best part of the descent. We got to enjoy an incredible sunset on the way down and made it to the car just as it became to dark to see. Oh, and while retrieving packs at the base after dark, Steve almost got destroyed by rockfall that seems to have come directly off our route. He said it sounded like it destroyed some trees just below him.
All photo credits go to SteveP and ForrestK
Gear Notes:
Mp3 player & speakers, summit bacon, hella draws, 3 idiots, warm weather, optional BD camalots #.5-1 and a meager set of nutz
Approach Notes:
its not the approach that'll getcha: its the descent!