Trip:
Diamond Peak, Oregon - Southwest Ridge, Southwest Bowl, Pioneer Gulch
Date:
6/19/2011
Trip Report:
(more photos here:
Diamond Peak photos on Picasaweb
)
We arrived at the Pioneer Gulch trailhead (#3630) late on Friday night, and camped on the road next to the trailhead at the junction of FR# 406 in the flat spot. Although it wasn't raining the night before, we woke up at 2am and yelled "rain delay" until 230.
Reluctantly we got out of the tents and made some coffee. Thanks to Nick, I didn't stay in my tent and sleep in like I had done about 3 weeks earlier. On the trail at 3am, we only hiked up about 20 minutes before reaching continuous snow, albeit soft and rainy. We saw few mosquitoes, but be forewarned:
two weeks later they nearly carried us away!!
Don't chance it, believe the stories! Bring a gallon of bug dope!
Reaching treeline in the southwest bowl, we were elated to see the summit and the clouds thinning out: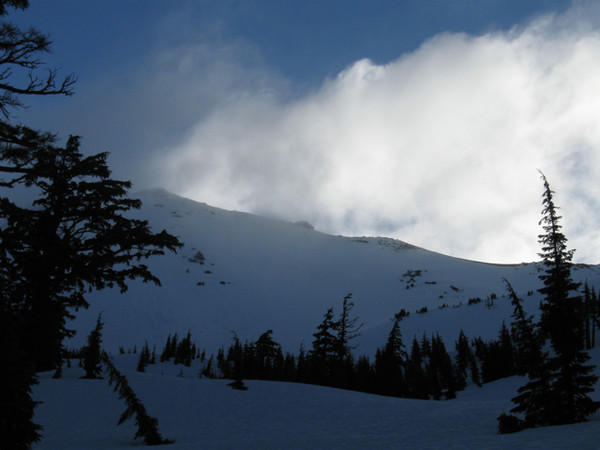 Unfortunately, even at 7am the snow was very soft and we sank in knee deep at times but it was alright for booting, and no crampons required. The night before the forecast snow level was down to 7,000 feet, which resulted in one of those rare days where it was actually firmer down in the woods than up high. Too bad it was so warm or maybe we'd have a foot of freshies in June!!! what can you do?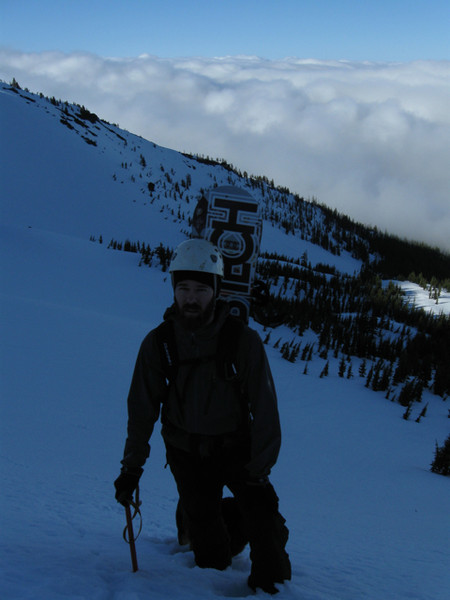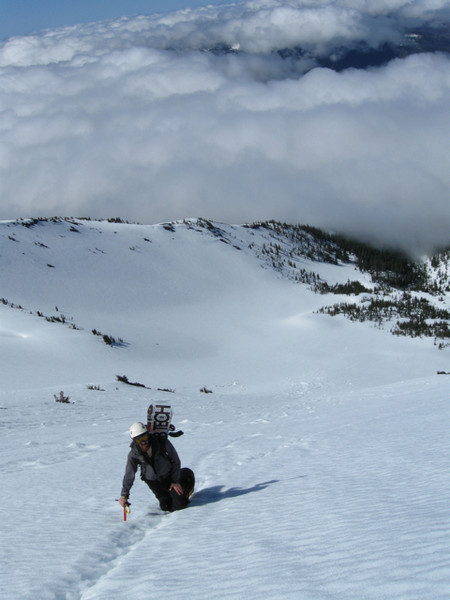 We knew the riding was going to be crappy, but climbing out of the rain is always fabulous!! We climbed the southwest ridge and topped out on the false summit just west of true. To the south we could see the top of Thielsen and Bailey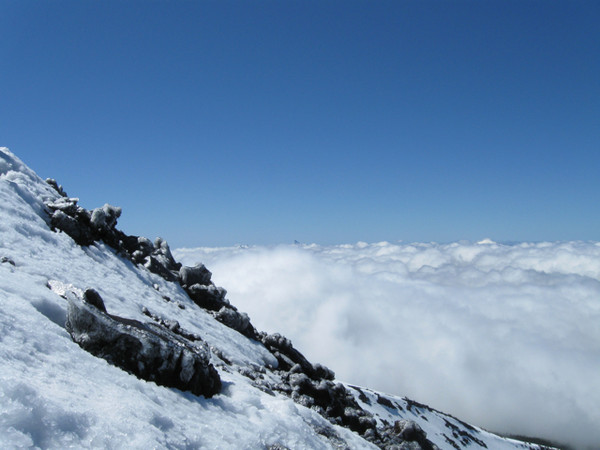 Nick topping out on the false summit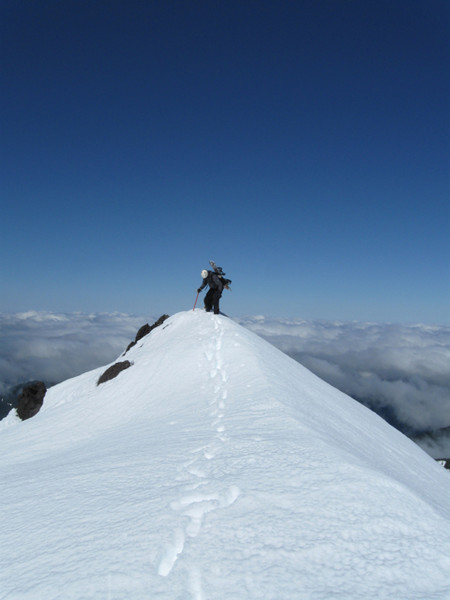 true summit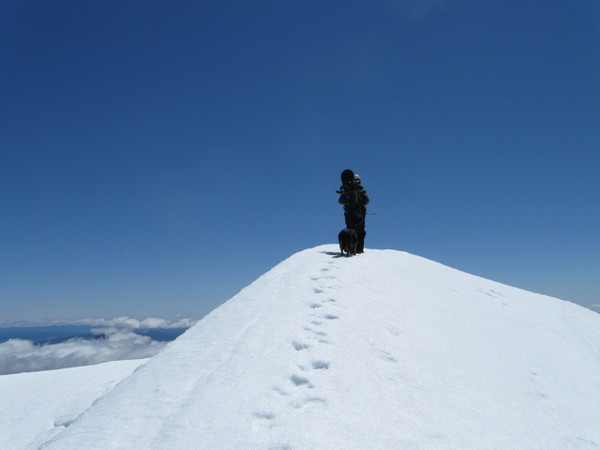 After a couple of Fort George Vortex IPAs on the summit, we were ready!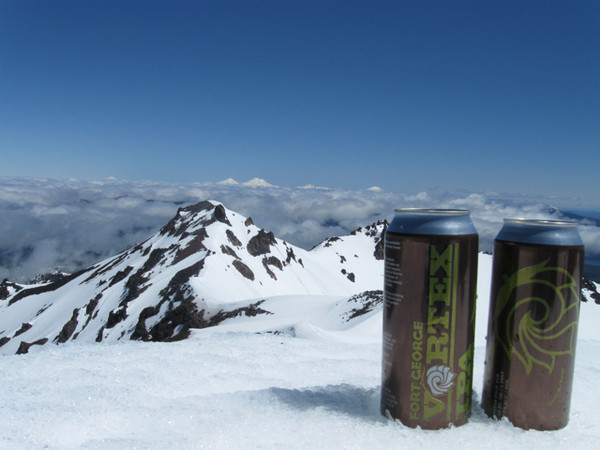 We descended from the true summit into the southwest bowl, which is a fabulously consistent line. Too bad we were in a foot of softies, but hey, it's like "bad sex" right? I'd still rather being doing this than being down in the rain!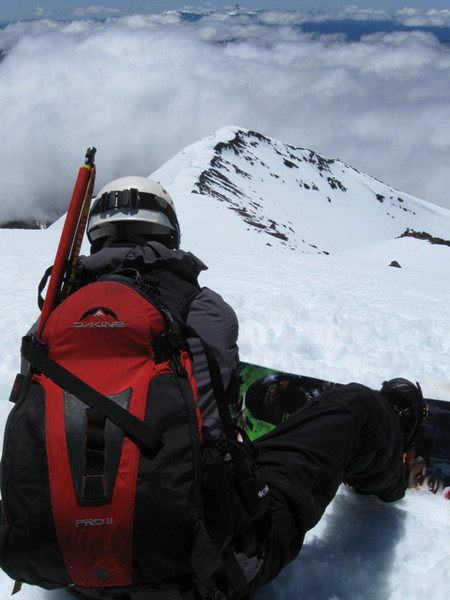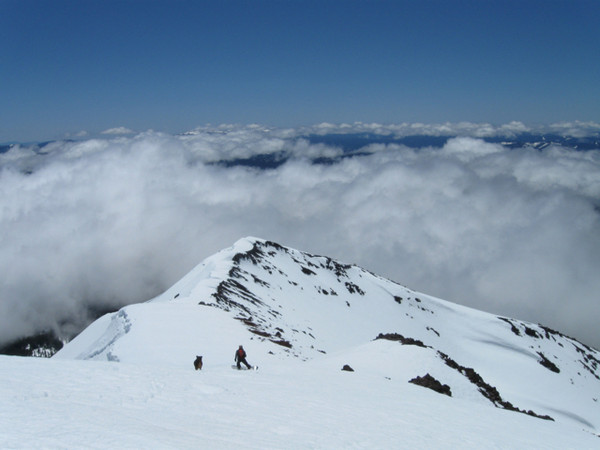 Yours truly, about to slay the southwest bowl!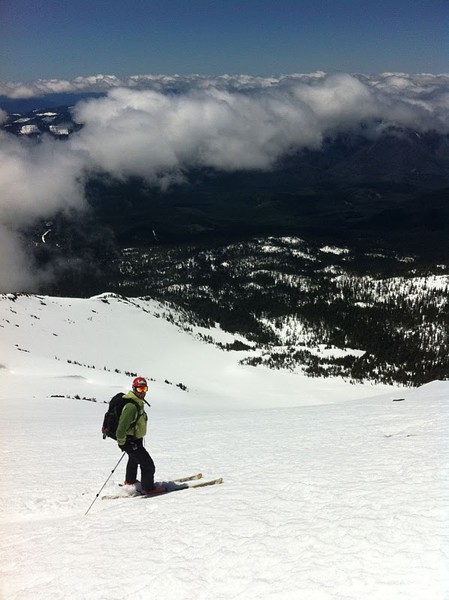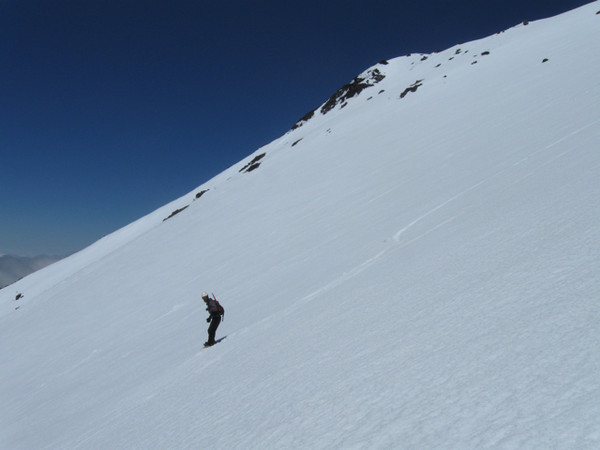 I set a GPS waypoint where we lost the trail and headed back to it in the woods. The trail basically follows the wilderness boundary so it was not hard to keep, even with snow patches. The other good news is that for the most part the woods around the west side of Diamond are easy 'schwacks, especially on the downhill. After dropping Nick in Hillsboro I made the lonely drive out to the coast, but only to Gearhart before I couldn't drive any further. Two hour nap in the car in the parking lot and finally back to Astoria at 130 am! Long day, but definitely worth it!!!
Gear Notes:
crampons, ice axe under normal conditions
Approach Notes:
need gallons of mosquito repellent