Trip:
Grand Teton - Upper Exum
Date:
6/28/2008
Trip Report:
My friend Donger and I set our sights on climbing the Grand Teton in the summer of 2007. After 4 weeks of recovery from having the meniscus repaired on one of my knees, I thought I was ready. Hurtling in my old Audi down Gallatin Canyon from Bozeman, we nearly hit a moose who couldn't decide which way to run and was zigzagging down HWY 191. Driving through Driggs Idaho Donger spat coffee all over the windshield of the car when he noticed a Chinese restaurant called "MESO HUNGRY". Only in Idaho, right?
After passing the quiz by the ranger and despite warnings that a lot of snow still existed high on the mountain we bivied in the moraine below the lower saddle out of the wind.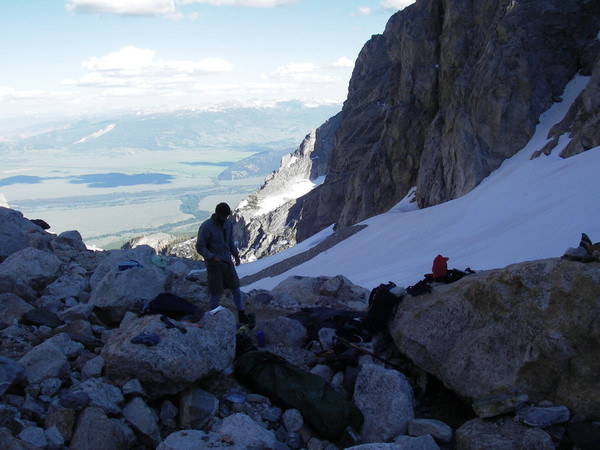 Waking early, we started the approach to the upper mountain, slogging past the guide's yurt at the lower saddle.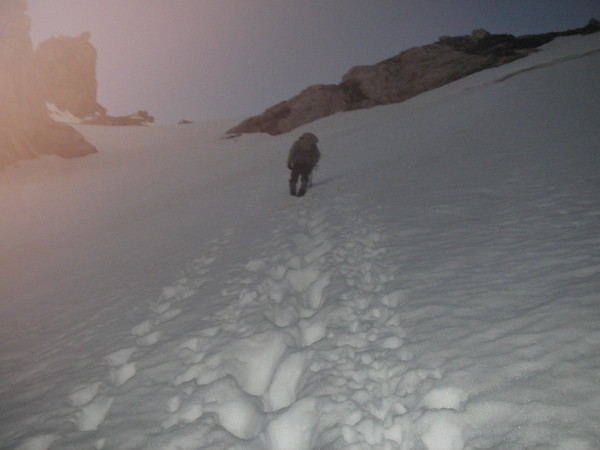 The crux was finding a way across the lower part of the Owen Spalding to the beginning of Wall St in the dark. The route finding here was difficult as everywhere you looked there were rap slings. Glad to have that out of the way we hauled up Wall St. to the beginning of the Upper Exum. Climbing was fun and easy.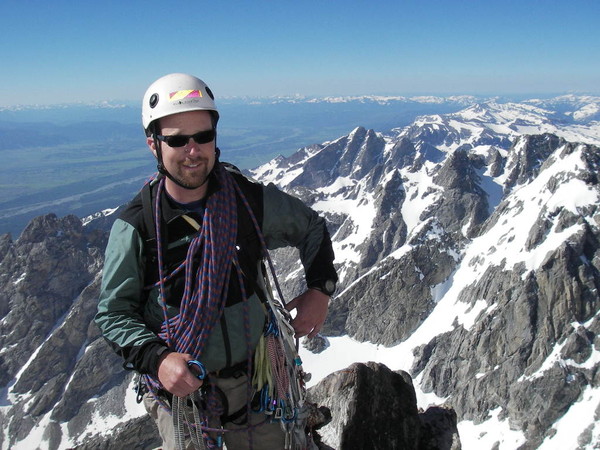 However, we soon found ourselves climbing harder terrain than expected. I thought I was being weak but Donger confirmed, indeed we were off route somewhere to the right of the proper Exum Ridge. Now holed up in a narrow couloir under a big icy chock stone, we paused to put on crampons and get the rack re-organized and construct some kind of anchor to belay from. Legs shaking, I climbed the right facing wall to a small verglassy ledge and moved up and left to just above the chock stone with some decent pro. As I felt like the pro was good and I was starting to lose purchase with my aluminum crampons, I decided to leap to a patch of snow, "WATCH ME, GAHHH!" as I lept/fell. I crawled up to a boulder to hip belay Donger up to my position, he said "hmph" clearly admiring my dyno to the snow patch. We took a break and regained what appeared to be the route. With so much snow, it was difficult to tell if we ever did regain the route which I understand is not unusual on the Exum (it's all good).
At one point I was struggling with some harder moves below the summit while Donger complained about being off route when a solo climber emerged just below us. "Where the heck are we?" he asks. I pulled through the overhanging hand crack grunting and groaning like a gorilla and set a belay. The solo dude passes through with minimal exertion, (kept his feet high) and kept on rolling. We were starting to get concerned as it was nearing noon when suddenly we just ran out of mountain to climb.
We took some pictures and boogied down the OS route chasing after a guided group. The overhanging rap was cool and we made good time down to a point approximately where we struggled to find a way to Wall Street that morning. Here was a young guide trying to short rope an older client down through some pretty nasty scree and boulder field but struggling as the client had his crampons on. I pointed out that there was no more snow and he might benefit from removing his crampons. I thought she (the guide) was going to hit the client when he enthusiastically agreed. Apparently she'd been trying to convince him to remove the crampons since the upper saddle with no success.
Beer and burgers in Jackson Hole made for a sleepy drive home.