Trip:
Ptarmigan Speed Traverse
Date:
8/14/2008
Trip Report:
Colin Abercrombie and I completed the Ptarmigan Traverse in 18:10 from the Cascade Pass parking lot to the Downey Creek trailhead. We set out at 2:05 am and reached the Suiattle River Road at 8:15 pm. The weather was perfect and the glaciers were in great shape. We did the Ptarmigan in
2004
which was very helpful for routefinding purposes.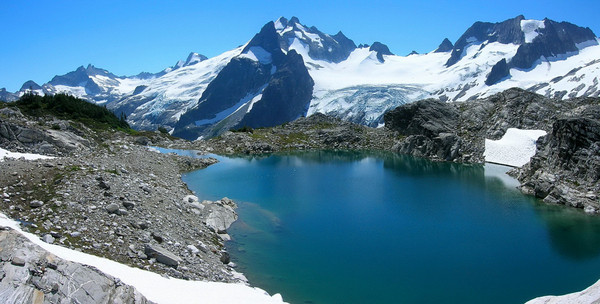 Location (Elevation): Time Elapsed / Split / Real Time
Cascade Pass TH (3,600 ft) :
0
/
0
/ 02:05
Cascade Pass (5,392 ft) :
55:03
/
55:03
/ 03:00
Cache Col (6,920 ft) :
2:13:13
/
1:18:09
/ 04:18
Spider-Formidable Col (7,320 ft+) :
4:59:33
/
2:46:19
/ 07:05
Yang Yang Lakes (5,830 ft) :
6:20:09
/
1:20:36
/ 08:25
White Rock Lakes (6,194 ft) :
9:50:45
/
3:30:35
/ 11:56
Spire Col (7,760 ft+) :
11:54:44
/
2:03:59
/ 14:00
Cub Pass (6,000 ft+) :
13:41:32
/
1:46:48
/ 15:47
Bottom of Bachelor Creek (2,440 ft) :
16:29:45
/
2:48:12
/ 18:35
Downey Creek TH (1,415 ft) :
18:09:36
/
1:39:50
/ 20:15
[Car at Milepost 12.5:
20:48:24
/
2:38:48
/ 22:54]
After doing the car shuttle Wednesday afternoon and evening, we rested at the Cascade Pass parking lot. At about 1 am we were awoken by icefall from the hanging glaciers on Johannesburg. The thunderous noise persisted for over 5 minutes. We set off at 2:05 am and after 55 minutes of walking and jogging we were at Cascade Pass. We continued up Mix-up arm and then ascended to Cache Col arriving while it was still dark at 4:18 am. On the descent towards Kool Aid Lakes we descended a little too low instead of traversing boulder fields. Once we realized the mistake we began an ascending traverse meeting up with the route heading towards the Red Ledge. The Red Ledge was straightforward with no moat issues yet. Once we rounded the corner, we saw the magnificent icefall of the Middle Cascade Glacier as the sun was rising.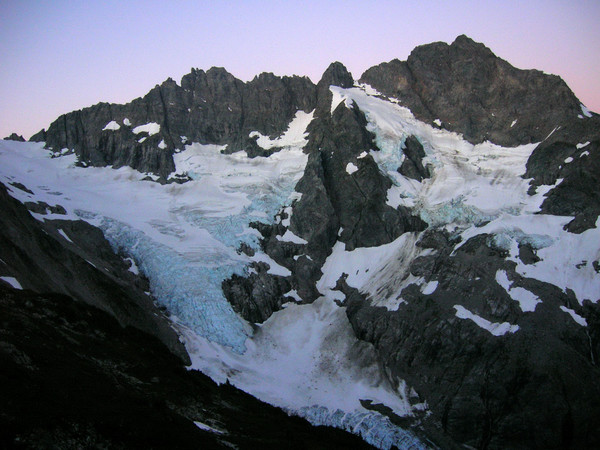 Mount Formidable.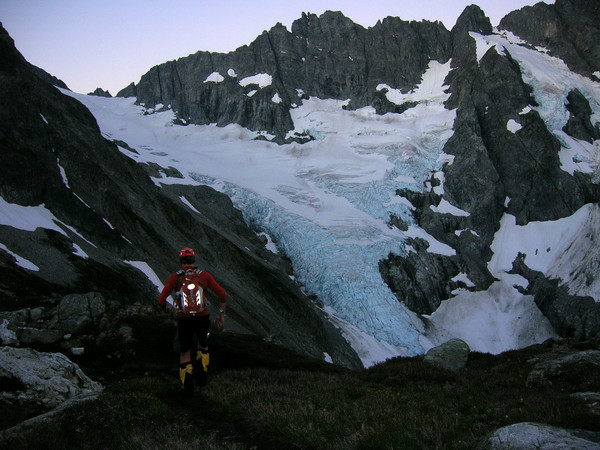 The Middle Cascade Glacier icefall.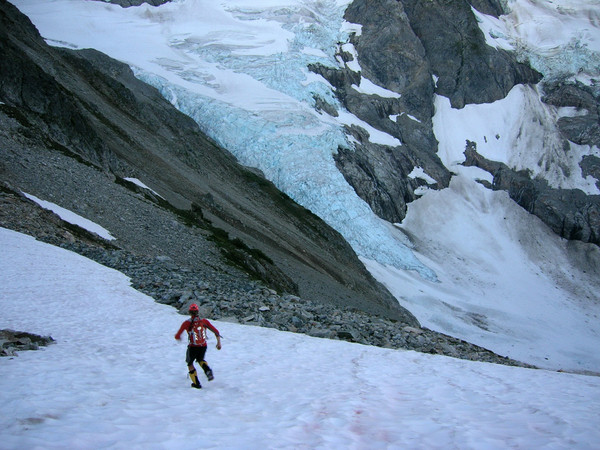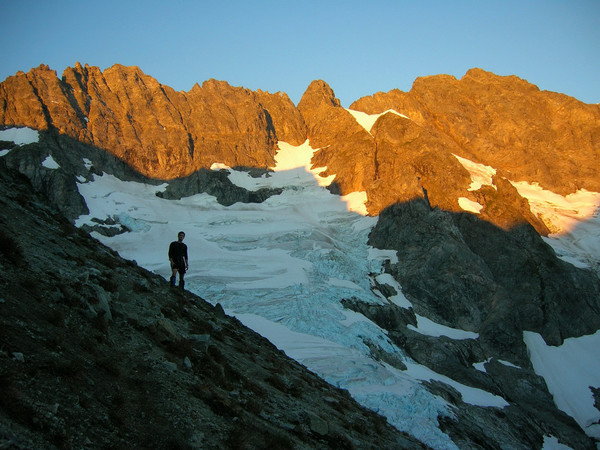 Sunrise over Formidable.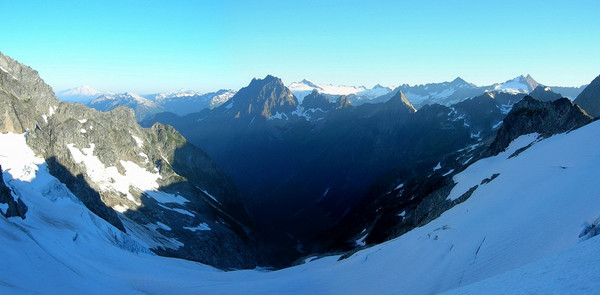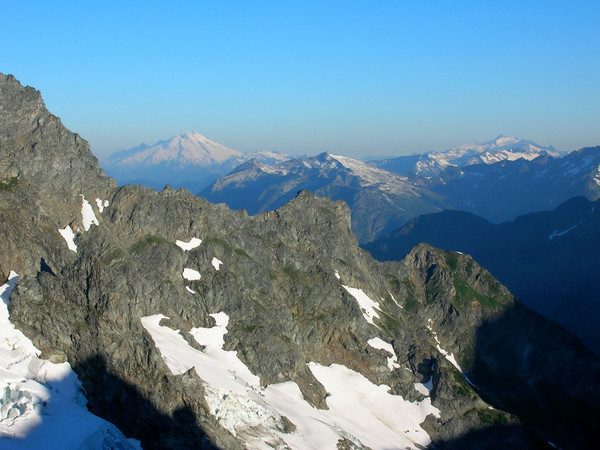 On the ascent to Spider-Formidable col, we had to make a small backtrack due an open bergshrund spanning from rock walls to the right to the center of the glacier. Ascending left of center was straightforward and we were at Spider-Formidable col in under 5 hours from the start.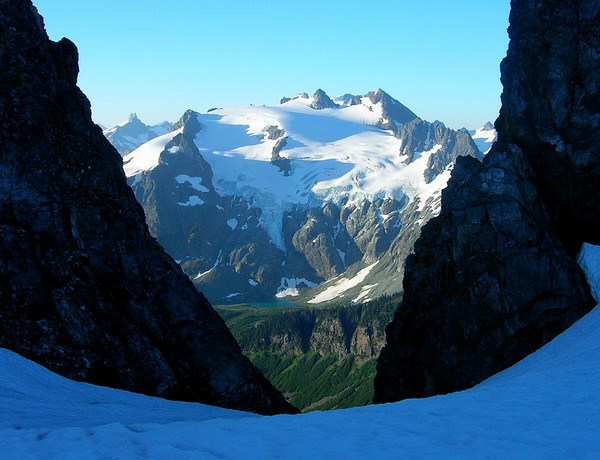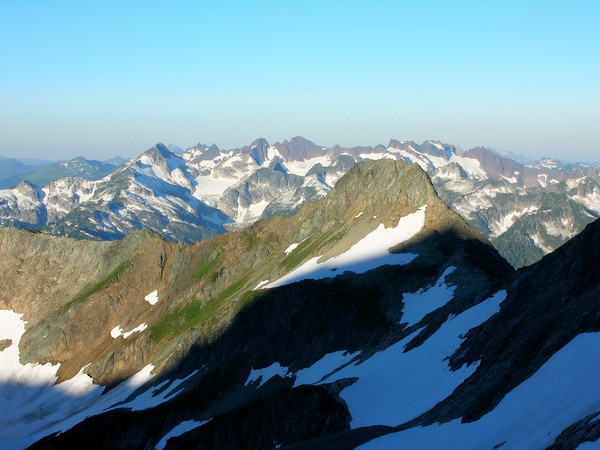 Buckindy Region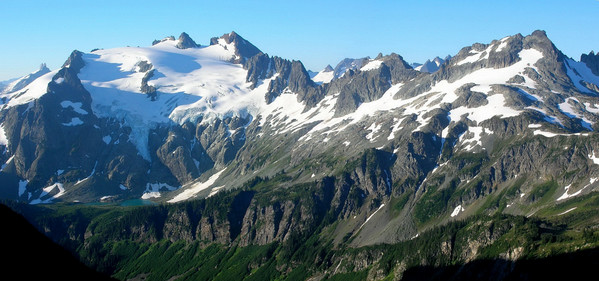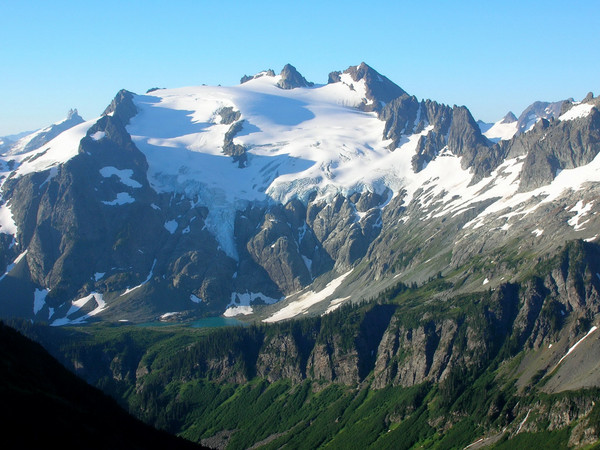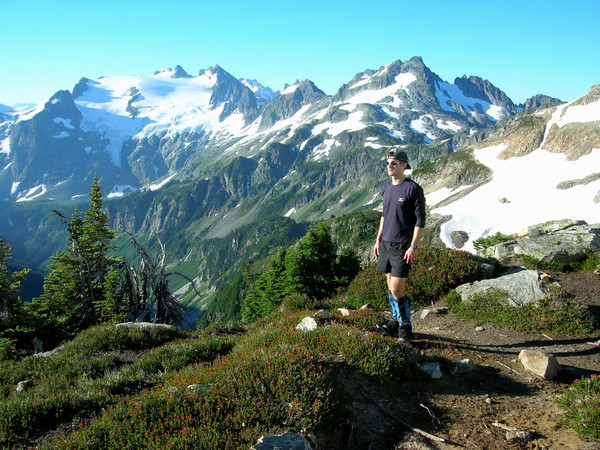 The steep snow from Spider-Formidable col was quite hard in the early morning and we downclimbed for a couple hundred feet before beginning a fast traverse down to mosquito infested Yang Yang Lakes (the only spot we encountered any mosquitoes). At Yang Yang we were met by a couple climbers who had fallen very ill and could not complete the traverse. We took their contact information and passed on their desire to be rescued to the rangers and sheriff's office.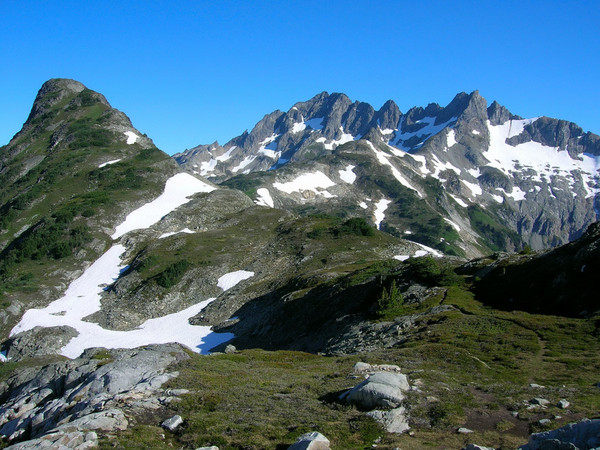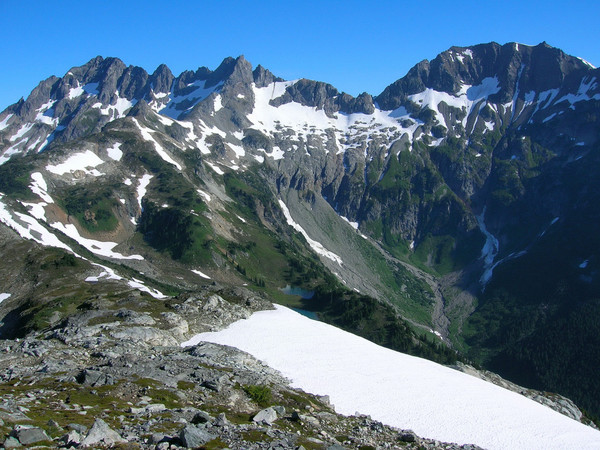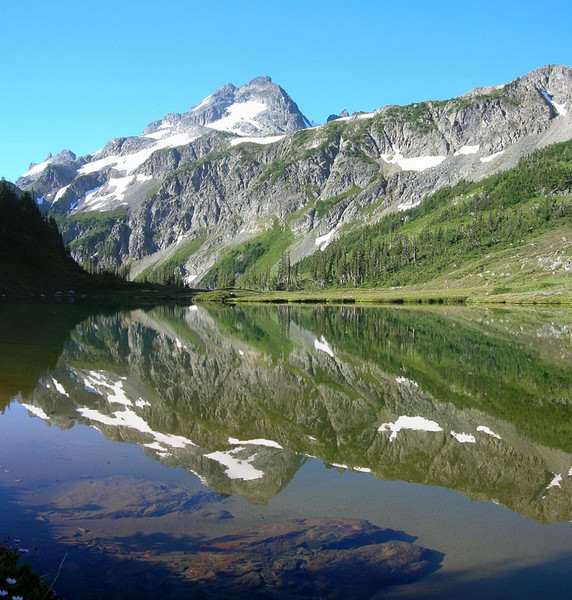 A quick ascent up to the saddle north of Le Conte Mountain brought us to the awesome traverse over to the Le Conte Glacier with up close views of glacial ice hanging over the rock buttresses and the wild Flat Creek basin.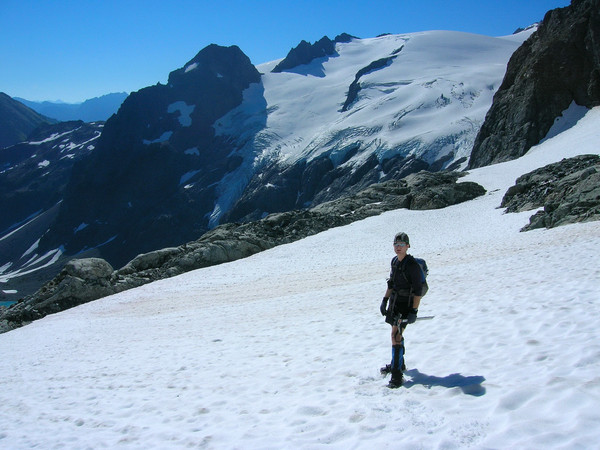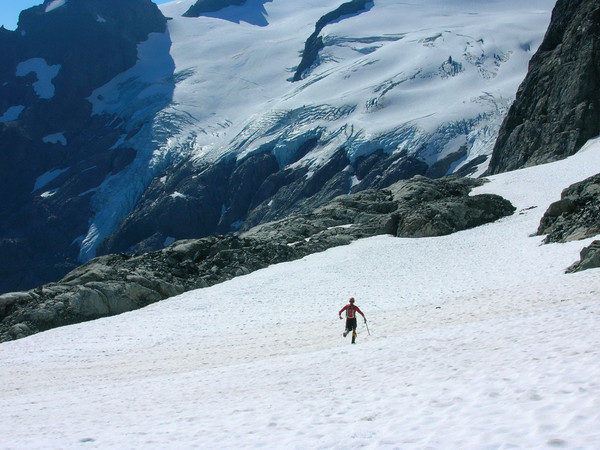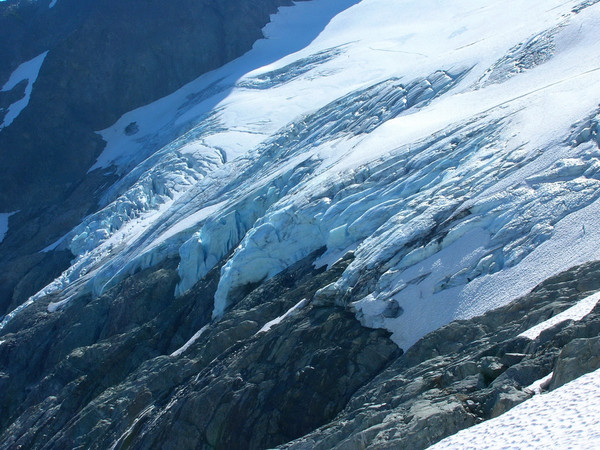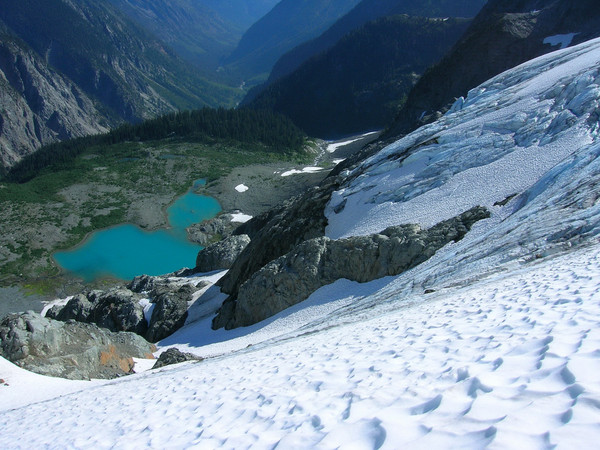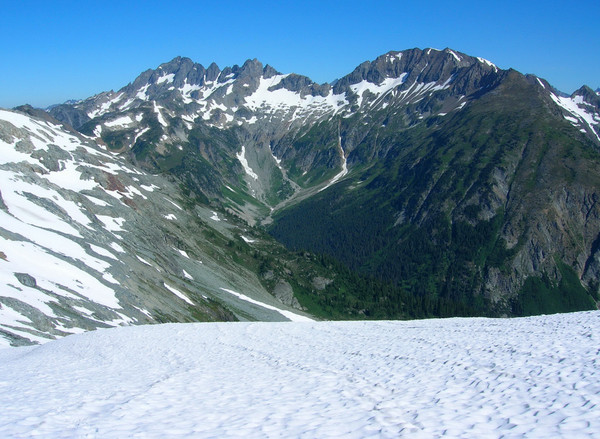 Flat Creek Basin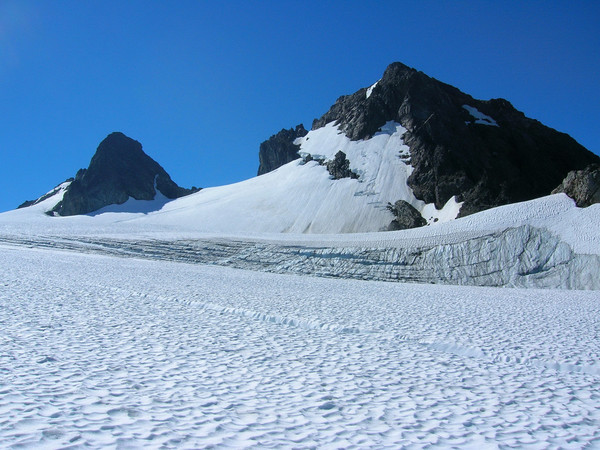 Old Guard and Sentinel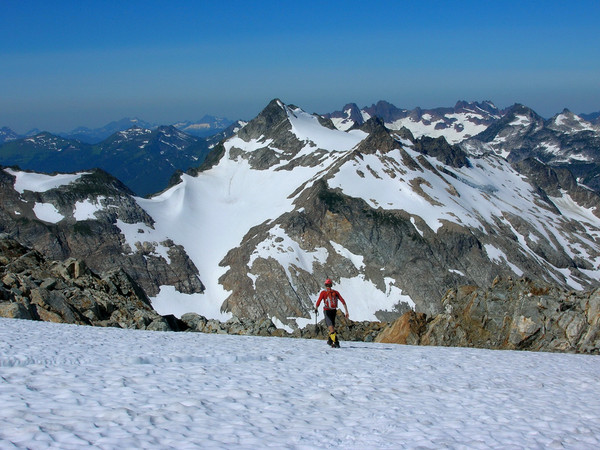 At Sentinel Saddle we met Cascade Climbers JoshK and Ivan who were doing a south to north traverse. We chatted for a few minutes and then I continued the walk to Lizard Pass which was amazing with views in every direction. We took a break at the spectacular White Rock Lakes for photography and refueling.

South Cascade Glacier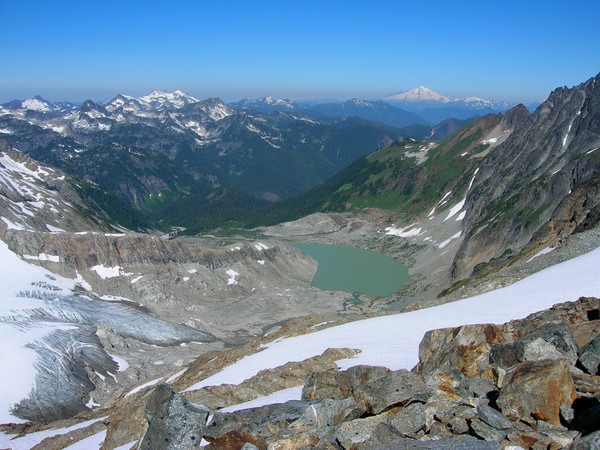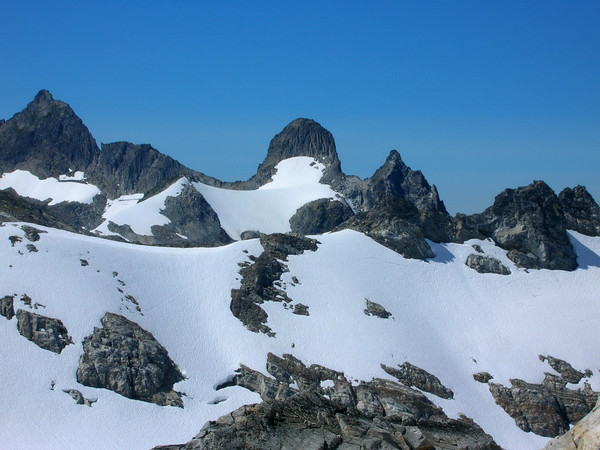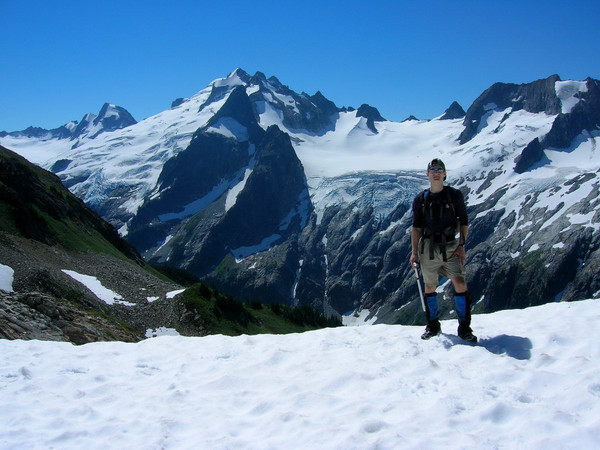 Lizard Pass.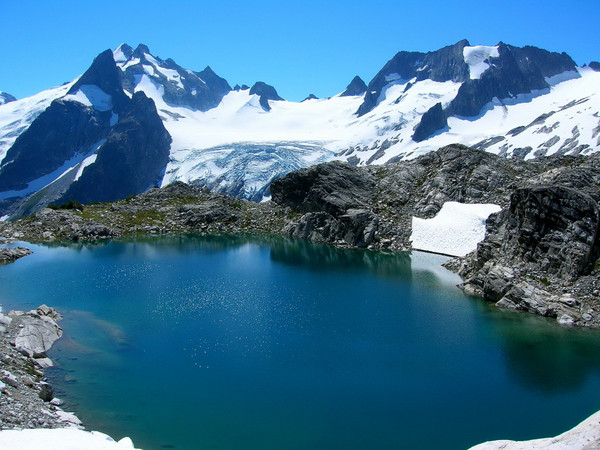 Gorgeous White Rock Lakes.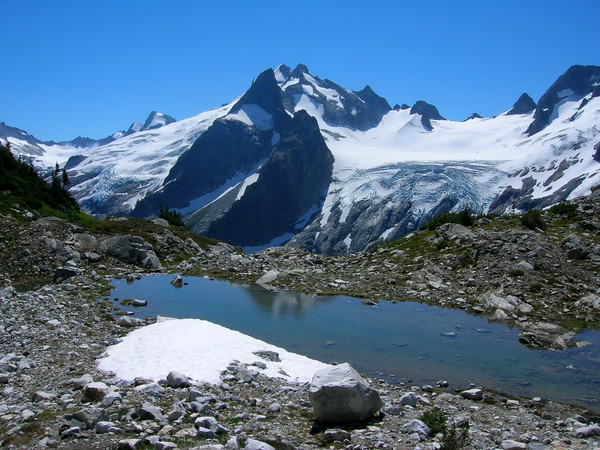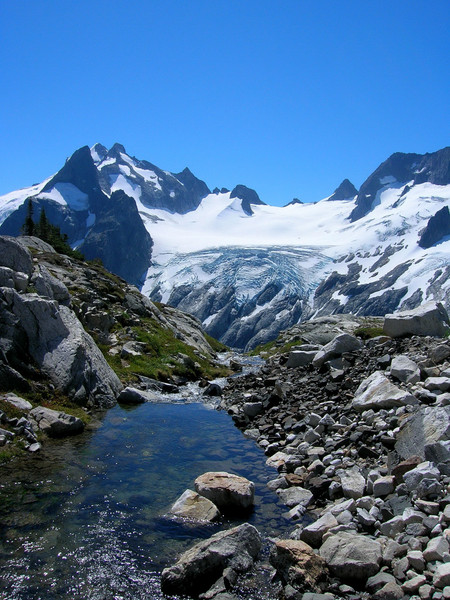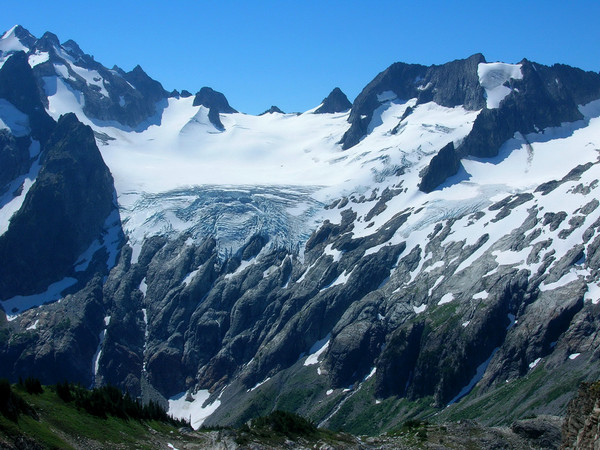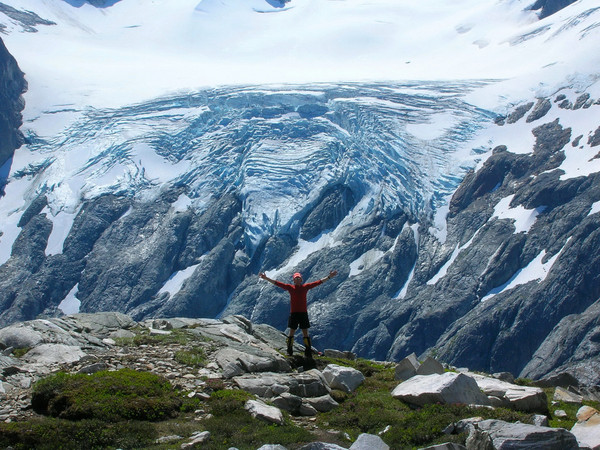 Dana Glacier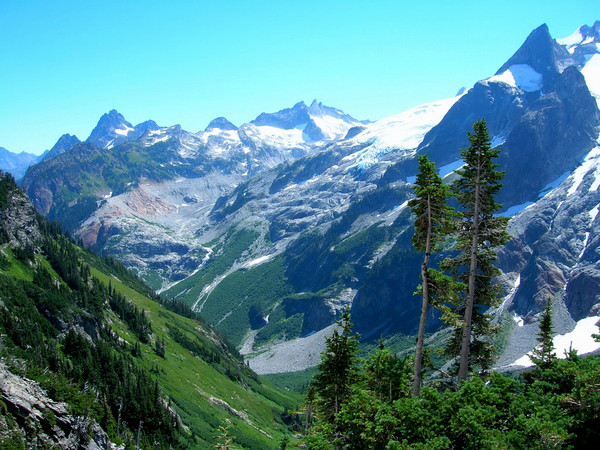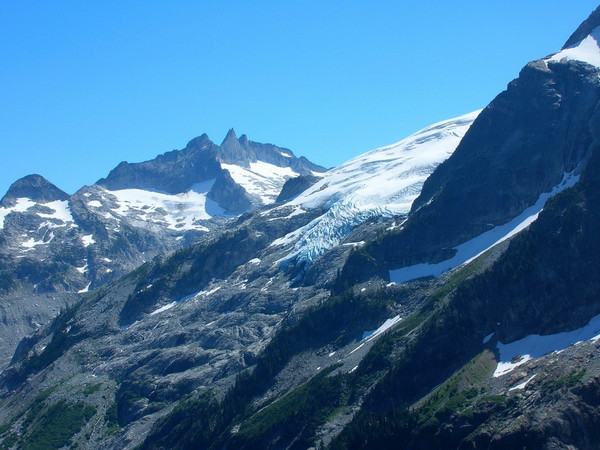 Re-energized, we made great time up to Spire Col on the Dana Glacier, which was also in great shape.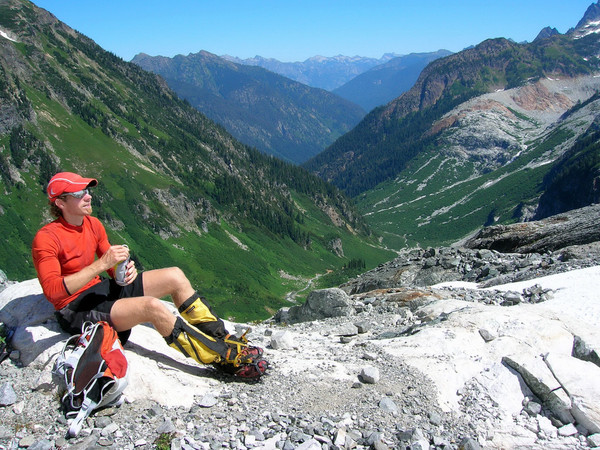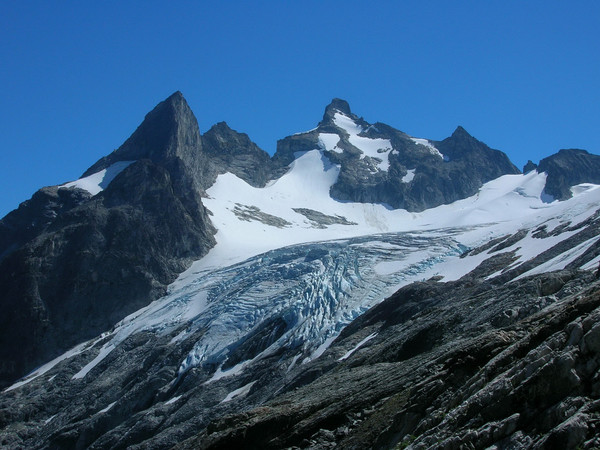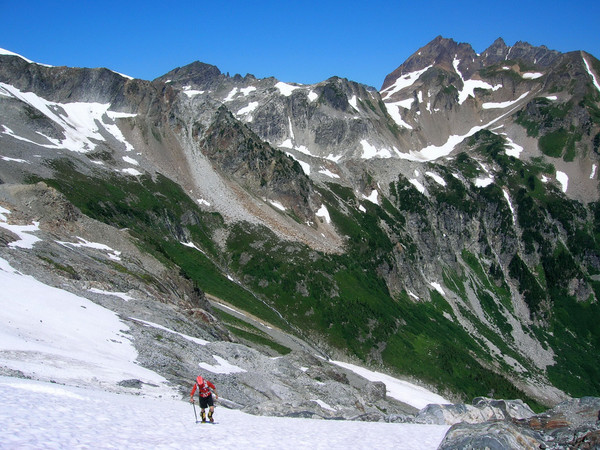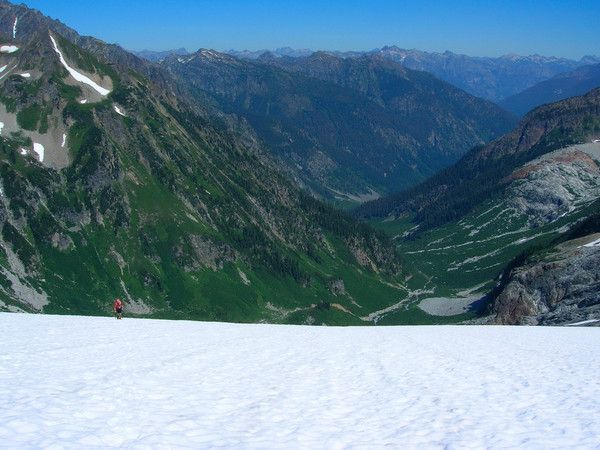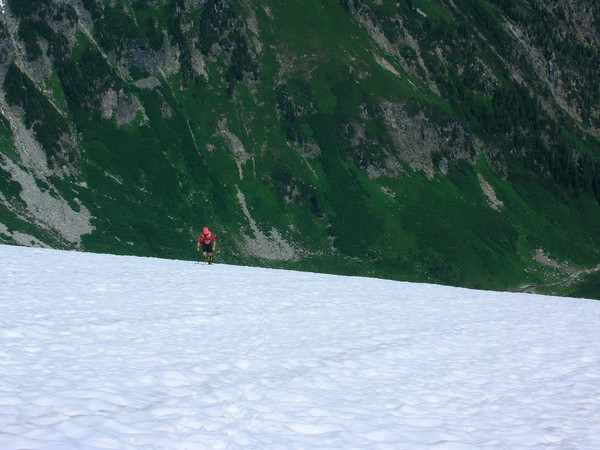 Sweet contrast.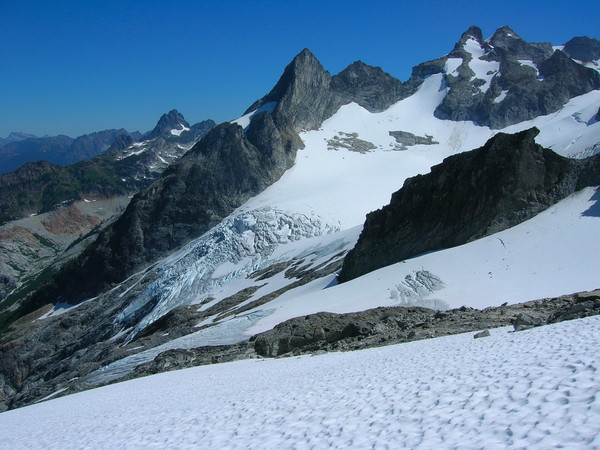 Taking the third gully on skier's right from the col, we made it down to Itswoot Ridge fast.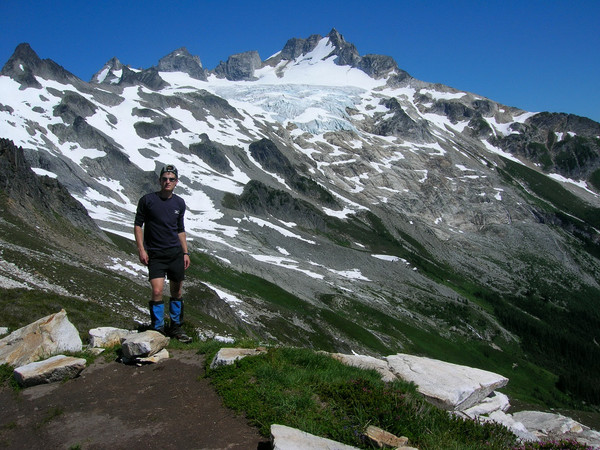 The classic view of Dome Peak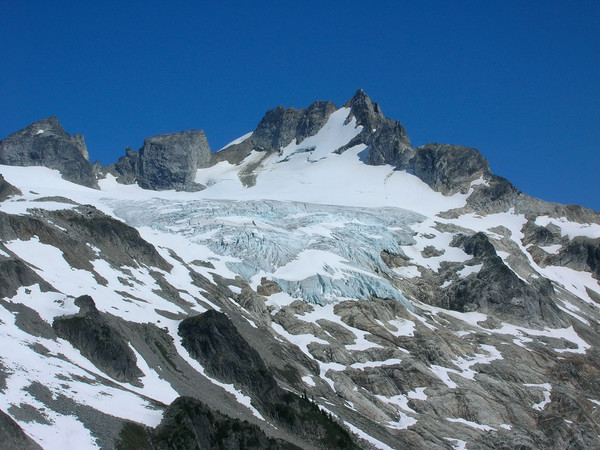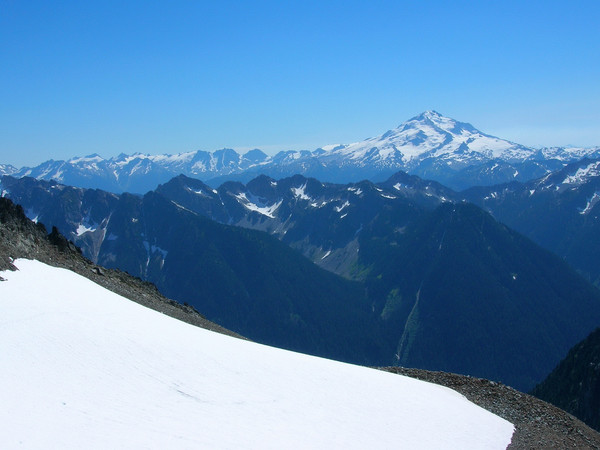 Dakobed and Glacier Peak
Traversing the basin down to Cub Lakes took longer then expected and the short but steep climb up to Cub Pass in the 90 degree heat was physically taxing. We thought gravity would take us down Bachelor Creek, not so fast! The upper part of Bachelor Creek is actually in decent shape and you can reasonably follow the path through the slide area. The most difficult section was the lower Bachelor Creek where thick brush made travel very slow. The brush, consisting of salmonberry, slide alder, and a sprinkling of nettles, has gotten thicker since our last visit and affecting a greater length of trail. We finally reached Downey Creek and knew the Suiattle River was not far. After a break, we jogged the final 6.5 miles, arriving at the Downey Creek trailhead at 8:15 pm.
We were not looking forward to the extra 8.5 miles of road walking due to the washouts at MP 12.5 and 13, but the road is flat and it goes by fast. Once we started walking we were able to reach the car in less than 2.5 hours, arriving at 10:54 pm.
Four summers ago after spending 4 nights on the Ptarmigan we would have never thought to do it in a single push, let alone 18 hours. In discussing this trip, we had hoped to go under 20 hours, but knew it could run longer a la
Mount Fury
last week. We were able to exceed expectations on the traverse portion, and despite Bachelor Creek taking longer than expected, a steady, consistent effort throughout the trip allowed us to make great time. Knowing the route and the smooth conditions on the glaciers were helpful. We left just enough energy to navigate brush-choked Bachelor Creek.
The Ptarmigan is a classic traverse for good reason - the terrain and scenery are amazing! To traverse all of it in less than one day was very rewarding.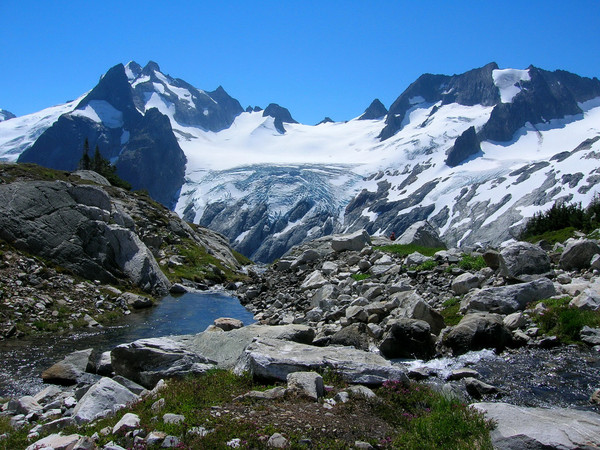 Gear Notes:
axe, crampons, sunscreen
Approach Notes:
A few snow patches left on the traverse to Cache Glacier.
Stay left of center on Middle Cascade Glacier unless you want to jump an opening bergshrund.
The brush on lower Bachelor Creek is indeed getting worse.
The 8.5 mile walk on the Suiattle River Road is flat, easy, and fast. It is possible to drive around the washouts but it is dicey and definitely not suitable for larger vehicles unless you want to park in the Suiattle River.