Trip:
Black Peak's West Peak - NW ridge (and N Buttress) IV 5.7ish - FLA
Date:
7/21/2012
Trip Report:
Rolf Larson and I climbed this route on Saturday. We are not aware of previous ascents—and speculate this could be a first and last ascent, aka FLA.
This 3,000' ridge/buttress climb impressed me when Dan Helmstadter and I were en route to a
ski of Black Peak's (East and main summit) NW Face
.
Pic from my May ski trip with Dan: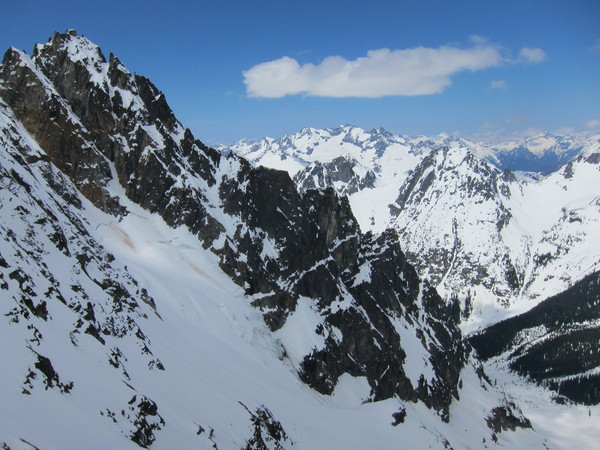 Pic from a climb/ski of Arriva a week before, early May. W Peak is on right, and the long buttress/ridge extending toward the viewer is what we climbed:
It looked so classic, the long ridge with steep walls falling off to a glacier, ending in a high and scenic N Cascades summit.
And it was. Classic. Uber-mega-meta-classic. Much better than any Internet meme. Sorta like the N. Ridge of Stuart (only longer) combined with the Torment-Forbidden Traverse (only steeper), and a High-Priest-like blockheaded finish. Purity of line, quality of rock, a graceful climbing partner: these are things devoutly to be wished. The pictures don't do it justice, one must experience the climb for one's self; a tonic for the soul, as Rolf might say. But probably not.
Looking at the limited pics, we thought there could be some steep, more-difficult climbing. We were loaded for bear and a bivy—rope, a medium rack, light bivy gear, a stove, climbing shoes, and too much food. All but the rope ended up training weight—we made 2 raps, but otherwise the stuff stayed in the packs while we rambled up the scenic ridge, with lots of 3rd and 4th class scrambling, and difficulties up to 5.7 or so. As is often the case, the most difficult climbing usually occurred on the best rock.
The approach was made over the northern col between Black and its 8395' point to the north. Spicy downclimbing ensued to snow, then finally to the base c. 5800' after running under looming seracs. The pics tell the rest of the story; this thing was long.
Our first look during the approach, from the col:
Near the start (from these humble beginnings), poor pic:
Looking down initial stretch; photo doesn't show considerable exposure here:
Still much to do:
We passed this gendarme on its right, but in retrospect would've enjoyed going over it
On the torment-forbidden-esqe section (Rolf's photo):
Still more to go:
Gramps hikes up his britches
Rappin'
The rock quality suffers no comparison.
And gets even better:
final summit block
Hard to believe this was a ski slope a couple months ago
Some more scenics and action shots
are here
.
We enjoyed this route, but as subtly hinted, were hoping for more difficult lines along the way. Still, motoring up a long climb is always a splendid way to spend a day.