Trip:
Lost Coast Day 1 - King Range - Beach Walk
Date:
7/3/2010
Trip Report: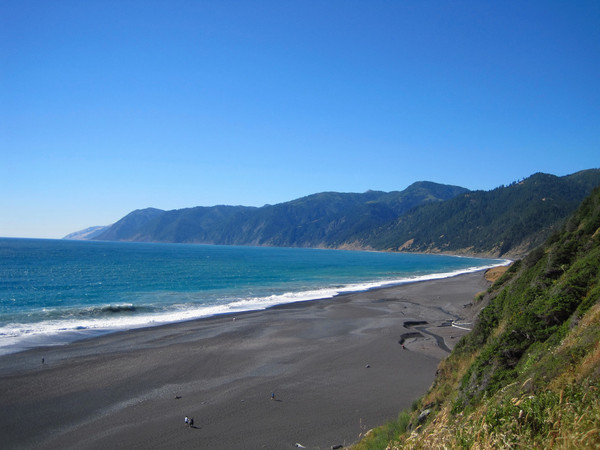 I joined Joel Lanz for a fantastic tour of the entire Lost Coast from the mouth of the Mattole River at the north end to Usal Beach at the south end. This is not a climb, but some of you might be interested in the photography and visiting this amazing place. This post encompasses Day 1; for photos and video of Day 2, the Sinkyone Wilderness Adventure Run, see
here
.
The Lost Coast in HD, video captured by Joel:
The Lost Coast in northern California is the most undeveloped stretch along the entire West Coast of the United States and is characterized by steep and rugged relief of the coastal mountains right next to the ocean. The northern portion of the Lost Coast is protected in the King Range National Conservation Area and 42,585 acres received Federal Wilderness designation on October 17, 2006. The southern portion is protected in Sinkyone Wilderness State Park, named after the Sinkyone Indians that lived on this part of the coast. The two sections are split by Shelter Cove, a small community of mainly vacation homes, but the parts are completely different in terms of the overall feel and experience. The northern 24.6 mile section in the King Rance NCA from the Mattole River to Black Sands Beach at Shelter Cove is primarily a beach walk with two-thirds of the distance spent on sand, gravel, and rock-hopping and the remaining third on trails just above the beach on the bluffs. The southern 28 mile section from Hidden Valley to Usal Beach in the Sinkyone is entirely on the bluffs above the ocean with arduous climbs and narrow, brushy trails in the forest – a true adventure run with over 6,000 feet of elevation gain. The northern part has sweeping Oceanside views with every step while the southern part has inspiring vistas from atop rugged cliffs. The vegetation transitions from grassy hillsides at the far north end to lush Douglas fir forest further south. There is even a few nice groves of old growth redwoods in the Sinkyone portion. Along the way we saw a plethora of marine wildlife, a herd of 50+ elk, and multitudes of deer. We did not come across many people on either of the days and in particular, the Sinkyone portion appeared infrequently traveled. The first day took us about 7 hours and the second day 7.5 hours.